August 26th, 2020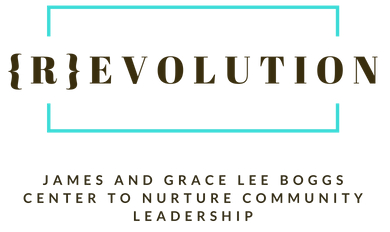 ---
Shifting the Culture of Anti-racist Organizing with Tawana Petty 
ENGAGE and the Undoing Racism Workgroup present a special virtual discussion featuring Detroit organizer, scholar, author and human rights activist Tawana Petty. Petty will lead us through a discussion on how we confront and work to dismantle historic racism and anti-Blackness in our society, without tokenizing or creating undue emotional labor for those most affected. Petty will share principles of anti-racist organizing from her book, "Towards Humanity: Shifting the Culture of Anti-Racism Organizing," and discuss how non-Blacks can practice genuine non-performative collaboration with the movement for Black Lives. Discussions on how we can incorporate lessons learned from this significant moment in Civil Rights history into our practice as social workers, community leaders, and advocates will also take place.
---
Thinking for Ourselves
No Rush
Shea Howell
    The desire to "return to normalcy" is palpable. It swirled through the Democratic Convention. While much of the programming was deeply moving and surprisingly fresh, the theme of returning to predictable, certain times was woven throughout the events. The New York Times summed up the desire, noting, "The party has offered Mr. Biden, 77, less as a traditional partisan standard-bearer than as a comforting national healer, capable of restoring normalcy and calm to the United States and returning its federal government to working order."
The desire for normalcy is undergirding much of the debate around opening of schools. Outside of the political posturing of the Trump administration and its efforts to bully states into in person teaching, many parents and teachers long for life to return as it was last fall, when children went off to school, every day, as they have for generations across this land.
This desire for predictable lives is a part of our human experience. Patterns protect us, and free us. But in moments of extraordinary change, this desire is also a trap, limiting our sense of the possible, shrinking our capacity to embrace change and create anew.
This is why we should welcome the efforts of teachers to slow us down as states and cities rush toward returning to normal.
In a recent  thoughtful essay on reopening schools, Belle Chesler, a public school teacher said:
"Let's just call the situation what it is: a misguided attempt to prop up an economy failing at near Great Depression levels because federal, state, and local governments have been remarkably unwilling to make public policy grounded in evidence-based science. In other words, we're living in a nation struggling to come to terms with the deadly repercussions of a social safety net gutted even before the virus reached our shores and decisions guided by the most self-interested kind of politics rather than the public good."
This attempt is already failing, as communities with in person classes are experiencing increases in the spread of the virus, forcing closures and renewed chaos.
And it is obvious to everyone that whiter, wealthier districts are in much better positions to open school buildings than those of us in urban areas, where historic neglect by state and federal governments have resulted in crumbling classrooms, lack of basic sanitation, heating and cooling. The idea that our children will be safe in these building is exactly the kind of normal most of us have been fighting against decades.
In many places some parents and teachers have begun to see that the closing of schools is offering us ways to open new possibilities for learning and teaching one another.  Old notions of "deschooling" are surfacing in new ways, emphasizing intergenerational connection, creativity,  and care for one another and our world.
As the pandemic continues to threaten us, we are facing the need to ask fundamental questions. What is education for? How do people learn? What is the difference between education and school? What do we need to know? What is essential? What do we want to create? How do we care for our children?
These questions are being asked with a new sense of urgency, but also with the sense that we can take the time to explore them together more fully.
Our teachers are right. We cannot and should not rush to reopen schools. But we should open ourselves to the possibilities of what we can create together to protect our children and develop our communities based on values to protect life.
____________________________________________________________________________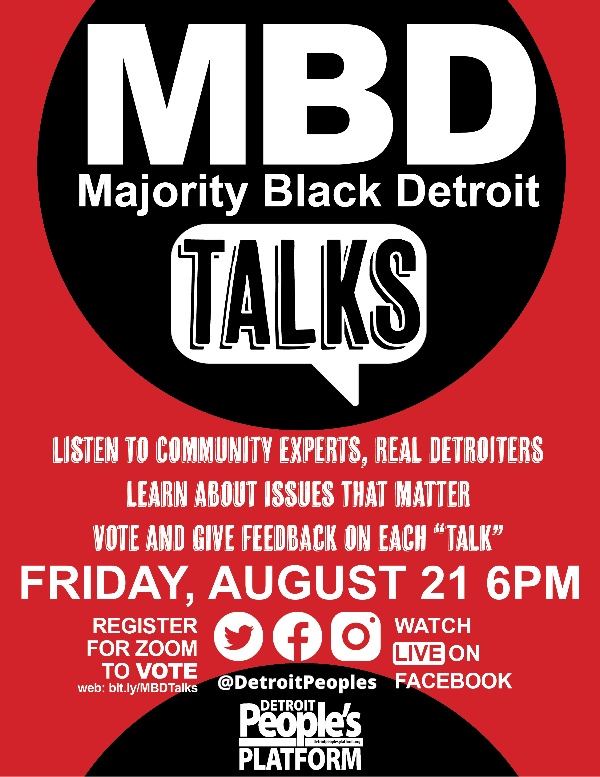 __________________________________________________________________________
Suburban Silence is Racist Violence
Rich Feldman
On Saturday, August 15, people from Troy, Ferndale, Berkley, Farmington Hills, Royal Oak, Huntington Woods, Shelby Township and Detroit gathered at 11 mile and Woodward to clearly state that the MAGA (Make America Great Again) Cruise, which was called and endorsed by the Oakland County Republican Party was not the only voice in town. There were also demonstrations and protests in Ferndale and on Square Lake Road and Woodward in Bloomfield Hills.
This was not the first year that the Trump election campaign and the Make America Great Again Troops came to build "their movement to support their elections and their visions" for a continuation of the racist, anti-immigrant, ableist, sexist, ANTI-MASK lifestyle.  Last year they traveled the dream cruise with AR15s, Trump Masks, and brought their Trump Election Mobil Home. They want to return to the past. They want to return to a time before the Freedom Movement, Civil Rights Movement and Women's Movement of the 1960s-1970s.
They believe that is "normal." Their normal was built upon an American Dream which fundamentally upheld racist policies, segregation and Jim Crow. Too many anti-Trump folks want to return to a pre-COVID normal or a pre-Trump normal. I do not believe in returning to normal. Normals from the past are business as usual. 2020 is a decade ushering in the view that we need a future different from the past. A new purpose for our suburbs besides exclusion.  A new purpose for suburban life beyond consumption and individualism. A new purpose that fundamentally includes a new relationship with Detroit & Pontiac.
As Vincent Harding said: "We are citizens of a country that does not yet exist."  A new potential is emerging from Black Lives Matter, the Me Too Movement, Global Climate Strikes and Standing Rock. A new potential is emerging to Defund the Police, Abolish Prisons, create alternatives to jail and so much more.
It is time to face the lie of America and not be fooled by the past or the illusions of the "promise of America.  As MLK said:  We need to struggle against the evil triplets of racism, materialism and militarism." That was 1967. Now we could add Patriarchy, Planetary Destruction and Abelism.
One of the protestors remarked that the viciousness, the anger and even the pain in the voices (screams) and eyes of those driving the MAGA Cruise with their signs showed the desperation of those needing to face themselves and a changing world. The US will be a majority people of color in the next 30 years. The protestors were disciplined and committed to non-violence. We did not respond but it was so clear that their story of "no longer having their American Dream because of a changing economy, a declining US empire, failed leadership and so much more has taken the veil from their "pursuit of happiness and Their/Our entitlements.  While their cars and trucks zoomed by with their signs, they saw our signs:
"Black Lives Matter, Dump Trump, Fossil Fuel Profits Kill our Earth, 140 million live in poverty, suburban silence is racist violence, vote, dump trump, we Love Postal Workers,  support the postal workers,"
They yelled back "All Lives Matter! "You are all Communists."
This is the Cold Civil War emerging in our state. The Cold Civil War in Oakland County was not so cold in Georgia or Kalamazoo.
On Saturday at Georgia's Stone Mountain, its giant rock carvings of Confederate leaders was closed to the public because of a planned white nationalist rally and a counter-protest.
"Go home, racists, go home!" Members of Black Live Matter, Antifa and independents chanted during protest in the town of Stone Mountain. A far-right group, Three Percenters, a white militia group had planned to hold a rally.  The militia said it wanted "to defend and protect our history" and Second Amendment rights."
On Saturday, in Kalamazoo, MI, the Proud Boys, which is identified by the Southern Poverty Law Center as a hate group, would be coming to Kalamazoo. Their social media posts from late July read that the Proud Boys, a white nationalist group, and Bikers for Trump were planning a rally in Kalamazoo on Saturday, August 15th.
From the Trump Troops on Woodward Avenue to the Proud Boys in Kalamazoo or the 3% at Stone Mountain, they are not going away in November or in January.  We are not going away, growing numbers of suburban folks have begun to say "We need to break our silence" and end the systemic racism that has blinded us, hurt us and supported policies of destruction, gentrification, police brutality and facial recognition, water shut-offs and evictions in Detroit.  This decade is the end of that silence.  James Baldwin wrote, "The truth which frees black people will also free white people, but this is a truth which white people find very difficult to swallow."
Every Monday: 5:00 pm – 6:00 PM, people gather at Woodward and 11 mile. The gathering is sponsored by the Huntington Woods Peace and Education Committee.  Everyone is welcomed, bring your sign:  Black Lives Matter, Suburban Silence is Racist Violence, Silence is Violence, Vote and Dump Trump…
How can the suburbs respect the dignity of all and stop being silent to the policies of suburban materialism, racism and militarism ?
What will be a respectful, engaging , interdependent relationship with Detroit?

What is our vision for suburbs in 2050?
__________________________________________________________________________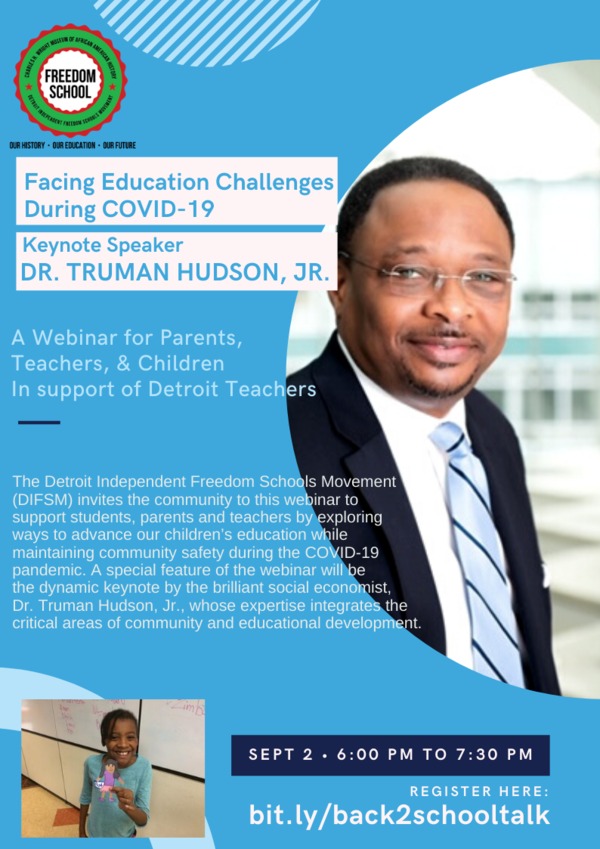 ______________________________________________________________________