July 4th, 2022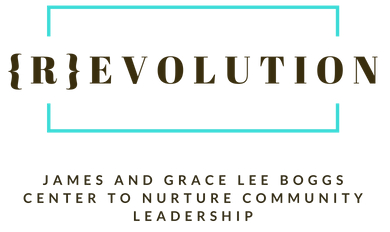 ---
Thinking for Ourselves
Independence Day 2022
Shea Howell
Independence Day 2022 comes in the midst of a complex national crisis. The most recent decisions by the Supreme Court reveal that the "ultimate authority" in the land is completely out of touch with the lives of the majority of the people. The Court is taking us back to the vision of the perfect world imagined by right wing ideologues, the pre-civil war south.
This is not the first time the Court has pulled us backwards. It made the same effort immediately following Reconstruction. Most notable was the infamous decision in Plessy vs. Ferguson, establishing the "separate but equal" doctrine in 1896. This paved the way for the undermining of the 13th, 14th, and 15th amendments and for the establishment of the Jim Crow South. It took more than 70 years, countless deaths and diminishments of humanity before the Civil Rights struggles established the right to vote and congress passed a new Voting Rights Act.
That effort, too, has been undermined by the courts. The court gutted the Voting Rights Act in Shelby County v. Holder removing the ability of the Justice Department to limit race based gerrymandering. Then in Rucho v. Common Cause, the court eliminated the role of federal courts to review discriminatory state practices.
Abdicating protect of voting rights was coupled with endorsing mass murders of African Americans. Protecting the KKK in the 1873 massacre in Colfax, Louisiana , the Supreme Court  gave the green light to domestic terrorists.
We face a reality today where "the instruments of racial oppression developed in the South continue to be employed today. Like wealthy slaveholders and their apologists, members of the far right today—and this includes a large majority of the Republican Party—share methods, language, and values that promote undemocratic results. They condemn the supposed tyranny of the federal government and feel themselves to be its innocent victims. As part of their plan to pursue small government and privatize enormous parts of public services, which the wealthiest among them will buy, control, and profit from, they attack public education, and attempt to deprive working people of retirement benefits, unions, healthcare, and safety and environmental protections.
Today's Supreme Court has withdrawn from public scrutiny. The New York Times Morning Briefing on July 3 noted, "not long after the leak in early May of a draft of the opinion that overruled Roe v. Wade, the courthouse was surrounded by an eight-foot fence. Always cloistered and remote, the court is now impenetrable."
This Independence Day we need to consider the key progressive ideals in the national declaration. The first, "that all men are created equal, that they are endowed by their Creator with certain unalienable Rights, that among these are Life, Liberty and the pursuit of Happiness," and the second, "That to secure these rights, Governments are instituted among Men, deriving their just powers from the consent of the governed,
In 1776 these were revolutionary ideas, that all human beings had inalienable rights and that the purpose of governments was to protect and promote them. Governments derive their legitimacy from the consent of the people.
In 2022, we are living with governments at every level that are failing in these most basic ideas. The Declaration offers a solution we need to think about, "whenever any Form of Government becomes destructive of these ends, it is the Right of the People to alter or to abolish it, and to institute new Government, laying its foundation on such principles and organizing its powers in such form, as to them shall seem most likely to effect their Safety and Happiness."
______________________________________________________________________________________________
Weekly highlights
DWSD's Lifeline Plan for Water Affordability Misses the Mark
Plan fails to address Detroit's most vulnerable populations
DETROIT – Today, the Detroit Water and Sewerage Department (DWSD) presented their pilot Lifeline Plan for Water Affordability to the Board of Water Commissioners, which approved the plan unanimously after many public comments asking the Board to wait at least 45 days for broad community engagement. The People's Water Board Coalition released the following statement in response:
"While we appreciate that DWSD and the Board of Water Commissioners (BoWC) have finally realized that Detroiters both need and deserve a water affordability plan; what was approved today is not based on facts and doesn't accurately address the challenges that Detroiters have been facing for nearly two decades. Further, DWSD did not meet with the People's Water Board Coalition to discuss this plan nor have they provided us with the actual plan.
"An inclining tiered rate water plan is not a true water affordability plan, and it will not appropriately address the city's most vulnerable populations. The Lifeline plan put forward by DWSD is a low-rate ration plan, i.e., income-eligible customers can use up to 4,500 gallons of water per month before they are charged at higher rates for additional usage. The Detroit City Council should review the rate restructuring proposal for equity and fairness, especially as infrastructure costs rise.
"The devastating COVID-19 pandemic and unaffordable housing crisis have forced Detroiters to move in with friends and family members, thereby filling homes with multiple families and water users. DWSD's estimated daily usage of 37 gallons per person is very underestimated. Actual usage is closer to two to three times higher than that (as estimated by the city of Philadelphia) which will put more households in higher rate tiers. Therefore, they will not benefit from the Lifeline plan.
"A true water affordability plan is based on income, like the plan approved by Detroit City Council in 2005, and is based in fact and addresses root causes. We welcome the opportunity to work with DWSD and the Board of Water Commissioners to improve this plan, to create an authentic water affordability plan, and we will hold BoC accountable to their word that 'we can make it better and we will.' Our goal has always been to ensure that all Detroiters have access to safe, affordable drinking water and sanitation and we will continue to fight to make that happen."
PWBC calls upon the Detroit City Council to review today's decisions by the DWSD Board of Water Commissioners before the rate restructuring and Lifeline plans are implemented.
Learn more about PWBC here

Flint Rising recently released a statement once again calling for the accountability against the ruling given by the Supreme Court which has tossed out indictments of former Governor Rick Snyder, Nick Lyon, Richard Baird, Dr. Eden Wells, Darnell Earley, Gerald Ambrose, Jarrod Agen, Howard Croft, and Nancy Peeler, who are all responsible for the Flint water crisis.
"This is the second time that the promise of accountability has been snatched away from poisoned Flint residents. It has become increasingly clear that the judicial system is not a viable option for a poor majority Black community facing injustice."
 What we're watching
The Meaning of July 4th for the negro
James Earl Jones reads Frederick Douglass's historic speech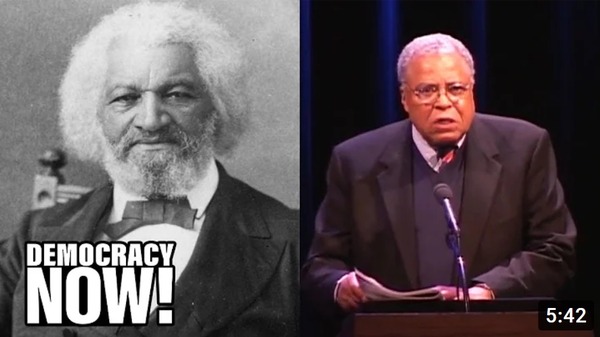 In a Fourth of July holiday special, we hear the words of Frederick Douglass. Born into slavery around 1818, Douglass became a key leader of the abolitionist movement. On July 5 1852, in Rochester, New York, he gave one of his most famous speeches, "The Meaning of July Fourth for the Negro." He was addressing the Rochester Ladies Antislavery Society. In this video, actor James Earl Jones reads the speech during a performance of historian Howard Zinns, Acclaimed book, "Voices of a People's History of the United States."
What we're reading
Disability studies from north to south
written by Owólabi Aboyade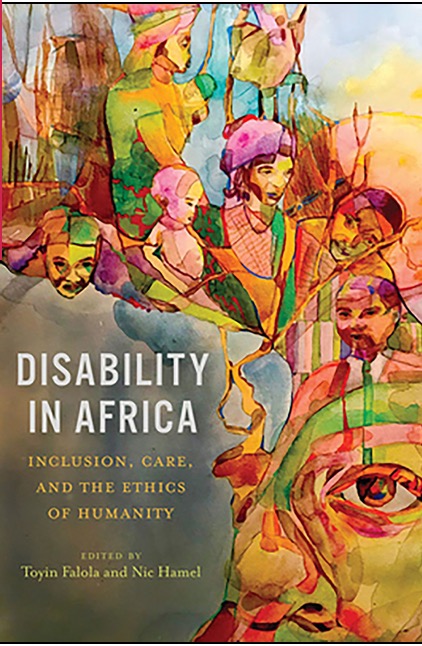 In this book review, Owólabe Aboyade reviews Disbility In Africa: Inclusion, Care, and the Ethics of Humanity as he calls for readers to challenge mainstream notions of "the handicapped" as well as popular notions in the West about inclusion and disability discourse. Aboyade focuses on the question, "Any good from Crippled Africans?", the idea of pushing toward African conceptualization of disability, ambiguous signs of "progress", and the thought of bringing African ideals to Detroit.
"African disability studies can show a way towards attaining the dignity of collective care without putting Western principles, policies, and organizations on pedestals."
In this issue of Praxis newsletter, they welcome you to register for their 2022 Roots & Remedies Week of Pleasure in Praxis. The virtual conference will feature a pleasurable week of virtual programming all centering the radical practice of pleasure as activism. The conference takes place July 11-15 and you can learn more and register here. They released a statement on Roe v. Wade, published their podcast episode, The Power of Youth-led Food Justice, features the Black Reproductive Justice Policy Agenda.


NCOE Statement on providing a culture of peace: Ukraine, Buffalo, and Uvalde
National Council of Elders recently released a statement with regard to the series of events that have taken place causing concern for the future. They end their letter with a call-to-action on a country and global level regarding continuous acts of violence. The National Council of Elders includes veterans of many of the social justice and peace movements of the 1950s, 60s and 70s. These have included the Black freedom movement, the Native Peoples, Chicano, anti-war, immigrant rights, peace, and LGBTQ movements.
"A deepening sense of grief has settled over many as we witness the outrage of war in Ukraine and
the egregious gun violence here at home, in the neighborhoods of Buffalo, NY and Uvalde, TX, and
elsewhere. Any violent death by noose, knee, gun, drone, missile, howitzer, or bomb is a dramatic
symptom. It is not the disease."
Uplifting & supporting our community
What to the Negro is the 4th of July?
fundraiser by Detroit Black Farmer Land Fund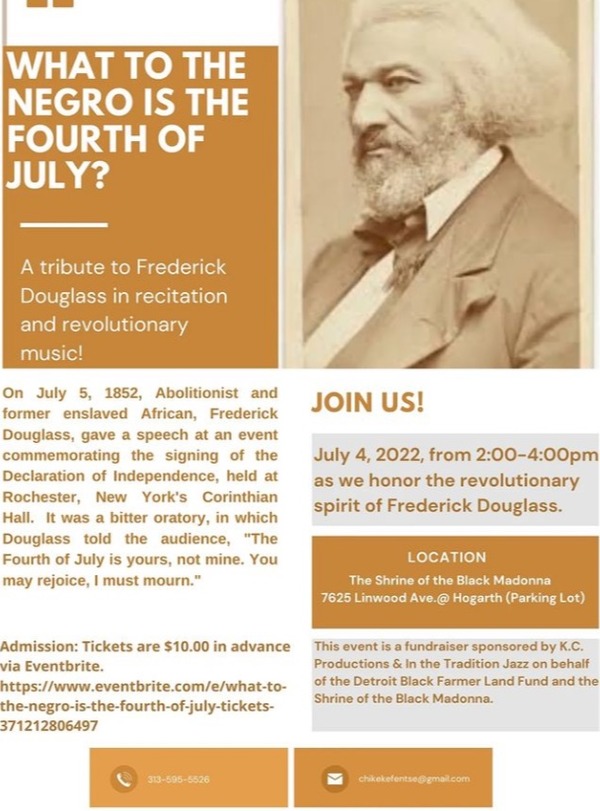 One hundred and seventy years ago, in Rochester, N.Y., fiery orator and abolitionist, Frederick Douglass, delivered his most memorable speech which answered for America "What to the Negro is the Fourth of July?"
In reverence to the revolutionary spirit of Frederick Douglass and our collective ancestors, join Detroit Black Farmer Land Fund on July 4, 2022 from 2-4pm, for musical selctions from the African Jazz Ensamble In the Tradition, interwoven with excerpts from Frederick Douglass' famous speech. We gather in the spirit of resistance and the revolutionary spirit as we raise funds for the Shrine of the Black Madonna and the Detroit Black Farmer Land Fund.
Help 27th Letter Books stay open
Without community support, 27th Letter Books is facing the devastating possibility of immediate closure.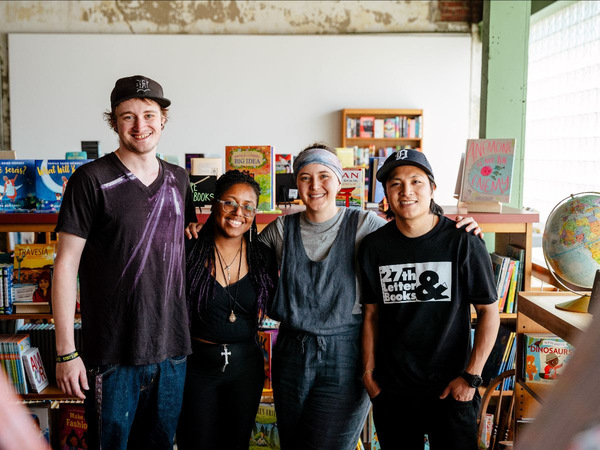 Erin, Drew, Jake, and Jazmine, the co-owners of 27th Letter Books in Southwest Detroit has curated a bookstore that provide a diverse selection of books for sale as well as a creative gathering space where poetry events, children's story time, mini concerts and more have been hosted. Collectively they are worker-owned, young, queer, disabled, neurodivergent, Black, Filipino-American, women, and veterans.
Since starting as a pop-up in June of 2019, their business has overcome numerous challenges. They opened a brick-and-mortar space during the middle of a pandemic, recovered from flooding and extended power outages in the summer of 2021, and re-opened after a vehicle crashed into their building on Friday the 13th.
Recently, their store fell victim to an aggressive cyber scam leaving them to directly cover over $35,000 in losses. Law enforcement has expressed their chances of recovering any funds via a criminal investigation as extremely low. Furthermore, their business insurance will not cover any of this extraordinary loss.
They are looking for support through the following ways:
A financial donation in ANY mount through their GoFundMe campaign
Amplifying and sharing their story
Your financial donation will directly support:
Rent – keeping their physical space available for browsing/book-buying and continuing to offer (primarily free) community programs such as children's storytime, author events, poetry readings, mini concerts, wellness gatherings, craft workshops, open mics, and more
Inventory – sustaining their book supply for regular sales turnover and timely fulfillment of special orders
Operations – all the small stuff that keeps them running (utilities, point-of-sale software, and credit card processing fees)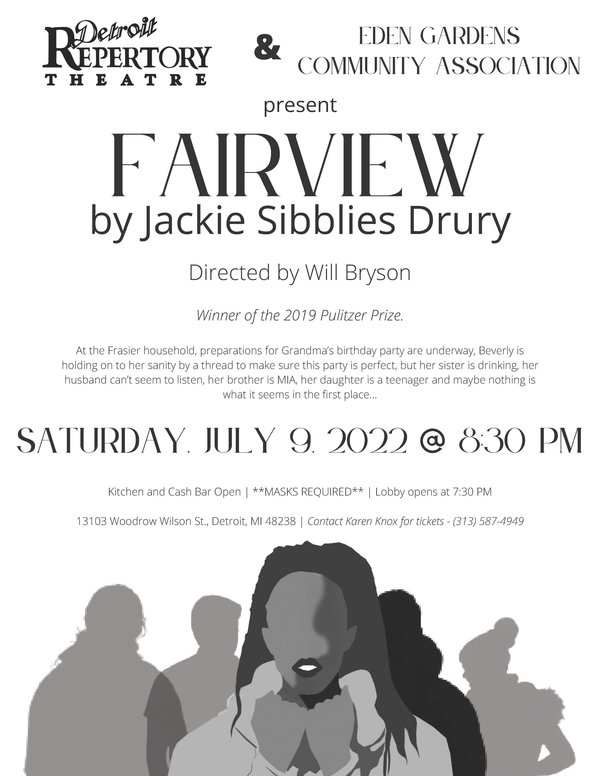 At the Frasier household, preparations for Grandma's birthday party are underway, Beverly is holding on to her sanity by a thread to make sure this party is perfect, but her sister is drinking, her husband can't seem to listen, her brother is MIA, her daughter is a teenager and maybe nothing is what it seems in the first place…
Fairview is written by Jackie Sibblies Drury and directed by Will Bryson. Support Eden Gardens Community Association as they fundraise in support of their neighborhood organization during the showing of "Fairview". Funds raised will support their campaign to match funds for the construction and renovation of their community hub. Their fundraising show takes place at Detroit Repertory Theater Saturday, July 9 at 8:30pm and tickets can be purchased for $20 via CashApp ($LearningCenter22) or here.
Buy tickets or learn more here
DanceAbility Detroit IN THE SUMMERTIME


DanceAbility can be high-energy or slow and gentle, so come as you are to co-create dance in a diverse community. It's for people with and without disabilities, with and without formal dance training, with guidance by Cara Graninger, Gwynneth VanLaven, and visiting guest artists.  Cost: $0 – $15 per instruction hour, Economic Justice sliding scale.
Fridays on Zoom, 12:30 pm – 2 pm, thru September 30th
More info & Register here
Saturdays in person, 11 am – 1 pm OUTDOORS or 3 – 5 pm INDOORS, thru October 1st
More info & Register here
questions? email Cara at caragraninger@gmail.com
2nd Annual Defend Black Women March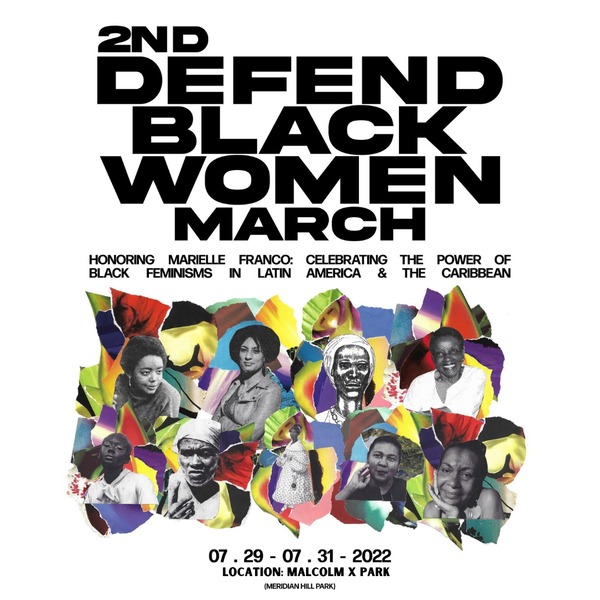 Save the date and register for the 2nd annual Defend Black Women March, honoring the life, leadership, and legacy of Afro-Brazilian bisexual feminist, politician, activist, and human rights defender, Marielle Franco (1979-2018). The march will also be in solidarity and celebration of Black feminisms in Latin America and in the Caribbean.
Saturday, July 30, 2022
11:30am EST
Malcolm X Park (Meridian Hill), Washington DC
Register or find more information here
Resources
How to find, contact, and donate to your local abortion fund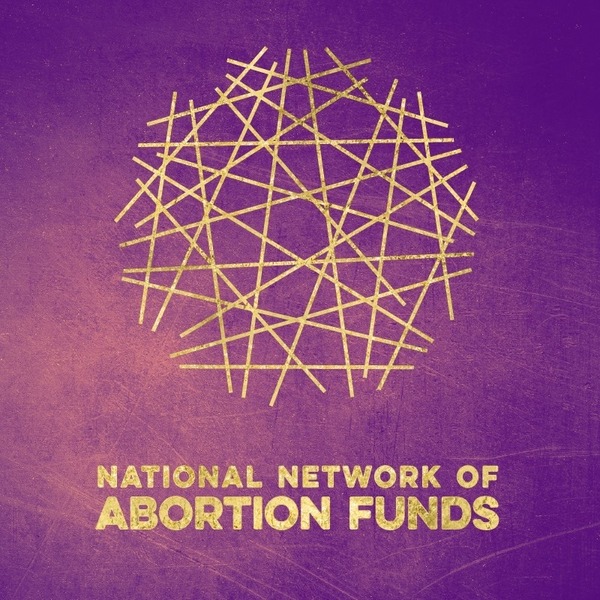 The National Network of Abortion Funds lists abortion funds which are independent, grassroots organizations developed to support the specific needs of their communities. Whether it's funding procedures, abortion pills, transportation and lodging when travel is required, childcare, doula and emotional support, or other needs voiced by people seeking abortions, funds are finding innovative and compassionate ways to get people the abortions they want and need. Find support in your state
Low-Income Household Water Assistance Program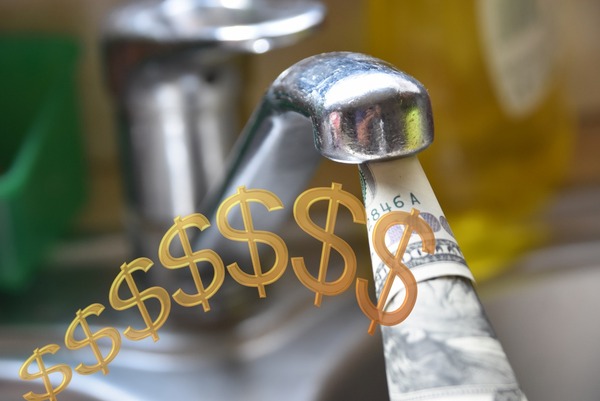 This new Federal program offers assistance to those who are facing water shutoffs or are in need of reconnecting their water utility. Freshwater Future lists additional information and ways to apply for assistance, categorized by state. The program prioritizes those who need their water reconnected or are facing imminent shutoffs. You can read more and apply here.
ACLU: Immigrant Police Misconduct Hotline
ACLU MI has recently launched and announced the misconduct hotline for Michiganders to report instances of police misconduct or abuse based on immigration status (or assumptions about immigration status).
If you or a loved one have been pulled over, harassed, arrested, or detained by a police officer because of actual or perceived immigration status (e.g., skin color, spoken language, or name), you are encouraged to call the hotline and leave a message detailing the experience. The ACLU of Michigan is committed to investigating those reports and will assist in taking action against police departments when possible.
Flyers are also available in 4 different languages:
Arabic
Bangla/Bengali
?English
Spanish
"In thinking of America, I sometimes find myself admiring her bright blue sky — her grand old woods — her fertile fields — her beautiful rivers — her mighty lakes, and star-crowned mountains. But my rapture is soon checked, my joy is soon turned to mourning. When I remember that all is cursed with the infernal actions of slaveholding, robbery and wrong, — when I remember that with the waters of her noblest rivers, the tears of my brethren are borne to the ocean, disregarded and forgotten, and that her most fertile fields drink daily of the warm blood of my outraged sisters, I am filled with unutterable loathing." – Frederick Douglass