April 4th, 2022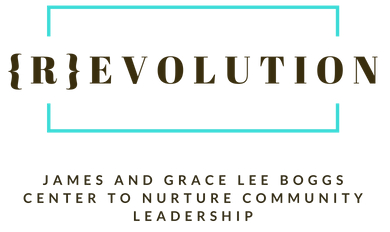 ---
Thinking for Ourselves
Fostering safety
Shea Howell
It has been two years since Breonna Taylor was killed by Louisville police when they burst into her apartment in the middle of the night. This week the Washington Post published a study about the controversial police strategy that was linked to her killing. This strategy is being encouraged around the country and here in Detroit. It is behind the efforts of Detroit police to increase their reliance on technologies such as Project Green Light and ShotSpotter.
The philosophy is called "place network investigations" and encourages focusing police on specific areas of "high crime." At the time of Breonna Taylor's death, Louisville was one of only 3 cities that emphasized this strategy. They abandoned it as part of the investigation of her killing. Now, at least 9 other cities are adopting it.
This strategy is not new. Police have long targeted certain neighborhoods for "over policing" and "under protecting." Since the 1980s and the crack epidemic police have targeted specific times of day and neighborhoods for an increased police presence. These areas became known as "hot spots" and some studies indicate the practice results in limited crime reduction. These studies also indicate that the hot spots "lead to more men of color being swept up into the criminal justice system."
But as the ACLU points out, the "data" about crime reduction is controversial. Carl Takei, a senior staff attorney at the ACLU notes, "The data they have about where crimes are committed and by whom is all based on police decisions about where and how to collect the information. He goes on to explain, "It often becomes a self-fulfilling prophecy that the police will focus a great deal of resources on certain Black and Brown neighborhoods.
A more realistic assessment of this strategy comes from our neighbors in Chicago and their efforts to assess the ShotSpotter technology. ShotSpotter is a gun detection system that has been installed in Detroit to help lower crime in the city. Recently the Mayor and Police Chief announced they want to spend $7 million to expand the program using funds from the American Rescue Plan Act. The system uses microphones to pinpoint sources of gunfire in communities. This enables "real time" responses by police. The purpose of the system is to overcome the reluctance of many of us in communities that hear gun fire to report it to police. We know that all too often the police coming into our neighborhoods will only make matters worse.
In Chicago ShotSpotter played a critical role in the killing of Adam Toledo by police and in the killing of two police officers, Eduardo Marmolejo and Conrad Gary. An extensive study by Chicago's Inspector General "analyzed 50,176 ShotSpotter notifications from last January through May. Just 9.1% indicated evidence of a gun-related offense was found. Only 2.1% of the alerts were linked directly to investigative stops, although other stops were detailed in reports that referenced the technology but didn't correlate with a specific ShotSpotter notification."
Such dangerous and ineffective technologies should not be supported.
There is one very effective way to reduce crime in a neighborhood. People on the streets looking out for one another. In Detroit in the 1980s, in response to increased drug trafficking and related violence in neighborhoods, some communities organized to walk through the neighborhoods once a week and highlight the drug houses for public scrutiny. In one neighborhood, the group WEPROS reduced overall crime by 80% in six months. No one was arrested or swept into prison. The slogan of the group was one of love for the young people, while hating the presence of drugs. This public activity led to strengthening ties with the local schools, creating opportunities for recreation, and encouraging the skills and talents of youth.
Expensive technologies only work after a crime has been committed. Caring for each other and creating community ties foster peace and safety among us.
_________________________________________________________________________________________
Politicking w/ police
AreSee
As I listened to James Craig speak about his candidacy for Michigan governor recently, I became outraged. Filled with confusion, I searched for the comedic relief that usually brings comfort in the most awkward situations. Certainly it was awkward when the relief I found resided in the memory of Craig receiving the Sambo award years ago.
Craig spoke of running for governor to a concerned crowd at Nandi's Knowledge Cafe. He spent the majority of folks' time reminiscing on his time as a cop, followed by his emphasis on the importance of people not forgetting he's from Detroit, despite his running as a republican.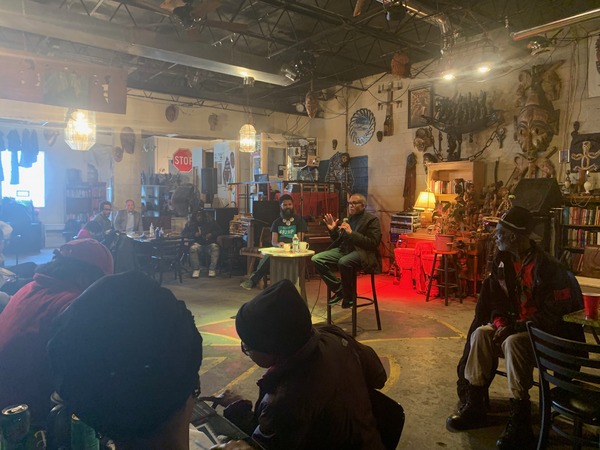 Though I can't say that I'm one to support any side of the political party coin, Craig's rhetoric as a declared republican is a cause for concern rather than support.
I'd like to take this time to address questions that went unanswered as the former chief failed to utilize the allotted time for questions. As seems to be his practice, he made a hasty departure before serious questions could be asked. It's almost as if the ghost of scrutiny appeared, manifesting as the long line of concerned citizens waiting to speak, causing him to flee.
At some point (aspiring or current) politicians should understand the harm they create when leading campaigns in misleading ways that are not rooted in critical conversations.
"We are in danger as a nation when silencing any form of speech that goes against the status quo" – bell hooks
On that note, below are some thoughts that went unexpressed.
Dearest former police chief James Craig:
You spoke on the need for the return of constitutional policing and I'd love to hear what constitutional policing means to you considering the constitution's failure in protecting Black and brown people since and prior to its emergence. Who deems it constitutional and is it voiced from the perspective of those most affected?
The delusion and contradiction you presented when you stated your support of the truckers who "peacefully" protested at the Canadian border recently left me wondering why you did not have that same compassion for bodies who peacefully protested against police brutality in Detroit recently.
What does the protection of all people look like to you and what beliefs are they rooted in?
__________________________________________________________________________________________
?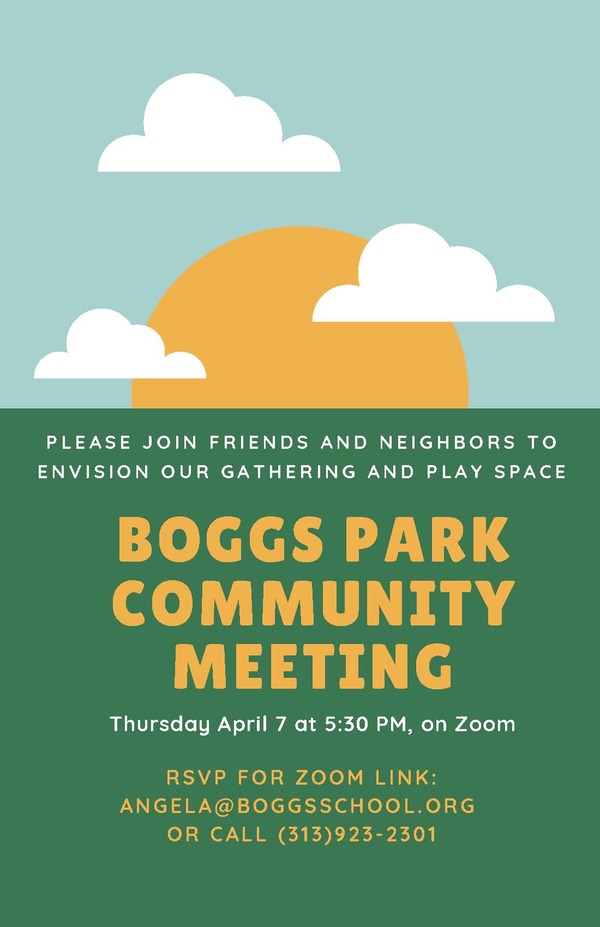 Uplifting & Supporting Our Community
Boggs Park is hosting a community meeting, calling on residents to help envision an inclusive gathering space for the area. RSVP with angela@BoggsSchool.org for the Zoom link or give them a call at (313) 923-2301 to participate.
If planning's not your thing and you'd rather get hands on at the park, they're also hosting a cleanup and table build event, Saturday April 23, 2022 at 12pm — 7600 Goethe Detroit, MI 48214. Bring your eagerness to beautify the park and meet new faces!
__________________________________________________________________________________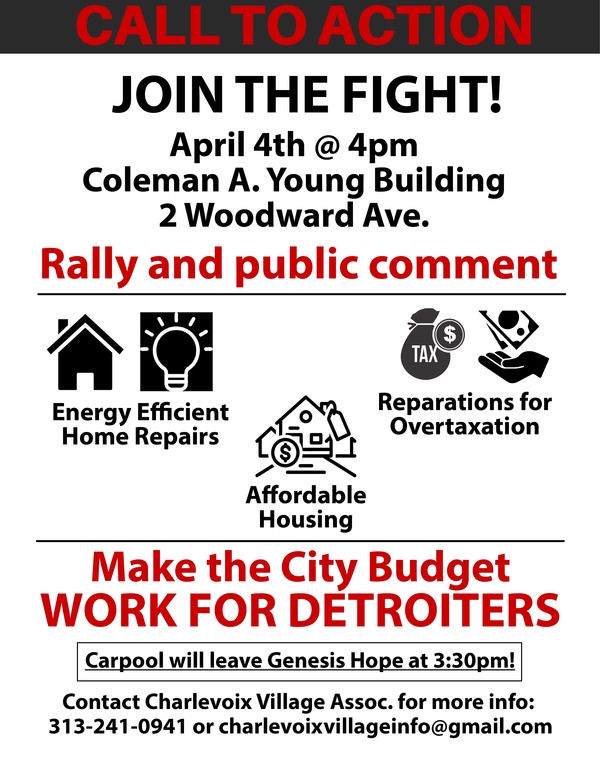 Charlevoix Village Association is calling for citizen participation in Detroit's city budget hearing taking place Monday, April 4 at 4pm. The Association is urging city officials to consider a budget that prioritizes the housing needs of long-time city residents rather than allocating money to demolitions and developers.
You can read their full statement to City Council on the budget on their Facebook page.
If you need a ride to the rally, the group will meet at Genesis Hope, leaving at 3:30pm for the hearing. Give a call to 313-241-0941 for more information.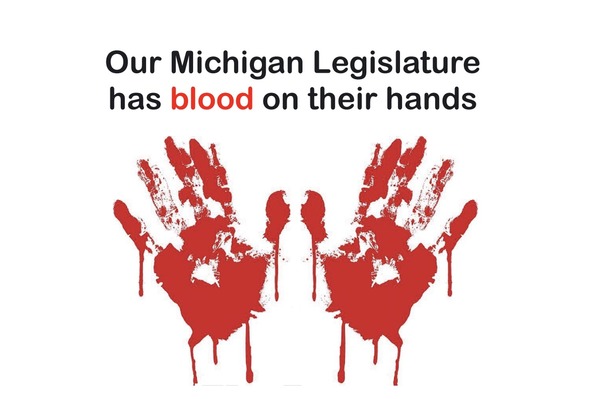 We Can't Wait is urging folks to join them at the Capitol on Tuesday, April 12 from 9:30am – 12pm (Senate) or 12:30-3pm (House) in support of their fight against Public Act 21-22 changes.
The no-fault reform was implemented July 2021 by Michigan lawmakers which has resulted in the limiting of resources to survivors of severe auto injuries and their families, along with agencies and rehabilitation centers that provide care.
The reform has left many survivors with no care (there are 6500 with spinal cord and traumatic brain injuries). Those who have families are exhausted physically, emotionally, and financially trying to fill in the gaps. The 56-hour limit on paid in-home care hours is forcing families to seek outside employment but they cannot find caregivers for their loved ones.
Eight survivors have died since the reform's passing due to lack of funding for care. Others are forced into facilities that lack capacity to care for survivors properly, or families are left facing heavy financial burdens.
The reform which has been presented as a promising piece of savings to auto drivers has shown lack of regard for those injured in accidents.
Read their entire press release, donate to their fundraiser, follow their Facebook page for more information, and show up to the Capitol on April 12 if you can.
_________________________________________________________________________________________
What We're Listening To
In Praxis
Season 3: Community Driven Strategies for Food Justice
The Praxis Project presents two new episodes from Season 3 of their podcast In Praxis, focusing on food justice.
Emanuel Brown, executive director and steward of Acorn Center for Restoration and Freedom, explores freedom through the ability to access healthy and health promoting food and our connection to the land.
Carlton Turner, co-founder, co-director, and lead artist of the Mississippi Center for Cultural Production, tells his food story—a deeply compelling tale that tells the socio-political and economic history of Utica, Mississippi as it connects to the current day.


See what else The Praxis Project has going on at their website.
_______________________________________________________________________________________
What We're Reading
There will be no scenery after the battle
On the Russian army's invasion of Ukraine
by MaryAnn Tenuto-Sanchez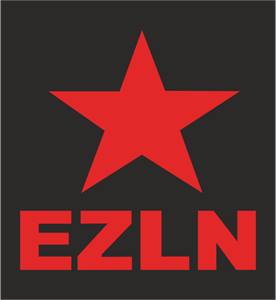 To those who signed the Declaration for Life:
To the national and international Sixth:
Compañer@s and herman@s:
We tell you our words and thoughts about what is currently happening in the geography you call Europe:
FIRST – There is an aggressor force, the Russian army. There are big capital interests at stake, on both sides. Those who now suffer from the delusions of some and the cunning economic calculations of others, are the peoples of Russia and Ukraine (and, perhaps soon, those of other geographies near or far). As Zapatistas, we do not support one state or another, but those who fight for life against the system.
During the multinational invasion of Iraq (almost 19 years ago), with the US army at the head, there were mobilizations around the world against that war. No one in their right mind thought that opposing the invasion was siding with Saddam Hussein. Now it's a similar situation, although not the same. Neither Zelensky nor Putin! Stop the war!
Read the entire statement here
______________________________________________________________________________________________
"Intelligence is ongoing, individual adaptability. Adaptations that an intelligent species may make in a single generation, other species make over many generations of selective breeding and selective dying."
– Octavia Butler