In Memory of Ron Scott, Spiritual Warrior
James and Grace Lee Boggs Center to Nurture Community Leadership

Lifelong community activist Ron Scott died on Sunday, November 29, 2015 after a difficult battle with cancer.  We mourn his passing and will greatly miss his voice and insights.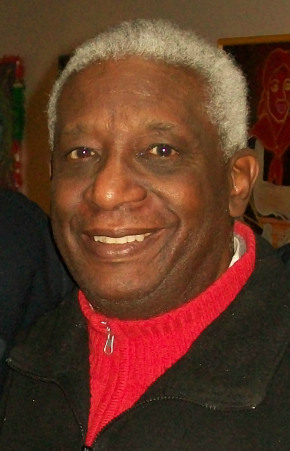 Ron was a board member of the James and Grace Lee Boggs Center to Nurture Community Leadership. He first met Grace and James Boggs when he was 16 years old and exploring the ideas of Black Power and Community Control. A founding member of the Detroit Chapter of the Black Panther Party, Ron remained a comrade and friend of the Boggs' for the rest of their lives. Since the early 1970s he worked with members of the Boggs Center in organizing Detroiters For Dignity, We Pros, SOSAD, and Detroit Summer.
A gifted television personality, his love of young people lead him to Project BAIT, where he helped develop a generation of young people in video production. He was an independent film-maker, writer, speaker, radio host, and organizer. He was a media pioneer, hosting Detroit Black Journal, often bringing the voices of radical thinkers and activists to larger audiences.
Over the last 20 years, Ron has been a primary spokesmen and intellectual force for the Detroit Coalition Against Police Brutality. Through the Coalition he was a tireless advocate for peace in our communities.
Richard Feldman of the Boggs Center said, "Ron was honored that he came from a family of teachers, ministers and working folks with many varied ideas.  He was loved by Diane Reeder, dearly respected by Congressman John Conyers, and by hundreds of young people whose lives he protected and whose dignity he fought for. He reminded us to respect elders who were engaged in the "struggle" and to understand that we all build on the work of earlier generations.  Ron had enormous faith in people and believed "everyone could change".
Myrtle Thompson-Curtis of the Boggs Center and Feedom Freedom Growers said, "I am truly glad to have worked along side Ron Scott. He was always a teacher and healer."
"Ron was a spiritual warrior who clearly acknowledged the media wars and the war between moving forward and being "stuck" in old ideas of revolution.  He believed every institution in our country needs to change. Changing ourselves and becoming more human, human beings, thinking dialectically, not biologically were essential to his efforts of uniting the long haul with the urgency of now," Richard Feldman said.
Ron always asked, "Who is not at the table?  Which youth are we talking about and trying to reach?" He believed in community as the foundation of safety and argued that the only purpose of the police is to serve the people. He never doubted that it was our responsibility to create Peace Makers and turn War Zones into Peace Zones."
Over the last several months, while dealing with illness, Ron felt a responsibility to speak to the young activists emerging in the Black Lives Matters Movements. His recently finished a book, Guide to Ending Police Brutality published in the fall of this year. It is available at the BC website.
We will miss Ron's leadership and passion, his commitment, and continual probing of what it means to be more human.
Ron was committed to his beliefs, his journey towards transformation, and his desire to contribute to young people, our city, our region, and our nation.  He truly believed, "A Community That excludes even One of its members is No Community at All."
We join his family, friends, and many comrades in acknowledging his life of commitment to creating a more just and peaceful world.