April 21st, 2019
Thinking for Ourselves
Hantz Farms Land Grab
Shea Howell
Hantz Farms is briefly back in the news this week. By the time you read this, the City Council will most likely have approved the swap of 37 parcels of land on Beniteau Street for 450 parcels scattered throughout the East side. That means Hantz is getting a more than 10 parcels for every one he is giving up. And he is getting these additional parcels for 8.33 cents per square foot. That is the price he negotiated six years ago with the Bing administration. Currently, similar properties are going for between $1.25 and $1.75 a square foot, meaning that he is paying less than 10 cents for every dollar. He also gets 80 houses to "rehabilitate" within two years.
It is a sweet deal for Hantz. He is getting ten times the property and at one tenth the cost. In addition to helping consolidate the land the city wants to give to Fiat Chrysler, this little deal will allow Hantz to consolidate his one square mile farm dream.
All of this is happening without any public oversight or comment. The proposal has been rushed to City Council and they are set to vote on Tuesday April 23, 2019. The last time City Council discussed a deal with John Hantz, the chambers were packed.  An open meeting with them on the East side saw more than 1000 people turn out to voice their objections on one of the coldest nights in January. People were overwhelmingly opposedto the land give away being proposed by Mayor Dave Bing on the cusp of bankruptcy.
That vocal opposition is probably why this current deal, roughly ¼ the size of his previous effort, has received little attention in the media and no public notice.
But it makes some things very clear. The purpose of the Land Bank is not to stabilize neighborhoods or keep people in their homes. It is to enable the Mayor to give away the city at the lowest possible price to the richest, whitest people he can find.
Last year when there were rumors that Hantz was looking for developers, Mike Score, president of Hantz Woodlands LLC, said, "The purpose of the farm, the whole mission of the investment, is to create truly livable neighborhoods on the lower east side of Detroit and the farm is doing that. It's not that the farm is for sale. It's that we have made progress of eliminating blight,"  He went on to say, "We have had a lot of inquiries from developers who have told us from their perspective that Hantz Woodlands has become attractive. We are exploring options."
It is hard to believe any developer could have come up with a better set of options than those offered by Mayor Duggan.
We should all remember that the primary reason people objected to Hantz was because he foolishly told the Wall Street Journal his real motive. He wants to take land off the speculative market to drive the prices up.
The consequences of rising prices are clear. Higher property taxes, higher insurance, more financial speculation and less stable neighborhoods.
While the City Council is not likely to stop this deal, there is a great deal they can do to stop the worst consequences of it in the lives of people. They should immediately establish a moratorium on property tax increases for currently occupied homes, develop the capacity for community land banks, and put a moratorium on water shut offs and foreclosures. They should also establish effective rent controls and mechanisms for people to hold absentee land lords accountable.
This latest land grab by Hantz is an outrage to any sense of fairness or justice. It reveals who the city values and the extraordinary efforts this mayor will make to assist white businessmen in getting what they want.
From Growing Our Economy to Growing Our Souls
Rich Feldman
Students from Purdue University, young people from Great Britain, high school students from The Bronx, NY and teachers from Vermont visited the Boggs Center this past week. They all joined with members of the Boggs Center Board to learn about the writings, practice, and legacy of James and Grace Lee Boggs. The tour and the reflective conversations provided a space to share the evolutionary thinking as we carry out our mission to nurture community leadership based upon visionary organizing.
In the tour format we are able to tell the story of the rise and fall of the American Dream and the question what it means t be living in a moment of great transition from one historical epoch to the next stage in human evolution.
Dakarai Carter shared his involvements with Detroit Summer, Wayne Curtis talked about the importance of the urban farming, peace zones for life ,and his involvement with the Black Panther Party. Kim Sherobbi shared her work at Birwood with middle school student, the evolving block club network and Women Creating Caring Communities.  Our visitors learned the importance of placed based organizing, the need to create liberated territories, and about efforts to create new, value based relationships among people.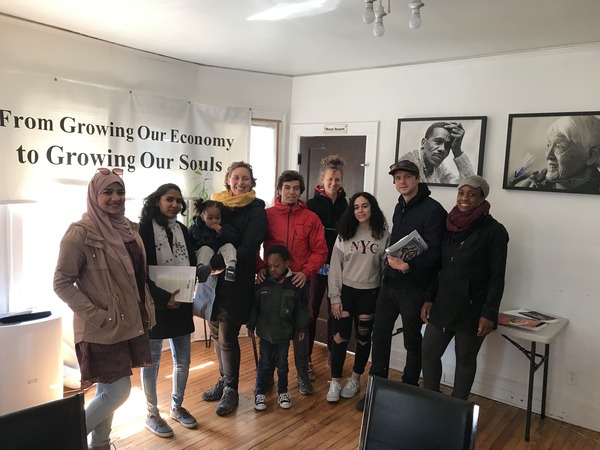 This tour is one method to share the Boggs Center's journey to redefine the concept of revolution since the rebellion of 1967 and help people understand the potential of this moment to create something very new and urgently needed.  We are facing an epochal crisis in capitalism requiring us to redefine our relationships to each other and to the planet.
Today we have responsibilities and opportunities to usher in a new system.  It is our time to create the beloved community rooted in local history and emerging contradictions. In Detroit we are able touch some of this new future through the work of  individuals and organizations that are creating solutions offering visions of resilience and regeneration.
Our tours begin at Elmwood Cemetery , acknowledging the presence of ancestors who give us wisdom and strength. Here, in land holding the shape of centuries of wind and water, we remember the resistance to colonialism by Chief Pontiac and honor Bloody Run Creek that still flows defiantly.
We visited Carlos Neilbok of CanArts and Tyree Guyton of the Heidelberg project.  Carlos and Tyree introduce people to challenge rationalism and linear thinking through unleashing their imaginations as they relate to upcycling and creating wind power for energy and through found art initiatives.  They represent the challenge to find your passions and commit to do what we really, really want to do.
It was an honor to host our visitors and introduce them to Detroit's east side visionary organizing and  the Boggs Center as we continue the work of James and Grace Lee Boggs to move from rebellion to revolution.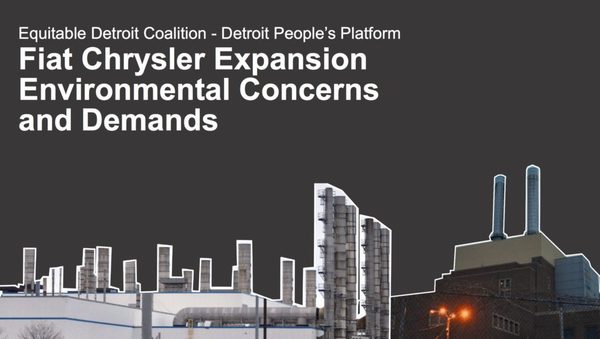 MCHR Dinner
Rich Feldman
The Michigan Coalition for Human rights began in 1980.  In that year the US elected Ronald Reagan as president, ushering in the political power of counter revolutionary forces. In those days it was called the New Right.  Still fighting communism and determined to re-establish US military might after its defeat in Viet Nam, Reagan solidified the organizational and intellectual foundations of the forces that would ultimately bring Donald Trump to the White House.
In Detroit, as industry continued to leave and as federal supports disappeared, we faced deep questions about the kind of city we would be.  After a bitter struggle and entire community was leveled for the Cadillac Poletown Plant for GM. We organized to keep Casino gambling out of the city and to create peace in our communities with Save our Sons and Daughters and d We the People to Reclaim our Streets . The hip hop generation emerged offering new visions for how we might live and Central  American Solidarity struggles gave a new urgency to the ideas of Revolution and Liberation. The Sanctuary Movements provided direct, critical information of US terror in El Salvador and Guatemala. The struggle against Apartheid in South Africa and the divestment movement inspired national civil disobedience and organizing on campuses, town halls and churches as people took a stand for human rights.
This year's MCHR gathering showed the evolution, deepening spirit, and continued work of decades of resistance and programs of engagement and hope for Detroiters.
Rashida Tlaib was the guest speaker, offering clear direction and analysis for this time. She began with her mother's story of love.  She then shared the following:
Stop being distracted by the absurdity of Trump and recognize that he needs to face serious investigation through the impeachment process so that others to not think that individual multi billionaires should run the country as if they were CEOs of a multinational corporation.
The women of color and other recently elected congressional members are not going to wait, be patient or "learn the ropes".  Congress women Tlaib was clear. This is a group of sisters of color who are organizers and activists . They have the courage to call out and barbarism of Trump There is an urgency of now and they are not waiting.
We need to visit the southern border and speak loudly and clearly that caging of children (thousands upon thousands) must stop.  At the same time Rashida Tlaib was clear to remind us that we are at a northern border and ICE, Homeland Security and other police forces in our metro area are harassing, arresting and threatening our neighbors in southwest Detroit.
Lastly, Congress woman Tlaib was clear that we need to build a movement and not rely solely on those elected to be on the inside of this government. Social Movements create change, and courageous elected officials bring forth policies. As Grace Boggs often said: Change goes to Washington not from Washington.
MCHR then gave out awards. The first award wen to Jonathan Roberts who also talked about movement building, the urgency of now and the need to focus on liberation. In 2018, he spearheaded city-wide campaign preventing 500 homes from being auctioned off after foreclosure.
The Lifetime achievement awards went to Sam Stark and Kae Halonen. And East Michigan Environmental Action Council received the organization activist award, was accepted by Darryl Jordan.
The program closed with a call for young people, to join the 2019 and 2020 Freedom Tours. 2019 tour will focus on Detroit sites of struggle and 2020 will again travel south visiting the sites and cities that were the foundation of the Freedom Struggle which birthed all other social humanizing movements of the 20th century.
This gathering acknowledged the spirit that we live in movement times, in times of urgency and calls for actions beyond voting, beyond calling your representatives.  The future is now! Thank you MCHR for a spirited and engaging evening.
________________________________________________________________________________________