March 5th, 2019
Thinking for Ourselves
More Than a Job
Shea Howell
For the first time in more than a generation, Detroit will see a new auto plant. Last week, Mayor Duggan and Governor Whitmer joined leaders from Fiat-Chrysler (FCA) and the UAW to announce a possible $4.5 billion expansion that will result in 6,500 new jobs. Most of these jobs will be in Detroit.
This is an extraordinary commitment. Since 2009 FCA has invested nearly $14.5 billion in the U.S, but not in new plants.  In the last 15 years, only seven new auto plants have been built by any auto companies in the entire United States. "It's been a long time since we've seen an investment this big and transformative," Gov. Gretchen Whitmer said. "This is a generational investment in the state of Michigan." Mayor Duggan echoed, saying, "I think most people realize this is a once-in-a-generational chance to change the economic fortunes of thousands of Detroiters."
UAW Vice President Cindy Estrada said the expansion rewards U.S. autoworkers for their hard work and shows confidence in their commitment to the future. "This is especially exciting given that these are good union jobs with union wages and benefits that have been collectively bargained for with the company," she said.
Vice President Estrada also raised the importance of thinking beyond the immediate issue of jobs. She emphasized, "We also look forward to collaborating with FCA, the City of Detroit and other community leaders on a Community Benefits Agreement that re-imagines our city and empowers our citizens to create sustainable communities with long-term viability."
The expansion hinges on the ability of City to put together 200 acres of land. Mayor Duggan said, "We are going to have to acquire 200 acres of land in the next 60 days through the voluntary cooperation of the existing property owners."
About 170 of the 200 acres is under the control of the city of Detroit, DTE Energy, the Great Lakes Water Authority and the Moroun family, Duggan said. The Moroun family, not exactly known for their civic mindedness,  owns 80 acres. Another 11 acres are owned by the Great Lakes Water Authority and 50 acres of land at DTE Energy's former Conner Creek facility is included.
All of this expansion comes less than two months after the announcement by General Motors that it will be closing 5 auto plants. Buried in the story of expansion here was the announcement the same day that FCA was cutting 1,400 jobs from the Jeep Cherokee assembly plant in Belvidere Illinois. People working in the plant in Saltillo, Mexico are also likely to face job loss as some truck production shifts to Warren.
While we welcome this expansion, and encourage a strong commitment to a Community Benefits Agreement, it is important to think very differently about how we are building our economic and social life for a sustainable future. This is the same old story of openings and closings, winners and losers, temporary gains and long-term consequences.
Forty years ago, as the whole community of Poletown was sacrificed for the promise of jobs, James Boggs wrote.
Getting jobs, keeping jobs, making jobs—that's all most people can think about. City mayors lure corporations with tax breaks. Detroit's Mayor Young is bulldozing a whole community to give GM the site it demands. The government lifts environmental regulations which industry claims impede economic growth, Union leaders, to keep their own jobs, urge workers to accept cutbacks. Many people even say, "We need a good war to put people back to work."
Deep in our hearts we know all these measures won't work. We know capitalism operates by displacing human beings with machines, so plants which today employ 6000 will soon employ 3000. We know U.S. multinationals, like GM, Ford, TRW, ITT, are investing overseas to take advantage of cheaper labor and more accessible resources. We know modern war needs technicians and scientists more than it does ground troops and workers, and stockpiling weapons only brings a nuclear holocaust closer. We know society doesn't need most of the goods we produce by our dehumanizing labor and that the plants we work in create new Love Canals. But rather than accept responsibility for changing the system which has turned us into slaves to constantly-expanding toxic wastes, and constantly-expanding multi-national corporations, we beg the master to give us back our jobs so he can lay us off again.
This new expansion and the process of creating a real community benefit agreement provide an opportunity for us to ask fundamental questions about what kind of work we need to develop ourselves, our children, and our communities. A just, sustainable future means thinking about more than a job.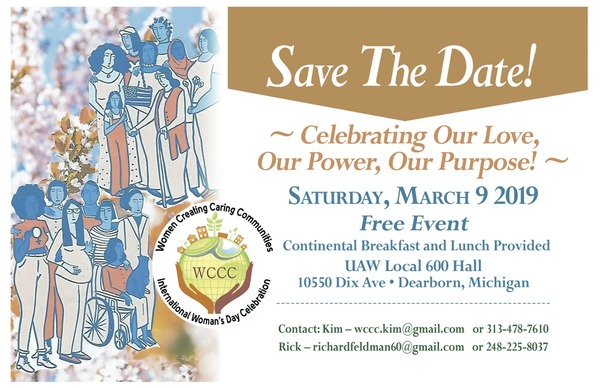 "We must face violent crime honestly and courageously if we are ever to end mass incarceration and provide survivors what they truly want and need to heal."