May 31st, 2022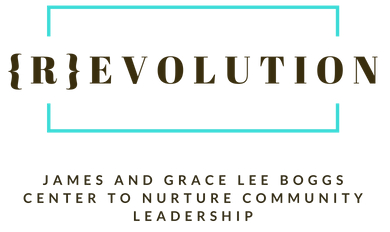 ---
Thinking for Ourselves
Approaching spiritual death
Shea Howell
Almost everyone I know is filled with a deepening sense of grief. After watching the daily brutality of war in Ukraine, we were still stunned when thirteen people in Buffalo were shot by a young man who opened fire in a supermarket. Ten of the victims died. Eleven of the victims were African Americans. The shooter, a young, white man, was motivated by a hate filled, white supremist ideology.  Within days, another young man walked into an elementary school in Uvalde, Texas, killing 19 children and two teachers. The bloodshed in Ukraine seems to be fading  from public consciousness as the bloodshed at home overwhelms us.
In the face of such enormous death most public figures have little to offer. They continue sending weapons to war, prayers to victims.  Rather, those closest to these killings have been turning to each other for solace, gathering in prayer circles, sharing memories of loved ones. In Buffalo people gathered in a park to  acknowledge that "it could have been any of us" killed by a young man with a gun. Around the country, thousands of people have come together in small groups and public gatherings.  Friends and neighbors join to share in the grief and mounting outrage at the continuing death toll here at home. High School students across the country are staging walkouts to protest gun violence and demand actions.
For me, I am coming to understand that this is what Martin Luther King meant when he said, "A nation that continues year after year to spend more money on military defense than on programs of social uplift is approaching spiritual death."  As a people, we are losing the essence of spirituality, the capacity to feel connection and to care for each other. We are cut off from our history, from the consequences of our actions at home and around the globe, and we are losing our belief that a future of peace and justice is possible.
There is nothing new in the use of violence to protect power, wealth, and whiteness in this land. From the genocide of indigenous people to the stealing, killing, and daily brutalizing of Africans, American power has rested on violence.  This reality prompted Dr. King to say we are "the greatest purveyor of violence in the world today."
Under the advance of racial capital, we have seen violence corrode our most essential connections to each other. In just this decade we have seen entire cities sacrificed.  Under the guise of  finances, cites were deprived of basic democratic controls, resulting in 100,000 people in Flint, being forced to drink poisoned water.  Detroit was cited for human rights violations by the UN as it shut off water to hundreds of thousands of people.  Puerto Rico is being looted by legal maneuverings. More than 45,000 lives lost to gun violence in 2020 alone. Since 2014, more than 34,500 children have been killed or injured by guns, more than 6,500 under the age of 12. Today firearms are the number one cause of death for teenagers. More people survive gun injuries, often struggling with violation, pain and trauma. Most mass shootings happen in majority black communities. We know this, yet we seem incapable of moving beyond grief. Meanwhile the arms industry, from hand guns to missiles, is booming, exporting death and violence.
King understood that this violence came not from technologies of death, be they guns, poisons,  missiles, or bombs, but from a deeper "malady of our souls" as we have come to accept as normal the idea that "machines and computers, profit motives and property rights, are considered more important than people."
In the face of this violence, we need a radical shift toward love of the deepest kind. Such a shift is not an empty gesture, but requires the radical reconstruction of how we live and how we collectively act. No one should profit from the weapons of war and death. It is time to act in ways that make democracy real and to act on behalf of justice and peace so that life can flourish, for our children and all beings on this fragile earth.
__________________________________________________________________
Happy Birthday James Boggs!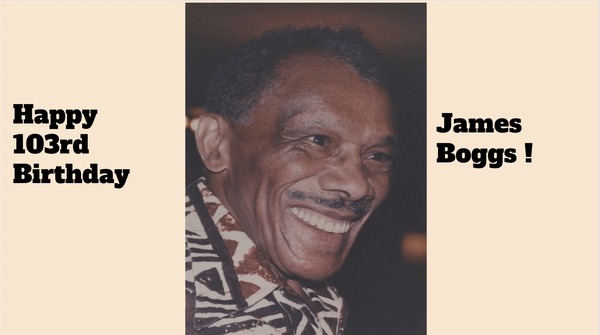 Celebrating his birthday on May 28, this presentation of words spoken and written by James Boggs along with images serves as a rememberance of Boggs on what would be his 103rd birthday. May his ancestral spirit live on — enjoy this slideshow!
____________________________________________________________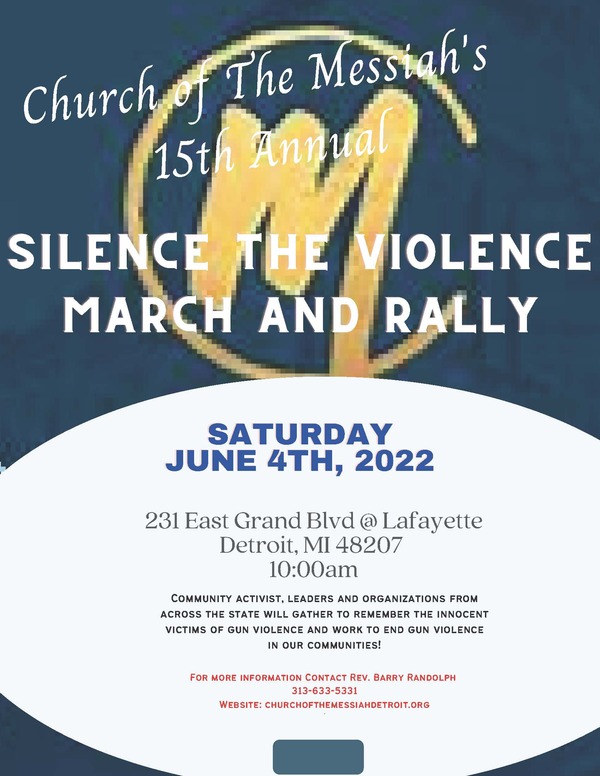 ______________________________________________________________________________________________________________
Today is normal
Written by: Rich Feldman
As we go to print and to the internet with our second edition of the Suburban Connections Newsletter for Collective Liberation, the pain of war in the Ukraine continues on our TV Screens, while the continued wars in Yemen, Palestine, go unnoticed.  In less than a month we have watched the videos of the recent Grand Rapids police murder of Patrick Lyoya, an immigrant from the Congo, followed by the white supremacist, racist murder of 10 people in Buffalo, and then the killing of 19 kids and 2 teachers in Uvalde, Texas.
Most politicians, leaders, and caring people say "it is a poison, it is not normal."  Actually,  it is normal in our country and throughout our history.  We not only need to repeal the Second Amendment, pass gun legislation, grieve, cry, feel, turn to each other, and stop the madness, we need to look at ourselves in the mirror.  We need to unleash truth telling campaigns in every school, community, university, religious institution, union and workplace in our country.  Truth Telling campaigns that will require commitment and endurance for decades.
Let each family take one hour and listen to this speech:
We need to listen to the words of Martin Luther King when he spoke out in April of 1967:
In his speech Beyond Vietnam, Time to Break the Silence and called for the need to struggle against the evil triplets of racism, militarism, and materialism.. He called for a Radical Revolution in Values.
6 months ago, we witnessed and cried for the Oxford Killing and then this week, the students walked out of school in solidarity, compassion and love for those killed in Uvalde.  Every Monday at 5:30 pm at 11 Mile and Woodward, people gather with signs uplifting the lives of the people killed in Buffalo and we remember George Floyd with signs reading Black Lives Matter.  Weekly suburban folks and Detroiters have been demonstrating to resist the expected supreme court decision banning abortions, women's dignity and choice.
We lie to ourselves, we cry for others, we pray and hope it is not our child or our neighborhood and we "beg" others to change our world.  We want to be comfortable.  Suburban folks close our eyes to the water shut-offs in Detroit, the foreclosures in Detroit and then we cheer on gentrification and displacement of poor people so we can have entertainment centers downtown.
This newsletter is about uplifting those working to change this thinking and challenge the priorities of our lives, our region, and our country.
This newsletter reminds us that our country was founded on the fundamental contradiction, the fundamental truth (false belief) that economic advancement, technological advancement was more important than social and human values. Thus, we could justify Slavery.  We trade our humanity and our values for advancing economic advancement.  The founding of our nation, justified genocide of indigenous people , the enslavement of Africans and then African Americans, the stealing of land from Mexico (remember the Mexican American War). It was normal for thousands of white folks to view lynching's while picnicking.  It was normal for Americans to welcome the dropping of the atomic bomb on Japan.  It was normal for my generation to cheer on the "cowboys and cavalry killing Indians" on TV.   We have had immigration rules based upon color and ethnicity.  We know the story of Asian Americans on the west coast and the Vincent Chin Story in our metro area.
No more lectures but quit lying to ourselves.  If we say that "enough is enough" then let every township and city call gatherings with those ready to face the truth.  We are in a moment of "civil war" and our voices cannot call for the same old solutions but truly go deep to our souls.  These are the ties to grow our souls in collective action, collective study, collective reflection, collective grieving, and collective outrage.  It is time for collective creative, non-violent disobedience.
July 4th is our time to ask ourselves the question.  What has been historically normal and what will we make normal in the decades ahead.  Stop lying to ourselves.  A country with more than 100 military bases around the world is about violence. A police force that has military equipment is about violence, White Supremacy and the Second Amendment is about violence.  As a dear poet friend once said; "Stop the madness, stop the violence".
As one of my mentors said: 'I am a citizen of a country that does not yet exist."
This newsletter is about transforming ourselves, our culture, and our vision to create a new normal based upon values of relationships, respect, dignity, inclusion, non-violence, and the  beloving communities.  Business as usual, politics as usual ends with each of our commitments to change ourselves and our world.  This simple newsletter shares the growing number of organizations emerging, the growing number of caring folks committed to the work of change.
Get involved.  Change happens when we join with others.
______________________________________________________________________________________________________
Uplifting & Supporting Our Community
Church of the Messiah is hosting their 15th annual Silence The Violence March and Rally, taking place Saturday, June 4, 2022 at 10am. Take a look at this video of the march from recent years for understanding and purpose of this event. For more information, call (313) 633-5331
The BlackOUT Collective is officially 3 weeks out from the start of their 2022 Summer Skill-Up Series! They'll be kicking things off with a training in Arts & Blockades June 10-12 in Detroit, MI, and following it up with a training in Action Coordination July 8-10 in Washington, DC and a Direct Action Training for Trainers August 5-7 in NYC. They welcome you to join them by registering at bit.ly/22SkillUp.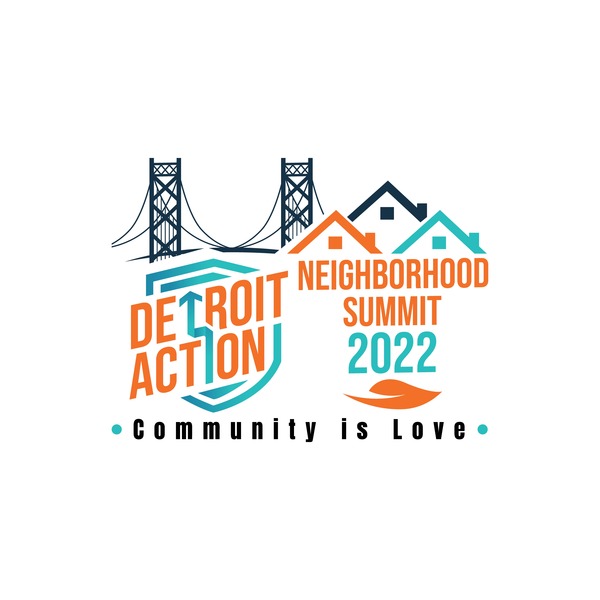 Join Detroit Action for their annual celebration of their members,community and the power that we can build together. Their 2022 Detroit Action Neighborhood Summit is an annual member convening, featuring music, arts, food and fun. This year the theme is "Community Is Love" and they're learning into community care and building the community we deserve! Speakers to be announced in the next few weeks.
What: Detroit Action 2022 Neighborhood Summit
When: Saturday, June 18th 11a-4pm
Where: 2711 E. Outer Drive, Detroit, MI 48234
How: https://www.mobilize.us/detroitaction/event/452846/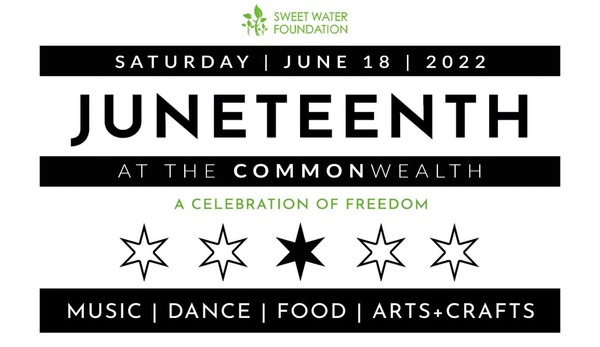 Sweetwater Foundation invites you to join their 5th annual Juneteenth Celebration, Saturday June 18. This is a family-friendly event which will welcome an international audience to create, build, and celebrate freedom + community. There will be arts + crafts, live music, dance, workshops, food, and fun!
Space is limited — find more information + register here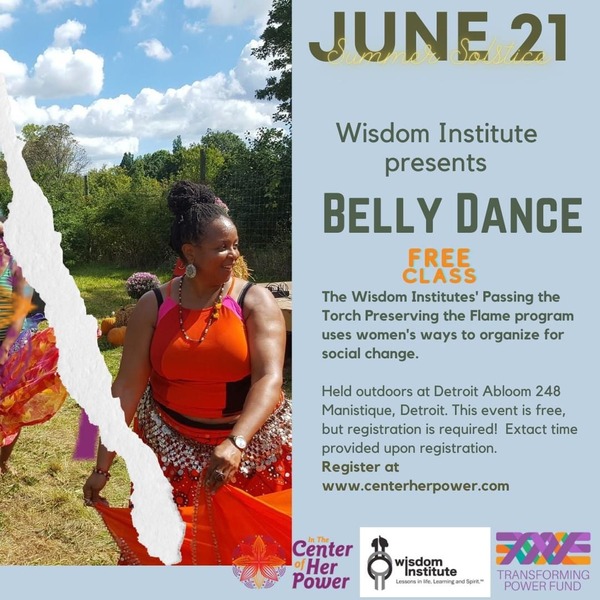 Register now for this free belly dance class, hosted by The Wisdom Institute, In The Center of Her Power, and Detroit Abloom @ 248 Manistique. The event will take place Tuesday, June 21 from 6-7pm!
Low-Income Household Water Assistance Program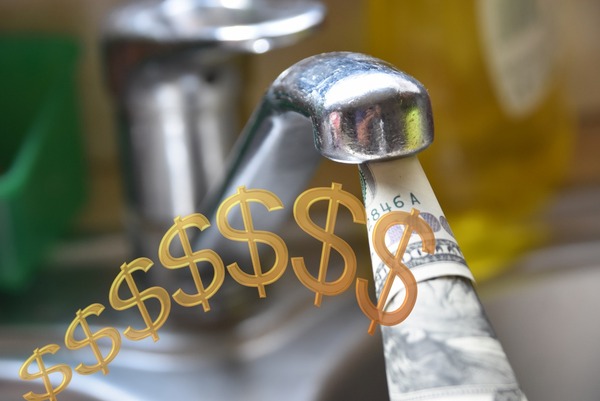 This new Federal program offers assistance to those who are facing water shutoffs or are in need of reconnecting their water utility. Freshwater Future lists additional information and ways to apply for assistance, categorized by state. The program prioritizes those who need their water reconnected or are facing imminent shutoffs. You can read more and apply here.
ACLU: Immigrant Police Misconduct Hotline
ACLU MI has recently launched and announced the misconduct hotline for Michiganders to report instances of police misconduct or abuse based on immigration status (or assumptions about immigration status).
If you or a loved one have been pulled over, harassed, arrested, or detained by a police officer because of actual or perceived immigration status (e.g., skin color, spoken language, or name), you are encouraged to call the hotline and leave a message detailing the experience. The ACLU of Michigan is committed to investigating those reports and will assist in taking action against police departments when possible.
Flyers are also available in 4 different languages:
Arabic
Bangla/Bengali
?English
Spanish
"Everybody can be great…because anybody can serve. You don't have to have a college degree to serve. You don't have to make your subject and verb agree to serve. You only need a heart full of grace. A soul generated by love." – Martin Luther King, Jr.
Click here to forward this email to a friend
Boggs Center to Nurture Community Leadership
3061 Field Street
Detroit, Michigan 48214
US