August 19th, 2020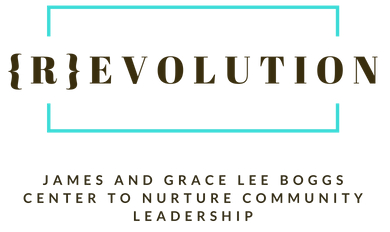 Manger on McNichols
by Boldy James and Sterling Toles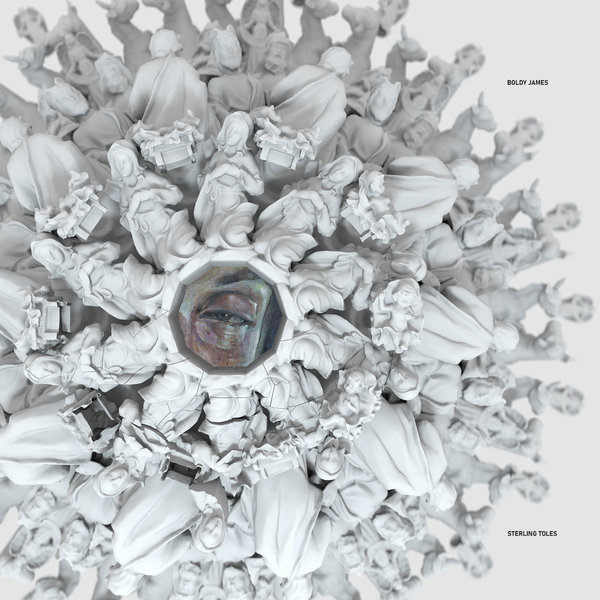 ---
Thinking for Ourselves
Embracing Imagination
Shea Howell


The 75th anniversary of the dropping atomic bombs by the United States on Hiroshima and Nagasaki passed with little notice. The bombs killed 210,000 people and tens of thousands more were to die of radiation poisoning, minutes, days, weeks and months later. For many others, death came more slowly, after lifetimes of illness and pain.  Many of the few remaining survivors continue to advocate for a nuclear free world.
Of all of the brutalities of the last century, nuclear devastation unleashed by the US, now endangers all life.  Dr. Helen Caldicott, who has been a leading thinker-activists for the elimination of nuclear weapons observed: "Seventy-five years after the dawn of the nuclear age, we are as ready as ever to extinguish ourselves. The human race is clearly an evolutionary aberrant on a suicidal mission. Our planet is in the intensive care unit, approaching several terminal events.  Will we gradually burn and shrivel life on our wondrous Earth by emitting the ancient carbon stored over billions of years to drive our cars and power our industries, or will we end it suddenly by creating a global gas oven?"
This is not an abstract question.  Caldicott explains, "The International Energy Agency said recently that we only have six months left to avert the effects of global warming before it is too late. Earlier this year, the Bulletin of the Atomic Scientists moved its Doomsday Clock to 100 seconds to midnight, the closest it's ever been."
The drive toward extinction has accelerated under President Trump. Along with the denial of climate change, the removal of even modest efforts to limit deadly corporate extraction of vital resources,  Trump is moving us closer to nuclear devastation. He used this anniversary as an opportunity to announce the resumption of nuclear weapons programs.
Further, the Washington Post reports  his administration has been holding discussions on carrying out nuclear test explosions for the first time since 1992.
Since coming into authority, Trump has been dismantling international safeguards aimed at limiting nuclear weapons. He has withdrawn the United States from arms treaties including the landmark INF agreement and the Iran nuclear deal. He has failed to extend the New START accord,  and rejects the Comprehensive Nuclear Test Ban Treaty, which bans all nuclear test explosions.
He  has gone forward with expensive nuke modernization plans, spending billions of dollars on weapons of mass destruction. Almost all of this has happened with little public attention or outcry.
But Trump is only the latest manifestation of what Dr. Martin Luther King, Jr.  called a deep "malady within the American spirit," rooted in our denial of the death and destruction we cause to protect the power and privilege of a few.
King understood that "A nation that continues year after year to spend more money on military defense than on programs of social uplift is approaching spiritual doom." That is why he called upon us to make a "radical revolution of values."  We must rapidly begin," he said, "the shift from a thing-oriented society to a person-oriented society. When machines and computers, profit motives and property rights, are considered more important than people, the giant triplets of racism, extreme materialism, and militarism are incapable of being conquered.
We are today again in revolutionary times. The promise of creating the world anew is being raised daily as people gather in the streets, in neighborhoods, and across the country asking how can we live peacefully, with compassion and joy. As Einstein commented in the shadow of the bomb, it is our imaginations that will enable us to create and embrace this new world.
---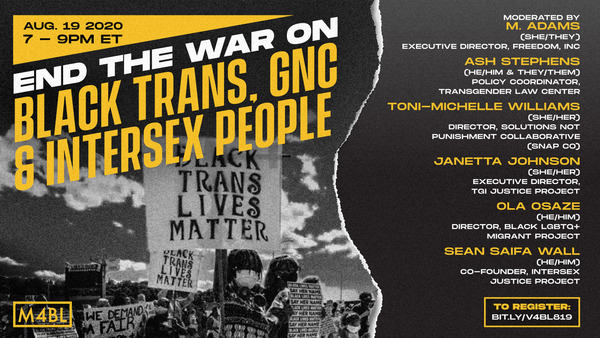 ---
Open Letter to the Detroit Board of Police Commissioners
Tom Stephens
In public discussions of recent high-profile police incidents in Detroit there's been a repeated failure by police leaders to distinguish between alleged serious crimes by individuals, and what police say "the protestors" allegedly did.  Such contradictory framing could potentially help make nonviolent resolution of public controversies that are currently shaking the US republic to its foundations effectively impossible.
Crime is individual. Protest is collective.  Crime is illegal but protest is constitutionally protected. The city or 'the state' has no legitimate interest in punishing protestors collectively for what some individuals may have done that  was illegal, if anything.  If the police can recognize and act appropriately on these real interests at stake and these main facts of the overall legal and political situation in a timely way, before more serious violations of public health and safety occur, it could hopefully defuse a dangerous and unjust situation.  But I don't believe they've been doing that, necessitating this statement.
Around the end of May, violence in George Floyd demonstrations in Detroit was much less than in other cities.  However, a couple very high profile police incidents since then involving police vehicles driving dangerously through a crowd, and then the recent police killing of Hakim Littleton in the course of an arrest that provoked protests, threaten that this explosive situation may now be getting worse not better.  Meanwhile, the police chief and deputy chiefs are repeatedly providing versions of "facts" before investigations are even complete.  Undermining their own credibility by prejudging cases in public and in real time, they inappropriately seek to imprint in the public mind their biased versions of supposed facts, before they have been established by professional investigation.
We are in a very dangerous phase right now.  Detroit Police Department policy makers' demonstrated inability to distinguish between historic protests since George Floyd's murder in Minneapolis on May 25, and actual criminal threats to Detroiters' public health and safety, by at the very minimum simply awaiting results of investigations before publicly slandering "the protesters", is inexcusable and potentially counterproductive under very dangerous circumstances.  I object and call on fellow Detroiters to insist that the police be subjected to due process, oversight, accountability and reforms.
---
The Great Lakes
Deb Hansen
The Great Lakes is a living miracle, with over 20% of the entire world's fresh surface water.  Who could imagine a more inappropriate place to be pushing 23 million gallons of crude oil daily?  Every day, we are knowingly playing a high-stakes game of Russian roulette with this goodness and beauty.
Looking back, I was passionate, but naïve.  When we first learned of the existence of this menace, hardly anyone knew these twin pipelines were lurking on the bottomlands of the Straits of Mackinac.  I remember thinking, surely when decision-makers realized we were at risk for a catastrophic oil spill in the Great Lakes from Enbridge's Line 5, there would be prompt action.  And here we are, seven years later with no end in sight.  Clearly, I had underestimated the power of the oil & gas industry over government along with our own way of life, driven by plastics and fossil fuels.  Still, as a result of recent damage to the pipelines, we probably now have the best opening for action we've ever had.
Line 5 is part of the large Lakehead pipeline network.  It begins in Superior, Wisconsin and ends in Sarnia, Ontario.  It splits into two lines as it transits the Straits of Mackinac, lying exposed on the bottomlands in a major shipping channel.  These 67-years-old pipes are older than the Mackinac Bridge.
Drilling a tunnel under the Straits might sound like a common sense solution to get those pipes out of the water.  It is not.  The deadly cargo of crude oil and natural gas liquids we burn is the greatest contributor to a rapidly destabilizing climate.  Surface water temperatures on the Great Lakes are almost off the charts with spots over 80 degrees.  Heat waves and extreme weather events are becoming more frequent and more intense, knocking out electricity for days.  For the State of Michigan to enable a massive investment in fossil fuel infrastructure in a time of climate and social breakdown is perverse.
Decommissioning Line 5 and rerouting the oil somewhere else in the network is a needed short-term fix to protect the Great. Lakes, but is also not a solution.   Fossil fuels and industrial processes are responsible for 65% of heat-trapping greenhouse gas emissions.  And we are subsidizing the destruction of a climate that supports life as we know it with our tax dollars.
But that's not the only reason.  Environmental racism shows up at the end of the line at the refineries in Sarnia, Ontario with a large indigenous population and in Michigan's most polluted zip code in a largely African American community.  Rerouting the oil to these same refineries ensures people who live near them will continue to sicken.  You can't not breathe the air where you live.  To see schools and playgrounds with a view of flaring gases in zip code 48217 is shocking.  To hear stories people tell about the old days when foxes ran through meadows and small local businesses thrived is heart-breaking.
Elected officials of both parties have paid lip service to protecting the Great Lakes.  It is getting more and more obvious with PFAS, microplastics, Line 5, sulfide mining that we are failing at every level.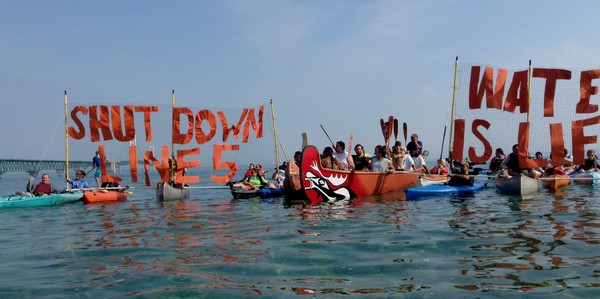 In April of 2018, we almost had the catastrophic oil spill we knew was possible.  A tugboat dragging anchor, destroyed two electrical cables, spilling 600 gallons of toxic insulating fluid into the waters.  Not one drop was recovered.  A few days later we learned that one of the arms of Line 5 was gouged.  You would have been wrong if you thought that that near miss would finally motivate action.
We got a second chance in June when Enbridge shut down the twin pipelines when damage was discovered during a routine inspection.  One arm of the pipeline is still shutdown.  The Governor has the authority and the responsibility to revoke the easement that gives Enbridge permission to operate in the Straits, but has yet to act.
Line 5 is embedded in a larger movement nationally and internationally that has seen indigenous peoples asserting their voices and legal standing.  With it they bring the integrity of their relationship of respect and mutuality with the living world.  But maybe it's about much more than pipelines, the "black snake," and the need to imagine an economic base that is not reliant on fossil fuels.
Mni wiconi or Water is Life as a rallying cry has shifted the conversation from protest to protection and the responsibilities we share to protect life, a reality where communities get to have a voice in decisions that affect them.
Here in Michigan relationships of trust and solidarity are being built when it comes to protecting the quality and beauty of the waters that surround us, making sure everyone has access to affordable water, and that water remains a commons.  Surely this is medicine, an antidote to the racialized politics that have infected public life in this state.
Line 5 is only one example that illustrates how a people behave when they are not well in their souls.  We live in a culture of death, violence, and exploitation.  The invitation before us is to shift to a culture of reverence and respect for life:  for bodies of water, for black and brown bodies, for the air we breathe, for the soil in which our food is grown, a stable climate, for beloved community, and for the future of our children.  If we refuse to make this shift, the challenges and crises will only grow more dire.  Hope lives in this moment.  You can see glimmers of it everywhere when you look.   We can love one another and our world back to life.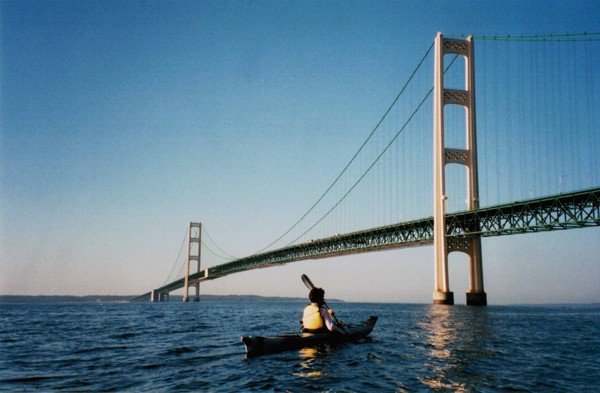 Rev. Deb Hansen worked for many years in corporate America before becoming a refugee of modern culture.  She was a chaplain at Sinai-Grace Hospital and is currently a spiritual director, water and climate protector, and advocate for healing and repairing our relationships with the larger kin-dom and with one another.  She's endlessly fascinated by the process of cultural transformation that allows human life to renew
its self.
____________________________________________________________________________________