August 31st, 2021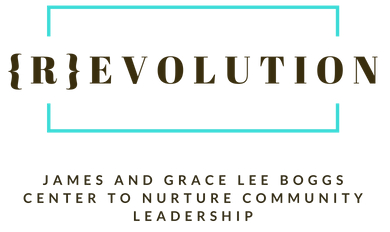 ________________________________________________________________________________________
Thinking for Ourselves
In Our Power
Shea Howell
This week, images of FBI agents raiding Detroit City Council offices and homes flashed across the news media. Council members Janee Ayers and Scott Benson, as well as staff members, were raided in a federal investigation into public corruption. This raid comes just weeks after the Council member Andre Spivey was charged with bribery.  Of the nine council members elected in the last cycle, four are now tainted with real or imagined charges of corruption. All have been strong allies of the Mayor and have steadfastly backed corporate interests.
Over the last four years, I have been on the opposite side of most issues that Ayers, Benson, and Spivey have supported.  Ayers and Benson in particular have done all they could to gut community benefit agreements, encourage surveillance technologies, limit citizen oversight, and scuttle a true water affordability plan. They have used their committee power to stall, delay, and dilute community driven efforts at increasing public accountability and budget transparency.  For these reasons, neither Benson nor Ayers deserve to be reelected to the City Council.
But I take no joy in this wave of investigations. There is no doubt, whatever the outcome, media will portray these investigations as yet another sign that Detroit, a majority Black city, is exceptionally corrupt. This image of public corruption becomes another argument in the restriction of voting rights, fueling the white supremist idea that African Americans cannot govern.
To be sure, we have had a colorful history of public corruption, and much of it has been fueled by a media circus, catering to the white supremist imagination, attacking the achievements, as well as the follies, of powerful African Americans.  For example, it came as a shock to most white folks in Southeast Michigan to learn that Coleman A Young, as mayor, not only fought corruption in the police department, but ran one of the most fiscally responsible cities in America. 
These current raids are part of the work of the Detroit Area Public Corruption Task Force of the FBI, organized in 2012 , and still going strong. In 2019, the head of the task force acknowledged, "We definitely have a more significant corruption issue here in the Michigan region. But we are rooting it out a lot more than other people. We have a long-term campaign here to root out public corruption."
In recent years the FBI has focused its efforts in Macomb County, securing more than a dozen convictions there. Yet media rarely emphasizes the corrupt nature of Detroits predominantly white neighbors. Since 2008, when Mayor Kwame Kilpatrick was indicted for public corruption and racketeering,  more than 100 politicians, union bosses, bureaucrats and police officers have been charged with corruption. 
The best way to get rid of public corruption is to elect officials who are honest and wish to serve the people of the city. We have that opportunity this November. Many of the people running for City Council are people who have proven their commitment to the city, worked tirelessly to benefit people, and have a strong base of support. 
In addition, many candidates, and a minority on the current Council, have been pushing for greater accountability and transparency in government. These citizen led initiatives are critical in providing a framework to protect all of us from corporate avarice. 
We have the opportunity to create a progressive, imaginative, and thoughtful city government, committed to bold changes. This is in our power.
________________________________________________________________________________________
Housing for Baba Baxter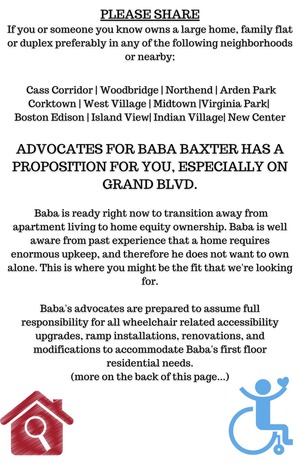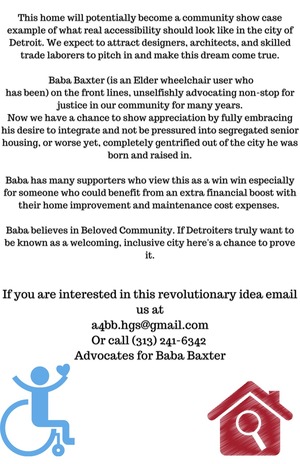 ---
Response to Defund The Military
Written by Frank Joyce
Last week Shea Howell wrote about the US military in the context of the withdrawl from Afghanistan, this week we feature Frank Joyce's take.
So much flapping of the wings of the chikkens coming home to roost this week that I am driven to attempted satire.
I guess things were easier for them when the purpose of the U.S. military was to seize and hold territory.  At first from sea to shining sea. Then beyond. That job was mostly completed by 1917 (Panama and the Virgin Islands. It's a longish story.) The Marshall Islands in 1945 are sort of a footnote.  (Also a longish story.) For reference purposes, 1898 was probably the peak what with the Philippines and Hawaii and various lesser conquests bearing fruit. (Pun intended.)
Controlling slaves and some of the other people of color within the conquered territory has always been a hybrid deal mainly designated to slave patrols, militias, police and in dire circumstances the national guard.  Interestingly, in modern times Federal troops have mostly been used to control white people in selected desegregation struggles in the South and in subduing the rampaging racist all white Michigan national guard in Detroit in 1967.
Since the failure in Korea, (which helped to begat the failure in Viet Nam, insofar as one of its purposes was to overcome the Korea syndrome) the U.S. military has suffered one humiliating loss after another.  Grenada?  That's all you got?  Give me a break.
It's admittedly a little fuzzy but the DoD did play a role in the most significant U.S. accomplishment of the late 20th Century which was the defeat of the metric system.
I looked it up. Here's what the DoD said in 1971.
C. During the period of transition there will be no major advantages to the DOD and major disadvantages will occur. This is the period wherein the greatest costs will occur; psychological resistance to change will be greatest; extensive training and retraining of personnel must be undertaken; conversions will increase operational hazards; dual stockage and dual manufacturing capability will be required in certain instances; material and system acquisition and conversion will create forces with mixed equipment; and development of metric standards will be necessary.
D. The conversion of the country to the metric system could adversely impact on the ability of the United States to support its military forces during the proposed transition period. Without proper planning and adequate funding, the reduced flexibility and capacity of the support available would impact upon the capability of the Armed Forces to perform their mission, especially if an international crisis should develop at critical times during this period requiring the employment of major forces in a combat role.
Anyway, some selective concern over metric conversion costs notwithstanding, the main job of the DoD for a long time now has been to spend money.  Just inconceivable amounts of money.  With no apparent requirement to justify any return whatsoever.
In the wake of what seems to be judged, for the moment anyway, as some sort of twenty year rolling screw up in Afghanistan, it will be interesting to watch how the Pentagon goes about recalibrating its PR message so as to give some cover to those in charge of keeping the money pipeline in full flow.
Like they say in the MSM, we'll be keeping an eye on this.  Of course, the MSM won't do that.  They are an integral part of the machine. (Which could lead to my telling the story of that time I got cancelled in the NYT comments section for calling the U.S. military losers.  True story.  But I'll save it for another day.)
Will the funds allocated to the 2022/2023 DoD budget be reduced?  I'll bet $20 that it won't.  I'll bet $100 though that if the budget isn't increased "liberal" members of Congress will declare that a victory.
Not that there aren't a lot of other things that bear watching.  I get that. But come on, isn't being a spectator a core U.S. value too?  Can't we do a few things just for fun?
No? All right then. On serious note, don't you think not having to learn that pesky metric system makes it all worthwhile?
---
What We're Reading
Highlander Research and Education Center Newsletter
---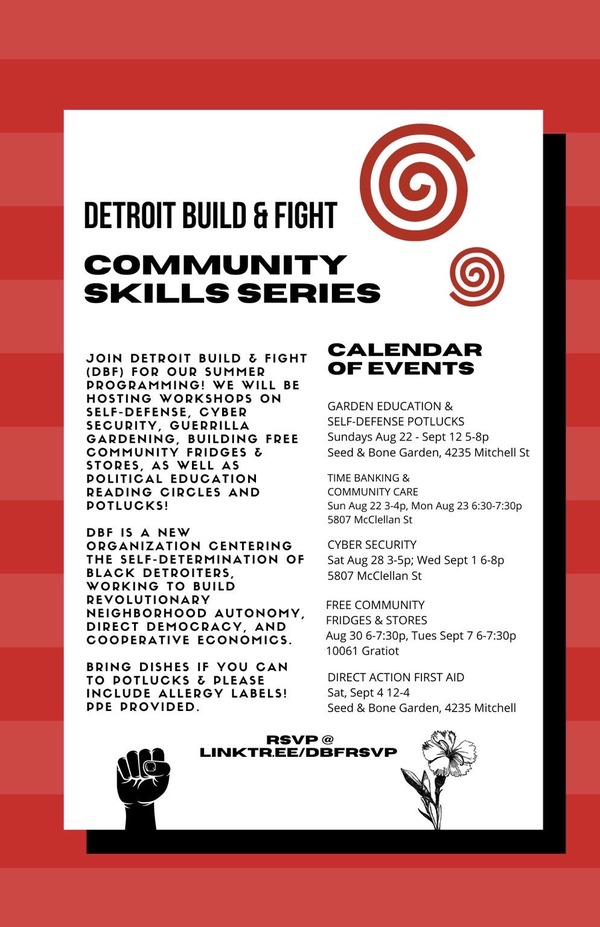 ---
"Solidarity is not an act of charity, but mutual aid between forces fighting for the same objective." – Samora Machel
---
---
Boggs Center to Nurture Community Leadership
3061 Field Street
Detroit, Michigan 48214
US