February 14th, 2022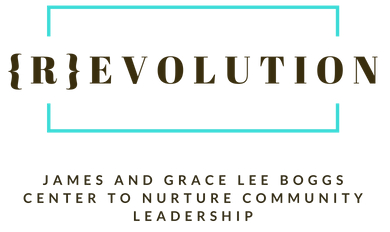 ---
Thinking for Ourselves
Public accounting
Shea Howell
Recently the Washington Post released its annual count on the number of people killed by police in 2021. At least 1,055 people died at the hands of police last year. This is the highest death toll since the Post began carefully compiling the people killed in 2015. Despite years of sustained public scrutiny aimed at controlling police violence, the report notes, "Police have fatally shot roughly 1,000 people in each of the past seven years."
The persistence of police violence, after efforts to provide technological solutions like body cameras and more than 400 separate pieces of legislation to increase accountability, is one of the primary reasons people are pressing to defund police. Police killings continue to be a fact of life and death  in African American communities and other communities of color.
These numbers represent incalculable pain with the deaths of sons, daughters, mothers, fathers, cousins, friends, brothers and sisters, casual members of church and community. Often these are deaths coming in the guise of the most mundane activities, driving home, playing in a park, walking in the neighborhood.
The Post said that , "Last year also stands out because one of those shot and killed by police was a young child — 8-year-old Fanta Bility. Bility was shot by Sharon Hill, Pa., police officers who fired at a car outside a high school football game in August. The officers mistakenly thought someone in the vehicle was firing at them, a grand jury said…The shooting marked the third time in the last seven years that police fatally shot a child under age 10. The other children, both 6, were killed in 2015 and 2017. Of the 1,055 people fatally shot last year, about 1 percent were juveniles — consistent with other years that The Post has tracked."
As outrageous as the persistent pattern of violence is that lack of care in recording it.  The only clear national database is kept by a team of Washington Post reporters. There is no national database to track police killings. Over the last decade journalists and non profit groups have attempted to fill in this gap.
A basic effort to create justice requires understanding the dimensions of injustice. This was the animating force behind the work of Ida B. Wells-Barnett, who used her pen to document crimes against African Americans. Her newspaper articles in the 1890s and pamphlet Southern Horrors: Lynch Law in all its Phases, brought national attention to white violence. The NAACP, that Wells-Barnett co-founded, has kept the national chronicle of these crimes.
In Detroit, through the mid 1980s through the mid 1990s, Save Our Sons and Daughters, an organization dedicated to ending gun violence, held a reading every Thursday at the Spirit of Detroit to document the loss of children. For many years I worked with the Triangle Foundation as part of the National Coalition of  Anti Violence Programs, sending yearly reports of LGBTQIA+ individuals killed, sometimes by police, in the volunteer effort to document hate crimes unrecognized by any level of government.
Violence, especially by the state, will not stop as long as it is hidden. In recognition of this, the FBI is attempting to create a definitive database on how often police officers use force against individuals, through the National Use-of-Force Data Collection program begun in 2019. That program may never come into effect because police, sheriffs and federal law enforcement are not sending the information needed. The FBI is required to get at least 60% of law enforcement nationally to cooperate and, so far, it is below that level. It may never publish a single number.
Detroit is no better. The annual reports of the Board of Police Commissioners now mention the use of force and deadly encounters, but offer no precise numbers or circumstances. The one thing they could not hide, however, as that deadly force against people is increasing.
Excessive force and deadly encounters will continue until we demand a full public accounting of the loss of life. Since the days of Ida B. Wells-Barnett, we have known that we cannot let people die in silence.
The Boggs Center is calling for applications for 2 available co-director positions. You can find more information here or reach out to applications@boggscenter.org with questions!
___________________________________________________________________________________________________________________
Detroit Safety Team City-Wide Fellowship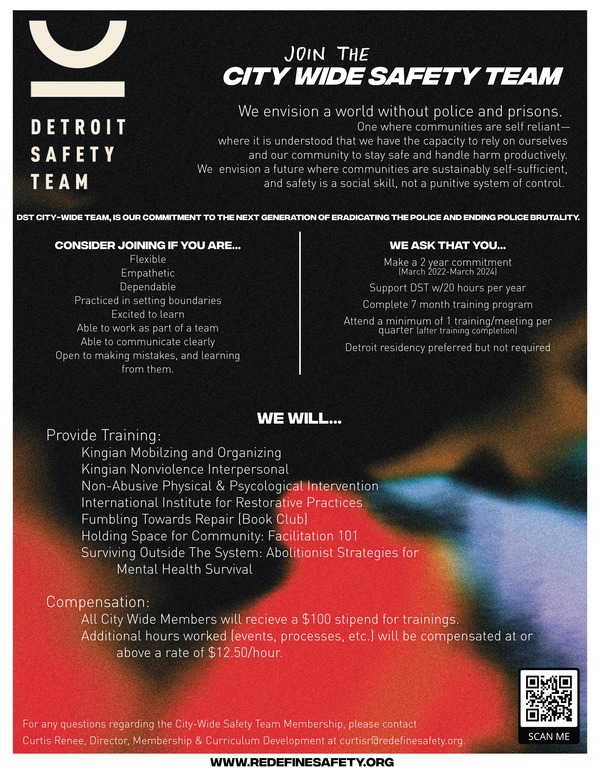 The Detroit Safety Team calls for flexible, committed, and compassionate individuals in Detroit who are willing to work collaboratively to help build self-sufficient communities through a 2-year program. They are offering 7 months of free training in conflict reconciliation, nonviolent mobilizing/organizing, de-escalation, restorative practices and resources on mental health.
Reach out to Curtis Renee at curtisr@redfinesafety.org with questions or find out more here.
___________________________________________________________________________________________________________________
Friends of Royal Oak Township presents: Truth Toward Reconciliation
Friends of Royal Oak Township invite you to their event, happening Thursday, February 17 from 7-9 pm to "transform our understanding of our own histories in Southern Oakland County". Through collective exploration of the past, present, and future focused around those within the areas of Huntington Woods, Royal Oak, Ferndale, Berkley, and other cities within the Southern Oakland County area.
Learn more about Friends of Royal Oak Township and register here for the event
A Brave and Startling Truth
Maya Angelou
Beloved Community Center graces us with Maya Angelou's eloquence in the performance of her poem, A Brave and Startling Truth for some words to reflect on this Monday.
They're also promoting two upcoming events to check out: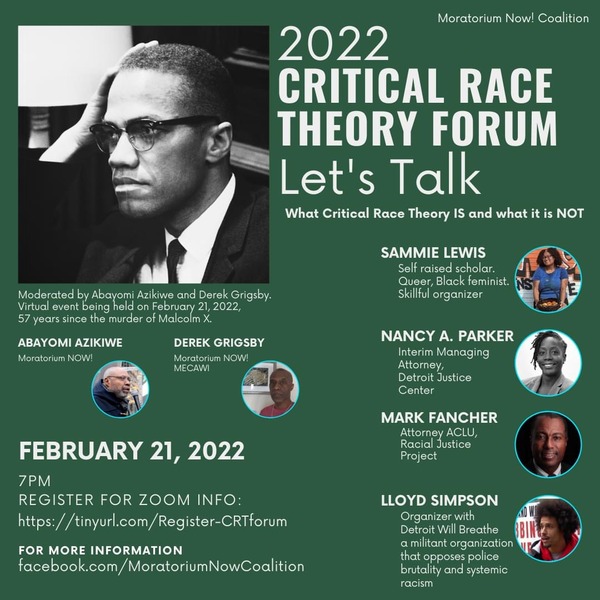 In honor of the 57th anniversary of the martyrdom of Malcolm X, Moratorium Now Coalition is hosting a critical conversation around questions, 'What are these opponents of antiracist education afraid of? What implications are there for the further erosion of democratic rights and the escalation of state repression and imperialist war?' They call for you to attend and engage in conversation on these matters with experts and activists who are working to educate, liberate, and organize the working class and oppressed peoples locally, nationally, and globally.
You can find more information on their Facebook page or register here for their event happening Monday, February 21, 2022 at 7pm. 
_________________________________________________________________________________________________________________
What We're Reading
Highlander Center
View from the Hill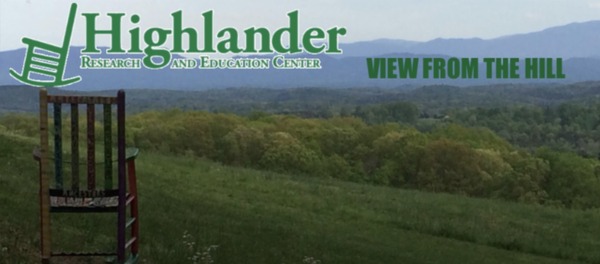 Highlander encourages you to follow their Facebook, Instagram, and Twitter pages for images and stories they're featuring for Black History Month. Shake it up to Ella Baker Shaker, the leading single from "The Black Joy Experience Vol. 2: Comrade", a 16-song compilation uplifting liberation anthems and freedom songs celebrating Black Joy and the Black and Queer experience.
Register for the upcoming session in their The Threads workshop series happening March 5, focused on "Community Organizing". They're hiring for two positions you may want to check out. Lastly, join them in their work to advance HB 1532, a bill to address draconian sentencing measures in Tennessee's criminal legal system that disproportionately harm Black youth.
Don't forget to subscribe for their upcomiing newsletters
Suburban Connections for Collective Liberation
SC4CL whose mission is "to fight for seismic shits in suburban wealth, power, culture, and policy" has released their first newsletter to share with community all they have been working toward while displaying collective efforts from other cities in the Metro Detroit area.
Inside you'll find information on Farmington Public Schools' DEI Program, Accountability for Dearborn, MI Liberation's latest initiative, and so much more detail around art, action, and resources that center their mission.
_________________________________________________________________________________________________________________
National Conference of Black Lawyers
Statement on the bomb threats against HBCUs
The National Conference of Black Lawyers (NCBL) joins with others in decrying the numerous recent threats to bomb Historically Black Colleges and Universities (HBCUs) across the United States.  These bomb threats are reminiscent of past acts of domestic terrorism on African descendants perpetrated by whites embracing the myth of White Supremacy. These are the lived experiences of Black people since being kidnapped from Africa and enslaved in the colonies that became the United States, until today.  These acts continue, in part, because the United States government has failed to mount an aggressive response.
This failure of the United States colludes with the perpetrators' goal to force Black people to live in and be accepting of a subordinated status in this country.  These threats are subjecting Black people to not only the possibility of violence for merely being Black and seeking to advance themselves; they also subject them to the fear that the threats will materialize into action as they have so many times, for example, the September 15th 1963 bombing of the 16th Street Baptist Church.
HBCUs matter. Despite the fact that they are only 3% of the nation's colleges and universities, HBCUs produce 20% of all Black graduates. They are a critical and reliable source of new generations of Black intellectuals, professionals, and leaders. It is this development of Black excellence that makes HBCUs targets of racial terrorism today. The bomb threats are even more alarming because they are occurring amidst a national upsurge in acts to maintain and continue the subordination of full Black engagement in the United States democratic processes.  Since the 2020 elections there has been an enhanced effort by state legislators to suppress the vote, and therefore the voices, of Black people and other groups of color in shaping this democracy.  There has been an attempt to stop the teaching of Black history in the schools by a knowing mischaracterization of Critical Race Theory and a misguided formulation that teaching about race in the schools from the perspective of those who have been victims of White Supremacy would endanger white children.
NCBL stands with others in saying No! It will continue to defend and support those attacked because it says NO to those who dare to threaten Black freedom.  NCBL will continue to call-out those who want to impose a human created hierarchy of value on people based on the color of someone's skin or national identification. These efforts to continue the subordination of Black people provide concrete evidence that the White Supremacist project has failed because Black people remain on the rise. This angers those who are hanging on to the myth of White Supremacy because they have placed their own value on the attempted destruction of Black people and other people of color's ability to thrive.
NCBL, the legal arm of the Movement for Black Liberation, will continue to defend and protect Black people, their institutions, and their leaders as they continue seeking and securing their rightful place in the United States and the world, a place merited by their ambitions, talents, skills, and achievements.
NCBL was disheartened by President Biden's press secretary's weak statement on February 1. These bomb threats are more than disturbing – they are acts of terror. NCBL calls upon President Biden to ensure that the FBI and Homeland Security thoroughly investigate these threats, identify those responsible, and publish a full report.
"Burning and torture here lasts but a little while, but if I die with a lie on my soul, I shall be tortured forever. I am innocent."
 – Ida B. Wells-Barnett