February 21st, 2022
February 21st, 2022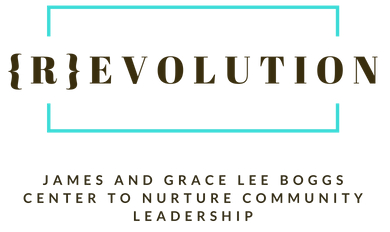 ---
Thinking for Ourselves
Fear of accountability
Shea Howell
Police departments are strategizing on how to blunt efforts at serious conversations about the role of policing in our country. They also want to get their hands on some of the stimulus money flowing into cities and states as part of the efforts to help local and state governments recover from the ravages of COVID 19.
Last week these propaganda efforts were on display in Oakland County. Using the pretext of recent injuries to police officers, a group of local police chiefs, county sheriffs and state lawmakers gathered for a press conference entitled "In Support of Law Enforcement." The main theme was there "is a war on cops" and ill-informed legislators are making it worse. Oakland County Sheriff Michael Bouchard said, "We're a profession that's under attack." Speakers complained that police are being ambushed and young people are not interested in becoming cops.
Essentially, the collected leadership of police forces in the metropolitan area proclaimed themselves victims of an unappreciative or hostile public and ignorant law makers. Such messages from police leadership are not only far removed from reality, but they are dangerous to the lives of those over whom police exercise lethal force.
One of the main concerns of the press conference was efforts by federal and state legislators to get rid of something called "qualified immunity." Congress is currently considering the George Floyd Act which includes the removal of a legal system that protects police from civil lawsuits.
This doctrine of qualified immunity  means that individuals who have been victimized by police misconduct and illegal use of force cannot sue to hold the individual abuser accountable for their actions. This fall, in a highly controversial decision, the US Supreme Court upheld this doctrine, overturning lower appellate rulings.
Rather than "defunding the police" officers called for "more funding and more police are needed, along with better training." Detroit Assistant Chief David LeValley called for funding  technologies dedicated to "pinpointing the shooters." This argument is predictable, as Detroit police are pushing for the expansion of ShotSpotter, a controversial system that uses microphones and sensors to identify the sounds of gunfire. The Detroit Police have been using this program since 2014, with almost no public accountability and virtually no data to support the expenditures. Last year Detroit City Council approved a 4 year, $1.5 mill contract to expand the surveillance program.
Joe Stanley,  a Senior Policy Analyst for the ACLU said,  "Here you have a system that sends police running into neighborhoods of color, often on high alert and ready for a situation that involves a gun, and many of those alerts are false alarms. So, in that sense, many communities have been concerned that ShotSpotter is exacerbating existing problems between policing communities."
Fear of crime is fostered by the police to justify ever increasing budgets. It is bandied about to garner community support for increased weapons and technologies of surveillance and control. But none of this makes us safer.
The reality is that of the 10.3 million arrests made per year, only five percent are for the crimes used to whip up public fear: murder, rape and aggravated assault. The reality is that most police work involves minor incidents that could be solved by non-lethal means.
Today,  Detroit spends over 30% of its entire unrestricted budget on the police. That is about $314 million. That is more money than we spend on housing, public health, fire and all the pandemic services combined.
For police officers to claim that they are victims rather than perpetrators of violence, is itself an act of violence. It is a distortion of reality designed to foster fear and continue a culture of abuse without accountability.
___________________________________________________________________________________________________________
Thoughts on Ukraine
Russ Bellant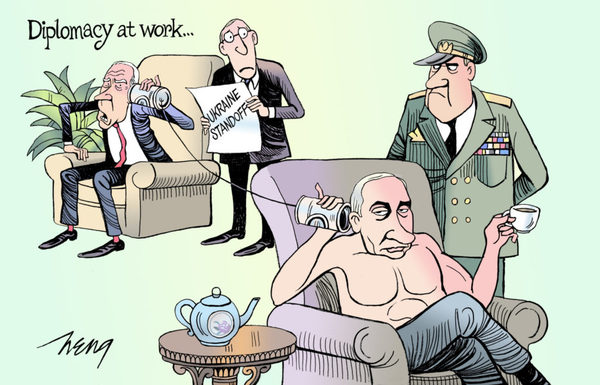 Credit: Heng, Lianhe Zaobao
I am putting together a more comprehensive statement on the context for the confrontation evolving around the Ukraine question, but events are moving fast, so I want to raise a few questions while a semblance of peace exists. Americans are being bombarded with half-truths, no-truths and speculation such as we saw in the buildup to the US invasions of Iraq (weapons of mass destruction and biological warfare stockpiles that never existed), Vietnam (Gulf of Tonkin, with one claimed attack that never happened and promises of no wider war) and invasions of Grenada and Panama and our ongoing war in Syria.
While the U.S. is saying they are trying to protect Ukraine's sovereignty, it was the U.S. that overthrew the elected government of Ukraine in 2014, using the nazi networks of the Banderist faction of the Organization of Ukrainian Nationalists (OUN-B) as the foot soldiers of the Maidan assemblies. Even the New York Times described them as nazis before the coup. The OUN-B has had long-standing links to the CIA, some of which I have witnessed myself in multiple meetings and that others have well documented in books such as Blowback. The CIA ignores their WWII record of the mass murder of Poles, Jews and Russians and their formation of a Ukrainian SS Division that was lauded in OUN-B publications decades after WWII.
The principal U.S. decision makers around the 2014 coup were Assistant Secretary of State Victoria Nuland and then Vice President Joe Biden. Nuland put together the leadership of the Ukrainian government after the coup. When the latter became President, he promoted Nuland to Deputy Secretary of State for Policy, from where she continues to prosecute an aggressive policy against Russia. She has been part of the neocon network that has pushed for US invasions of Iraq, Afghanistan, Libya, Syria and backed Reagan and both Bush administrations in militaristic ventures.
Another pretext for war by some, including some media commentary, is that Putin is a bad actor. Well, there are many bad actors in world affairs, but how many Ukrainian, Russian, European and possibly American lives are you willing to sacrifice because you don't want Putin? Would you justify foreign military buildups around the U.S. because those governments did not like Trump? Should we invade Turkey, Saudi Arabia or Brazil because they have bizarre leaders? Actually, the US helps arm these governments.
Despite a Congressional ban on training and arming the nazi Azov battalion, the US and its European military asset, NATO, are training Azov for conventional and unconventional war in and around Ukraine. Azov is a military arm of the OUN-B. They had clubs, pistols and fire bombs during the Maidan Square protests in 2013. Now they have tanks, artillery and other heavy weaponry. It was used to attack eastern Ukrainians that know who the OUN-B are and wanted no part of the post-coup government of 2014, with its nazi links. The effort to suppress the eastern Ukrainians have led to over 14,000 deaths, but there is no hue and cry from American Presidential administrations, media, politicians, NATO, etc. Who do you think paid for and authorized the supply of weapons to Azov to suppress those Ukrainians?
Why did the US start a large military buildup on Russia's border over the last six years? Placing long range missiles in the Baltic countries and Poland, conducting U.S Navy naval exercises in the Black Sea on Russia's doorstep, significant military aircraft travel on the border all add up to threat and intimidation policies. So when Russia moves more troops to its borders in response (as any nation would do) they are portrayed as aggressors. Yet when US troops and billions in massive US military hardware are placed on the Russian border, our motives are not questioned. Can we not see through that?
Forces in the west have been invading Russia for centuries, from Teutonic knights, Napoleon, the German Kaiser, and Adolph Hitler. It was and is so commonplace that historians call it Drang Nach Osten, or the urge to go east. The US even invaded twice in 1919. There is a memorial in Troy to the Michigan soldiers who were part of one of those invasions. And the US helped run a proxy war in Ukraine, where WWII did not end until the early 1950's, while the rest of the world ended it in 1945. And the OUN-B was part of that little known proxy war.
Look, even the Ukrainian President and his Defense Minister say there is no impending threat of Russian invasion and that some Ukarainians believe the situation is being played for the advantage of great powers.
In short, Americans need to study more, think for themselves and not be lured by the drumbeat for war or incitement to war. The U.S. does not have clean hands and we are obligated to know what our government is doing. We have killed too many people senselessly around the globe to abdicate our duties as citizens.
_________________________________________________________________________________________________________________
Uplifting & Supporting our Community
The Piper Carter Podcast
Vagina Monologues Celebrates its 30th year in Detroit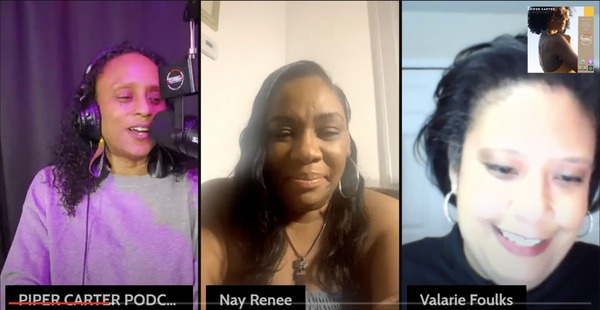 Join Piper as she speaks with director, Nay Renee, and some of the actors, Ebony K, Renee Drake, Lauren Session, Valerie Foulks, Karelyn Rogers, and Tierra LaJay of the upcoming show about Vagina Monologues and celebrates their 30th anniversary in Detroit.
You can catch the show Sunday, February 27, 2022 at 3pm EST happening at International Institute (111 E. Kirby Detroit, MI). Tickets can be purchased from Shawn P. Williams Productions – (313) 433-8384
Subscribe to the Piper Carter Podcast to catch more international, national, and Detroit-centric current events, environmental justice, politics, arts, culture,, technology, crypto art, NFTs, the Metaverse, and of course Hip Hop 
______________________________________________________________________________________________________________
What We're Watching/Listening To
Fear of Black Consciousness Author Discussion w/ Amanda Alexander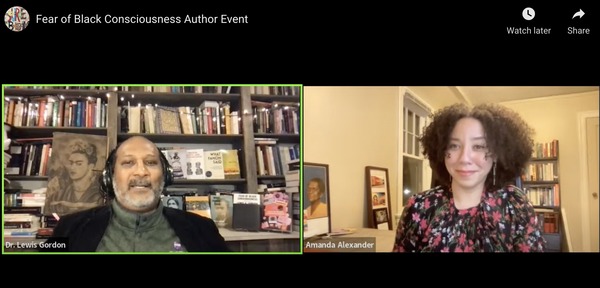 Hosted by Source Booksellers, author Lewis Gordon and Detroit Justice Center's Amanda Alexander discuss Gordon's Fear of Black Consciousness. In this original and penetrating work, Lewis R. Gordon, one of the leading scholars of Black existentialism and anti-Blackness, takes the reader on a journey through the historical development of racialized Blackness, the problems this kind of consciousness produces, and the many creative responses from Black and non-Black communities in contemporary struggles for dignity and freedom.
You can watch the recording of the discussion and be sure check out other upcoming events from Source Booksellers. 
__________________________________________________________________________________________________________
Everything's Political: Do Women Make the Best Organizers?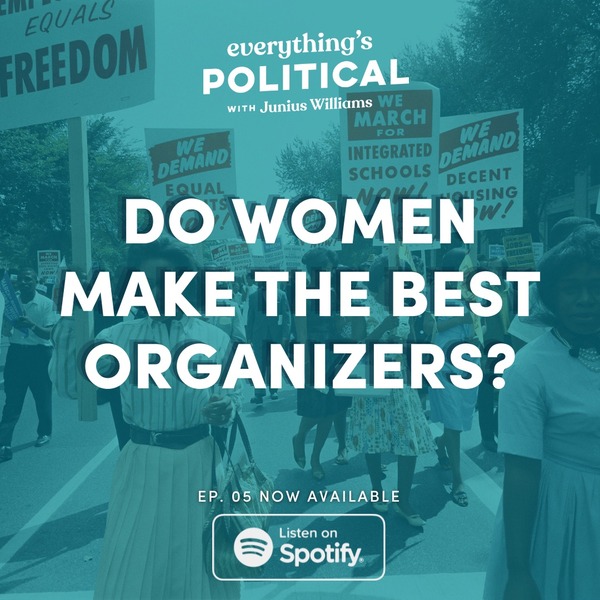 Co-hosts of Everything's Political are joined in discussion by former SNCC Project Director Gwendolyn Zohara Simmons and Digital Director of Riverwise Magazine, Megan Douglass in their discussion of what life has taught them as women in social justice movements dominated by men.
"What no organization can say is that there's a lack of Black women that they can pull from to hire. If there's a lack of women in leadership positions, it's not for the lack of women, it's for a lack of intentionality about recognizing when you have talent within your ranks to cultivate."  – Gwendolyn Zoharah Simmons
Tune in to the latest episode here.
________________________________________________________________________________________________________
It's Going Down Podcast
Ottawa, the Far-Right, and the State: Inside the Convoy Protests and the Unfolding Three Way Fight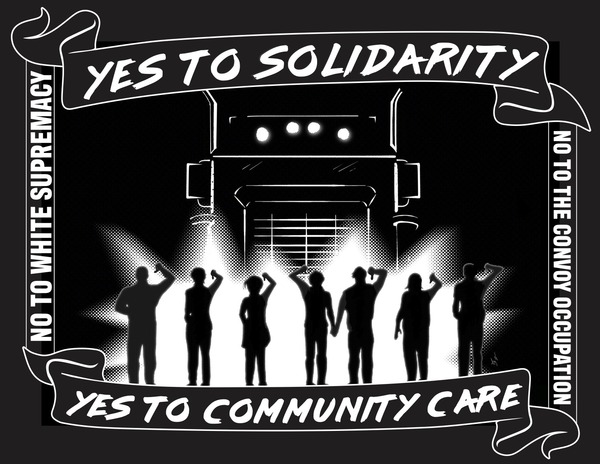 Podcast hosts speak with two anarchists from the Punch Up Collective, a group which is currently mobilizingi n Ottawa, in the midst of an ogoing far-Right protest occupation made up of several hundred vehicles in the downtown area.
It's Going Down is a digital community center from anarchist, anti-fascist, autonomous anti-capitalist and anti-colonial movements. Check out more of their content promoting revolutionary theor and action here!
Podcast episode: The far-Right and the State
 
What We're Reading

Movement for Black Lives continue to uplift Black Futures Month, highlighting their five-year strategy, Vision for Black Lives, that "builds long-term power for Black communities through organizing, base-building, electoral justice, and storytelling." the initiative is currently active in 15 cities across the country where their efforts are built upon five interconnected strategies.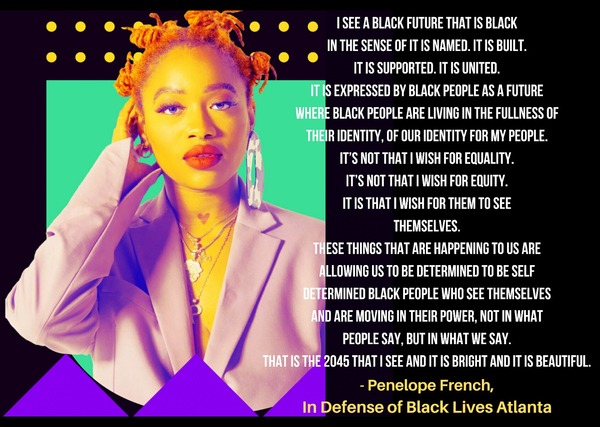 Detroit Food Policy Council brings a robust newsletter where they highlight their 7th annual Food Power Awards, featuring Ms. Candi Franklin of CWO Farms as the Community Choice Winner. 10 Cents a Meal has reopened their applications for the 2021-2022 school year — applications are accepted until February 25. Catch the next event in the Food Literacy for All Series, happening Tuesday, February 22 at 6:30pm EST. You can register or watch past recordings provided by University of Michigan's Sustainable Food Systems Initiative.
Take this survey about your experience with getting food in Detroit for a chance to receive a $25 gift card, tell a breastfeeding mom about this Breastfeeding Club of Detroit, or place a pick-up order for a food box fully of locally-sourced food — EBT cards are accepted!
Be sure to subscribe for more content and news toward a sustainable food system you can use.
_______________________________________________________________________________________________________________
Detroit Food Policy Council 
brings a robust newsletter where they highlight their 7th annual Food Power Awards, featuring Ms. Candi Franklin of 
CWO Farms
 as the Community Choice Winner. 
10 Cents a Meal
 has 
reopened
 their applications for the 2021-2022 school year — applications are accepted until 
February 25
. Catch the next event in the Food Literacy for All Series, happening Tuesday, February 22 at 6:30pm EST. You can 
register or watch past recordings
 provided by University of Michigan's Sustainable Food Systems Initiative.  
Take this survey about your experience with getting food in Detroit for a chance to receive a $25 gift card, tell a breastfeeding mom about this 
Breastfeeding Club of Detroit
, or place a pick-up order for a food box fully of locally-sourced food — EBT cards are accepted! 
Be sure to subscribe for more content and news toward a sustainable food system you can use.
---
"If you are not a myth whose reality are you? If you are not a reality whose myth are you?"
 – Sun Ra
---