February 28th, 2022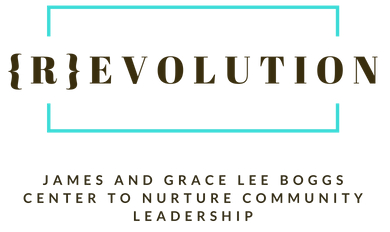 ---
Thinking for Ourselves
People make peace
Shea Howell
This we know.
War is not an answer. Ever.
Empires go to war to protect power and profits, not people.
Empires lie.
When empires clash, people die.
People want peace.
As Russia moves armies into Ukraine, these basic truths are on full display. There is no question that whatever Vladimir V. Putin's motivation, military force is wrong. The devastation of the Ukrainian people is a tragedy and an action invoking the specter of nuclear war. The Russian people do not want war. Their protests are being put down brutally.
But this does not make the US and its Allies right. Rather, those of us who care about a just future, need to understand just how much the desire to advance US imperial interests have both provoked this crisis and are using it to escalate and consolidate US hegemony.
This moment is the product of forces brewing since the Russian Revolution in 1917. Capitalism cannot tolerate the existence of a power that challenges it. Thus, Western capitalist countries have consistently attempted to overturn the Russian State, beginning with invasions shortly after the Communists came to power. During WWII, Western Allies were never fully supportive of the Soviet Union, who suffered enormously in the fight against Hitler's fascism, losing some 30 million people.
At the end of WWII this hostility framed the Cold War and was the guiding principle of the creation of the North Atlantic Treaty Organization (NATO). There, the US made clear that it was more comfortable with fascists than communists. From the Russian point of view, the principle function of NATO has been to encircle them with military might. This fear of assault from the West accelerated after the fall of the Soviet Union as NATO moved quickly to embrace most of the Eastern European nations that had been in the Russian Sphere. NATO troops, missiles and military bases sit on the Russian border. In response to this, Putin has consistently asserted that Belarus and Ukraine have historic ties to Russia and that overtures to include Ukraine in NATO is a direct threat to Russian safety.
This is a long and complicated history, but it is essential to remember that in 2008, watching the expansion of NATO, Russia told the USA that the addition of either Georgia or Ukraine would be a "red line" for their security. Earlier, the West had promised it would honor this concern. In spite of this, the USA pushed for the inclusion of both countries in NATO. It was this push that was behind the Russian-Georgia war, as well as the seizure of Crimea, which has been Russia's only access to a southern port since the 1700's.
In 2010 the US orchestrated an anti-Russian coup by allying with right wing Nazi elements in Ukraine. As Gray Leupp, a history professor at Tufts wrote, "The U.S. media never mention that in 2010 the Ukrainian people elected as president, Viktor Yanukovitch, in what international observers called a free and fair election, a candidate enjoying widespread support in the Donbas region and elsewhere and committed to friendly relations with Russia. They don't mention that the U.S. spent $ five billion to support "regime change" through one of those "Color Revolutions" funded by the coup-plot specialists at the National Endowment for Democracy, bringing down Yanukovych in a bloody coup and installing known proponents of immediate NATO membership."
Some leaders around the world are attempting to stop this conflict and move it toward peace. But the USA and mainstream media are pushing us toward war, not peace. This is not, as the New York Times so boldly proclaimed a "fight to save democracy" from Vladimir Putin.
Democracy is in deep trouble. But not from Putin. The US government could not bring itself to pass basic voting rights protections and has a long troubled history with real democracy.  Right wing elements are taking over all levels of public authority. Peace will not come from leaders of empires. Nor will a living democracy. Only, we the people  can amass the kind of power necessary to create these.
__________________________________________________________________________________________
Riverwise & Detroit is Different Podcast
A critical conversation with Russ Bellant on Ukraine, Russia, and America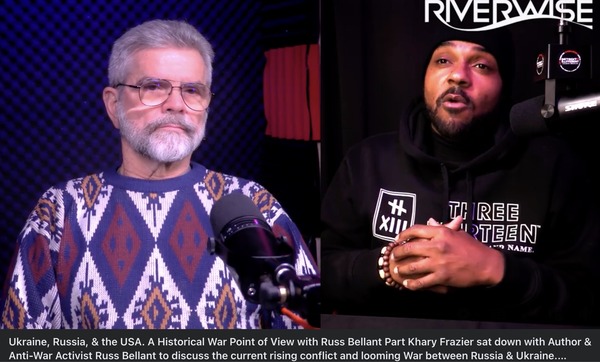 Khary Frazier sat down with author & anti-war activist, Russ Bellant to discuss the current rising conflict and looming war between Russia & Ukraine. Bellant provides a great historical perspective of how Ukraine has been a state oulled between two factions of leadership since WWI. Discover the Nazi influence of Ukraine today and the ways the USA  and the CIA have partnered in Nazi agendas in the Ukraine and worldwide. This is an interview built to trigger and inspire your research, critical thinking, and understanding of the matter.
You can watch a series of clips from the interview here. 
Russ Bellant is a foremost historian, writer, and activist in this matter. In the US media, there is much news and warlike talk for warlike preparations in the Russia/Ukraine region of the plant. We are promised no actual US war will take place; perhaps that is true. But US troops are being placed in eastern Europe, purportedly for logistical purposes. But you do not need the 82nd Airborne Division in easter Europe just to set up shelters for displaced persons, as the Pentagon has claimed.
Americans often go along with drum beats for war and can become indifferent to the prolonged combat and massive death tolls that follow. Invasion after invasion is either supported or tolerated even when the pretexts for the massive killing turns out to be phony. When will Americans start thinking for themselves instead of tolerating the perpetual war system that spends and kills beyond comparison to any other country in the world?
Study, think, then act with knowledge.
______________________________________________________________________________________
Uplifting & Supporting our Community
Detroit Independent Freedom School Movement Presents: 
Deciphering Detroit Post 2021 Local Elections – Reading/Discussion Series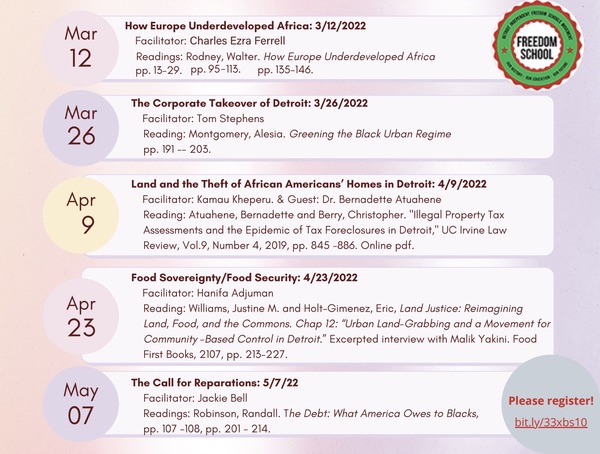 Please join DIFSM in their upcoming series which will encourage conversation emerging from the recent re-election of Detroit's mayor who has been committed to facilitating corporate ownership rather than providing public services and safety.
Their 5-week course will take place Saturdays, 2-3:30 pm, exploring readings within the context of:
1. The slave trade, capitalism, and imperialism — taking us back to where economic/political problems began
2. The call for reparations to the African American community
3. The role of corporations in the governance of our city
4. The importance of food production and food sovereignty in our wellbeing now and in the future
Be sure to register in order to attend! Classes start Saturday, March 12.
Visionary Organizing Lab Presents:
What a Time to Be Alive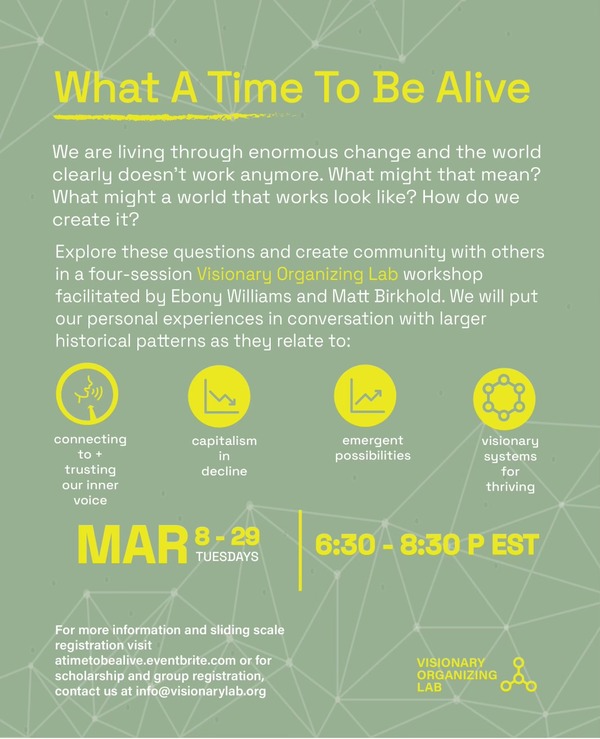 Join Visionary Organizing Lab for their upcoming workship which will call on all visionaries and aspiring visionaries to imagine what a world that 'works' could look like and how to create it. Workshop attendees will explore this idea through readings based upon:
1. Connecting to and trusting our inner voice
2. Capitalism in decline
3. Emergent possibilities
4. Visionary systems for thriving
The workshop has sliding scale options found here or you can email info@visionarylab.org for scholarship or group registration options.
What We're Watching/Listening To
Wendell Berry on his hopes for humanity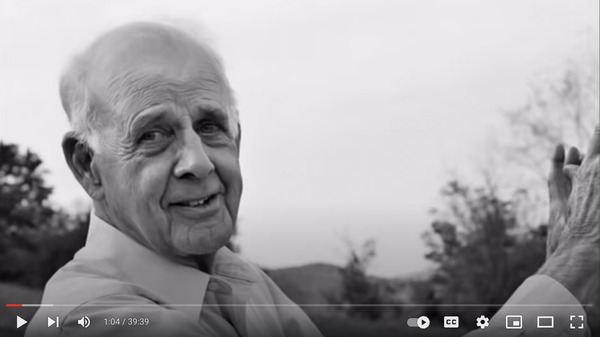 Wendell Berry, American novelist, poet, essayist, environmental activist, cultural critic, and farmer spoke at the conference, "What Will it Take to Resettle America?" which gathered leaders in the local food movement, environmental activists, and the like. The interview highlights some of Berry's work, with emphasis on the talk being the 35th anniversary of his work, The Unsettling of America.
Check out the video here. 
______________________________________________________________________________________
What We're Reading
Ten years after Trayvon's murder:  Reflecting on the growth of the movement Family,
Today marks ten years since the murder of Trayvon Martin, a 17-year-old Black boy beloved by his family. A boy who deserved a future and the chance to grow into the person he wanted to become. A boy whose life was stolen by a white supremacist backed by racist policy and culture. Since then, dozens of organizations, networks, coalitions, and alliances have formed to vindicate his death—awakened and politicized by the exceptionally savage brand of American violence inflicted upon its Black residents in the form of police terror, vigilante violence, mass incarceration, pre-trial detention, and anti-Black policymaking.
Trayvon's murder and the subsequent acquittal of George Zimmerman galvanized a new class of activists, organizers, and formations who have built sophisticated infrastructure for the 21st-century Black freedom movement to make collective change.
Trayvon's death was followed by the deaths of Michael Brown, Rekia Boyd, Tamir Rice, and so many others. As Black people were executed state by state, the post-racial Obama myth faded, and "Black Lives Matter" permeated the streets, the airways, the halls of Congress, and digital spaces, while transcending borders, regimes, languages, and cultures. Obama never intended to be and could not be the savior of Black people—only Black people as a collective can do that.
And we are. The Movement for Black Lives (M4BL) was founded in 2014 to serve as a hub for Black liberation organizations uniting around a shared purpose to significantly reduce state violence, including police terror, and to have a say in how our communities are governed. Together we create a broad political home for Black people to learn, organize and take action.
Movements aren't started as much as they're born and reborn, constantly evolving and adapting to counter the prevailing, contemporary means of state power, which ranges in volatility and violence depending on the country's economic and social tensions. The priorities of our organizations diverge, but what we have in common is that we're shaped by the lives and legacies of the Civil Rights and Black Power activists who came before us. We are children born from lineages of revolutionaries and freedom fighters, and we are guided by their lessons of love and liberation.
We are imperfect, ever-adapting, and challenging one another to think more critically and expand our vision of what's possible. Although we do not always agree on how to get there, we remain clear in our purpose of creating a world in which our people no longer live in fear.
As we remember Trayvon and what his death ignited, we stretch ourselves to extend more grace to one another; to pay closer attention to the lessons of our ancestors and movement predecessors; and to continue to create an inclusive, safe, welcoming home for all Black people to learn, connect, and organize.
In honor of those we've lost, those who fought before us, and those who will organize and build power after us, we continue this fight for Black lives.
In love and solidarity,
Movement for Black Lives
---
"The fact is that when you make the other suffer, he will try to find relief by making you suffer more. The result is an escalation of suffering on both sides."
 – Thich Nhat Hanh
---