July 18th, 2022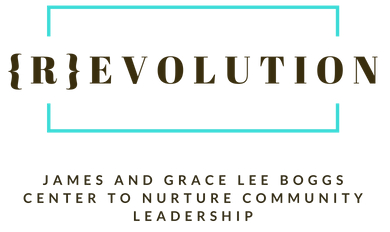 ---
Thinking for Ourselves
Basic dignity
Shea Howell
This week Jayland Walker was buried in Akron, Ohio. In a funeral reminiscent of that of Emmett Till, hundreds of mourners walked by an open casket containing the body of a young man brutalized by racist violence. Jayland Walker was killed by Akron police after being stopped for a traffic violation. He was shot more than 60 times, on foot and unarmed. Jayland Walker was 25 years old, loved by his family, friends and community. His life and all the possibilities it held are now gone. His death, like that of so many young men at the hands of police, was recorded, graphically showing the hail of bullets fired at him by 8 police officers. His lifeless body was handcuffed.
Every day somewhere in this country, someone dies at the hands of the police. Jayland Walker is one of at least 588 people who have been killed by police this year. Experts predict that once again more than a thousand people a year will die at the hands of police. That is roughly three people a day. These are needless deaths, reflecting a culture of violence that enables police to exert and justify massive force against individuals, often for the most trivial of reasons.
In this week of Jayland Walker's funeral, little attention has been paid to him, his family or the city that shaped his life and death in the mainstream media. In the two years since the killing of George Floyd sparked the largest protest movement in the history of the country, the media has gradually moved to downplay coverage of police brutality. Still thousands of people in cities across the country have joined people in Akron to take to the streets. Increasingly these protests are being met with intense police repression.
In Akron, after a public meeting about the killing of Mr. Walker, police attacked people as they left the event. The mayor of the city imposed a curfew and called demonstrators "violent" and "lawless." He blamed "outside agitators." Police arrested relatives of Breonna Taylor and Jacob Blake, Jr. for peacefully demonstrating solidarity with the people of Akron. Police used pepper spray, rubber bullets, clubs and physical force against protestors and engaged in mass arrests. People were held in the country jail for days without access to medical care or the right to make a phone call. The FBI is now assisting Akron police.
All of this should sound familiar to Detroiters who took the Detroit Police Department to court for similar tactics. Meanwhile the very same actions continue in Grand Rapids. In the early spring, a group of people driving to a protest were pulled over and arrested. "Two of the six people were charged with misdemeanor assault, resisting and obstructing a police officer. The other four face felonies."
Both the general lack of attention paid to the death of Jayland Walker by mainstream media and the silence about the brutality sanctioned by authorities against those who protest police violence are important for us to acknowledge. We are in the midst of concerted efforts by the corporate elite to turn reality upside down, to label those who protest violence a problem and to get us to think that taking away basic rights and expanding the powers of the state will lead to greater security. This line of argument, rooted in the denial of actual experience of the vast majority of people and in a disdain for basic human dignity, is at the core of corporate, media, and police efforts to hold power.
Resolving this crisis requires a deep understanding of how much we need to change, how much we need to create, to provide for a society where our young people simply have the right to live full, productive lives, to grow old and to have the basic dignity that belongs to all human beings.
_______________________________________________________________________________________________
Weekly highlights
People's Water Board Coalition
Water Wednesday w/ Peter Hammer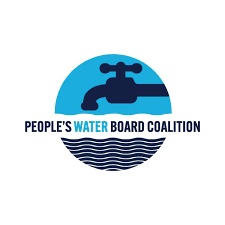 Peter Hammer joined Valerie & Nicole with the People's Water Board Coaltion for the weekly webcast as they discussed the DWSD Lifeline Affordability Plan. Co-hosts describe it as "an excellent breakdown of what it is and is not."
Watch it here
Read We The People Detroit's response to the DWSD Lifeline Plan
What we're listening to
Amicus Podcast:
The end of a Supreme Court term that fundamentally rearranged rights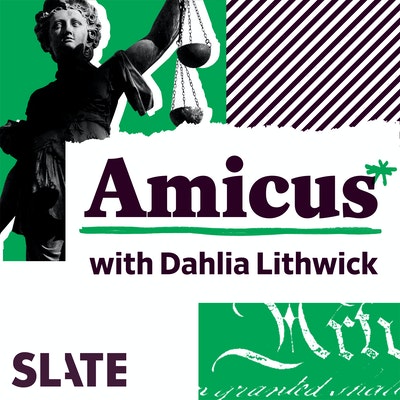 Join host, Dahlia Lithwick as she sits with guest, Professor Dorothy Roberts as they discuss the reality of forced birth and family separation upon marginalized peoples in America. Dorothy is the author of Torn Apart: How tbe Child Welfare System Destroys Black Families and How Abolition Can Build a Safer World, and Killing the Black Body: Race, Reproduction, and the Meaning of Liberty.
Later, the episode shifts as Amy Westervelt of Drilled Podcast joins the show to discuss how EPA v. West Virginia affects climate action, and the place the Biden administration can still make progress.
What we're reading
Catalyzing worker co-ops & the solidarity economy
Thoughts on Building Self-Determined Solidarity Communities
Written by Asar Amen-Ra
originally published in GEO
photo credit: THE SELC
This article intends to provide a primary theoretical framework for solidarity economy practitioners, as we continue to imagine and envision what our communities will look in the next few years.
There is only one way to get to build a culture of solidarity and that is by building new Self-Determined Solidarity Communities: SDSCs are places where people share in the creation of goods and services that are necessary for life. Moreover, SDSCs will be filled with people who are intentionally self-determined to love, share, and work together.
Many of the practices in this article exist today, but in isolated instances, what we need are collective ecosystems challenging the current social paradigm.
Community Cooperation
Many communities in the U.S. are in a state of disrepair, and the infrastructure crumbling. One example of how address the dilapidation and decay, is for SDSCs' members to band together to help repair each others homes through communal volunteer days. A communal volunteer day is where community members will gather to address the needs of their neighbors. For instance, lets say, an elderly couple needs to have their house repainted. A committee could be put together to plan and gather resources thorough-out the community to see what each community member can provide for the project, from paint, to labor, or any variety of things that will be needed to complete the job. Then once all of the supplies and volunteers are gathered, the committee can then plan for the volunteer day to be carried out.
Furthermore, since corporations have abandoned factories through-out our inner cities and left people without jobs or a means of stable income, the people left in our urban areas must reevaluate, re-imagine, and reinvent how we as a community can produce the things that we need to live. Just suppose, a community could have a place where people could go to make things like bikes, furniture, and other products. Such a technology already exits, in what is called a 3D printer. All that is missing is communal control of the technology for social proposes.
Another tool for building SDSCs are time-banks. Time-banks are a way we can exchange our gifts, talents and time to accomplish any given task. Briefly, time-banks allow its member to provide and accept credits for each act of assistance that each person gives.Time-banks present an avenue for neighbors to be reciprocal in their service to others without exchanging money.
Schools Re-imagined
Schools could be creative labs where students learn by doing, instead of children sitting in the classroom all day reading books and reciting back to the teacher what they remembered. They would go out in the community and observe nature, and learn by doing.
One illustration of this idea, is instead of reading about farming students could go outside and actually plant different fruits and vegetables. Also, schools would be open to the community, so no one would be without water, kitchens, computers, gyms/fitness centers, libraries, classrooms, etc. All of these assets should be galvanized to provide resources to the community as a whole, and why not, as the community pays for all of these amenities through taxation.
These new schools/community centers will help transform tour understanding of democracy.
Direct Democracy/Community Control
Through mechanisms such as peoples movement assemblies (PMA) which are gatherings where community members can make collective decisions about their community or just voice their concerns. Additionally, another form of community democracy that can be practiced is participatory budgeting. PB is a tool where neighbors, not representatives, can decide how some of their tax dollars are spent on communal projects like parks or recreation centers. Both practices; PMAs and PBs, allow us to understand that democracy is more than a get out the vote (G.O.T.V) effort. True democracy involves an ongoing educational process, where we can all actively engage in the governance structures that have a massive impact in and on our lives.
As police harassment and brutality continue to permeate through-out our communities. We need to think of different ways in which we can diminish the police presence and role in our lives. Community volunteer patrols made up of community members, is one way to solve this problem. Suppose that, each block could have a block captain who could engage people to volunteer to help walk or drive the block one hour each week or each month. These volunteers would be the eyes and ears of the neighborhood. Some of the volunteers could be trained in meditation and dispute resolution to deal with situations before they arise.
Community dispute resolution panels could be established; where the community can implement restorative justice, a concept that focus on repairing the victim as well as the offender, instead of punitive justice which seeks to punish the offender without rehabilitation. Community dispute resolution panels could be made up of a broad range elders, youths, etc. to address certain violations. One attribute of these hearings could be where the offender and the victim attempt to create a workable resolution to the situation, another example of restorative justice is, instead of a person paying a fine or serving jail time. Why not have the accused give volunteer time in the community where the transgression took place and have this person build a dialog with the neighbors in that immediate area?
These new SDSCs can be become whatever we what them to be. We are only limited by our imagination. Every community will look different, as different communities have different needs. But, the one common thread would be the principals of solidarity and cooperation. All, of these humanist mechanisms, can help us prepare for a new society. So, that we can be highly-evolved human beings in technologically advanced society, instead of a barbaric society living in a highly technologically advanced world.
Uplifting & supporting our community
Becoming the Spirit of Detroit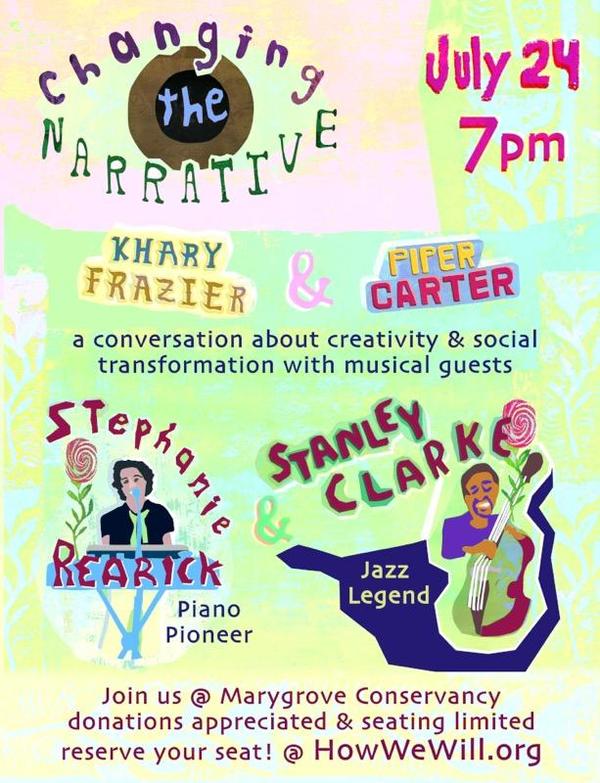 Join hosts, Piper Carter and Khary Frazier as they sit with musical guests, Stephanie Rearick and Stanley Clarke while they bring their creative perspective in conversation around its relationship with the local work informed by Detroit's narrative changing way of life. Being a part of the Becoming the Spirit of Detroit Forum, you can expect an evening of good music and conversation, celebrating creativity and interconnectedness for societal transformation. This is a free event, though they welcome a suggested gift of $40.
Join them Sunday, July 24, 2022
7pm – 8:30pm
Marygrove Conservancy Theater
8425 W. McNichols Detroit, MI 48221
Ava Jo's 16th Annual Backpack Giveaway & Neighborhood Festival
It's time for the annual backpack giveaway and neighborhood fest for Mama Akua House and they are asking for you to save the date to attend. The event will take place Saturday, August 6, 2022 from 1pm-5pm with this year's theme being, A Motherly Love, in honor of Yusef Bunchy Shakur's mom, Ava Jo. They're asking for support for anyone willing to lend any help as it will help fund supplies needed for the event.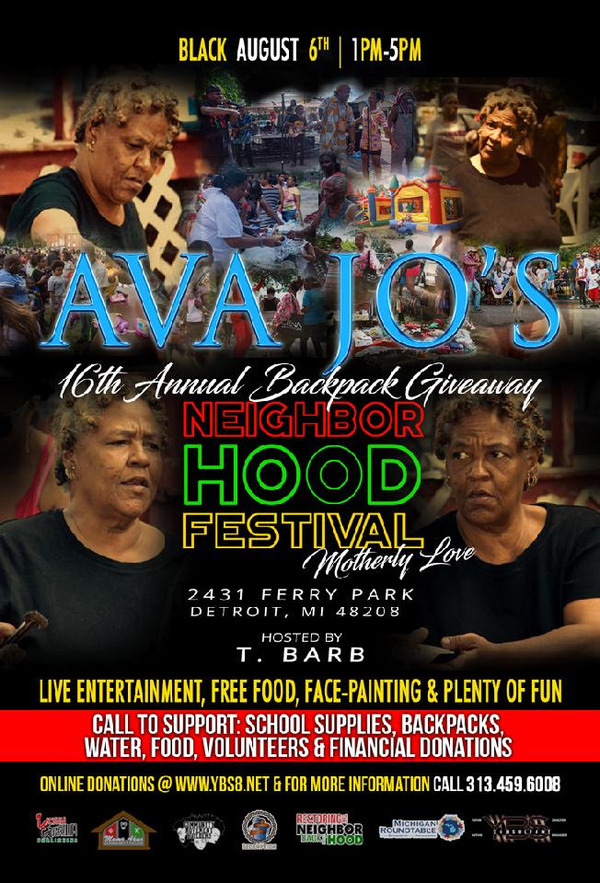 Training for Change is a training and capacity building organization for activists and organizers. They have a few upcoming workshops you should take advantage of if you're looking for direct education opportunities as an organizer, facilitator, or the like. Check them out below and click the links for more information.
DESIGNING DYNAMIC SPACES ONLINE
August 29, 2022 – 7:00-9:00PM US ET
September 28, 2022 – 12:00-2:00PM US ET
LOW-BANDWIDTH STRATEGIES (Waitlist)
July 22, 2022 – 2:00-4:00PM US ET
LARGE ONLINE TRAININGS WITH IMPACT (FREE WORKSHOP)
September 14, 2022 – 1:00-3:00PM US ET
October 6, 2022 – 12:00-2:00PM US ET
INTRO TO FACILITATING ONLINE MEETINGS
November 30, 2022 – 6:00-8:00PM US ET
December 5, 2022 – 12:00-2:00PM US ET
Learn more about Training for Change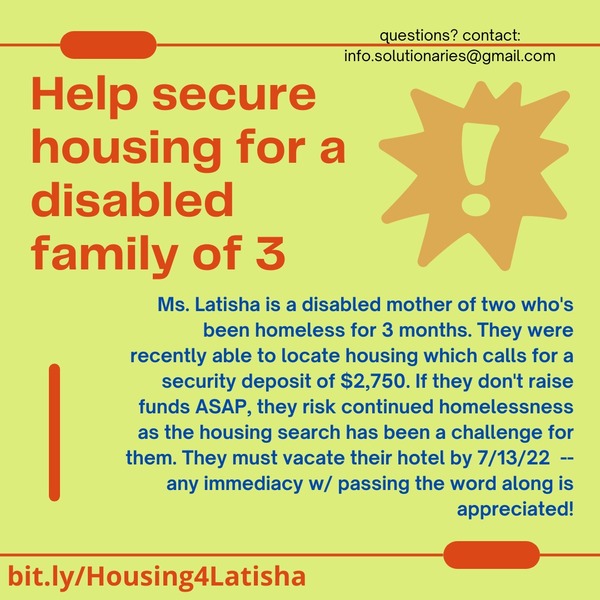 Update to this fundraiser: Latisha has since then lost the opportunity for the potential house as it was offered to someone who had a security deposit ready. She is currently looking for temporary housing for her and her disabled daughter while continuing to search for permanent housing. They are operating within a fixed, disability income with limited options as a low-income renter and Section 8 voucher holder. Please consider sharing and donating to this campaign.

Resources
How to find, contact, and donate to your local abortion fund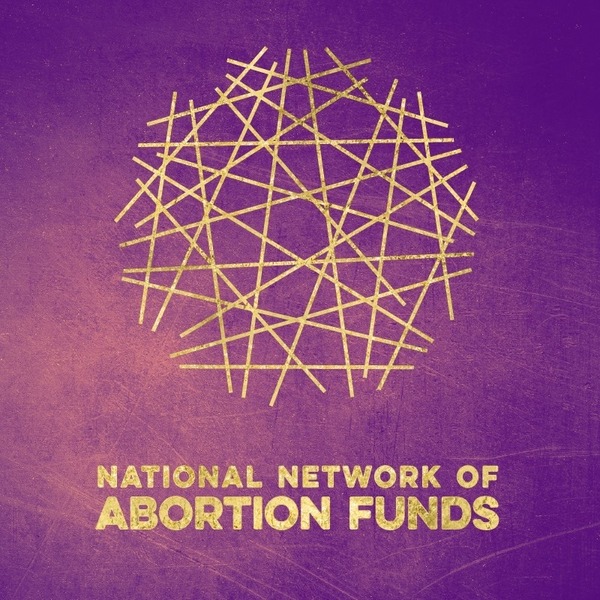 The National Network of Abortion Funds lists abortion funds which are independent, grassroots organizations developed to support the specific needs of their communities. Whether it's funding procedures, abortion pills, transportation and lodging when travel is required, childcare, doula and emotional support, or other needs voiced by people seeking abortions, funds are finding innovative and compassionate ways to get people the abortions they want and need. Find support in your state
Low-Income Household Water Assistance Program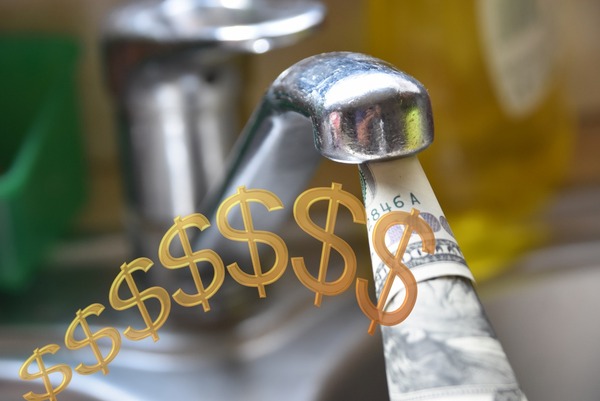 This new Federal program offers assistance to those who are facing water shutoffs or are in need of reconnecting their water utility. Freshwater Future lists additional information and ways to apply for assistance, categorized by state. The program prioritizes those who need their water reconnected or are facing imminent shutoffs. You can read more and apply here.
ACLU: Immigrant Police Misconduct Hotline
ACLU MI has recently launched and announced the misconduct hotline for Michiganders to report instances of police misconduct or abuse based on immigration status (or assumptions about immigration status).
If you or a loved one have been pulled over, harassed, arrested, or detained by a police officer because of actual or perceived immigration status (e.g., skin color, spoken language, or name), you are encouraged to call the hotline and leave a message detailing the experience. The ACLU of Michigan is committed to investigating those reports and will assist in taking action against police departments when possible.
Flyers are also available in 4 different languages:
Arabic
Bangla/Bengali
?English
Spanish
"When you see people call themselves revolutionary always talking about destroying, destroying, destroying but never talking about building or creating, they're not revolutionary. They do not understand the first thing about revolution. It's creating." -Kwame Ture