June 13th, 2022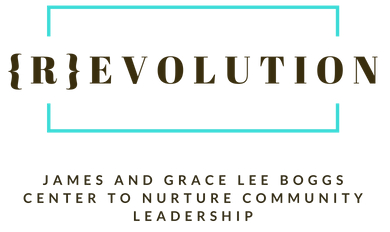 Thinking for Ourselves
Lessons in June
Shea Howell
Over this last week Congress convened hearings into the Jan 6 insurrection. Earlier, the House passed sweeping gun control legislation after riveting testimony by victims of violence. Most commentators agree that these actions, taken mostly by Democrats with a few notable, courageous Republican exceptions like Liz Cheney, will not amount to much. It is now commonplace to view the political landscape as intensely polarized, with little chance of moving people from rigid, ideological positions. Among the many tragedies of the overwhelming violence, grief, and isolation of these last few years is a growing cynicism and despair. Many of us are beginning to think that the possibilities of moving toward a more just, life sustaining culture is impossible.
It is in this context that I find myself thinking about June 12, 1982. On that day more than one million people marched in New York City for nuclear disarmament. It was the largest single march in the history of the country. The march is often credited as a turning point, pushing the United States toward disarmament treaties restricting the development of nuclear weapons and the proliferation of nuclear power.  It reflected decades of organizing, begun immediately after the US became the only nation to use atomic weapons. Women's Strikes for Peace, marches, teach ins, local efforts to declare nuclear free zones, civil disobedience, peace camps, mothers marching against arms, articles, books, plays, comedy acts and dancers for disarmament were all part of a sustained long term effort to move the military cultural of death away from the possibility of nuclear holocaust. The success of these efforts made the  "nuclear option" taboo, until today. Increasing our efforts to mindlessly move military might into Ukraine is bringing us closer to catastrophe.
Yet, that wonderful day in 1982 reminds us of the possibilities of sustained political engagement to shift how we act as a people and to find our way toward more humane ways of living.  After the march, the National Organization for An American Revolution held a cultural event at Malcolm X Community College in Harlem. Ossie Davis and Ruby Dee emceed the event, introducing musicians and poets. Denise Levertov read from her newly published book Candles in Babylon. Sonia Sanchez had written a new poem immediately after the march and read it that evening. Here are her concluding words, reflecting the long struggles for justice, freedom and peace that offer our only hope of survival:
I have come to you because it is time
for us all to purge capitalism from
our dreams, to purge materialism
from our eyes, from the planet earth
to deliver the earth again into the hands
of the humanitarians;
I have come to you tonite not just for the stoppage
of nuclear proliferation, nuclear
plants, nuclear bombs, nuclear
waste, but to stop the proliferation
of nuclear minds, of nuclear generals
of nuclear presidents, of nuclear scientists,
who spread human and nuclear waste
over the world;
I come to you because the world needs to be
saved for the future generations who must
return the earth to peace, who will not
be startled by a man's/woman's skin color;
I come to you because the world needs sanity
now, needs men and women who will
not work to produce nuclear weapons,
who will give up their need for excess
wealth and learn how to share the
world's resources, who will never
again as scientists invent again just
for the sake of inventing;
I come to you because we need to turn our
eyes to the beauty of this planet, to the
bright green laughter of trees, to the beautiful
human animals waiting to smile their unprostituted smiles;
I have come to you to talk about our inexperience
at living as human beings, thru death marches and cam
thru middle passages and slavery
and thundering countries raining hungry faces;
I am here to move against
leaving our shadows implanted on the
earth while our bodies disintegrate in
nuclear lightning;
I am here between the voices of our ancestors
and the noise of the planet,
between the surprise of death and life;
I am here because I shall not give the
earth up to non-dreamers and earth molesters;
I am here to say to you:
my body is full of veins
like the bombs waiting to burst
with blood.
we must learn to suckle life not
bombs and rhetoric
rising up in redwhiteandblue patriotism;
I am here. and my breath/our breaths
must thunder across this land
arousing new breaths. new life.
new people, who will live in peace
and honor.
Weekly highlight
An evening with Nobuko Miyamoto, author of Not Yo' Butterfly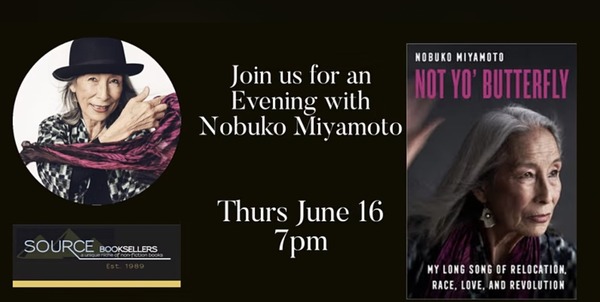 An evening with Nobuko Miyamoto, author of Not Yo' Butterfly
Recording artist and author, Nobuko Miyamoto will be in Detroit, making an appearnce at Source Booksellers to discuss her book, Not Yo' Butterfly and album, 120,000 stories. Come celebrate with Miyanoto and bring questions and insights for this gathering happening Thursday, June 16 at 7pm. More information and limited registration can be found here.
Preserving Detroit Stories w/ Black Bottom Archives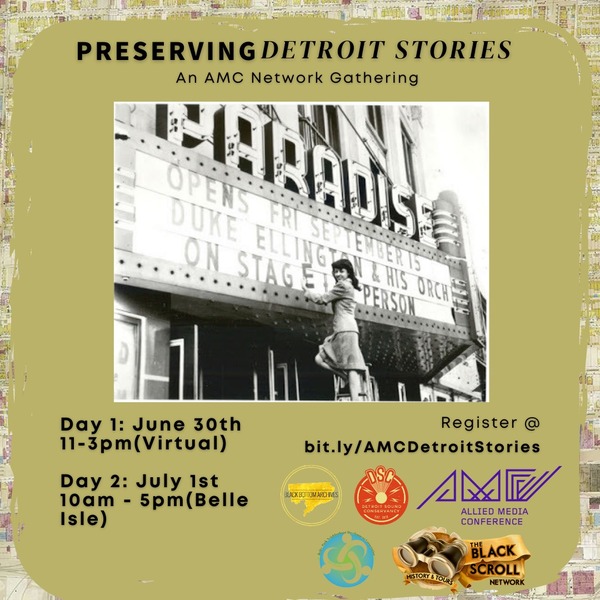 Join Black Bottom Archives for their event hosted as a part of Allied Media Conference. Preserving Detroit Stories will be a 2-part event, hosted virtually and in-person, highlighting participants who are doing place-based work to preserve, protect, and facilitate access to community histories. Day 1 takes place virtually June 30th 11am-3pm while Day 2 takes place July 1st 10am-5pm.
Freedom Dreams Podcast: Fear of Black Consciousness


Amanda Alexander, executive director of Detroit Justice Center, recently had a conversation with author, Lewis Gordon during an event hosted by Source Booksellers. As the Freedom Dreams podcast team is busy getting season 2 of the show together, they welcome you to enjoy this talk in the meantime. You can expect a conversation involving Gordon's recently released book, Fear of Black Consciousness.
Kujichagulia: How Detroit Is Different Is Practicing Self Determination Through Fund Raising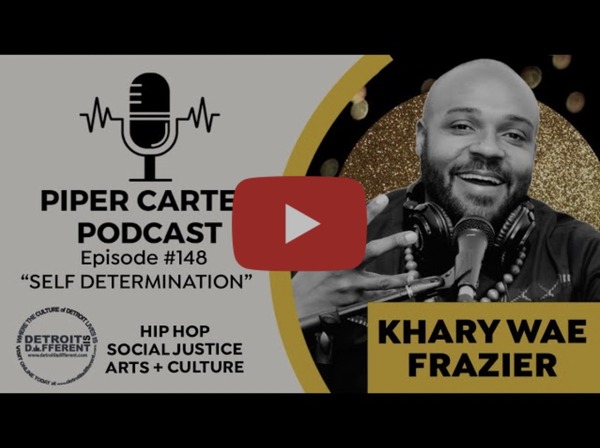 This summer A Lot of Studio is back in full effect with great entertainment, food,conversation, community, and a great task of raising $25,000 towards upgrading the outdoor community podcasting experience. Check out the most recent episode of the Piper Carter Podcast as Khary Frazier, host of Detroit is Different and creator of A Lot of Studio, speaks on his journey and vision for cultivating a creative podcasting space and current initiative to raise funds for the outdoor community.
You can support their fundraiser via GoFundMe or donate on CashApp using $detroit501c3
What we're reading
The Decline of the United States Empire, James Boggs, 1963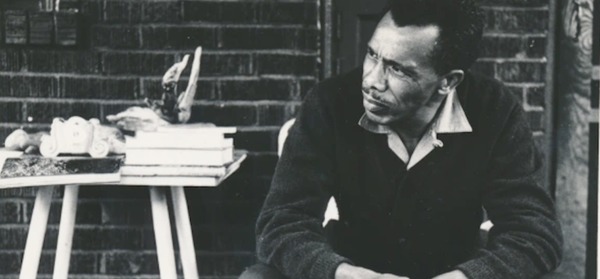 The Black Agenda Report recently published the writing of James Boggs as it felt relevant as issues around the Summit of the Americas has unfolded in Los Angeles. The Decline of the United States Empire comes from the sixth chapter in  Boggs' book, The American Revolution: Pages from a Negro Workers Notebook. Black Agenda Report states,
In it, Boggs provides a clear assessment of the nature of US political and economic dominance in the American hemisphere – and its coming demise. He outlines how since the 1823 Monroe Doctrine, the United States has turned the Americas into a satellite (or, we could say, neocolony), with US military power serving US banking and corporate interests. Yet Boggs argues that the Cuban Revolution disrupted the seemingly inevitable march of US power and precipitated a crisis of US imperialism. Many in the region viewed Cuba as both an example of how to break from the shackles of the US, and as a model for a different, more egalitarian society liberated from the chains of capitalism.
Smart Ass Cripple: The Importance of Being Annoying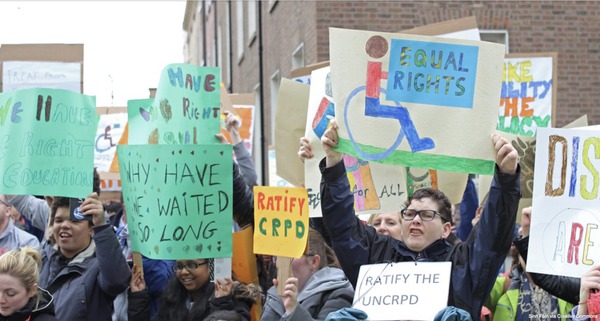 Written by Mike Ervin, this article covers the result of Governor Gretchen Whitmer's decision to offer a $400 auto insurance rebate to current policy holders and its effect on the disability community. Activist group, We Can't Wait have been persistent with stating their opinion on this matter as the group emerged from someone who's a sibling of an auto crash survivor.
"According to the Michigan Brain Injury Provider Council, 1,548 disabled people have lost needed care because of the law change and at least 3,049 health care jobs have disappeared. Infuriating media stories circulated of disabled people who rely on the fund suddenly having their support cut off due to lack of money."
Suburban Connections Newsletter, issue 2 is here!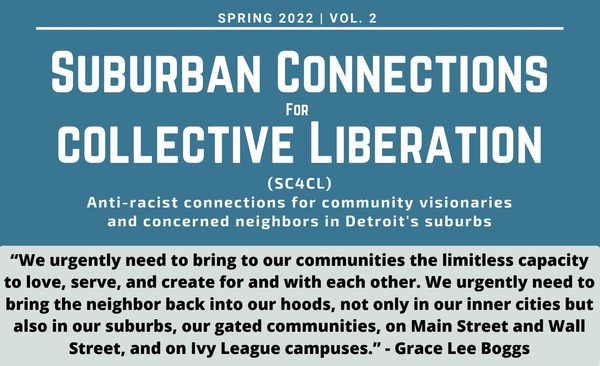 Spring 2022 in the suburbs and Detroit has been filled with collective grieving and pain, action, relationship building, shared joy, and reimagination of their communities. This second Spring 2022 edition features poetry, stories, reports, and photos from neighbors that highlight the need for our continued collective struggle for radical change in our neighborhoods. Visit our new Linktree website to connect with us, provide feedback, submit work, and read past editions! Or email us at suburban.connections.mi@gmail.com.
Subscribe to their newsletter or check out the latest edition
Uplifting & Supporting Our Community
Bridge Detroit presents:
Tell Us Detroit Town Hall
Bridge Detroit has been hosting a series of town halls, presenting an opportunity for community to voice their concerns and feedback regarding the use of ARPA funds and other city issues. Get involved and voice your opinions at the next town hall taking place at the Birwood House Gathering Space, 12605 Wyoming, Detroit, MI 48238 — Tuesday, June 28 at 6pm. Be sure to bring a lawn chair, and your opinions to be voiced! Can't make it? Check out the schedule of other town halls to be held throughout the city.
Click the video promo below or watch it here for more information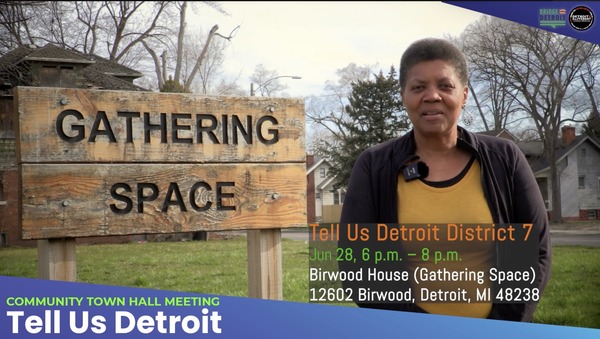 Electric Relaxation @ PASC Detroit Pop-up Gallery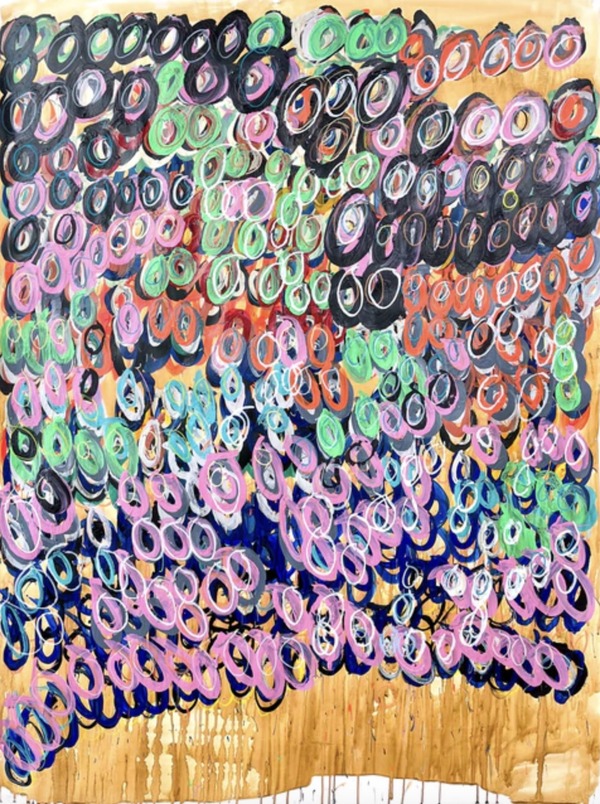 DeRon Hudson, "Fall Circles", 2022, Watercolor, acrylic, and paint-marker on paper
Electric Relaxation is an exhibition featuring artworks by 15 artists who use creative and often unconventional means to explore abstraction through vibrant forms and concepts. In these pieces illuminating colors refreshs the sould and emphasize repetitious and multi-layered mark-making techniques, while each share common poetics of visually stimulating characteristics. Like the A Tribe Called Quest song, Electric Relaxation, the artworks in this exhibition inspire you to "keep bouncing"!
Participating Artists: Jirard Bond, Stanley Brown, Alyce Carter, Donovan Clay, Robert Duncombe, Devontae Hampton, DeRon Hudson, Darlene Mahan, Tracy Mason, Stefan Payne, Debbie Osteen, Alsendoe Owens, Jocelyn Rice, Renee Rogan, and Ray Smith.
Curated by Anita Bates and Thomas Pyrzewski
June 10 – July 10, 2022
Opening Reception, Friday, June 10, 6-8pm
PASC Detroit Pop Up Gallery
At The Vella Group
1410 Gratiot Ave, Detroit, MI 48207
More information about the exhibit
Eastside Solutionaries Collective – Hiring 4 intern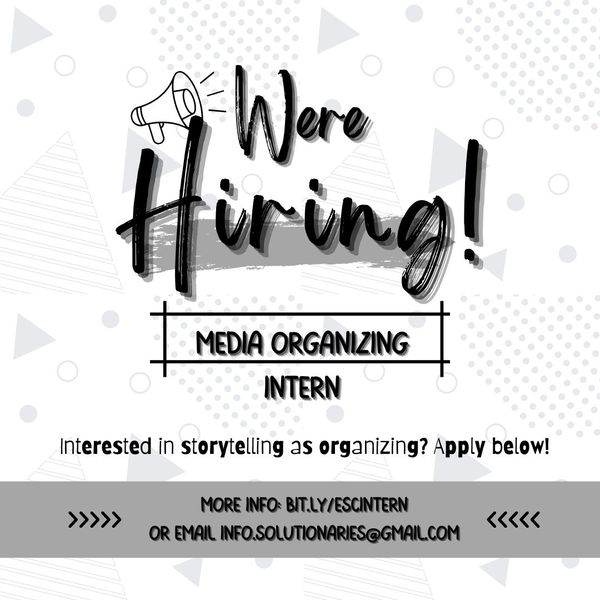 The Eastside Solutionaries Collective is a Detroit-based grassroots collective focused on telling the stories of neighborhood efforts told by people in the neighborhood. We center efforts that are rooted in self-sufficiency and self-sustainability and highlight them in our quarterly newsletter. Interested in learning how media efforts correlate to organizing? Apply for our internship! Additional questions or concerns can be emailed to info.solutionaries@gmail.com.
Applications accepted on a rolling basis with a desired filled position by late June/early July
Resources
Low-Income Household Water Assistance Program
This new Federal program offers assistance to those who are facing water shutoffs or are in need of reconnecting their water utility. Freshwater Future lists additional information and ways to apply for assistance, categorized by state. The program prioritizes those who need their water reconnected or are facing imminent shutoffs. You can read more and apply here.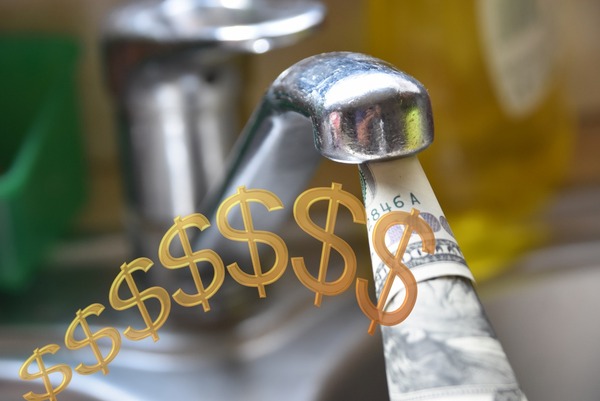 ACLU: Immigrant Police Misconduct Hotline
ACLU MI has recently launched and announced the misconduct hotline for Michiganders to report instances of police misconduct or abuse based on immigration status (or assumptions about immigration status).
If you or a loved one have been pulled over, harassed, arrested, or detained by a police officer because of actual or perceived immigration status (e.g., skin color, spoken language, or name), you are encouraged to call the hotline and leave a message detailing the experience. The ACLU of Michigan is committed to investigating those reports and will assist in taking action against police departments when possible.
Flyers are also available in 4 different languages:
Arabic
Bangla/Bengali
?English
Spanish
"This earth is hard symmetry This earth of feverish war This earth inflamed with hate" – Sonia Sanchez