June 20th, 2022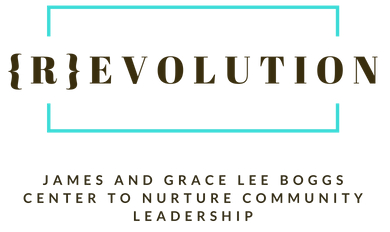 Thinking for Ourselves
Graduation time 
Shea Howell
Graduation time in Detroit is filled with joy. It is a time of personal accomplishment and public celebration. High school and college grads walk around sporting their new robes, flat hats at jaunty angles. Yard signs offer individual congratulations, often picturing the grad and naming the school and year.  Families, friends and neighbors gather to celebrate. This is the first time since the beginning of the pandemic that people have been able to come together.
Graduation, especially from high school, is an accomplishment. COVID has taken a terrible toll. After slow but steady increases statewide in high school graduation rates, the state average for 4 year graduations dipped to 80.4% in 2021, and as always, decreases were greatest in urban areas. Detroit rates tumbled to only 64.5%  for the 2020-21 school year. This year it is closer to only 50%. Michigan is not alone in this, as people struggled with virtual non learning and unpredictable class schedules. At least 20 other states reported falling graduation rates. So, the Class of 2022 has cause to celebrate.
On my street a young woman who I have watched walk to school every day since third grade will be graduating from Cass Tech. Her grandmother, who accompanied her in those early years on the daily journey to elementary school, proudly told me her granddaughter is off to a university to study medicine.
Just a few doors up, another young woman is graduating. Her sign joins that of her brother. But she is the only one to have survived to see this day. Her brother was killed nearly a decade ago by gun violence. The family continues to mark what would have been the milestones in his life not lived. It is a reminder that the violence in our communities takes away more than a single life. It leaves an emptiness that will never be filled.
Last year I was passing by the Gateway to Freedom at Hart Plaza honoring the Underground Railroad and the long struggle for Black liberation. The "Gateway to Freedom" statue depicts eight people escaping slavery by taking refuge in Canada. Its central figure is George DeBaptiste, a courageous, visionary African American freedom fighter. I  watched as a young man carefully climbed up into the middle of the group. An older woman, probably his grandmother, handed him a bundle. Within minutes he donned his cap and gown. The young man put one arm around DeBaptiste, and held the hand of the man next to him, claiming his own place in the group as  his grandmother snapped photos to capture the moment.
I like to think about this young man, his grandmother, and the city that shaped them. With all of the tragedy and triumph of this time, to decide to place yourself in the long line of struggles for freedom is a powerful statement to us all. It is a reminder that we owe a debt to those who came before us, that none of us achieves anything alone, and that even in the darkest times people can choose to act for freedom and justice.
Weekly highlights
Detroit has a tax incentive problem!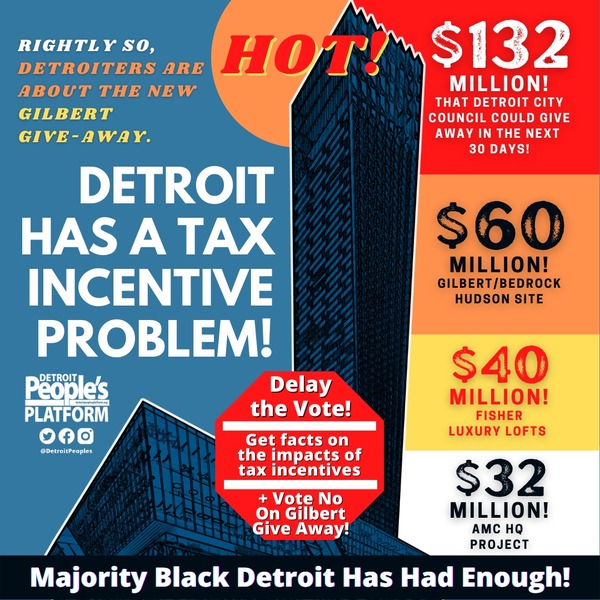 On Tuesday June 14, 2022, Detroit City Council delayed their vote on expanding public funding for Dan Gilbert's project on the former Hudson site. The vote was only delayed until Tuesday, June 21 at 10:00 am. Bedrock is seeking an additional $60 million for what many consider to be a vanity project. Council Members felt pressure from Detroiters who took the time to make phone calls and public comment at the meeting. We encourage Detroiters to organize with their family, friends and neighbors to keep up the pressure. At this time, in this moment in Detroit, say No to covering more of the cost of this HUGE vanity project.
"Dan Gilbert's real estate firm is seeking an additional $60 million tax break for its Hudson's site project in downtown Detroit."
"Tax capture estimated to total $192.8 million for the developer through year 2052."
"The tower, at about 685 feet, woul contain about 100 luxury condos or apartments and a 225-room luxury hotel."
"The projects total price tag grows to $1.4 billion."
"The requested abatement would freeze various local taxes at the Hudson's site at their current levels for 10 years. The site currently generates just over $620,000 a year in taxes that go to the City of Detroit, Detroit schools, Detroit libraries, the Detroit Institute of Arts and varioius Wayne County educational entities."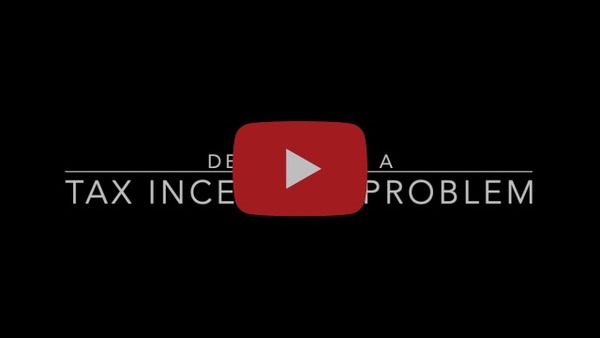 You can tune into the City Council meeting, Tuesday, June 21 at 10am to voice your opinion on this matter during public comment. Here are some tips for successfully completing public comment:
**If attending in person arrive early and fill out a card**
2 Woodward Ave, 3rd floor Detroit, MI 48226
City Council Meetings maybe viewed in the following manner;
Watch via Channel 10
Watch online and click on Channel 10
To attend by phone only, call one of these numbers: +1(929) 436-2866, +1 (312) 626-6799, +1 (669) 906-6833, +1 (301) 715-8592, or +1 (346) 248) 7799; Enter Meeting ID: 858 469 03626
Attend online: Online-CC-Meeting
PUBLIC COMMENT:
To participate at the time of Public Comment, please raise your hand  within the Zoom application 
Telephone participants: Raise your hand by pressing #9
Web participants: Raise your hand by clicking raise hand in the application or pressing

Windows computer = [ALT] + [Y]
Apple computer = [OPTION] + [Y]

Public comment can also be submitted via email to CCPublicComment@DetroitMI.gov
To be consistent with how Public Comment has been handled  for in-person meetings: 
You will be called on in the order in which your hand is raised
All time limits set by the meeting Chair will be enforced
Any hands raised after the Chair ends submission of public comments will not be able to speak at the meeting
Bridge Detroit presents:
Tell Us Detroit Town Hall
Bridge Detroit has been hosting a series of town halls, presenting an opportunity for community to voice their concerns and feedback regarding the use of ARPA funds and other city issues. Get involved and voice your opinions at the next town hall taking place at the Birwood House Gathering Space, 12605 Wyoming, Detroit, MI 48238 — Tuesday, June 28 at 6pm. Be sure to bring a lawn chair, and your opinions to be voiced! Can't make it? Check out the schedule of other town halls to be held throughout the city.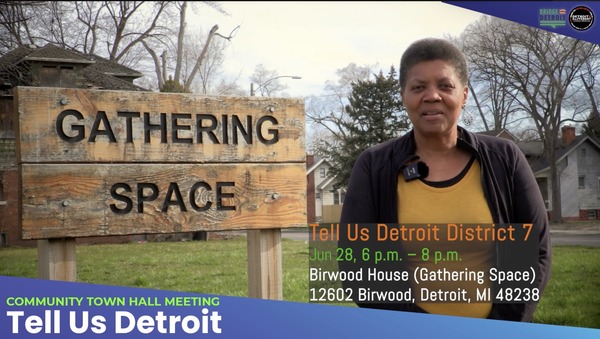 Click the video promo below or watch it here for more information
What we're listening to 
Re:Work Radio presents: Soul Force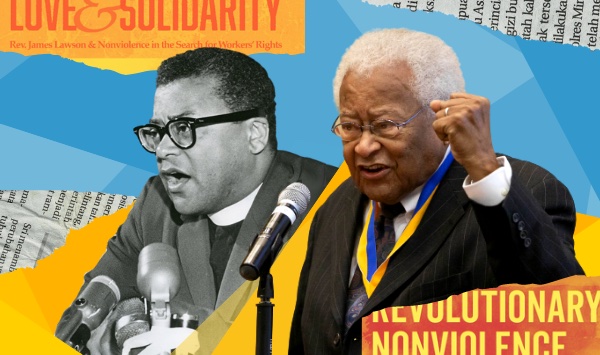 Join Re:Work Radio as they have produced a special mini series featuring Reverend James Lawson, Jr. whom Dr. King once called "the leading theorist and strategist of nonviolence in the world." Included are retellings of Lawson's childhood, his incarceration for being a conscientious objector to U.S. military enlistment, his travels to India as a student of Gandhi's nonviolence teachings, and working closely with Martin Luther King Jr. during the civil rights movement.
Uplifting & Supporting Our Community


Support Black-led Direct Action w/ BlackOUT Collective
BlackOUT Collective is wrapping up their fundraiser campaign, "Propagating Seeds of Black Liberation" to garner 30 new monthly sustainers. They are almost halfway to the goal, and would love your support with a donation. Become a monthly donor or one-time sustainer today.
Riverwise June 2022 Newsletter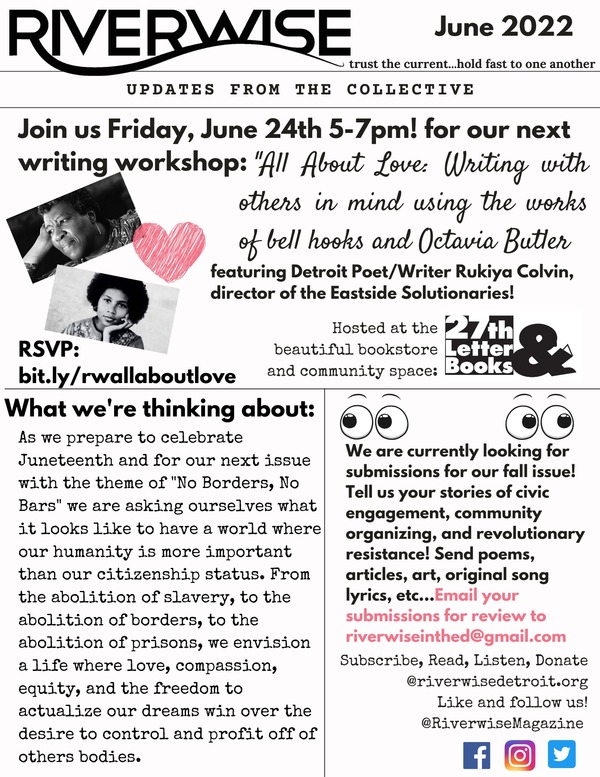 Reclamation Film Screening & Block Party @ Feedom Freedom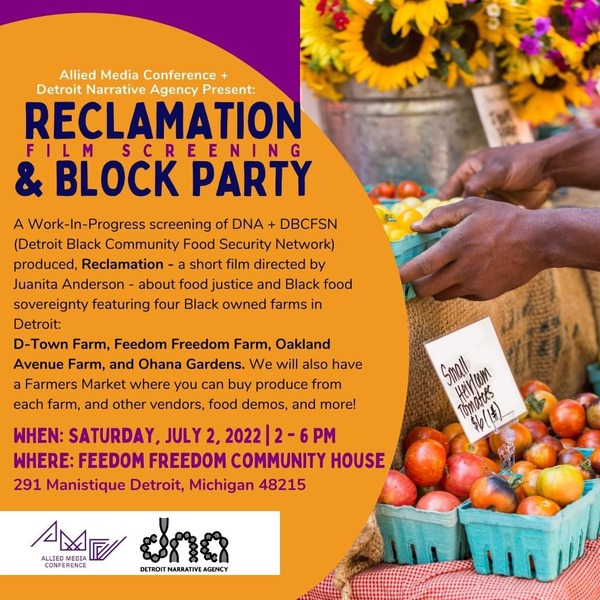 Save the date for Saturday, July 2 as the work-in-progress screening of Detroit Narrative Agency + Detroit Black Food Security Network produces, Reclamation: a short film directed by Juanita Anderson. You will learn about food justice and Black food sovereignty featuring D-Town Farm, Feedom Freedom Farm, Oakland Avenue Farm, and Ohana Gardens. There will also be a farmers market for produce purchases, demos, and other vendors.
Saturday, July 2, 2022 | 2-6 pm
Feedom Freedom Community House
291 Manistique Detroit, MI 48215
Eastside Solutionaries Collective – Hiring 4 intern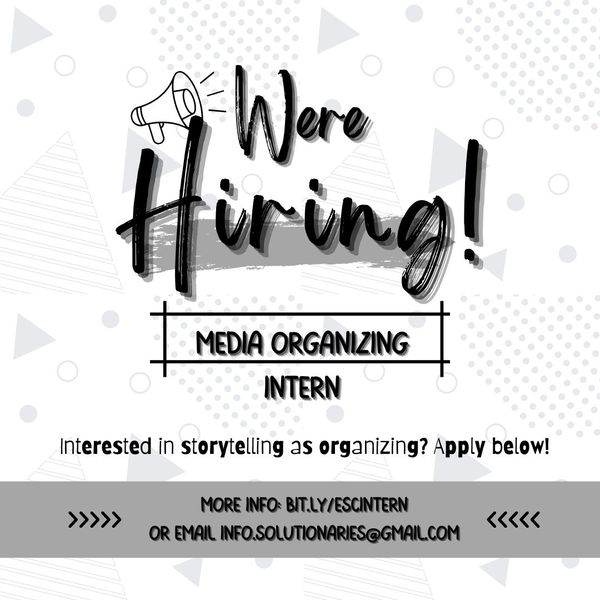 The Eastside Solutionaries Collective is a Detroit-based grassroots collective focused on telling the stories of neighborhood efforts told by people in the neighborhood. ESC centers efforts that are rooted in self-sufficiency and self-sustainability and highlights them in their quarterly newsletter. Interested in learning how media efforts correlate to organizing? Apply for their internship! Additional questions or concerns can be emailed to info.solutionaries@gmail.com.
Applications accepted on a rolling basis with a desired filled position by late June/early July
Resources
Low-Income Household Water Assistance Program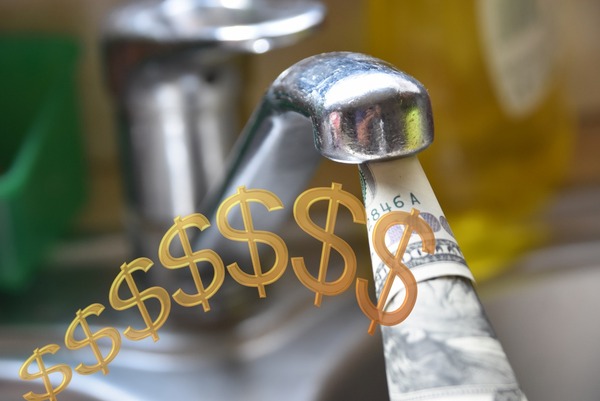 This new Federal program offers assistance to those who are facing water shutoffs or are in need of reconnecting their water utility. Freshwater Future lists additional information and ways to apply for assistance, categorized by state. The program prioritizes those who need their water reconnected or are facing imminent shutoffs. You can read more and apply here.
ACLU: Immigrant Police Misconduct Hotline
ACLU MI has recently launched and announced the misconduct hotline for Michiganders to report instances of police misconduct or abuse based on immigration status (or assumptions about immigration status).
If you or a loved one have been pulled over, harassed, arrested, or detained by a police officer because of actual or perceived immigration status (e.g., skin color, spoken language, or name), you are encouraged to call the hotline and leave a message detailing the experience. The ACLU of Michigan is committed to investigating those reports and will assist in taking action against police departments when possible.
Flyers are also available in 4 different languages:
Arabic
Bangla/Bengali
?English
Spanish
"Nobody in the world, nobody in history, has ever gotten their freedom by appealing to the moral sense of the people who were oppressing them." – Assata Shakur