June 21st, 2021
Reparations Opportunity
Shea Howell
The impulse to create a new, living democracy is strong in Detroit. As a movement city, people have long understood the power of organized action for change. We are the home of some of the most radically democratic efforts in the country, infusing our political life with principles of justice and compassion.
The best of these efforts was highlighted this week when the Detroit City Council passed a resolution to establish a process for a task force on reparations. The initiative for the resolution came from President Pro Tem Mary Sheffield who has fashioned the resolution to address both short and longer term recommendations. Sheffield said, "There's a lot of systemic issues that African Americans face and this is a predominately Black city. I think it's important that we acknowledge it and we at least begin to have conversations on how to address the issue of reparations."
The scope of the resolution illustrates the expansive thinking by those leading this effort. It advocates for the city to look at a broad range of issues linked to the quality of life within our communities.  It includes considerations of
Right to water and sanitation
Right to environmental health
Right to safety
Right to live free from discrimination, including people with disability, immigrants, LGBTQ, and others
Right to recreation
Right to access and mobility
Right to housing
Right to the fulfillment of basic needs
This is a welcome discussion at a critical moment. It is linked to the intensifying debate over Proposal P and the creation of a new charter.  The proposed charter also has provisions for putting the question of reparations on the ballot.
These local initiatives, given new force by the movement for black lives, have a long history. Detroiters have given national leadership to the discussion of reparations. Queen Mother Audley Moore is considered the "mother" of the movement. Congressman John Conyers, Jr consistently championed the effort in Congress, and Rev. JoAnn Watson serves on the National African-American Reparations Commission as well as a leading force in the National Coalition of Blacks for Reparations in America (N"COBRA).
In  an analysis of Community reparations prepared by the Legislative and Policy Division last August, we find this comment:
Since at least the publication of Ta-Nehisi Coates' June 2014 essay in The Atlantic magazine, the issue of reparations for African American exploitation and structural predation by white supremacist America has been the subject of extensive public debates. Coates surveys the historic structural policies of discrimination and exploitation against African Americans – not limited to enslavement, but extended effectively by regional Jim Crow segregation and disfranchisement under the terror system of lynch "law" in the south, as well as national policies like redlining through mortgage discrimination, de facto segregation, structural racial disparities in health, wealth and income, and today's racial injustices continuing right up to the present moment after the murder of George Floyd, the Flint River scandal and water shut offs in Detroit.
We are on the verge of being able to create a city that demonstrates a much deeper understanding of our obligations to each other, of the kinds of structures of governance that will and protect life, and of policies that are designed to enhance the quality of our communities.
In response to these initiatives, corporate powers and their various voices are claiming we cannot do any of this, because, "It will cost too much."  Far too many people have already paid far too high a price for the kind of changes we need. We have some very clear choices ahead.
---
Who Is At Your Table?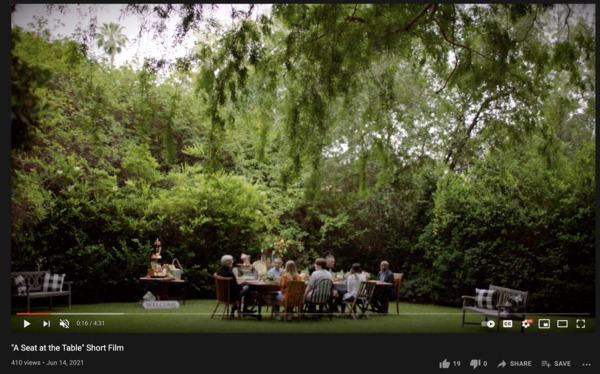 ---
This Current System
This Current System
Baba Wayne Curtis
Capitalism is trying to have the last word. After all is said and done, capitalism—with its neoliberal tactics of privatization; dismantling the old smoke-stack working class that is of no more use to the present high-tech global corporatist; dismantling democracy; and dismantling the nation-state—seeks to establish a full political spectrum of glocalized dominance.
With that foreseeable political future we have no other choice but to continue developing our liberated spaces to exist on our own creativity and invention. At this moment we have no other choice but to embrace with love the planet Earth as a collective. We will become as Cuba with our caring, efficient healthcare systems, and our intercommunal safety without the abusive forces of American corporatist glocal militarism or policing.
All of this will become possible on a much larger level of glocalization because we will be able to rely on each other to not only exist in harmony, but we will develop a network of political power to determine our anti-anthropocentric glocal destinies and we won't stand for anything else.
Hopefully our global cultural transformation will happen not because of an antagonistic confrontation between the world's peace-loving people and this current brutal militaristic system of racial glocal capitalism.
Junteenth 2021, Oakland County
Rich Feldman
People across the US will be celebrating Juneteenth on June 19, 2021. This is the day that enslaved Africans in Galveston, Texas became aware of their freedom and the end of slavery.  Juneteenth Day is often called Freedom Day or Liberation Day.
In 2021, one year after the murder of George Floyd, metro-Detroiters are continuing the conversations, meetings, protests, and commitments to challenge racism locally and "uncovering"  local histories across our nation.  Many caring and concerned people know about the last 50 years of discrimination in Oakland County; Few have looked deep enough into the 100-year history that began in 1921 in South Oakland County. Some want to challenge the systemic racism, restrictive policies relative to housing, schools, work, and policing of historic Royal Oak Township (Township).
It is 100 years after the massacre of more than 300 people of African ancestry by white mobs in the Greenwood area called Black Wall Street in Tulsa, Oklahoma.  On June 1, 2021, President Biden of the United States attended the 100 anniversary and named it a massacre of racist violence.  This white rage, Jim Crow violence, has reached the national media agenda (documentaries, articles, CNN, NY Times, PBS, National Geographic).  Most Americans are just learning this history.  A history that ldocuments more than 100 similar massacres and thousands of lynching's by white rage during the 20th century.  While some Americans want to deny this history, ignore the truth, growing numbers of people say this is our American story. James Baldwin called this "the lie", while others name it "the story told by White America."
It was 100 years ago when another form of violence was unleashed in metro Detroit.  In 1921,  historic Royal Oak Township Michigan, which was created by Governor Cass in 1819 based upon seizing the land and the historic genocide of indigenous people. The Township was divided into 10 villages and cities.  Whether intentional or silent ignorance this dismantling, marginalization, and forced segregation of 36 sq. miles of the Township, is now a .55 sq. mile remnant, with 2500 residents with a median income of $25,000; In comparison, Pleasant Ridge has $125,000 median income and was one of the 10.Thee Township and Pleasant Ridge are the size in population and geography.   Royal Oak which was extracted from the historic RoyaL Oak Township in 1921 has an income of more than $80,000.  This systemic anti-black racism began with the birth of the white suburbs in 1921.
According to founding member of Friends of Royal Oak Township, Inc., Brigitte Hall of Royal Oak Township: "The Township, located in South Oakland County, once included the land now occupied by the cities of Ferndale, Royal Oak, Pleasant Ridge, Huntington Woods, Oak Park, Berkley, Madison Heights, Hazel Park, Clawson, and currently, Royal Oak Charter Township."
A story built into the founding of these cities in the 20th century hides untold truths driven by public desire of white people to create "safe, prosperous, comfortable, stories and suburban cities." Systemic racism began decades before the federal policies of WWII.   Attempts to damn people of African Ancestry into underdevelopment, destroy their sense of belonging, pride, dignity, and community was systematically accomplished through restrictive covenant laws, school segregation, housing zoning restrictions, limited or no benefits to the GI Bill, and multiple forms of annexation destroying tax base.  Never mind the fact, more than 95% of Federal money between 1937 and the 1960s was loaned for the creation of the white suburbs to white folks, i.e., Birwood Wall story south of 8 Mile.  The spirit and relationships within Current Royal Oak Township have never been broken. Sometimes silenced but never broken.
In 2021 our region and nation are choosing to face our history, not simply point fingers, or name-call but assume responsibility for truth telling so we can move forward and stop "fooling ourselves."  We fool ourselves because of a value gap that has placed the economic security and benefits of white people above the lives, dignity, voices, and economics of people of African ancestry. The violence of these massacres – whether in Chicago, Tulsa, DC or North Carolina, or the Township is often an easy way for many of us, particularly white folks, to ignore the violence. All the violence was for the same purpose. That is to say: "white folks' lives matter more than black folks' lives." We believe we need to go back to 1921.
This is our time to reclaim our story, history, voices, and dignity.  If you want more than band-aids and short-term solutions, join with the Friends of Royal Oak Township and the Truth Towards Reconciliation: "The Vision, Journey & Voices of Royal Oak Charter Township" initiative. Putting Black Lives Matter signs on our lawns, creating historic murals indicating African ancestry families and churches have resided in our area for more than 150 years is not enough. To create a new future together, as James Baldwin has often said: "American will not know its name until it knows my name." Oakland County will not know its name and story until it knows the story of the Township.
It is with this in mind that we are currently creating a documentary film, a new narrative of truth, creating and encouraging every school district in the nine surrounding cities to leave behind the "simple stories of omission and denial."   We are creating public spaces and historic markers uplifting a comprehensive, inclusive story that leads us to a future of reconciliation.  While we cannot change our history, we can change our responsibility for the future.  It starts with Truth-Telling.
For more information: www.forot.org
---