June 23rd, 2020
Choosing Sides
Shea Howell
Mayor Duggan and some members of the City Council are out of step with the majority of the people of Detroit. Increasingly, the Mayor and some on the Council are sounding like Donald Trump in the face of growing protests against racism and police brutality. They are accusing protestors of "terrorism" and refusing to look seriously at the issues being raised by people on the streets.
Detroit has a long history of police misconduct and failed reforms. Certainly, since the rebellion of 1967, most people in Detroit have understood that the widespread use of police power is rarely used to protect people and is always invoked to protect property and privilege. As a result, the people in the city have consistently organized to limit police power and bring public scrutiny to bear on police practices. We are among the first cities to have an elected police commission, we have a police force more reflective of the community, and organizations such as the Coalition Against Police Brutality, the National Lawyers Guild, The National Conference of Black Lawyers, Sugar Law, and the ACLU have long histories in forging public accountability of police excess.
Detroit police have been especially brutal toward those who dare to exercise their right to publicly challenge policy, police conduct or priorities. Beginning in the 1940's Detroit police created a secret Red Squad to spy on labor organizers and protestors. Their aim was to disrupt and destroy those who challenged power and privilege. They organized spies, infiltrators and informants. In the 1960's and 70s they worked closely with the FBI and COINTELPRO to discredit and "neutralize" activists. In 1984, after years of court battles, it was revealed that the Detroit Police, along with the State force had more than 1.5 million people in their data base.
Under Mayor Duggan we have consistently seen repressive responses to people organizing for justice.  At the very beginning of the draconian water shut off process overseen by the Mayor, artists who painted Free the Water on the abandoned Highland Park water tank were threatened with $75,000 in fines and up to 4 years in prison. Later the Homrich 9, a group of activists who blocked trucks from leaving the depot to shut off water, spent nearly 3 years in court before all charges were finally dismissed. Baxter Jones, one of the protesters, has continued to struggle against the brutal treatment he received as he and his wheelchair were shoved into the police van.
Most recently the Detroit police have been aggressively ticketing young people who gathered during the stay at home order. The first response by the police to the public protests against the killing of George Floyd was unwarranted aggression.
All of this history is why the public tribunal held this week by those engaged in protests was essential. Speakers gathered in Hart Plaza to share their experiences and put the police on notice that such aggression will not be tolerated.
The public conversation about redirecting funds and demilitarizing the police is just beginning. Defunding the police is being put in practice and ideas of abolition of police all together are spreading as people come to understand how destructive police forces are. National polls are now showing that 75% of the people agree with  "proposals to move some money currently going to police budgets into better officer training, local programs for homelessness, mental health assistance, and domestic violence,"
We are in a moment of renewed imagination and possibilities about how we can live together more responsibly. It is time for people to choose
 sides.
____________________________________________________________________________________________________________________
____________________________________________________________________________________________________________________
Poems, Speeches and Reflections from the Suburban Silence is Racist Violence Car Caravan Earlier This Month in Metro-Detroit.


Earl Burton
Speaking of Breonna Taylor is difficult for me
It is beyond easy to see myself in her place because we are in so many ways the same
Both young black women, both born in 1993; she has three months on me
Both with career goals to help other people; she an EMT while I pursue a degree in counseling psych
Both with loved ones, friends, hobbies, favorite songs, favorite movies, favorite jokes
Both with beautiful smiles
Both human beings
We both went to sleep that night, probably with expectations of what the next day would hold
But Breonna didn't see the next day
She was killed at home by cops in plain clothes who illegally entered her home
Cops that are still walking free
We're gonna to talk about the inherent stupidity of no-knock warrants, especially being served by plain clothes officers who can't even go to the right home
We're gonna talk about the shoot-first-ask-questions later attitude that permeates the cop culture that would've been wrong and dangerous even if they'd been at the right home.
We're gonna talk about how disgusting it is that Breonna's boyfriend Kenny Walker was initially arrested and charged with attempted murder for defending his home against strangers with guns breaking in
We're gonna talk about reactive justice for cops and a police department that caused this tragedy
And proactive justice to prevent this from happening to anyone else
But for today, right now, I'm talking about Breonna
Breonna, who should've been celebrating her 27th birthday today
Breonna, who had a life and dreams that were stolen from her
Breonna, who should have had years, decades of service, exploration, discovery, laugh, hope, and all the trials and triumphs of being coming her way
Breonna, whose family and friends mourn her loss and still have not seen a modicum of justice of any kind
Breonna. Breonna. Breonna. Say her name. Breonna.
———
Eliza Webb
Peace everyone. Thank you all for being here. My name is Eliza Ann Shoolbraid Webb, I'm from Ferndale, and I'm a part of the broad & beautiful emerging coalition that organized this action. I will be the MC today.
We want to start off with a land acknowledgement. We recognize we are standing on & unjustly occupying Anishinaabe land: the Three Fires Confederacy of Ojibwe, Odawa, and Potawatomi peoples, and other Indigenous Nations before them.
We also would like to begin with inviting everyone to share a moment of grief for George Floyd, Aiyana Jones, Malice Green, Tony McDade, Trayvon Martin, Eric Garner, Sandra Bland, Michael Brown, Atatiana Jefferson, Bettie Jones, Freddie Gray, Tamir Rice, Walter Scott, Breonna Taylor, Emmett Till, and every other Black person who has been murdered by the United States carceral & police state.
We would like to take a moment to ground ourselves in the purpose of why we are here.
Across the suburbs, our state, our country, white folks & suburban folks are breaking our silence on hundreds of years of continuing violent murder, oppression, theft and looting of Black people & Black communities by our government & our collective complicity! We are here today to awaken and stay awake to the reality in our home of SE Michigan: of police terrorism, of violent water shut offs in Black homes when water is life, of air & water poisoned in Black communities, of the overtaxation of Black homeowners, of poverty wages, and other forms of state-sanctioned oppression that take Black lives every single day right here, right now. We will not fall back into silence or inaction!
We are here to build a joyful movement for collective liberation that will end the individualism, materialism, and hoarding that sickens many of our suburban & white communities.
We are honored to join with the hundreds of thousands of people across our country and the tens of thousands in our suburbs who are saying no to racism and and no to police terrorism and lynchings. In the language of Ibram X Kendi who wrote : "How to be an anti-racist", He states we cannot be anti racist without being anti capitalist and we cannot be anti capitalist without being anti-racist. Our movement must fight to end racial capitalism — which is the system we live under, a system that cages, kills and oppresses Black & Brown people for profit.
We are explicitly not here to engage in performative activism. We ask participants to respect the gravity of why we are gathering.
Thank you. In a few moments we will slowly drive in a car caravan up Woodward & gather at Birmingham UU Church for a short rally to center, ground, teach and build movement together. We have powerful speakers lined up. And we invite you to take & post photos of this action online with the hashtag #breakingoursilence.
I'd like to end with some chanting together. So repeat after me.
BREAK OUR SILENCE, END OUR RACIST VIOLENCE
Thank you for being here. I am so grateful to be standing in solidarity & resistance with you. I am grateful to be building community & movement with you.
———-
Rich Feldman
When Reform Has Failed, What is Next?
There is an awakening taking place in our country.  There are rebellions, protests and uprisings in our cities and protests, demonstrations across our suburbs.   I have been active since the late 1960s when 3 million black people engaged in rebellions following the murder of MLK.  I was personally active with 4 million people after the murders of 4 students at Kent State and Jackson State.  I was in Chicago in 1968 and attended the United Front Against Fascism with the Black Panther Party in the summer of 1969.  I would say that 1960s and 1970s was a revolutionary period working to redefine the system & those years shaped my life of commitments and dreams.
1970 was 50 years ago.  Today, I am humbled and honored to again to be part of a revolutionary transformative movement of epoch proportions.  Todays challenges are greater and the skills, the vision, the analysis, the understanding , the love of a new generation has taken its place in history and are leading the call & struggle to transform ourselves and every institution.     A movement that entered a qualitative new beginning with Arab Spring, Occupy, Black Lives Matter, Standing Rock, Me Too, Global Climate Justice Strikes.  Movements that welcome people with disabilities, transgender (folks ?, another word) and a movement clearly committed to answering the questions:
What time is it on the Clock of the World?
What does it mean to be human?
What will be the values to guide relationship to each other, ourselves and our planet.
The lynchings of George Floyd,  Breanna Tylor, Ahmaud Arbery and the more than 25,000 black folks killed by Covin 19, has again pulled back the veil and peeled back the onion of a system and culture built upon death is now facing death.  The response by a generation who founded the movements and participated in these movements since 2010 is a generation of leaders.
In the introduction to Uprooting Racism and Racist by James Boggs, he challenged the Kerner Commission Report because it totally failed (on purpose) to challenge White America to Change.  It was all about "uplifting black opportunity."  It made the rebellions, the rage a "black problem" rather than as James Baldwin always said "it is an American Problem."  James Baldwin also was clear that America will not know its name until it knows my name."
"Each generation, coming out of obscurity, must define its mission and fulfill or betray it." Frantz Fanon – The Wretched of the Earth
The protests, uprising an demonstrations in our cities have been joined by rural communities, farming areas, small towns and suburbs.
As a resident of Huntington Woods, I witnessed 750 people state out loud… Huntington Woods is Racist.  Black Lives Matter.  Berkley, Mi where white citizen councils and KKK once proudly called home, now has banners proclaiming Black Lives Matter in lawn signs next to the American Flag.  We have so much to learn from the conversations taking place in homes across our country, suburban, rural and urban.
I have seen and heard tens of thousands of people across the Detroit metro suburbs and across Michigan demonstrate, stop traffic, march, pay tribute and say, "we will not be silent."
On Sunday I had the privilege to support the organizing efforts of individuals ranging in age from 12 to 70 from across the suburbs and Detroit say: Suburban Silence is Racist Violence.  More than 500 cars participated in a caravan from 8 mile to Lone Pine.  People came from suburbs across the counties of Wayne, Macomb, Washtenaw, Oakland, Genesee.  We rallied at the UU Church on Lone Pine and Woodward to hear amazing speaking, listen to spoken word.  People came together to be challenged and the speakers made it clear that this was not a spirit but a marathon, there were simple answers or old solutions but this was time for profound support to the struggles in Detroit:  Stopping Water shut-offs and creating a Water affordability Plan, Permanent ending of foreclosures and evictions, stopping the criminalization of Detroiters thru the police budgets supporting fascial recognition and the absurd green light policies of Detroit Police.
Voices were clear that Michigan does not need a new Wayne County Jail so that white folks and middle class folks can be safe in Illichville and Gilbertville.
The event was named: Suburban Silence is Racist violence to remind all those being energized and activated that Our Silence supported the Emergency Management, the destruction of the schools.  As is so often said now:  We cannot be non-racist we can only be racist or anti-racist. If you want to be anti-racist, you also need to be anti-capitalist.  The land of Chief Pontiac was looted, Royal Oak Town Ship was annexed and destroyed with the rise of the 20th century white suburbs.  In looking at history, slavery was never separated between racism and capitalism so when will we see our history as a history of racial capitalism.
In this moment of urgency and movement, we also know that we need to create a long term vision, strategies and organizational structures for our suburbs which contributes to the safeey, security, health of Detroit and Pontiac.  Our commitment is to create a suburban coalition that has long term goals, based upon values, principles and strategies that emerge from welcoming the collapse of the "great American experiment" and the creation of a new 21 vision based upon community, compassion, inclusion, moving far beyond old ideas and concepts of socialism. What does a transformative revolutionary society look like and how do we need to change to become part of history's future?
As MLK said:  We need a radical revolution in values as we struggle against the evil triplets of racism, materialism and militarism (if he lived today he would also be saying patriarchy, ableism and planetary destruction).
Can we simply live so others can simply live?
Can we seriously make a distinction between needs and wants?
Can we say NO to the wall of disrespect and vicious-violent between the suburbs and the city by supporting community, safety and dignity for all Detroiters?
Can we declare liberalism as dead? And welcome radical thought and move to change we can only imagine?
---
---
We Shall Not Be Moved
Collective ownership gives power back to poor farmers
By Audrea Lim for Harpers Magazine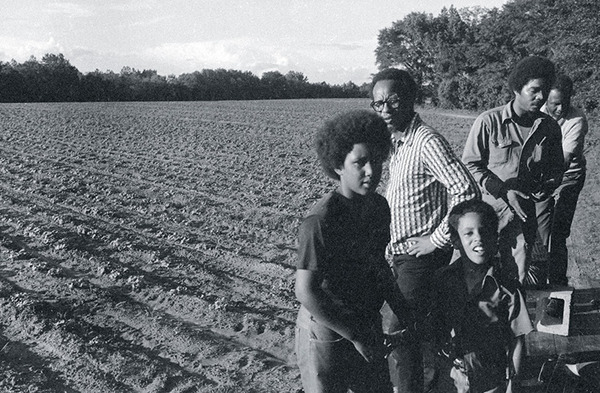 ---