June 2nd, 2020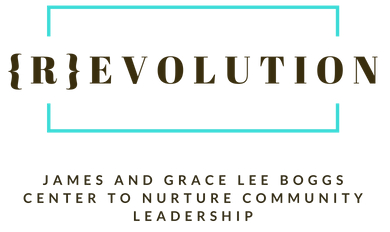 ---
The Detroit Board of Police Commissioners (civilian oversight body) has broad supervisory authority over the police.
Email, call or share your voice at this Thursday's BOPC meeting at 3pm ET. Join the meeting here.
Enter your public comment here.
Demand the BOPC step into their power and do the following:
1. Immediately end facial recognition use
2. Publicly endorse the 
Civilian Input Over Government Surveillance Ordinance
3. De-militarize police – end Operation Relentless Pursuit
4. Act swiftly on excessive force cases
5. Immediately stop expansion of Project Green Light
6. Move out of Detroit Police Headquarters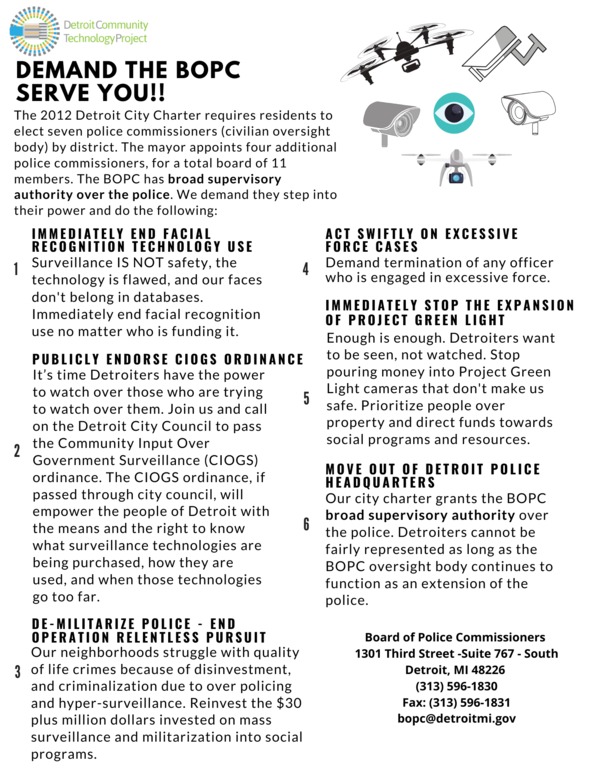 ---
"The urgent, crying need of the American people is to undergo a fundamental  transformation from the individualists and materialists they are today into a new breed of socially and politically conscious and responsible human beings." – James Boggs 
A Message from Professor Stephen Ward
Hello Comrades,
Last week would have been Jimmy's 101st birthday (May 28, 1919 – July 22, 1993). Here are some of Jimmy's words. The statement above is from Jimmy's book Racism and the Class Struggle: Further Pages From a Black Worker's Notebook, published in 1970. Below is a longer passage from which the sentence comes, in the book's final chapter, "The American Revolution: Putting Politics in Command."
Reading this today, 50 years after Jimmy wrote it, might raise several questions for us, such as:
How does the way Jimmy approaches the crisis of that time (in the midst of the Black Power movement, the War on Vietnam, etc.) relate to how we think about and respond to the crises of our time?
How well does this contradiction between economic (and technological) overdevelopment and social and political underdevelopment (an idea Jimmy and Grace further developed in Revolution and Evolution in the 20th Century, published in 1974) characterize the U.S. today, and how can this help us develop our concept of revolution as well as strategies and tactics today?
"In this crisis more and more people are beginning to feel that only a revolution can bring them release from their fears and anxieties. It is not difficult to feel. The difficulty comes in attempting to make the feeling concrete. This is not surprising since when we talk about a revolution in the United States we are talking about a revolution for which there is no historical precedent. History has nothing to tell us about a revolution in a country where so large a proportion of the population has materially benefited from the system even while being exploited by it and therefore feels that its own interest is bound up with the active defense of the system … The arena in which this country needs revolutionary change is not the economic, but the political, not the material but the social. The essential, the key, contradiction in the United States that must be resolved if this country is to survive is the contradiction between economic overdevelopment and political underdevelopment."
"The urgent, crying need of the American people is to undergo a fundamental  transformation from the individualists and materialists they are today into a new breed of socially and politically conscious and responsible human beings. Instead of being concerned only with their own material advancement and satisfied with the political decisions of the military-industrial-academic complex as long as they expand production and consumption, the American people must be dragged, pulled, and pushed into situations where they are compelled to make socially responsible decisions–until the energy, the skill, and the will to make such decisions have become second nature."
— James Boggs, 1970
[from Racism and the Class Struggle, p 165-166; also in Pages From a Black Radical's Notebook: A James Boggs Reader, p. 232-233]
____________________________________________________________________________________________________
Thinking for Ourselves
Not One More
Shea Howell
One week ago, we tried to grasp what it means to have lost more than 100,000 people in a little more than 100 days. How do we comprehend the depth of this horror? The sheer enormity of the pain and suffering of people makes it difficult to absorb.  How do we grasp the stark racism carried daily in numbers reflecting the death toll in African American communities far outstripping those in white, wealthier areas? Many of us felt our hearts could hold no more anguish.
Then we saw Derek Chauvin kill George Floyd. Chauvin put his knee on Mr. Floyd's neck and held him down, squeezing the life out of him. Chauvin appeared calm and in control through the nearly nine-minute killing. He looked passively at the crowd urging him to back off. He was unmoved by the pleas of the man under his knee.
Chauvin and his accomplices enacted the killing that is essential to this country. It is the slow, calm, and cruel certainty of death inflicted by white supremacy on black bodies,  unmoved by pleas to justice and mercy. The death of George Floyd was caused by a sickness that goes to the very beginnings of this nation. It is the same sickness that has allowed this virus to kill so easily in communities of color. It is the sickness that has made the US the most violent nation on earth, the most capable of killing, anyone, anywhere, anytime.
Ten years and a few days before George Floyd lay on the ground dying, seven-year old Aiyana Stanley-Jones was asleep on the couch as her grandmother sat beside her watching TV. The Detroit police Special Response team burst through the doors of their apartment, threw flash grenades, and shot Aiyana through the head. The whole event was filmed for a reality TV show. Police tried to lie about Aiyana's murder, blaming the grandmother, claiming she attacked the officers, attempting to grab the gun. The police had invaded the wrong apartment. No one was convicted of any crime. It took almost 10 years for the city to acknowledge responsibility to the family.
In the 10 years since Aiyana's death, the police have learned nothing except how to kill more efficiently. They have learned that it does not matter if they wear body cameras. It does not matter if they are videotaped. It does not matter if they kill a child with a toy gun. It does not matter if they kill a man sitting in his car. It does not matter if they use force and violence. They can do whatever they want. They can squeeze the life out of a person, in front of the world, and walk away. More than 1000 people are killed every year by police. Most of their victims are African Americans.
Today, we need to say enough. Not one more person. Not one more name. Not one more life to mourn.
The police do not make us safe. They do not protect us. They began as the militias organized to kill indigenous people so white settlers could steal and hold land. They used these killing skills to terrorize, trace, and capture African people resisting enslavement. They are sworn to uphold a legal system designed to protect property, not people. They should not exist in our communities.
It is time to dismantle the police and to provide for our own safety and security. During this pandemic, we have seen the power of compassion and care, the capacities we have to establish new ways of living that value life, connection, and safety. We can create loving communities by creating real neighborhood safety, pledging to solve problems together, and learning how to live more peacefully.  The corrupt, corporate state is failing all around us. We can and must take responsibility now for the life and health of our communities.
---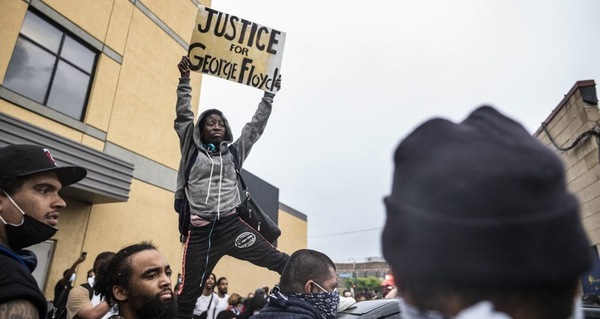 ___________________________________________________________________________________________________
The Economy Isn't Everything
Grace Boggs
(10/16/08 for the Michigan Chronicle)

This 2008 Michigan Chronicle article by Grace Boggs, referencing a letter by Rosa Naparstek,  raises the same critical issues relevant today. 
In these times of economic meltdown, when so many of us are losing our homes and our jobs and worrying about how to pay our bills, the temptation  is to believe that the economy is everything, and that you're stupid if you don't agree.
That is why I'd like to share the email about the Dow that I received this week from Rosa Naparstek, an artist friend who used to live in Detroit and now lives in New York.
In August, Rosa gave a very moving slide show presentation of her artwork at the Boggs Center. She called it "Childscapes" because it revealed  how our inner landscapes form the emotional roots of the world we create personally and politically.
Her email is so refreshing  because it reminds us that life isn't only about the economy and the Dow. We are, first and foremost, human beings who down through the ages have created our way of life according to who and what we are. Until the onset of capitalism only a few centuries ago, our relationships with one another and our communities, not the rapid growth of the economy, were what we valued. The current crisis provides us with the opportunity to reclaim those fundamental human values.
"Last week," Rosa's email begins…
"my sister and I went to Ellis Island, the portal of our entry into the United States in 1951. I remember standing on deck at the railing, holding my father's hand and cheering at the sight of the statue and land. I knew we had arrived for a new life and home.
My father was a socialist who brought me up to respect labor and recognize that capitalism was an exploitative form of human relationship. He was a scholar and by trade an 'upper maker' (the top part of the shoe) who worked at Henry Ford's cutting upholstery. My mother worked there too, sewing the upholstery. She had been a seamstress. He wanted to teach me how to make shoes so that I could always earn a living. I told him I didn't need to; that I would go to college and be safe.
Now, after many professions, I find myself gathering things, the fruit of human labor, to put together in a form that honors the story behind them so that I too can finally say I have made something with my hands.
We are at an interesting juncture. The sky is falling. Crisis, danger and opportunity are palpable. Evolution takes a long time, but emergent realities can sometimes break through.
Many celebrated when 'communism' failed in what seemed 'not with a bang, but a whimper.'  We won, we won!  And now, who will say forthrightly that capitalism, unfettered markets and unaccountable profits, have failed, bringing us down with a global bang?
As much as I read and have read about economics now and in the past, I feel most of what we say about it is fiction. We do not live the truths in each theory/ideology.  We live and create from the truth of who and what we are.
Socialism and communism are spiritual economic systems: to give according to our abilities and receive according to our needs. And, the final stage, the withering away of the state, is the time when we no longer need external rules, or laws because we have become our best, highest-self, and are unafraid to know that we are all one.
Laissez faire also has its theoretical validity, a belief in personal freedom, which after all is also the highest goal,  'the withering away of the state.' However,  personal freedom unmoored from spiritual development can become greed and ruthless disregard of the other and the best in ourselves.

_______________________________________________________________________________________________-
A note and video from our friend, Toshi Reagon
Durham fam who was there back in the day at the opening of 
Malcolm X
 Liberation University? Grateful to Shelley Nicole Jefferson for sending me 
this link
. Please watch and at about 7 minutes in The Harambee Singers my moms group out of Atlanta Ga. Come smashing through with a song called The Black Magician. I was overwhelmed watching this. The narration. The movement. The people. The talk of the the "The Brothers" leading the way. Come on now… – Still my heart love exploded and I am now dropping my supposed to do work and looking down this road. Bernice Johnson Reagon.
#powertothepeople #blackpower #revolutioninthestreetsandtheschools