June 2nd, 2021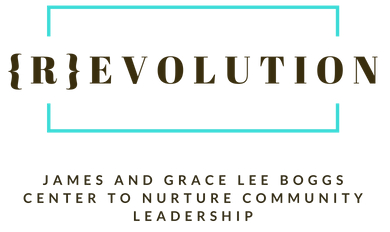 ---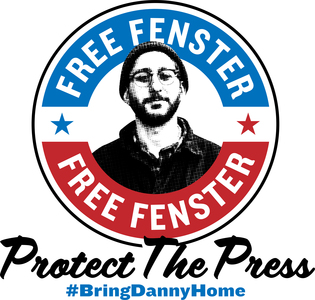 ---
"One year after the death of George Floyd, who was brutally killed by a police officer, we are airing this multifaceted social justice program in partnership with the Detroit Coalition for Police Transparency and Accountability (CPTA), Detroit Will Breathe, the Detroit Independent Freedom Schools Movement, and Alnur African Dance Detroit. Members of the Detroit-based grassroots organization 'Detroit Will Breathe' discuss with African American youth their candid reactions and perspectives about the police. Dr. Gloria Aneb House, Professor Emerita of Humanities at Wayne State University, former Chair and Professor Emerita of African American Studies at the University of Michigan-Dearborn, the 2019 Eminent Kresge Artist, an internationally renowned former SNCC activist, and co-founder of the CPTA directs this virtual program. It also highlights creative dance performances and skits that address this same topic by the Alnur African Dance Troupe, a group of African American youth dancers and drummers facilitated by dedicated master instructor Margaret Robeson (Mama Ayi)."
https://detroitcpta.org/
https://detroitwillbreathe.info/ https://www.difsm.org/
https://www.facebook.com/AlnurAfrican…
Celebrating the Unity and Diversity of Humanity https://www.keiga.foundation/
---
Happy Belated Birthday, Jimmy!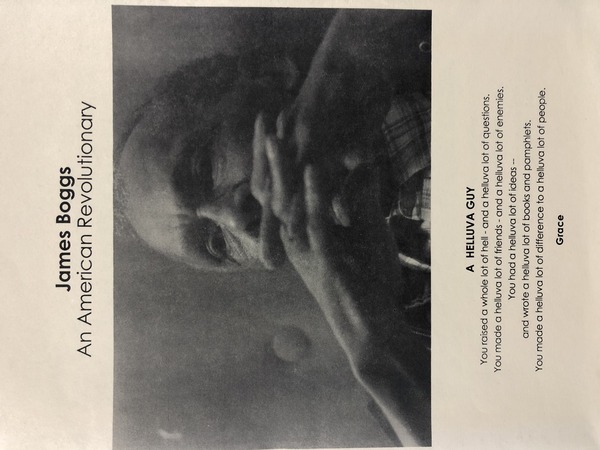 ---
Thinking for Ourselves
Protecting Life
Shea Howell
This week James White assumes command of the Detroit Police Department. We wish him well as the new Chief. He is stepping into a position that requires new thinking about policing, relationships in our city, and the responsibilities of public officials.
He will get little help from many of our current elected officials. Mayor Duggan offers nothing but praise for Chief White's predecessor. The majority of the City Council has uncritically approved his most regressive initiatives, including an expansive use of surveillance technologies throughout our community. At a time when many cities are redirecting budgets to fund civil initiatives, the City Council and Mayor approved increased spending on police.
Most often these decisions are justified by City Council members who resist reform by claiming other cities, many with smaller African American populations, don't have the same "crime problems" we do. The majority on the Council consistently repeat the most racist, negative views of our city to justify their votes, citing fear of crime as their rationale.
That is why we hope one of the first calls Chief White makes is to the Mayor of Newark, Ras Baraka. Baraka has been leading reform efforts mandated by the U.S. Department of Justice in response to a longstanding record of police abuses and civil rights violations there. Elected in 2015, Baraka, with the help of Newark Police Director Anthony Ambrose, has transformed the department.
Baraka, son of poet and Black Power activist Amiri Baraka, knows police violence intimately.
"The police department systemically has been used as a weapon against working people and poor people in this country. Whether you were in a union, whether you were a new immigrant, whether you were … an African American, it was used to keep inequality going. That relationship has to be fundamentally changed."
During 2020, when many cites were experiencing increasing crime and tensions between communities and police, Newark is a stark exception. Arrests and crime were down, complaints about police hit record lows. The Police Director stood with Black Lives Matter protestors and demonstrations were peaceful. Over the last five years serious crime has dropped by 40 percent. At the same time the city has shifted $11 million away from the police department and to violence prevention efforts.
In all of 2020 not one police officer fired a gun. Not one single shot. The city did not pay any money to settle a case of police brutality.
Activists in Newark, many of whom continue to work for abolition of police, recognize that there is still much to be done to create new forms of safety, but they also recognize that there have been "significant" changes. Many of these changes are attributed to the Newark Community Street Teams. The teams are mostly made up of returning citizens who work to defuse violence before it escalates. Camden, New Jersey, is drawing on the Newark experience to reform its processes with similar results. Detroit should do the same.
Community teams organized to interrupt violence are not new, of course. Organizations nationally, like Cure Violence, have been developing intervention strategies for decades. In areas of New York, where they have been active, as in the South Bronx and Brooklyn, year after year, there are no shootings. Settling differences within communities are becoming normalized.
In reflecting on the Newark transformation,  Brian O'Hara, the deputy chief for training, talked about the importance of moving away from the heavily militarized approach that characterizes most police departments, including Detroit. He said, "It's about protecting the sanctity of every life."
Protecting life would be a welcome goal for our new Chief.
A message from Rodd Monts at ACLU Michigan. I am resending this message with an ask from legislators to encourage any of you who are interested in speaking out about the legislation below to testify or to submit written testimony to consider doing so. As you know, the police will be quite vocal on these bills and the sponsors are hoping for as much informed counternarrative as possible.
You can feel free to reply to me directly if interested or if you need more info. rmonts@aclumich.org
NOTICE OF SCHEDULED MEETING
COMMITTEE: Senate Committee on Judiciary and Public Safety
DATE: Thursday, June 3, 2021
TIME: 8:30 a.m.
LOCATION: Room 1100, Binsfeld Office Building
201 Townsend Street
Lansing, MI 48933
CONTACT: Jackie Mosher, Committee Clerk
(517) 373-5312
OfcSCC@senate.michigan.gov
AGENDA
SB 473     Sen. Victory           Law enforcement; investigations; guidelines for the investigation of officer-involved deaths; require the commission to create.
SB 474     Sen. Moss               Law enforcement; records; use of force records; require to be included in separation of service record.
SB 475     Sen. Horn               Law enforcement; employment; license of law enforcement officer that used excessive force; revoke.
SB 476     Sen. Ananich          Law enforcement; other; individuals filing complaints against law enforcement; allow to remain private.
SB 477     Sen. Hollier            Labor; collective bargaining; obligation of bargaining representatives to represent members in grievance proceedings; eliminate in certain circumstances.
SB 478     Sen. Runestad         Law enforcement; other; use of pressure to the throat or windpipe by law enforcement; prohibit under certain circumstances.
SB 479     Sen. Geiss               Criminal procedure; warrants; execution of search warrants; modify.
SB 480     Sen. Johnson          Law enforcement; training; duty to intervene policy; require law enforcement agencies to adopt.
SB 481     Sen. Chang             Law enforcement; other; use of force policies; require law enforcement agencies to create.
SB 482     Sen. Irwin               Law enforcement; training; mental health and law enforcement response training; require for law enforcement officers.
SB 483     Sen. MacDonald     Law enforcement; other; research study and analysis identifying barriers in the recruitment of law enforcement officer; require the commission to conduct.
SB 484     Sen. Bullock           Crimes; other; tampering with evidence by law enforcement officer with specific intent; prohibit, and provide penalties.
SB 375     Sen. Santana           Law enforcement; training; law enforcement agencies that fund police training for recruits; allow agreements requiring reimbursement in certain
situations.
---
District 7 Candidates for City Council,
a conversation with young people about our future.
Please join us WEDNESDAY, June 2 @ 6pm at the following link:
---