June 6th, 2022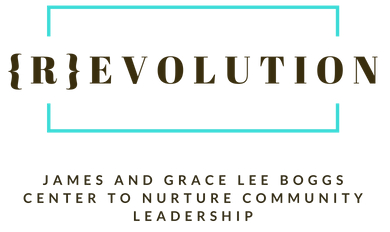 ---
Thinking for Ourselves
Truth telling
Shea Howell
Across the country,  in countless ways, people are reckoning with the truth of violence in our land. For the first time in our history, the majority of people can no longer pretend that they do not know the depth of brutality that is routinely required to protect an ever smaller number of white, privileged, powerful people.
For most of our history, white America, and those who support them, have bought into what James Baldwin so called the "lie."  As Eddie S. Glaude explained in Begin Again:
Baldwin's understanding of the American condition cohere around a set of practices that, taken together, constitute something I will refer to throughout this book as the lie. The idea of facing the lie was always at the heart of Jimmy's witness, because he thought that it, as opposed to our claim to the shining city on a hill, was what made America truly exceptional. The lie is more properly several sets of lies with a single purpose. If what I have called the "value gap" is the idea that in America white lives have always mattered more than the lives of others, then the lie is a broad and powerful architecture of false assumptions by which the value gap is maintained. These are the narrative assumptions that support the everyday order of American life, which means we breathe them like air. We count them as truths. We absorb them into our character.
Now that lie is unraveling rapidly. While some of us targeted by the lie understood the desperate contradictions in white supremacy and the democracy, it took the murder of Emmett Till in 1955 to force the beginning of a broader reckoning with violence. The decision of his mother, Mamie Till Mobley, to have an open casket and of Jet magazine to publish the photos of his disfigured body seared the consciousness of the country. It energized a generation of activists for black liberation and provided the moral authority for much of the movements of the 60's to transform this country.
By 1980, the right wing forces of white supremacy had reasserted themselves. The election of Ronald Reagan, the Cowboy President, in reaction to the power of the civil rights era, and dedicated to overturning the "Vietnam syndrome," reasserted the myths of American "greatness." Reagan and subsequent presidents expanded the US military forces around the globe, intensified the use of "black ops" and subversive tactics, encouraged global torture and terrorism and advanced weapons of mass destruction.  They justified preemptive war and the bombing of entire cities. They expanded the prison industrial complex and increasingly criminalized public protests.
But the myths of the powerful are unraveling. Truth is being told again and again. It began a decade ago with the killing of Trayvon Martin in February 2012. And it emerged these last two weeks in Buffalo, Uvalde, and Tulsa. Young people have been taking to the streets for peace, for protection, for new ideas of justice, safety and global responsibility.
Today the reality of violence, required by the state, encouraged in our people, absorbed as normal in our relationships, is visible for all to see. We are being forced to reckon with who we have been and who we are. The words of our poets, historians, activists and artists, are documenting the distortions and debasement of our hearts.  The bodies of our children ripped apart  by bullets cannot be denied. Now we urgently face the question of who we will become. Can we, with a deep understanding of the truths of our past, begin again to create a new future?
Library fight — Next edition
Russ Bellant gives updates regarding the fight against Detroit City Council for the Detroit Public Library Commission's continuous autonomy. The Legislative Policy Division recently posted a memo, per Councilmember Benson's request. The requested memo provides a factsheet regarding Detroit Public Library's finances. It lists how DPL is funded, how funding sources will be spent, and financial challenges.
In return, Bellant has written a response regarding the recently published legislative memo as he notices multiple issues within the memo. Bellant challenges the purpose of the memo being justification for the city's takeover of DPL and plans to challenge the document at an upcoming city council meeting. You can read Bellant's response here. The memo published by The Legislative Policy Division is listed within the agenda package for City Council's June 6 Public Health and Safety Committee meeting. Or you can find the relevant pages here.
Should you also feel called to challenge responses, you can do so at the next city council meeting, Tuesday June 7 at 10am. More information here.
What we're watching 
Why do Detroiters feel unheard today?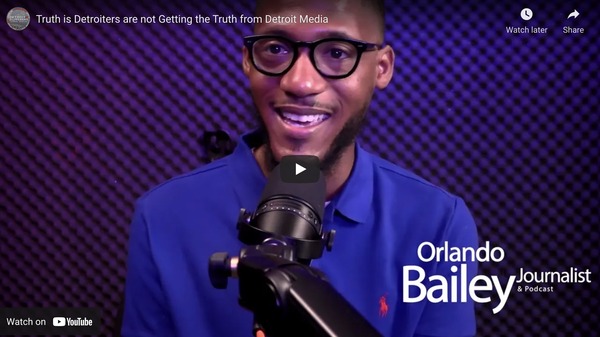 Detroit, and particularly Detroit's Eastside fills the mind, heart, imagination, and ambition of Orlando Bailey. A voice for the Authentically Detroit Podcast, host of the Urban Consulate community conversations, and journalist for Bridge Detroit, Orlando speaks life to the history while embodying the present and future of the city. In this interview, Detroit is Different explore Bailey's roots to the community and why he was drawn back to Detroit from college. We also speak to the Tell Us Detroit Community Town Hall Series presented by Detroit is Different & Bridge Detroit hosted by Khary Frazier & Orlando Bailey. Hear their opinions on why they recognize the feeling of voicelessness many Detroiters endure in media.
Watch it here
Kujichagulia: How Detroit Is Different Is Practicing Self Determination Through Fund Raising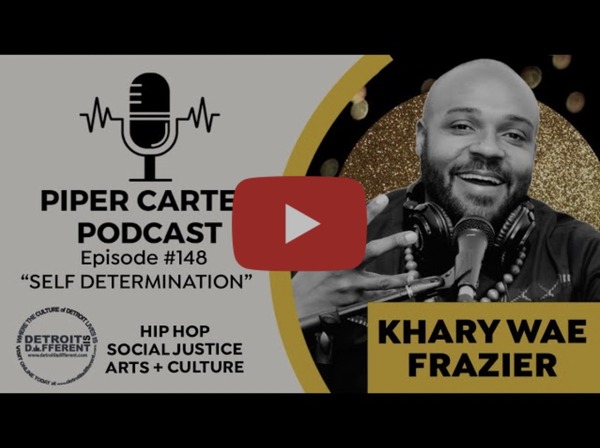 This summer A Lot of Studio is back in full effect with great entertainment, food,conversation, community, and a great task of raising $25,000 towards upgrading the outdoor community podcasting experience. Check out the most recent episode of the Piper Carter Podcast as Khary Frazier, host of Detroit is Different and creator of A Lot of Studio, speaks on his journey and vision for cultivating a creative podcasting space and current initiative to raise funds for the outdoor community.
You can support their fundraiser via GoFundMe or donate on CashApp using $detroit501c3
Silence the Violence March 2022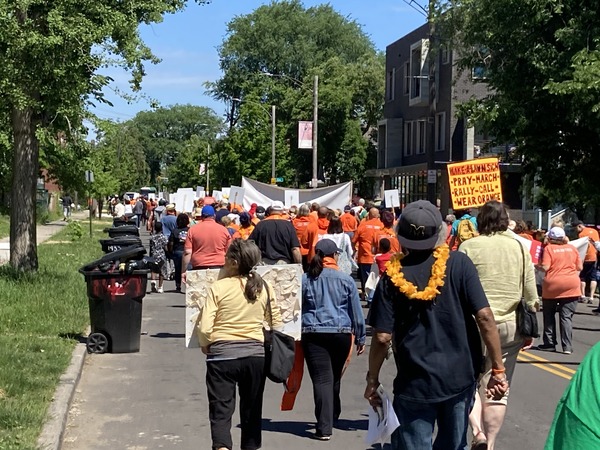 Over 500 attendees marched in the streets against gun violence this past Saturday, June 4 from Church of the Messiah as they held their annual march. You can find a slideshow of other pictures taken at the event here.
What we're reading
It's almost time for the 22nd annual Allied Media Conference and Allied Media wants to be sure everyone is prepared. The hybrid conference takes place June 30 – July 3 and you can find more information to help prepare for the conference here. They deadline for volunteer sign-up has been extended to June 10 and includes a conference pass and a t-shirt. Still haven't registered for the conference?? There's still time — register here.
Suburban Connections Newsletter, issue 2 is here!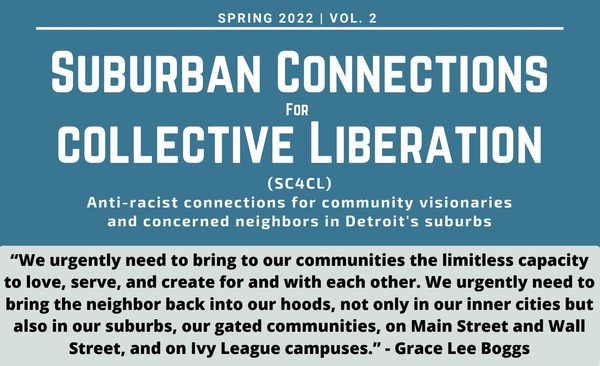 Spring 2022 in the suburbs and Detroit has been filled with collective grieving and pain, action, relationship building, shared joy, and reimagination of their communities. This second Spring 2022 edition features poetry, stories, reports, and photos from neighbors that highlight the need for our continued collective struggle for radical change in our neighborhoods. Visit our new Linktree website to connect with us, provide feedback, submit work, and read past editions! Or email us at suburban.connections.mi@gmail.com.
Subscribe to their newsletter or check out the latest edition
Kirkridge announces new executive director, Lydia Wylie-Kellermann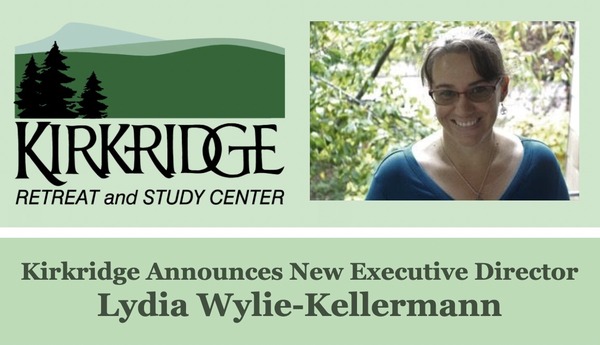 The Kirkridge Board of Directors is excited to announce that Lydia Wylie-Kellermann will be our new Executive Director. Lydia has deep roots in the history and values of Kirkridge and an imaginative vision for our future. Her selection is an honoring of the sacred ground on which we stand and the call to reach out to new generations and communities with spiritual sustenance and commitment to social justice.
Lydia Wylie-Kellerman describes her work as "a tapestry woven of community-building, story-gathering, hospitality, activism and sacred listening." Her communications gifts and wide community networks will offer Kirkridge transformative opportunities for outreach and engagement, and abundant possibilities for new life on the mountain. She is currently the editor of Geez Magazine, which, under her creative leadership, now thrives as "a prophetic and provocative voice to the institutional church and a pastoral presence to those laboring at the front lines of social change." Prior to that, she spent a decade as an organizer and facilitator of retreats, workshops and mentoring opportunities with Word and World, an innovative people's school designed to bridge the gap between seminary, the sanctuary, and the streets.
She holds a degree in Theology and Women and Gender Studies with minors in Peace Studies, Sociology and Creative Ministry from Loyola University; and is engaged in the Spiritual Direction and Social Transformation Program at the Center for Prophetic Imagination and Minnesota Center for Contemplation and Healing.
She is a writer and editor of numerous publications, most recently
The Sandbox Revolution: Raising Kids for a Just World (Broadleaf Books, 2021). Her essays have been published in Bury the Dead: Stories of Death and Dying, Resistance and Discipleship; Watershed Discipleship:
Reinhabiting Bioregional Faith and Practice, and elsewhere, and her writings have appeared in Sojourners Magazine, The Catholic Worker, The Mennonite and RadicalDiscipleship.net and more.
Lydia Wylie-Kellermann is experienced in nurturing teams with leadership that is collaborative and non-hierarchical and holds a profound commitment to place and land. She first came to Kirkridge as a child with her parents, Jeanie and Bill Wylie-Kellermann, who were a strong spiritual presence in the Kirkridge community and who, as she says, "raised her with a faith that can never be separated from justice." A native of Detroit, she brings to Kirkridge a deep spiritual foundation and lived experience in building intentional community, organizing for racial and social justice, local economy and urban agriculture, and activism for water and other human rights.
Lydia will be moving to Kirkridge this summer with her partner Erinn Fahey, and two children, Isaac (9), and Cedar (6).
Uplifting & Supporting Our Community
Bridge Detroit presents:
Tell Us Detroit Town Hall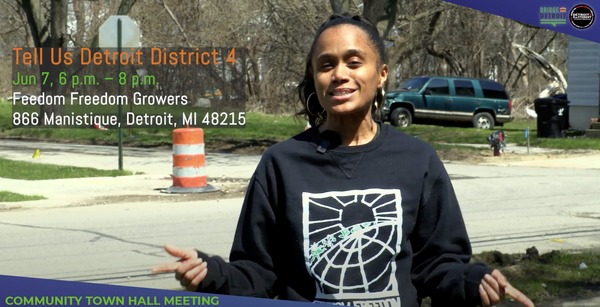 Bridge Detroit has been hosting a series of town halls, presenting an opportunity for community to voice their concerns and feedback regarding the use of ARPA funds and other city issues. The next town hall to be hosted will take place at Feedom Freedom Growers, 866 Manistique Detroit, MI 48215 Tuesday, June 7 at 6pm. Be sure to bring a lawn chair, and your opinions to be voiced! Can't make it? Check out the schedule of other town halls to be held throughout the city.
Click the video promo below or watch it here for more information
An evening with Nobuko Miyamoto, author of Not Yo' Butterfly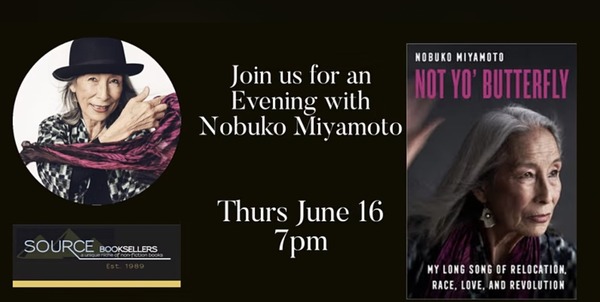 Recording artist and author, Nobuko Miyamoto will be in Detroit, making an appearnce at Source Booksellers to discuss her book, Not Yo' Butterfly and album, 120,000 stories. Come celebrate with Miyanoto and bring questions and insights for this gathering happening Thursday, June 16 at 7pm. More information and limited registration can be found here.
Free belly dance class at Detroit Abloom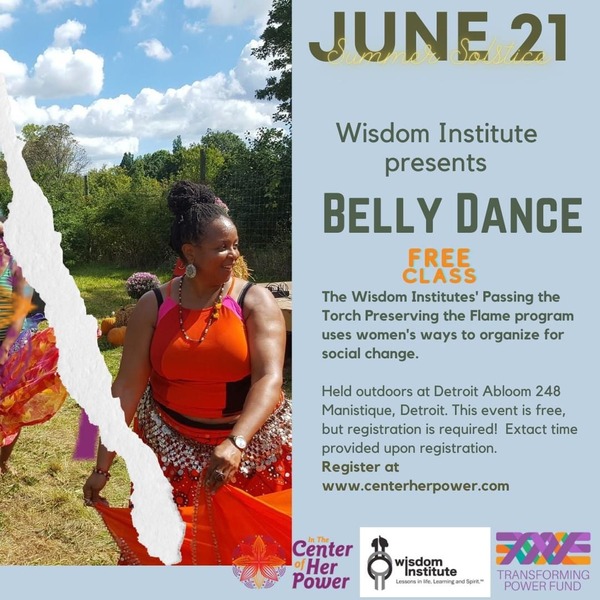 Register now for this free belly dance class, hosted by The Wisdom Institute, In The Center of Her Power, and Detroit Abloom @ 248 Manistique. The event will take place Tuesday, June 21 from 6-7pm!
Preserving Detroit Stories w/ Black Bottom Archives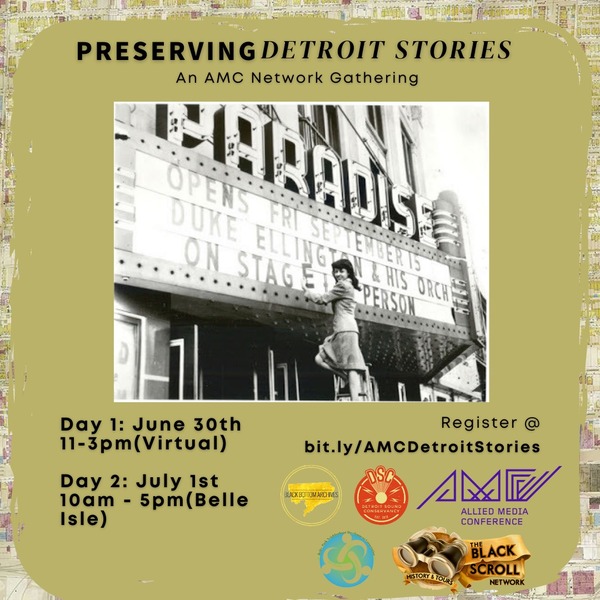 Join Black Bottom Archives for their event hosted as a part of Allied Media Conference. Preserving Detroit Stories will be a 2-part event, hosted virtually and in-person, highlighting participants who are doing place-based work to preserve, protect, and facilitate access to community histories.
Register here
Resources
Low-Income Household Water Assistance Program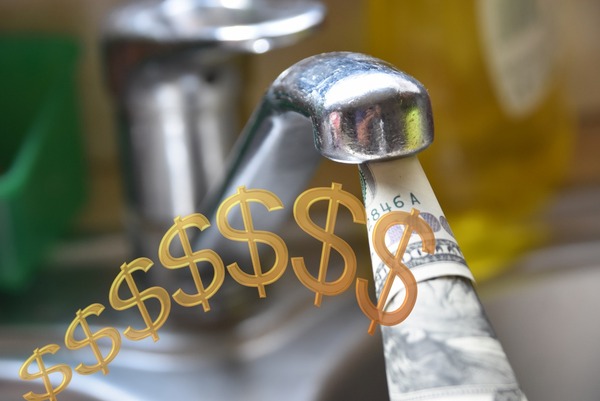 This new Federal program offers assistance to those who are facing water shutoffs or are in need of reconnecting their water utility. Freshwater Future lists additional information and ways to apply for assistance, categorized by state. The program prioritizes those who need their water reconnected or are facing imminent shutoffs. You can read more and apply here.
ACLU: Immigrant Police Misconduct Hotline
ACLU MI has recently launched and announced the misconduct hotline for Michiganders to report instances of police misconduct or abuse based on immigration status (or assumptions about immigration status).
If you or a loved one have been pulled over, harassed, arrested, or detained by a police officer because of actual or perceived immigration status (e.g., skin color, spoken language, or name), you are encouraged to call the hotline and leave a message detailing the experience. The ACLU of Michigan is committed to investigating those reports and will assist in taking action against police departments when possible.
Flyers are also available in 4 different languages:
Arabic
Bangla/Bengali
?English
Spanish

"The way to right wrongs is to turn the light of truth upon them." – Ida B. Wells-Barnett