February 23rd, 2021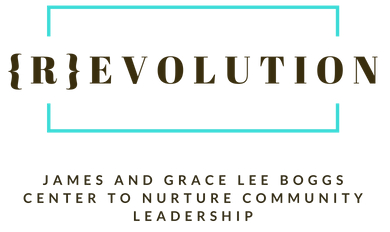 ---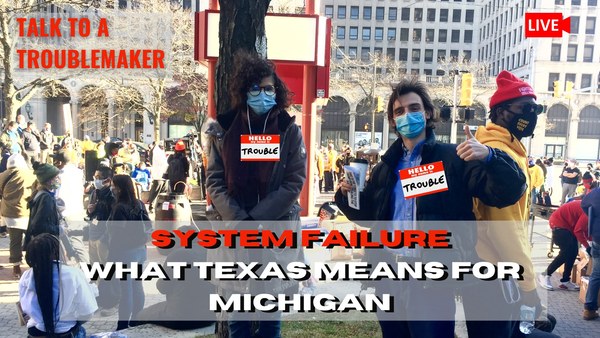 FRIDAY 2/26 @ NOON EST
What do the Texas blackouts mean for those of us watching up here in Michigan?
Fossil fuel corporations will try to use crises like this one to extract more profit — what are the false solutions we need to push back on? What climate justice solutions will make our grid and our communities resilient to a changing, tumultuous climate?
______________________________________________________________________________________________
Thinking for Ourselves
Finding Love
Shea Howell


This week the United States will have lost 500,000 people to the Coronavirus. This is more than all the deaths we experienced in World War I, World War II, and Vietnam, combined. We have endured these losses in 1 year, touching people everywhere. This week we are also witnessing the dimensions of suffering in Texas, and surrounding states. The loss of electricity, combined with extreme cold, has revealed the fragility of our basic infrastructure yet again. People are without heat, food, and water. Hospitals are collapsing. Needed emergency supplies cannot be delivered.
As the contours of this crisis become clear, people understand Texas is "a profound warning. As climate change brings more frequent and intense storms, floods, heat waves, wildfires and other extreme events, it is placing growing stress on the foundations of the country's economy: Its network of roads and railways, drinking-water systems, power plants, electrical grids, industrial waste sites and even homes. Failures in just one sector can set off a domino effect of breakdowns in hard-to-predict ways."
In the midst of this, Federal prosecutions are accelerating against those involved in the attack on the US Capitol. Along with police and former military personnel, investigations are now looking at connections with major Trump supporters, including Roger Stone. The New York Times found at least 6 people who guarded Stone in Washington are members of the Oath Keepers and participated in the attack.
The pain to individuals, to families,  to communities, and all life harmed and lost  by these multiple crises is beyond words. It is a suffering of dimensions that are beyond our experiences, defying our abilities to sustain compassion, care, and hope.
Yet we do. In the face of all of this people are caring for one another, encouraging vaccines, enduring bureaucracies, working with compassion and determination to bring people to health. People are raising money and getting aid to those suffering in Texas Mutual aid efforts are emerging daily. The bravery of police officers in the face of a mob, the vulnerability of Congressmembers to share their fears, and the comfort and gratitude extended to them, has been welcomed by the vast majority of people.
All of this anguish, however, has provoked an alternative reality. We are being told by extreme right-wing Republicans that the Virus is a hoax, exaggerated by left wing media. We are being told that the Green New Deal, wind power, and radical environmentalists are responsible for the suffering in Texas. And we are being told that the attack on the Capitol was really Antifa and other left-wing groups trying to discredit Trump.
It is tempting to ridicule these outlandish ideas, so far from the reality of most of us. But this would be a great mistake. An important article in the Atlantic shortly after the attack on the Capitol, raised a caution about linking such actions to organized, right wing extremist groups. Of course ,organized groups were involved. But, the authors argue, we need to understand that "a new force in American politics—not merely a mix of right-wing organizations, but a broader mass political movement that has violence at its core and draws strength even from places where Trump supporters are in the minority. Preventing further violence from this movement will require a deeper understanding of its activities and participants."
This new political force makes no pretense in believing in a multiracial, just democracy. Collectively, they are daily denying the obvious, overwhelming suffering of their friends, neighbors, and families. Collectively, they believe violence is justified. Such a distortion of the human spirit, cannot be countered with facts, or the usual efforts to limit extremist organizations.  We need to make clear to everyone that what is now at stake is the quality of life we will embrace, the values of the future we want to create.  Finding that future will require us find in ourselves and our communities the deepest resources of imagination and love. Anything less will only foster delusion and destruction.
A note from our friends at the Highlander Center.
Highlander's staff, Board, and community mourn the loss of Hubert Sapp, who served as our Executive Director from 1982-1989. We send our condolences to all of Hubert's family and friends, and especially to legendary cultural worker Jane Delores Wilburn Sapp, Hubert's spouse, and former Highlander staff member. Hubert died this past Sunday, February 14, 2021, at the age of 77.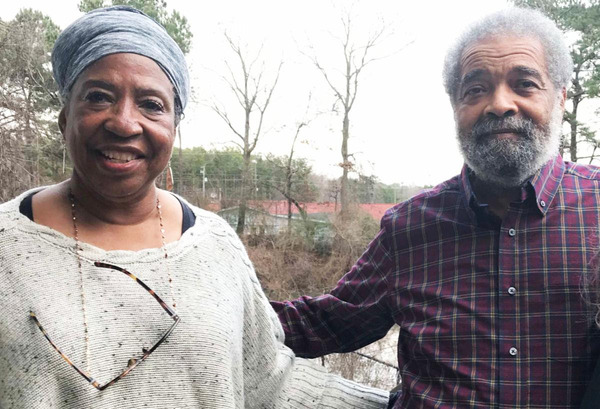 ______________________________________________________________________________________________
Come and learn about a new report released by Dr. Arjun Makhijani of the Institute for Energy and Environmental Research (IEER) on Thursady, 2/25 @ 11am. This new report explores the synergies between farming and solar with the premises that agricultural production on farmland should be maintained and farm profitability and soil health should be increased. Instead of focusing on solar siting, this report explores whether a strong case can be made from a public policy point of view for developing solar so that it helps to preserve and improve farmland and the ecosystem in which it is located, while enabling achievement of both energy system and food system goals. MORE INFO
______________________________________________________________________________________________
---