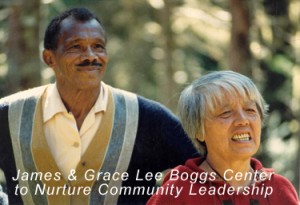 Grace Lee Boggs 102th Birthday. Grace our comrade, mentor and friend past away October 5, 2015.  Grace and Jimmys legacy continues.  
"People are aware that they cannot continue in the same old way but are immobilized because they cannot imagine an alternative. We need a vision that recognizes that we are at one of the great turning points in human history when the survival of our planet and the restoration of our humanity require a great sea change in our ecological, economic, political, and spiritual values." GLB
Living for Change News
June 26th, 2017
The Revolution Starts With Us
Scott Kurashige's presentation to the Allied Media Conference Opening Ceremony (Detroit: June 16, 2017)
BILL MOYERS: Let me take you back to that terrible summer of 1967, when Detroit erupted into that awful riot out there.
GRACE LEE BOGGS: I ask you to think about your calling it a riot. We in Detroit called it the rebellion because we understood that there was a righteousness about the young people rising up against both the police, which they considered an occupation army, and against what they sensed had become their expendability because of high-tech. That what black people had been valued for, for hundreds of years, only for their labor, was now being taken away from them.
And what we tried to do is explain that a rebellion is righteous, because it's the protest by a people against injustice, because of unrighteous situation, but it's not enough. You have to go beyond rebellion. And it was amazing, a turning point in my life, because until that time, I had not made a distinction between a rebellion and revolution. And it forced us to begin thinking, what does a revolution mean? How does it relate to evolution?  
(Edited transcript from Bill Moyers Journal: http://www.pbs.org/moyers/journal/06152007/watch3.html)
It is truly a wonderful honor to be with you. I know that half of you are Warriors fans. Having lived in the Midwest for 14 years, I have to admit that I'm part of the other half that's just happy to see Dan Gilbert lose.
I want us to reflect on why have we all come together, right here in this historic theater, on Woodward Avenue, just steps away from the QLine, the sparkling new electric railway that can whoosh by at up to 35 percent the speed of a municipal bus.
Why are we here today in this city, where the 1 percent class has developed a new formula called "emergency management" to combine political disenfranchisement with racism and economic dispossession?
Here, in this country, where we are sinking deeper into a constitutional crisis with each and every tweet?
And here at this moment in time—50 years after the urban rebellions against rampant police brutality, persistent racial discrimination, entrenched segregation, and structural poverty in Detroit and dozens of other cities; and 50 years after the global rebellions against white supremacist colonialism? That rupture a half-century ago marked the beginning of the end of the capitalist system.
We are here because we have been awakened to the truth about the city, the nation, the world, and the times we live in.  
The truth is that we have a short window of opportunity to respond to mounting catastrophes on an epic scale.
The truth is that there is no such thing as equality under capitalism.
The truth is that this system is not salvageable because it was not built on sustainable principles. It was never intended to integrate all of us who comprise the wretched of the earth—that was the underlying truth of the rebellions.
At first the rebellions raised expectations. In 1973, Detroit elected Coleman A. Young, the city's first black mayor. His triumph was a symbol of pride, promise and, what's that word I'm looking for… HOPE. In response, he was called "divisive," "racist," and "socialist." White Democrats flocked to the suburbs and became Republicans. Any of this sound familiar?
2016 proved, once again, the ultimate validity of the great American melting pot theory: those on the bottom get burned and the scum rises to the top.
And so our generations now grasp the crucial political lesson our elders learned. Every revolution must overcome the counter-revolution. There are reactionaries in this country who want to tear down mainstream politics, economics, science, media, and environmentalism. Their ultimate goal is to create a new system worse than capitalism.
So we must vote, but that's just a start.
We must resist—from Stonewall to Standing Rock, from Ferguson to Flint, from Palestine and Puerto Rico. Everywhere oppression rears its ugly head, we must resist, but we can't stop there..
The revolution starts with us. Our revolution is a two-sided transformation of our selves and our structures because there's a direct connection between consumerism and militarism, domestic violence and police brutality, ableism and homelessness, transphobia and access to health care, individualism and opportunism.
We can witness the revolution starting right here because the collapse of the industrial economy and end of liberal reform has challenged Detroiters to build the foundations of a whole new culture and a radically new social order, one exemplified by:
Freedom Schools that empower youth (in partnership with their teachers and elders) to think critically, solve problems collectively, and build community.
Urban farms that promote food sovereignty, valuing land and harvests as social goods rather than commodities.
A model of community safety that works to end police brutality, but recognizes, as Grace taught us, that the only way to survive is by taking care of one another.
A new model of work, moving beyond the demand for jobs that serve corporate overlords to creating cooperative forms of ownership and production for self-reliance and ecological sustainability.
And in the D, the crisis of representative democracy is a challenge to build participatory democracy: we the people must understand and reshape the laws, the budgets, the social policies and institutions that will define our destiny. That is our mission. And that's why I'm so excited to be right here with you—the beloved community of the AMC.
---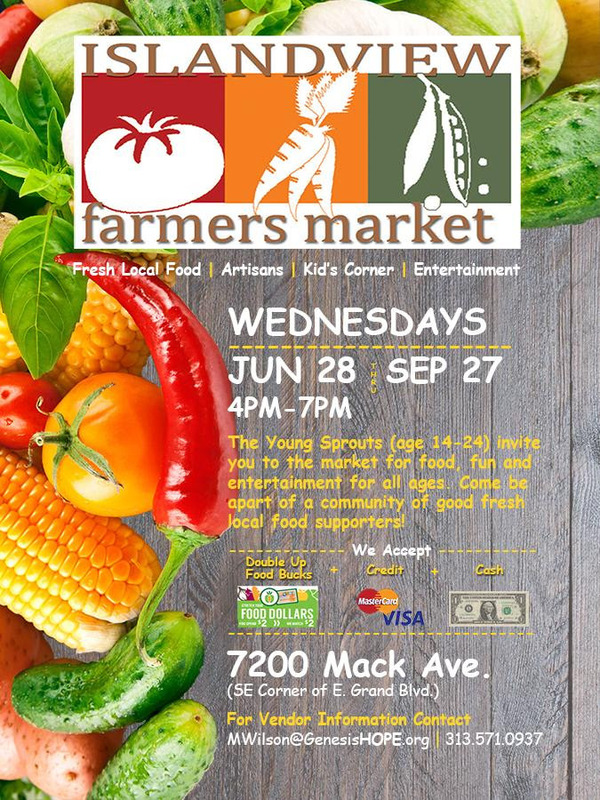 ---
Thinking for Ourselves
Puerto Rico and Detroit
Shea Howell
This year the Allied Media Conference offered a space for gatherings prior to the opening session. I participated in the Puerto Rico/Detroit Solidarity exchange.  The purpose of the gathering was to give people an opportunity to learn together about our mutual experiences as targets of financial attacks under the guise of bankruptcies. We hoped that by talking together we would be able to "imagine new pathways toward the liberation of our communities and build relationships that we will need to continue working together."
Peter Hammer of the Damon Keith Center for Social Justice opened the conversation by raising the questions of how to change the narratives about the bankruptcy process and the development of our communities. He asked, "How do we challenge the belief systems underlying the entire conversation?" He especially identified the morality play embedded in concepts of debt. Debtors, he explained, are "cast as blameworthy and somehow deserving of punishment."  Thus the creation of debt is a mechanism of social control.
Whether in Detroit or Puerto Rico, the debt intentionally created by refusals of elites to invest in social goods forces governments to borrow to meet basic responsibilities. This created debt burden justifies the demands to cut services, privatize public assets, limit democratic decisions, and attack pensions. Historic structures of racism and decisions to shrink governments, lower taxes and protect power for a wealthy few form a logic of fiscal austerity that has been evolving since the 1980's under leaders like Ronald Reagan and Margaret Thatcher.  Built over decades, Hammer said, "There is no easy way out," but,  "We must think in the long term and talk about public good, public action and radical transformation." We are not alone in this effort, as globally people have been developing forms of resistance and push back. In the discussion of this presentation people identified solutions beyond colonialism and capitalism.
Activists from Puerto Rico and their diaspora shared efforts at resistance that are rarely reported. Yasim Hernandez invoked images of water, migration, and connectivity. She explained that as an island nation the people of Puerto Rico have an understanding of themselves as a migrant/divided people "embodying fluidity and culture as resistance and a survival weapon."  She shared the work of "decolonial love" that begins with "self-work first" so that "we will become ungovernable, like water."
Tara Rodriguez Besosa shared her experiences in the food sovereignty and agricultural movement explaining that decentralizing agriculture and emphasizing local food production are "at the root of a political reframing" and new social reconfiguration of the island. Resisting efforts by the Department of Agriculture and seed producers like Monsanto to centralize and control food production; agricultural activists are making land for food and natural diversity priorities.
Melanie Perez shared the role of students and professors at the university who were engaging in public demonstrations and strikes to resist cuts to education. She talked about the increased efforts by authorities to crackdown on dissent and the bravery of students to stand up against this.
As people shared these experiences it was clear to all of us that we have much to learn as we create new stories of liberation. Monica Lewis Patrick of We the People summed up the Detroit experience saying, "They created the bankruptcy to give a death blow to organized labor and then to take control of the largest water system in the whole world. It is a psychological warfare." She concluded, "This transformational moment is yours. Every generation has to confront the tyranny of their day. This is yours."  
It is a moment for all of us who care about justice. If we put our faith in one another, in our capacities to care and create, we can create a better future.
---
PATHOLOGY OF DISPLACEMENT: THE INTERSECTION OF FOOD JUSTICE AND CULTURE
Shane Bernardo
In new Food Justice Voices issue Pathology of Displacement: The Intersection of Food Justice and Culture, storyteller, healing practitioner and food justice organizer Shane Bernardo tells his story about how displacement has affected his ancestors and family within the Philippine diaspora, and how he is working to reclaim ancestral subsistence practices that connect him to land, food and his roots. In this piece Shane breaks down what was lost due to colonialism and how we can fight to get it back to truly achieve a real "food justice" movement.
---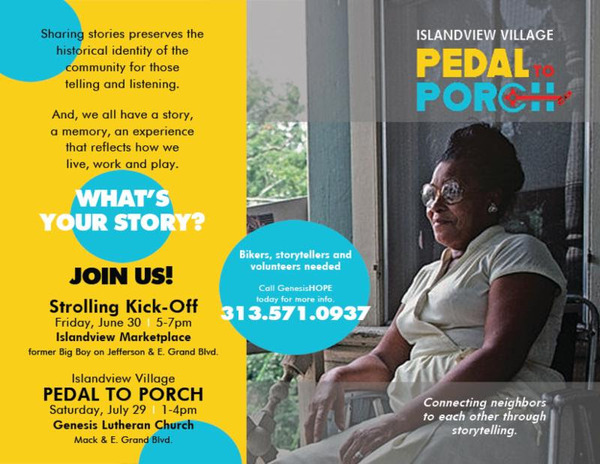 ---
WHAT WE'RE READING
Wage Love to End Debt's Stranglehood
Sarah Van Gelder
Debt is an age-old means of shaming and controlling poor people. The practice is so commonplace, we hardly notice it.For many, going into debt is the only way to get an education, buy a home, or survive a medical emergency. Shaking off that debt can be impossible for those living on low-wage and insecure jobs, and those targeted by predatory lending. Still, many accept the story that debt is their fault.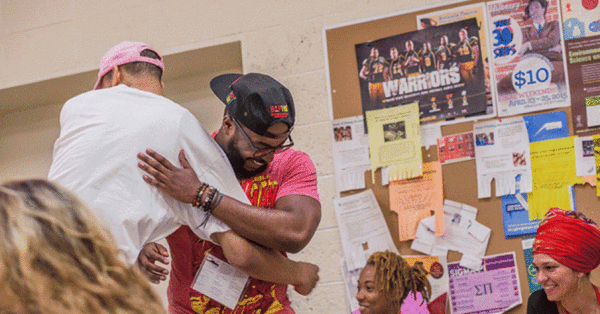 At this year's Allied Media Conference in Detroit, Michigan, residents of the city and those of Puerto Rico gathered to compare notes on how debt and default have affected their regions. (Photo: Ara Howrani via 
Allied Media Projects / Flickr
)
Citizens of cities and even countries are shamed for their debt, and blame is used by those instituting emergency management to justify loss of self-rule, privatization of public services, and extraction of community wealth.At this year's Allied Media Conference in Detroit, Michigan, residents of the city and those of Puerto Rico gathered to compare notes on how debt and default have affected their regions. Both have experienced economic hardship, both are predominantly made up of people of color, and both are seeing debt used as an excuse for the selling off their common assets and to undermine their rights to self-governance.In Detroit, the loss of industrial jobs to low-wage regions, coupled with federally subsidized white flight has left the city with the costs of operating urban services that benefit the entire region without the tax base needed to pay for them.The 2008 financial crisis hit the city—and its African American families in particular—especially hard. Residents had been targeted for subprime mortgages, which accounted for 68 percent of all the city's mortgages in 2005, compared to 24 percent nationwide, 
reported the the Detroit News
. Today, more than three quarters of foreclosed homes financed through subprime lenders are in poor condition or tax foreclosed.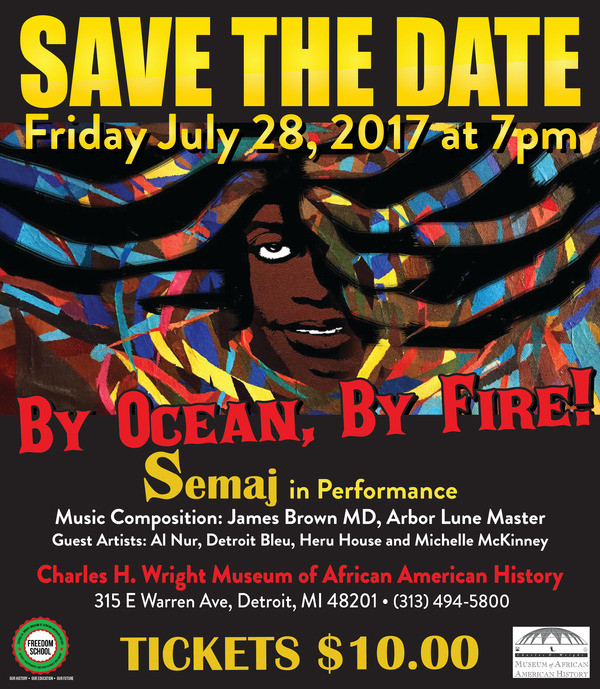 ---
The James and Grace Lee Boggs Center to Nurture Community Leadership
.
3061 Field Street
Detroit, Michigan 48214
US