May 22nd, 2018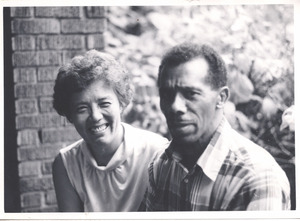 ---
Thinking for Ourselves
Shea Howell
Urgent Transitions
This week Eastern Michigan Environmental Action Council (EMEAC) hosted a conference of activists concerned about creating a future based on regenerative principles of a just economy. People from around the country and several First Nations gathered to share ideas and practices. This was the gathering that Siwatu-salama Ra worked tirelessly to bring to Detroit. It was the gathering she could not see from her prison cell. She is serving two years in prison for pointing an empty gun at a person who threatened to run over her mother and child. Those of us who came together to think about a different future were reminded how urgently we need to change our ways of living, how much pain and destruction we have come to accept as normal in our daily lives.
I was part of panel giving participants an overview of the struggles unfolding in Detroit around Air, Water, Land and Education. Lila Cabill of the Rosa and Raymond Parks Institute opened the conversation talking about the importance of making a transition from "me oriented people" to "we oriented people." She emphasized that all of us are affected by the assaults on people and the planet.  She invoked the story of Rosa Parks and Charity Hicks to help people understand that in the face of injustice and racism, "silence is violence."
Monica Lewis Patrick of We the People of Detroit challenged the idea that Detroit was bankrupt. She emphasizing that no elected officials in the city had agreed to this. Rather, the city had been taken over by the State and its appointed Emergency Manager. She invited people to think about the key roles Emergency Managers had played, not only in the poisoning of Flint, but in the destruction of the Detroit Water Department, removing it from city control. A key part of the process was unprecedented water shut offs, creating a widespread community response to protect people and advance policies that establish water as a human right and public trust.  
Both Monica and Lila made clear that this take over was a reflection of the twin forces of racism and capitalist advancement. The Great Lakes contain 22% of the worlds surface water and the drive to turn this life giving element into private a profit center depends upon demonizing the people of our city as incapable of governing, as less than human.
Emma Lockridge built on the theme of racialized capitalism and its devastation of our communities. As an activist in 48217, the most polluted zip code in the US, Emma shared her struggles against Marathon Oil. She emphasized how much the current power structure reflects the idea that some people are disposable, that their lives do not matter.
For my part, I talked of Detroit as a movement city, where people have always resisted the assaults on our shared humanity. From the earliest encounters with Europeans, we have seen resistance and resilience. Chief Pontiac lead one of the largest anti-colonial struggles on the banks of the Detroit River. Over the centuries we this spirit has continued.
In the 1960s the call of Black Liberation attracted many of us to Detroit. And it was the success of these efforts to challenge the power structure of this country based on values that moved us from "a thing oriented society" to a "people oriented society" that ultimately lead to the take-over by white, right wing state legislatures of centers of African American political power in Michigan. Using legal tricks, 55% of African Americans were denied the right to effective local representation and nearly 75% of all African American elected officials were essentially removed from office.
The struggle over the education of our children exemplifies this assault on our cities. The Detroit Independent Freedom Schools Movement reflects our continued effortto not only resist dehumanization, but to consciously and collectively build new, more loving and caring ways of life.
—–
Last week we received a communication from Nestle in response to our article.
We appreciated Nestle's effort to offer two corrections of fact. We have reproduced their email in its entirety below.
We do not think these bear on our essential analysis, however. Moreover, we continue our concern about their perception of science. In an article discussing the Michigan Department of Environmental Quality decision to allow increased water extraction we find this: "different hydrologists can look at the same data and come up with different conclusions."  The article continues noting Nestle's assessment "raises a lot of fundamental questions about who is monitoring."
Later the article reports:
"The Michigan Citizens for Water Conservation, which originally sued Nestle and won a 2009 settlement that limited the company's withdrawal in Mecosta County, issued a statement expressing disappointment at the ruling, saying "the public trust has been broken once again."
Not only has the DEQ "ignored the scientific evidence that environmental damage has occurred already at 150-gpm, they have ignored the clear opposition of tens of thousands of Michigan citizens who have opposed this giveaway of the water of the commons to a multinational corporation," said MCWC president Peggy Case.
"It is particularly difficult to understand how the DEQ could grant a permit before completing a serious monitoring of the streams by independent scientists, before resolving the issues with the township over the booster station, and before approving a new monitoring protocol for the aquifers and streams in Evart that is not under the control of Nestle," she said."
http://www.mlive.com/news/grand-rapids/index.ssf/2018/04/state_approves_nestles_controv.html
Nestle Communication Correction
Shea,
"Its head spokesperson is Deb Muchmore, the wife of the Governor's Chief of Staff."
CORRECTION:  Deb Muchmore was a consultant who has not worked for the company for nearly two years.
"The science behind the decision to allow increased pumping of water is based on questionable science, especially given the information gathered in a court case in 2003 when Nestle was ordered to stop operations due to "ecological harm and massive reduction in water levels."
CORRECTION: The court case did not cause a stoppage of operations as an out-of-court settlement was reached that allowed an average withdrawal of 218 gallons per minute at that spring site. 
Nestlé's recently approved permit is for our White Pines Springs source, a completely different site than the one in 2003. We have been studying the White Pine Springs site for over 16 years and it is important to understand that the wells are different depths and different geology. The science is clear – there is no link between the two.   
We have over 100 environmental monitoring sites and conducted many scientific assessments near the White Pine Springs well. This monitoring network allows us to verify that the groundwater is being naturally replenished and that our water use is managed for long-term sustainability. 
This is supported by the MDEQ's review of our permit, which itself called "the most extensive analysis of any water withdrawal in Michigan history."

Glenn Oswald
Vice President 
Marx Layne & Company
31420 Northwestern Highway, Suite 100
Farmington Hills, MI 48334
---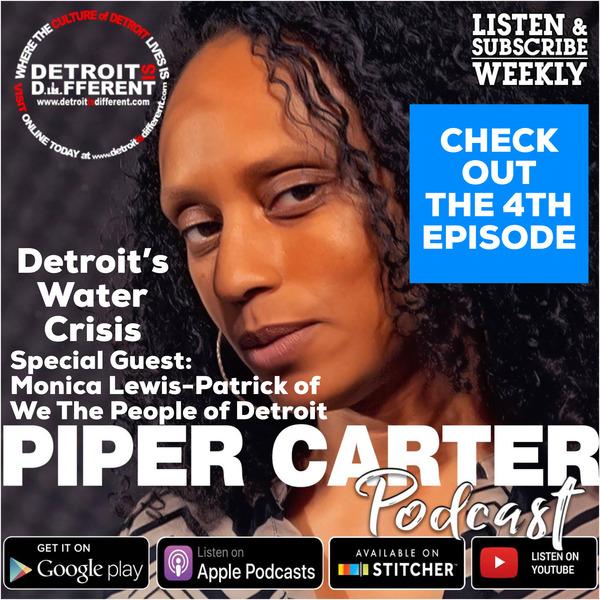 ---
Bhai Delegation to Detroit
Myrtle Thompson Curtis
This past week in Detroit kicked off the first of many visits to happen at the Feedom Freedom Growers Garden and the Boggs Center. FFG hosted a group of 25 young university students from Ontario and around the globe. A smaller group went to the Center.  They were all under 24 years of age and of the B'hai faith. The visit was part of a series of conversations that had taken place at the James and Grace Lee Boggs Center over the last two years.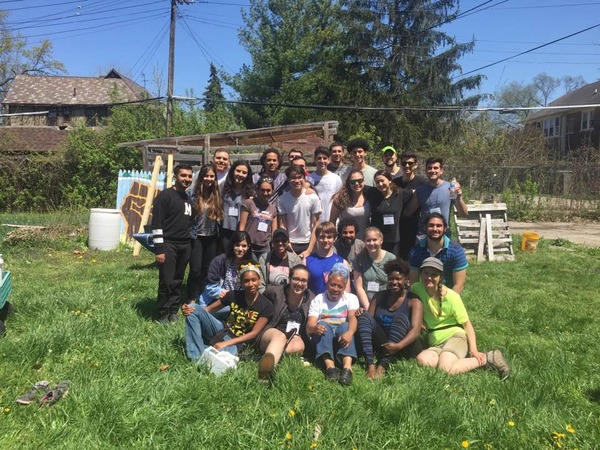 Once at the garden, arriving by tour bus, we were ready for a day of critical conversation, lunch and garden work, introduction to the staff of FFG and our work here in Detroit.  The students came with very little context of Detroit but were quite eager to learn about our challenges and opportunities here.
We gave them copies of the Riverwise magazine to read to gather context about Detroit. The magazine gave them insight into grassroots efforts happening here and nationwide.  We started the day off by asking what are the pressing questions they may be facing in their path to service. Our goal was to create a conversation that would dive deep in our time allotted. It was important to get to know them, to get a sense of how to build trust, and have transformational conversation. We let them know that in Detroit we are engaged in struggle for a revolution of values, learning through our own experience that just changing political leadership will not end the devastation of our neighborhoods, or the school closings, the water shutoffs, the gentrification, or the rising depression and loneliness among young people.  We work in community to change ourselves to change the conditions, and engaging university students in thought provoking conversation and hands on work in the garden.
As one of the FFG's members Ebony summarizes her day with the group; "I was like many of the students who worked beside me on Tuesday. Their questions about navigating the social justice world or their later professional field resonated with me. I shared my story with them, discussing the various times I had to choose between being a student and an activist.  There were many die-ins, marches, and round table discussions I longed for, but briefly watched in the distance because I had midterms or a lecturer I couldn't afford to miss. I understood how many of them felt; wanting to be on fire with a megaphone, chanting "no justice no peace" through the lecture halls, I wanted to assure them that it's possible to find serenity in a place where they feel foreign."
"We all can be inspired by others even if the person who inspires us doesn't see themselves as this kind of activism.  During a discussion with one of the students, I shared my community organizer infant status with him. Letting him know that my friends and family see me as Angela Davis, but in the grassroots revolutionary work I'm and infant, a babbling baby who's still learning and developing.  We all are infants in new realms. During my time spent with the students, I realized that I was not too far removed from where they are currently. Time spent with them allowed me to see that I too am still learning and being nurtured by those who care and desire to see me succeed in all that I do.  I enjoyed their enthusiasm to not use gloves while working in the garden because they wanted to feel the soil. They embraced the connection we have with it and were willing to fully immerse themselves into unknown territory."
Aalia, another member notes the conversation was full of young people deciding how to go from thinking about their ideas to putting their ideas into practice.  She saw them even thinking about how to make that decision as a reflection of many young people today. Many having ideas about their lives or what they want their communities to be like, but not really knowing where to start or having any guidance as to what are the next steps in implementing and bringing ideas into fruition.
By the end of our time together we gathered back into a circle and sought the answers to earlier questions. I am prone to believe that most of the answers are inside of us and I encouraged them to go inside and speak truth to power. Our guests were encouraged and spoke in new found ways and to become engaged in service to community.
We concluded thinking about James Boggs (1919-93), Grace's life partner, intellectual collaborator, and political comrade for forty years who urged us to recognize the role creative thinking and responsible action play in advancing humanity.
---
"The Latin term "Civitas" is traditionally defined as the social body of the citizens united by law.2 Yet, who gets to be a citizen, and who gets to decide on the law? If the civitas is based on inclusion, who does it exclude?" On Spaces of Liberation