March 14th, 2022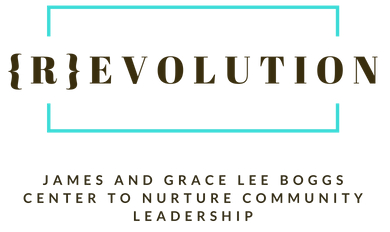 ---
Thinking for Ourselves
Cultures of peace
Shea Howell
I have chronicled every State of the City address since 1993,  beginning with Coleman Young. Of the long list of mayors that followed, some speeches have been memorable.  Dennis Archer got a standing ovation when he promised to pick up the garbage. Most have been fairly predictable efforts emphasizing "redeveloping" the city, providing better services, and creating jobs. One mayor after another has framed a vision of the city providing jobs, housing, services, and safety.
Duggan is no exception. But, increasingly, I find Mike Duggan's efforts to be unsettling. His most recent address was especially troubling.
Duggan has completely blurred the distinction between the private, profit driven sector of our city and its people. Over the course of his administration, Duggan has touted public, private partnerships. While making it sound like these partnerships are ways of leveraging private businesses to provide public benefits, the opposite is true. Public money is used to support private businesses and enhance their profits, for dubious public gain. Virtually all of his development projects are based on these kinds of deals.
Studies of these  partnerships (P3), while emphasizing their complexity and differing objectives, concluded that:
"Contrary to the repeated advertising claims and popular mythology, we know very little about the performance of… P3s — event at the most elementary levels."
There is "no evidence" that these projects deliver "more quickly than projects funded in more conventional ways."
"P3s were 24% more expensive than … traditional procurement" projects.
P3s should be "headlined 'fabulous deals — for all but taxpayers.'"
In some ways these partnerships are an extension of the tired thinking of the 1950's slogan "What's good for GM is what's good for the country." It was following that line of thinking that we watched corporate capital leave Detroit and create all those abandoned buildings that so troubled Duggan.
But Duggan has taken this idea to new heights. Nearly the first 20 minutes of his State of the City could have been a commercial for General Motors.  Staged with gleaming Hummers and pickup trucks in the background, Duggan invoked product names and corporate slogans. He celebrated the shift to an electric factory, producing electric cars, and 2,200 jobs for "metro Detroiters."
He offered images of new developments, factories transformed into housing, and showed a smattering of African American faces to screen the white power structure that provided the venue for this speech and is doing most of the "renovation of our city."
The willingness to sacrifice people for the promise of jobs and the use of public money to support private industry is symbolized by the very place from which Duggan delivered his speech. GM Factory Zero, of course, was in earlier days what most people called the Poletown Plant.  Showing a slide that illustrated his shockingly shallow view of the problems raised by development, Duggan characterized the site where he was standing as the result of extraordinary efforts "clearing out the land in the 1980's." The city "cleared 400 acres" and now we have this new plant.
That clearing included 4,200 people and all their possessions and memories tied to place. 1,300 homes were demolished. 144 businesses were knocked down, along with 6 churches, a school and a hospital.  This was all in the name of a never to be materialized promise from GM for 6,000 jobs.
Everyone knows that behind the slick slides is the refusal by Duggan to ask critical questions of how to develop a city that protects people and provides for enriched, joyful lives. Chasing big developments and empty jobs has only meant that the city becomes smaller,  while white power brokers become richer and richer.
Yet in the shadows of so many of these old structures, people are moving to study, to rethink and to reimagine completely different ways of living. New ideas of collective life are emerging, far from the bankruptcy of the Mayor and his ideas.
________________________________________________________________________________
Uplifting & Supporting our Community
Detroit Independent Freedom School Movement Presents: 
Deciphering Detroit Post 2021 Local Elections – Reading/Discussion Series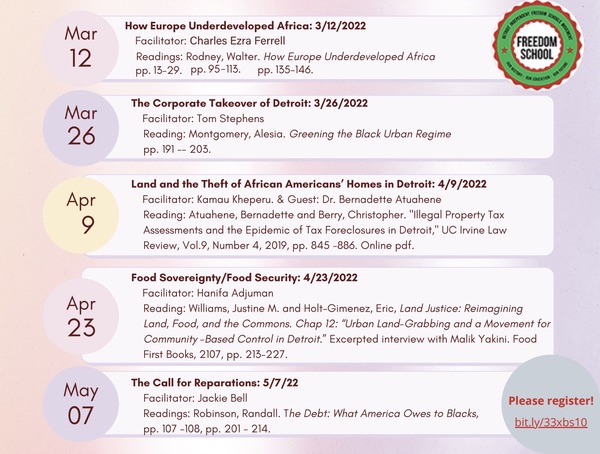 Don't forget to register for DIFSM's upcoming series which will encourage conversation emerging from the recent re-election of Detroit's mayor who has been committed to facilitating corporate ownership rather than providing public services and safety.
The 5-week course starts March 12 at 2-3:30 pm where sessions will explore readings within the context of:
1. The slave trade, capitalism, and imperialism — taking us back to where economic/political problems began
2. The call for reparations to the African American community
3. The role of corporations in the governance of our city
4. The importance of food production and food sovereignty in our wellbeing now and in the future
Be sure to register in order to attend! 
________________________________________________________________________________
Citizen's Resistance at Fermi Two (CRAFT) and Michigan Environmental Justice Coalition (MEJC)

CRAFT and MEJC urges everyone to sign on to this letter, supporting the need for EJ communities to take the lead on Michigan's Climate Healthy Climate Plan. Deadline to sign on is TODAY, March 14 — you can support their efforts using this form.
CRAFT's call for comment submissions focusing on the threat of nuclear power and the importance of truly renewable energy remains open and more information can be found here.
Funding & Training Opportunities
The BlackOUT Collective is looking for Community Training host organizations– we offer Black Direct Action basics to communities interested in skilling up around DA. Our Community Training Program is a FREE opportunity for organizations to bring us to your cities (virtually, in-person, or a mix of the two) for a one or two-day Direct Action 101. More info about the program here, and interest form for hosts at this link.
 
For those who have been trained by BlackOUT Collective before, and are in the process of planning for direct actions in formations/collectives/organizations led by Black people, our Action Fund is now open. We offer up to $1000 of financial support for all direct action-related expenses. Applications are here. (We are ONLY accepting applications from folks we have trained — sign up to host a Community Training, or contact PG Watkins [pg@blackoutcollective.org] for more info on upcoming training opportunities)
The Davis Putter Scholarship Fund is an opportunity for student activists to receive up to $15,000 in grant funding for their education. More information on the application (Due April 1st)at this link.
_______________________________________________________________________________
The Boggs Center is Hiring!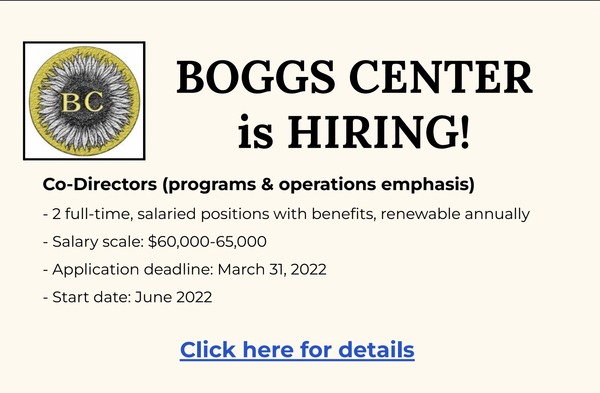 The Boggs Center is seeking 2 candidates to work as co-directors in the space of programming and operations. If you're intersted in applying, the deadline has been extended until March 31 with a start date in June 2022.
Find out more information and next steps to apply here! 
________________________________________________________________________________
Mutual Aid Call to Action
Solidarity Fund for a Black, gay man in danger within his apartment complex
Damon lives in Walled Lake with his partner and has been the victim of racial & queer motivated harrassment by white tenants in his apartment complex.
Racial slurs have been yelled at him through the walls of his home on multiple occassions with the possibility of his crawl space bein intruded and placed with surveillance devices.
This ongoing effort has lasted for months by several tenants, forcing him out of his home which didn't start until a new landlord gained ownership of the property. Damon and his partner hopes to move soon for their safety and funds will go towards that!
Funds can be sent via CashApp ($HealinTheWaters) or Venmo (@AdrienneAyers) with "donation" in the for/about line — more information regarding additional needs for Damon can be found here
 
________________________________________________________________________
?What We're Watching/Listening To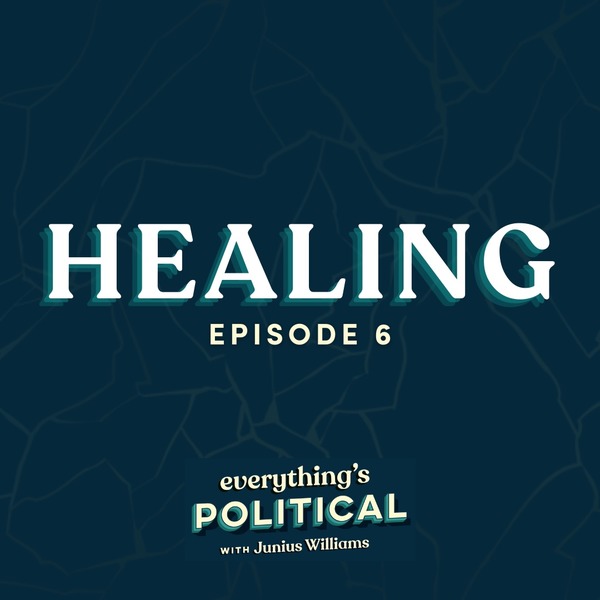 Host Junius Williams, along with guests, Shea Howell, Kaleena Berryman, and Lakeesha Eure, discuss the importance of healing through organizing but uncovering how this may be possible. Through discovering what it means to heal, exploring what the blueprint may look like, and providing thoughts on how to protect and provide safe spaces for youth to heal and feel seen, this episode will expose the power in healing and the need for its persistance.
Our job is to put our arms around [our young people] and really try to create a kind of radical love that says that we not only just see you, but we're here to protect and support you." – Shea Howell
The episode is available on their website!
____________________________________________________________________________
What We're Reading
In 2021, Planning War with Russia
by Russ Bellant
The mentioned 2021 documents from the U.S. State Department show that the U.S. has had long-term plans for a military buildup of U.S. and Ukraine joint forces. Included in these documents are statements about taking Crimea and Donbas, which means military confrontation. Clearly, the U.S. last year was planning to partner with Ukraine in that war. In response, Russia again proposed negotiations in December 2021 to the U.S. and to NATO on issues that they saw as a clear threat.
George Beebe, the CIA's former chief of analysis unit on Russia said on Radio Free Europe, a CIA broadcasting station, that the negotiations would be tough but doable. But Washington dismissed them out of hand and refused to negotiate. Refusing to negotiate means we do not care about your concerns, even if you feel deeply threatened and we have broken our pledge to not expand against your borders. We are doing it anyway. Beebe said that "inaction on (the Kremlin's) part is risky" for Russia. That is why he wanted negotiations.
On June 20, 1997 Joe Biden said on C-SPAN that the only thing that could provoke a "vigorous and hostile" response from Russia would be if NATO expanded as far as the Baltic states. The U.S./NATO has expanded into the three Baltic states and is expanding and base building in Ukraine. NATO has expanded into Bulgaria, Romania and Hungary, all on the Russian border. Biden knew 25 years ago this would be seen as a threat that would freak them out (not Putin, but the whole government) and he accepts the risks to all parties to keep this going.
NATO expansion has been opposed by top appointees in U.S. military and intelligence agencies. George Kennan, the US policy architect in the late 1940s of the whole U.S. strategy to bring down the Soviet Union, condemned the expansionist policy. Current CIA Director William Burns said in 2008 that NATO expansion "engenders serious concerns about the consequences for stability in the region." He predicted civil war and a possible larger war as a result. That was 14 years ago! Former Secretary of Defense for Bush Jr. and Obama, Robert Gates, also opposed NATO expansion to the Russian border.
The 2021 threats of escalation turned in 2022 to actual military action. The Ukrainian military and nazi battalions were sent east to restart the killing of Ukrainian citizens that were ethnically Russian that wanted to secede from Ukraine. There were already more than 14,000 deaths from military actions begun by the U.S. and Ukrainian leaders. The European Union's monitoring group OSCE saw, in the period before the Russian invasion, a massive increase in ceasefire violations and explosions, with many occurring within the separatist zones, obviously from Ukrainian forces that were moved into the area. A huge exodus of mostly Russian women and children from the region began when the government assault began. An OSCE data table (a bit fuzzy) resulting from the escalation by Ukraine is attached.
There is not one sane U.S. citizen that would support such developments on our borders. The U.S. risked nuclear war over missiles in Cuba in 1962. Yet there is a hint of exploring nuclear weapons in Ukraine, a country where nazi leaders have been placed in high positions in their Defense and Interior ministries. The insanity has to stop.
The only solution that saves Ukrainian and Russian lives and cities is for the confrontation to cease. The U.S. and Russia must create a credible and binding ceasefire that binds their allies. The U.S. needs to say that they will honor the U.S. pledge made by Bush Sr. to not expand NATO and begin to  return to NATO's 1990 borders and Russia must say that they will withdraw their troops from Ukraine and keep them far from the borders of Europe. The death and destruction ceases. Then long-term demilitarization talks begin for all of Eurasia. Those who oppose a peace approach and want to cheer on Ukraine are sentencing more destruction and death to Ukraine. We cannot indulge an approach that sentences more deaths and possible nuclear confrontation.
If you agree, let's start studying and working together. We as a people are better than this, even if the national media are not giving peace a voice. I hope to hear from you.
_______________________________________________________________________________
The Zapatista Army of National Liberation 
Annuonces mobilization against capitalist wars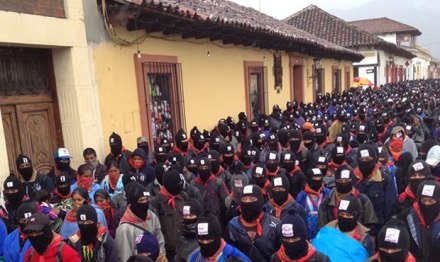 Credit: @cgtchiapas
In a communiqué on March 9th, the Zapatista Army of National Liberation (EZLN) proposed the start of a world campaign against the wars of capital whatever their geography. They announced that they will participate in the demonstrations that will take place in Chiapas on March 13th.
ZAPATISTA SIXTH COMMISSION
Mexico.
To the National and International Sixth:
To those who signed the Declaration for Life:
To honest people around the world:
In agreement with some individuals, groups, collectives, organizations and movements of SLUMIL K'AJXEMK'OP, the Zapatista communities have agreed to call for mobilizations and demonstrations against ALL capitalist WARS, currently underway in various corners of the planet. It is not only in Ukraine. Also in Palestine, Kurdistan, Syria, the Mapuche people, the original peoples throughout the planet, and so many libertarian processes that are attacked, persecuted, murdered, silenced, distorted.
Responding to that call, we have agreed to participate in the mobilizations on Sunday, March 13th, 2022, and thus continue with the actions against the wars that the system perpetrates throughout the world.
We therefore propose the start of a world campaign against the wars of capital, whatever their geography. Organize concerts, meetings, festivals, meetings, etc. In short, the arts against wars.
We call on all honest people, groups, collectives, organizations and movements in Mexico and in the world, according to their times and ways -and preserving their independence and autonomy-, to join the activities to demand an end to wars, starting on Sunday 13th.
For their part, the Zapatista communities will demonstrate, on Sunday, March 13th, 2022, in their caracoles, in the municipal capitals of San Cristóobal de Las Casas, Yajalon, Palenque, Ocosingo, Las Margaritas, Altamirano and on the roadsides in the communities, with a some thousands of Zapatistas.
Against all wars: all arts, all resistances, all rebellions!
From the mountains of the Mexican southeast.
Zapatista Sixth Commission.
Mexico, March 2022.
"Beware:
At war
Or at peace,
More people die
Of unenlightened self-interest
Than of any other disease."
 – Octavia Butler