March 21st, 2022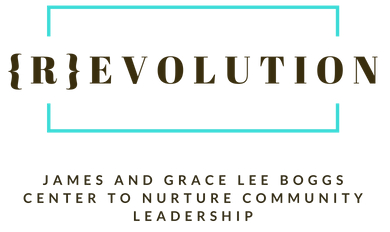 ____________________________________________________________________________________________
Thinking for Ourselves
People not governments
Shea Howell
As the war in Ukraine turns increasingly brutal, those of us who work for peace need to ask some questions. What have we learned about our capacities to stop the drive toward military solutions to human problems? What is the difference between being against a war and building a peace?
For me, one of the most important lessons from the Vietnam War was the distinction between the American people and the US government. The Vietnamese helped those of us who opposed the war to understand this distinction and allowed us to act in solidarity with the people our government was attacking. It made room for some of our soldiers to become strong advocates for peace.
This distinction has been on my mind as I see media accounts emphasizing the growing hatred toward the Russian people.  Globally, some people have been expressing solidarity with Ukrainians by attacking people of Russian origins in their communities. Restaurant owners report abusive, often violent threats. Congress members are saying we should "kick out" Russian students, Russian Orthodox churches have been attacked, and hockey players are asking for special security for their families in face of violent threats.
This global disdain is much more intense in Ukraine. The New York Times said, "If there is one overriding emotion gripping Ukraine right now, it is hate." This hatred is directed not only at Putin and the Russian government, but at "ordinary Russians."
Fostering hatred against the Russian people may be the most destructive long range weapon to come out of this war. If we are ever to survive for a future, we are going to have to call upon the best in us to find our ways to see each other as full human beings, capable of love and forgiveness, capable of recognizing our own hypocrisies and contradictions, and capable of transforming ourselves.
We, in the US, owe a great debt to the Russian people. For all its contradictions, the Russian Revolution in 1917 brought a vision of an alternative to capitalist exploitation of people. It was a glimpse that "another world was possible."
That vision, shaped and reshaped, especially by the Black radical tradition in the American south, opened up our understanding of systemic racism and offered an alternative to life under racial capital. In his groundbreaking work Hammer and Hoe, Robin D. G. Kelley talks about the importance of the Communist Party, supported and often guided by the Soviet Union, in bringing international attention to conditions of African Americans in the south.
This week marks the anniversary of the Scottsboro Boys. On March 25, 1931 nine teenaged boys were arrested in Alabama and charged with raping two white women. Two weeks after their arrest and near lynching, the Communist Party "transformed a local struggle into an international cause." The Communists saw this case as an opportunity to build a mass movement. They organized an international campaign, including mass demonstrations and public protests. Their efforts inspired demonstrations and defense committees around the globe from Cleveland to Johannesburg, Tokyo, Paris, and Moscow. They made the bold claim that Alabama was "planning a legal lynching" and they challenged the main stream narrative, humanizing the boys  and helping people understand the structural dimensions of racial capital.
Today, some people in Russia are risking their lives to protest this war. Often lead by women and queer activists, Russians are finding creative, courageous ways to demand peace. More than 17,000 Russian artists signed an open letter saying no to war. They have been joined by scientists and other professional groups across Russia.
The world will not survive if we continue down the road to war, hatred, and military might. Creating a culture of peace is our only alternative. Finding our way to radical love is our first task.
________________________________________________________________________________________
Uplifting & Supporting our Community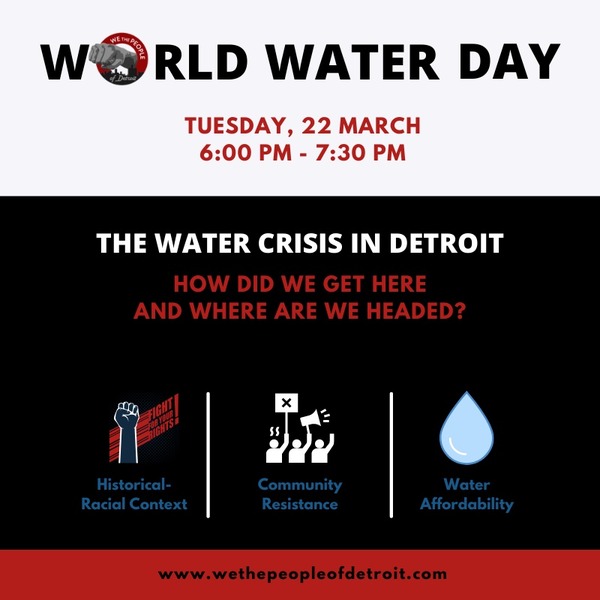 Join We The People of Detroit as they acknowledge World Water Day, hosting a webinar discussing the historical insidious practices of water injustice that are still affecting Detroit residents today. Their webinar will educate attendees on the large-scale water shutoffs that are slated for the city, providing them with the tools to educate and mobilize to create change.
The webinar is online, Tuesday March 22, 2022 from 6-7:30 pm and you can register here. 
Octavia Butler Week @ University of Michigan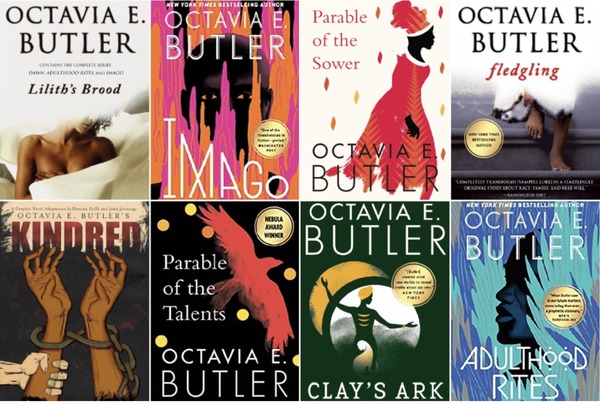 University Music Society and the U-M Institute for Humanities has partnered to host a week of events in celebration of the work of Octavia Butler. Events will take place March 21-27, with a hybrid of online and in-person opportunities to engage. The week will include a series of discussions, social events, and ending with a weekend of The Parable of the Sower as performed by UM students.
3/21-3/25: 'Spaces in Community Places' Scavenger Hunt
3/22: Parable Paint Night
3/22: Reading Octavia Butler: A Panel Discussion
3/23: Art & AfrofuturismVirtual Panel
3/24: Parable Party & Open Mic at NOW Studios
3/25-3/27: Octavia Butler's Parable of the Sower
You can read more about the week of events here. 
___________________________________________________________________________________________________________________
Funding & Training Opportunities
The BlackOUT Collective is looking for Community Training host organizations– we offer Black Direct Action basics to communities interested in skilling up around DA. Our Community Training Program is a FREE opportunity for organizations to bring us to your cities (virtually, in-person, or a mix of the two) for a one or two-day Direct Action 101. More info about the program here, and interest form for hosts at this link.
For those who have been trained by BlackOUT Collective before, and are in the process of planning for direct actions in formations/collectives/organizations led by Black people, our Action Fund is now open. We offer up to $1000 of financial support for all direct action-related expenses. Applications are here. (We are ONLY accepting applications from folks we have trained — sign up to host a Community Training, or contact PG Watkins [pg@blackoutcollective.org] for more info on upcoming training opportunities)
The Davis Putter Scholarship Fund is an opportunity for student activists to receive up to $15,000 in grant funding for their education. More information on the application (Due April 1st)at this link.
___________________________________________________________________________________________________________________The Boggs Center is Hiring!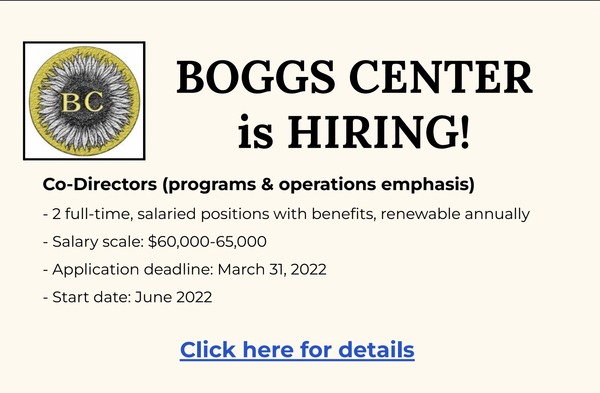 The Boggs Center is seeking 2 candidates to work as co-directors in the space of programming and operations. If you're interested in applying, applications are being accepted until March 31 with a start date in June 2022.
Find out more information and next steps to apply here! 
___________________________________________________________________________________________________________________Time to Break Silence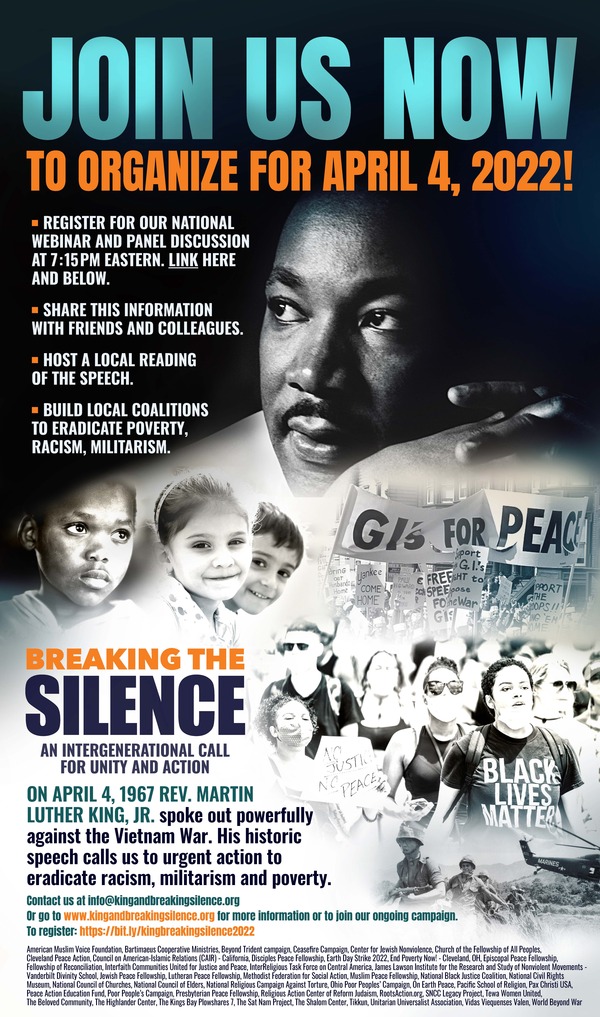 ?The 55th anniversary of Dr. Martin Luther King's 'A Time to Break Silence' speech takes place April 4th. A coalition of national partners encourages your participation in the webinar they are hosting an evening to include a pre-recorded reading of the speech and a live panel discussion with well-known activists hosted by a broad coalition of civil and human rights, peace, and justice organizations.
This speech went beyond civil rights to condemn militarism, racism, and extreme materialism, enforced by a culture of violence, as the source of the ills that plague U.S. society and stands as one of Rev. Dr. King's greatest accomplishments. By holding national and local readings, with discussions and actions relevant to the issues of today, we evoke Rev. Dr. King's prophetic lessons, ground ourselves in these timeless truths, and keep his words alive by using them to guide our thoughts and actions in our work for justice today. Please join them.
Register for the event and find more information on their intiative here. 
___________________________________________________________________________________________________________________
In celebration of International Women's Day, activist Loretta Ross hosted a conversation between herself and lifelong activists, Suzanne Pharr and Mab Segrest. The recording of the conversation has been provided for your viewing and can be viewed here!
What We're Reading
Waltzing Around Armageddon with the Merchants of Death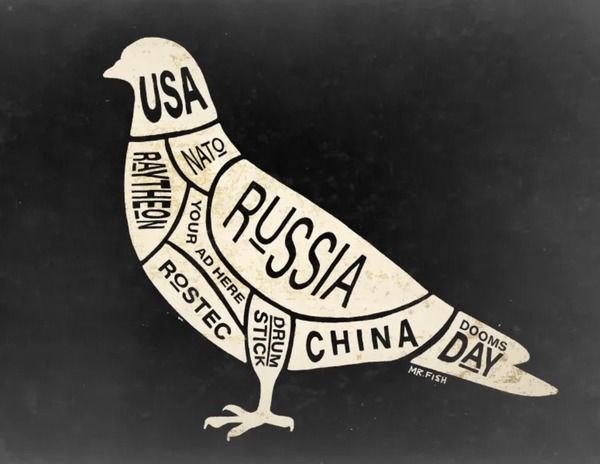 Image credit: Mr Fish; The Butcher's Cut
Journalist and author, Chris Hedges writes in a painstaking yet brutal way the reality we are facing with the war initiated between Russia and Ukraine. Hedges calls for the need for more anti-war rhetoric and action while revealing the effects of perpetuated war efforts thus far between nations. As a war correspondent, Hedges brings to this writing a call for introspection through truthtelling as the recipe for global war is unfolding in real time.
This piece comes from Counterpunch and was originally published on ScheerPost.
Open Letter: Solidarity with Russian anti-war protestors
Code Pink has published the following letter and call for those in support of Russian anti-war protestors to add their name to the letter in the name of solidarity:
Dear Russian anti-war protestors, 
We, women and other feminists (including men) of the world, express our solidarity with you as you protest the devastating invasion of Ukraine, and we join your call for Russian troops to immediately leave Ukraine. We are aware of the risks you face from police and civil authorities and thank you for your profound bravery and sacrifice. We are also moved by the tremendous courage of the Ukrainian people in the face of disaster, and our hearts ache as we bear witness to Ukrainian families huddling in bomb shelters and parking garages, or facing long lines at the border after being forced to flee their homes.
We have experience standing up to our own governments' aggression. During the U.S./NATO invasion and occupation of Iraq and Afghanistan, we took to the streets by the hundreds of thousands to oppose the horrific destruction of entire cities and the death of hundreds of thousands of innocent people. Now, as Russian missiles mercilessly wipe out your neighbors' homes, medical facilities, and schools in Ukraine, we see you take to the streets of Moscow, St. Petersburg, and other Russian cities in peaceful protest, and we are so deeply inspired and grateful. 
As we oppose this brutal war being waged in your name, we are also aware of the role the U.S. and NATO have played in stoking the geopolitical crisis that led to this war. We have opposed NATO's expansion into Central and Eastern Europe, and we continue to oppose NATO expansion today. We steadfastly believe Ukraine should be a neutral country. 
Today, as Putin has put your nuclear arsenal on high alert, we see the terrifying possibility of this conflict spinning out of control. The U.S. and Russia are guilty of stockpiling 90% of the world's nuclear weapons, putting the entire world at risk, and violating the Nuclear Nonproliferation Treaty. As we organize today to stop this war, we must work together in the future to force our governments to join the UN Treaty on the Prohibition of Nuclear Weapons so we can rid the world of this existential threat to survival on our beautiful planet.  
The imposition of sanctions aimed to damage the Russian economy also concerns us. We have no problem with taking yachts and private jets from oligarchs, but sanctions that hurt millions of ordinary Russians like you and impact the entire global economy are cruel and counterproductive. We have seen the devastating results of sanctions in countries from Cuba to Iran to North Korea–such sanctions harm the civilian population, particularly women, children, and the elderly, and fail to change government policies. 
Instead of indiscriminate sanctions and fanning the flames by pouring more weapons into Ukraine, we demand that Russia and Ukraine engage in serious negotiations, with all the compromises this would entail. 
As women and other feminists, we have had enough of senseless wars that destroy lives and communities while lining the coffers of weapons manufacturers. We've seen too many attacks on civilians from Yemen to Gaza to Ethiopia to Ukraine, and we've watched in horror as precious resources are poured into wars while families' basic needs for food, shelter, education, and healthcare go unmet and climate change threatens all life on our planet. A world of violence, hatred, and destruction is not the world we want for our children. With fire in our bellies and love in our hearts, we join with you — across borders — to demand an end to the bloodshed and the destruction.
Russian Troops Out of Ukraine!
Ceasefire Now!
No NATO expansion! 
Peace Talks NOW!
Stand in solidarity and add your name here
"Two centuries ago, a former European colony decided to catch up with Europe. It succeeded so well that the United States of America became a monster, in which the taints, the sickness, and the inhumanity of Europe have grown to appalling dimensions."
 – Frantz Fanon