March 28th, 2022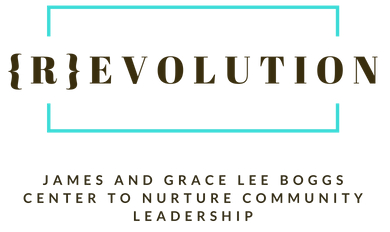 ---
Thinking for Ourselves
People not governments
Shea Howell
This week there were two important actions related to police violence. The first was the announcement that the Detroit Police Department has identified 128 officers who reflect "high risk" behaviors. The identification of these officers is the result of the work of a new unit created by Chief James White in an effort to hold officers who receive multiple complaints to be disciplined.  White announced the identification of problem officers, acknowledging that until recently officers with records of repeated abuse and multiple citizen complaints have "slipped through the cracks."
This image does not convey the dimensions of abuse citizens have endured at the hands of Detroit police, nor does it deal with the systemic failures of those who are supposed to police the police. Accusations range from the use of racist language and sexual harassment to the targeting and subsequent death of individuals.
The dimensions of repeated allegations of abuse of force are staggering. Today, 133 officers have amassed at least 30 complaints from people over whom they held life and death powers. 58 have been sued at least  5 times and another 93 have been disciplined at least 10 times. One officer, notoriously, had 85 separate cases for discipline. Under former Chief Craig, he was promoted. Craig's excuse was he was unaware of all the problems. This individual was sued at least 8 times, costing the city $830,000.
The 128 individuals singled out are about 5% of the total number of people on the street. Most have been with the department less than 5 years, but they reflect a culture that has trained them and often rewarded people who do the very things these officers have.
All of this information and action did not come willingly from the Detroit Police Department. Rather, local news media forced the issue.  Local reporting on police abuse, police misconduct and cover ups brought this information to light. The Detroit Police Department does not report statistics of use of force of death at the hands of police in any routine, transparent way. Nor does it provide statistics on citizen complaints, allegations of abuse or other concerning behaviors like domestic violence in ways that allow for public oversight.
Some of this is the product of union protections, distorted to challenge any effort to discipline egregious behaviors. But much of it is also the fault of the Detroit Board of Police Commissioners. To say the  Board is" dysfunctional" does not grasp the degree to which they have become a source of embarrassment to the city and contribute to the lawlessness of police. I have personally witnessed a police commissioner trying to raise legitimate questions about facial recognition being silenced, ruled out of order, and removed from a meeting in handcuffs. I have seen commissioners resort to holding signs up during zoom meetings announcing they are being muted by the chair, unable to voice even the simplest of questions.  This behavior has been going on for a long time. In an editorial chronicling the sorry history of this commission by the Detroit Free Press reported that  "by 2000, an analysis of 11 years of BOPC proceedings found that board members had become steadily less inclined to challenge the status quo, even when  a rash of police shootings precipitated a protracted period of federal oversight. The BOPC stood silent as shootings and citizen complaints soared, unconstitutional practices like dragnet arrests became commonplace, and the cost of liability lawsuits ballooned."
___________________________________________________________________________________________
Uplifting & Supporting our Community
?The 55th anniversary of Dr. Martin Luther King's 'A Time to Break Silence' speech takes place April 4th. A coalition of national partners encourages your participation in the webinar they are hosting an evening to include a pre-recorded reading of the speech and a live panel discussion with well-known activists hosted by a broad coalition of civil and human rights, peace, and justice organizations.
This speech went beyond civil rights to condemn militarism, racism, and extreme materialism, enforced by a culture of violence, as the source of the ills that plague U.S. society and stands as one of Rev. Dr. King's greatest accomplishments. By holding national and local readings, with discussions and actions relevant to the issues of today, we evoke Rev. Dr. King's prophetic lessons, ground ourselves in these timeless truths, and keep his words alive by using them to guide our thoughts and actions in our work for justice today. Please join them.
Register for the event and find more information on their intiative here. 
Detroit Independent Freedom Schools
Deciphering Detroit post 2021 elections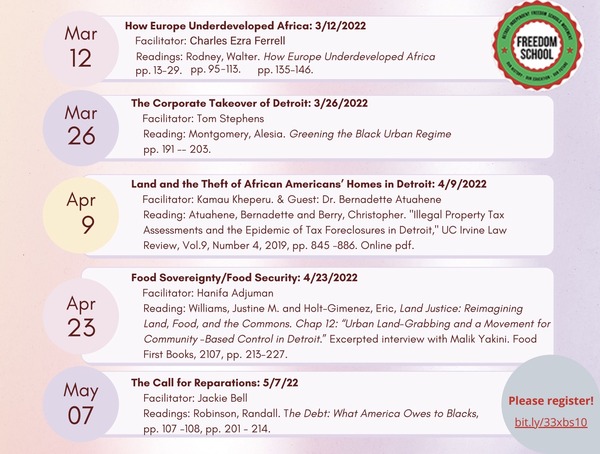 Don't forget to join DIFS as the group continue to host biweekly discussions to regarding reparations food sovereignty, capitalism, and more. You can 
register
 for one or all of the upcoming sessions, happening 
Saturdays 2pm – 3:30pm
. The next session takes features the discussion: 
Land and the Theft of African Americans' Homes in Detroit 
_____________________________________________________________________________________
The Boggs Center is Hiring!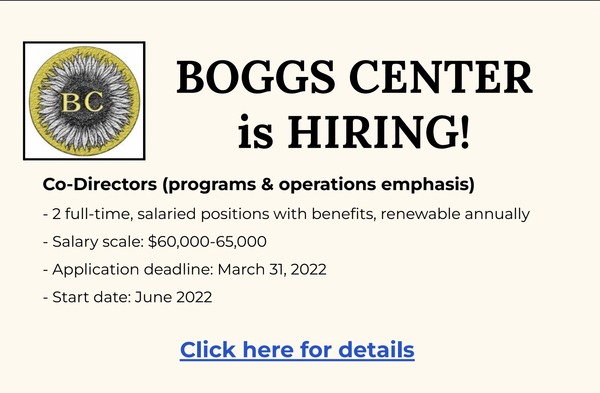 The Boggs Center is seeking 2 candidates to work as co-directors in the space of programming and operations. If you're interested in applying, applications are being accepted until March 31 with a start date in June 2022.
Find out more information and next steps to apply here! 
---
What We're Hearing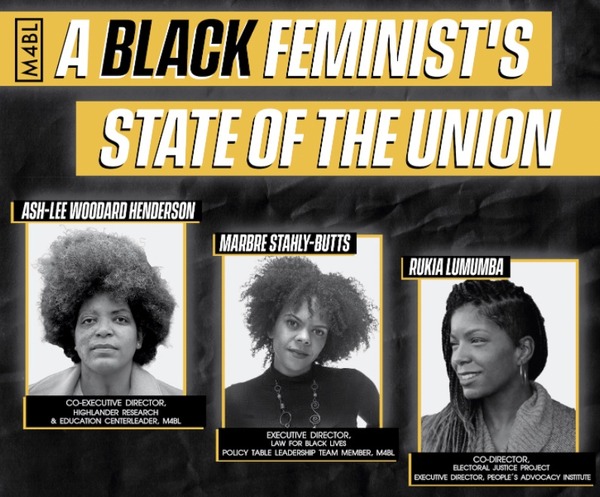 At the start of Black Feminisms Month, Movement 4 Black Lives held a critical discussion with movement leaders Rukia Lumumba, Marbre Stahly-Butts, and Ash-Lee Woodward Henderson. 
A Black Feminist's State of the Union
 broke down Biden's version and shared an on-point assessment of the state of this union for Black people. You can check out the full video 
here
.
Oil & Water Don't Mix
Shut Down Line 5 & Say No to Oil Tunnel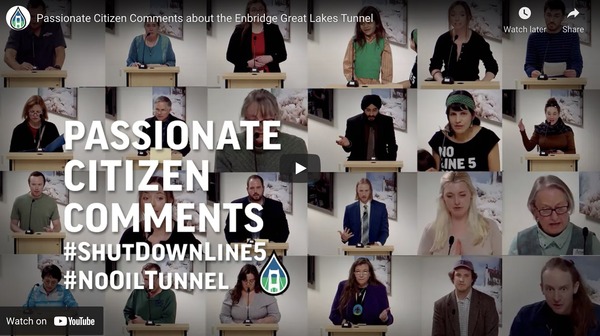 On March 17, 2022, 100% of the public comments given before the Michigan Public Service Commission called for the denial of the Enbridge oil tunnel permit and to shut down Line 5. You can watch the recap of the public meeting above or at this 
link
.
Oil & Water Don't Mix is calling for folks to continue submitting public comments to request the rejection of the tunnel permit.
They've made it easy for you to submit a comment here!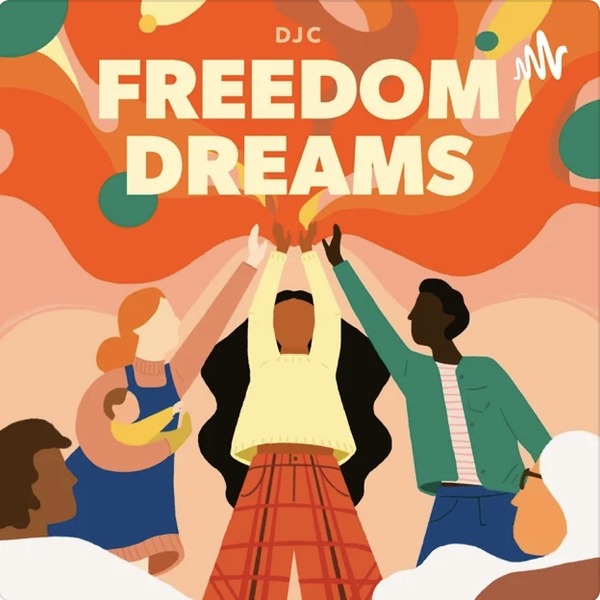 Catch episodes of Freedom Dreams here! Freedom Dreams explores the many paths to building a truly just future for everyone. Centered in abolitionist thinking, this podcast, produced by the Detroit Justice Center, expands beyond the realm of criminal justice into conversations around what we could be building and prioritizing instead of punishment and further harm to make our communities genuinely safe.
---
What We're Reading
Resilient Neighborhoods: This faith-based Detroit nonprofit helps young Detroiters succeed
Church of the Messiah was recently featured in an article from Model D, highlighting the work of the church's separate organization, 
BLVD
 Harambee. BLVD — Building Leaders for Village Development — pairs with Harambee, meaning 'all pull together' in Swahili.

The article features young entrepreneurs, John Giovanni of Giovanni Enterprises and Ryan Smith of Stay Ribelle, along with comentary from Pastor Barry Randolph who leads the initiative at the church. 
"Our thing was, how do we get people to a point where they are empowered? And they can change their life so they don't have to come to the church to get food. They don't have to get clothes," says Randolph. "How do we help them make those next steps?" 
Read more of the story here.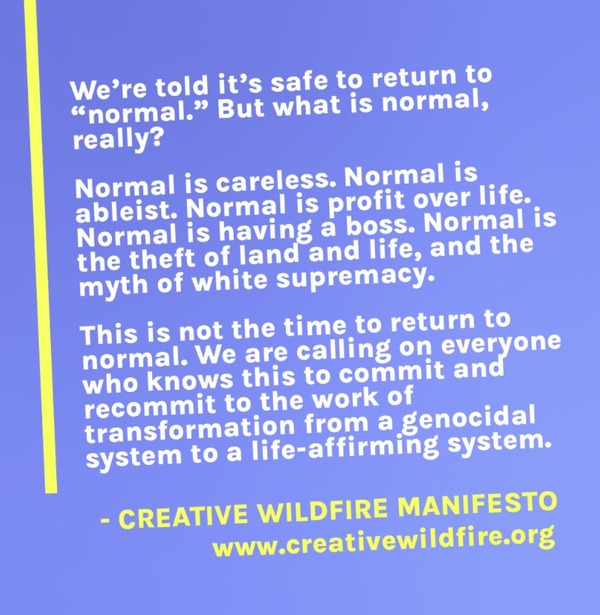 ---
"The lessons are clear: changing white hearts or training more cops won't do. To put out the fire this time requires dismantling the entire state and corporate machinery of violence."
 – Robin D.G. Kelley
---
| | |
| --- | --- |
| | |