November 21, 2022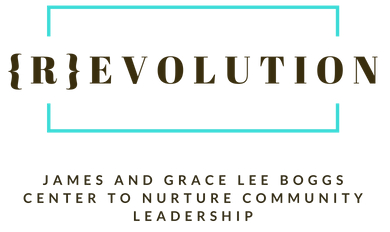 ---
Thinking for Ourselves
Every life
Shea Howell
The Detroit Police Department killed two people in less than one month. Last week community protests were held to draw attention to the killings of Porter Burke and Kiaza Miller. Both were in the midst of mental health crises. Both were shot to death by police who had been called by family members for help.
There is a persistent pattern of police killings in response to mental health crises. It was the killing of Errol Shaw in 2000, and the community protest over police violence that spurred then Mayor Dennis Archer to request the Department of Justice investigate the police department. Mr. Shaw, 39, was armed with a rake and he did not respond to officer commands to put it down. He was deaf and mute. He was shot in front of his parents who were sitting on the porch and his son. The officer who pulled the trigger was found not guilty.
The investigation by the Department of Justice ( DOJ) documented that from 1995 to 2000 40 people were killed by police.  In a consent decree in 2003 the DOJ found "a pattern of excessive force, civil rights abuses and a culture of covering up misconduct."
It took 13 years for the DPD to be released from Federal oversight. Over the course of that time the DPD did improve. The number of fatal shoots was markedly decreased as were the number of police shootings. Police stopped detaining witnesses without a warrant and lawsuits against the city declined.
But these changes have not produced a police department that is safe to call for help.
Soon it will be seven years that the DPD has functioned without federal oversight. During this time it has also functioned without effective civilian oversight. It has been led by  a politically ambitious, gun loving Chief and supported by a Mayor who refuses to look critically at police practices that courts have held violate citizen constitutional rights, endanger the public and persist in the use of violence.
This summer, the Board of Police Commissioners acknowledged a backlog of 850 citizen complaints.  Investigator positions were vacant. Concerns for a toxic environment in the investigative unit have been ignored.
News reports documented that some officers have been sued dozens of times, charged with using excessive force or abusive language. Officers with multiple complaints get promoted, not fired. One sergeant had 93 complaints and 12 lawsuits filed against him. The new Chief James White identified 128 individuals who are "high risk" for using force. Yet their names are not released, we have no idea what responsibilities they hold within the department, nor how they are affecting the overall culture in the use of force.
What we do know is this history does not lead us to think the DPD can respond in humane, caring ways to people in crisis.  Their attempts to establish non-lethal responses are not working.
We need a community-based response to caring for each other.
The DPD, Mayor and City Council are willing to spend millions of dollars on technologies that everyone knows don't reduce crime, don't make us safe, and likely increase the chances of armed conflicts, misidentification and community trauma.
As we approach the holiday season and the turning of the year, stress and mental health crises will accelerate. Already the number of calls to police for help is more than they can handle.
Across the country communities have established non-police programs that work. Eugene, Oregon and Denver, Colorado both have programs based on care and concern, not guns.  Detroit needs to follow the lead of these cities and the activists who are demanding we shift rapidly toward stronger systems of community safety based on the recognition that every life is valuable.
Weekly highlight
Trans Day of Rememberance: Holding Joy + Mourning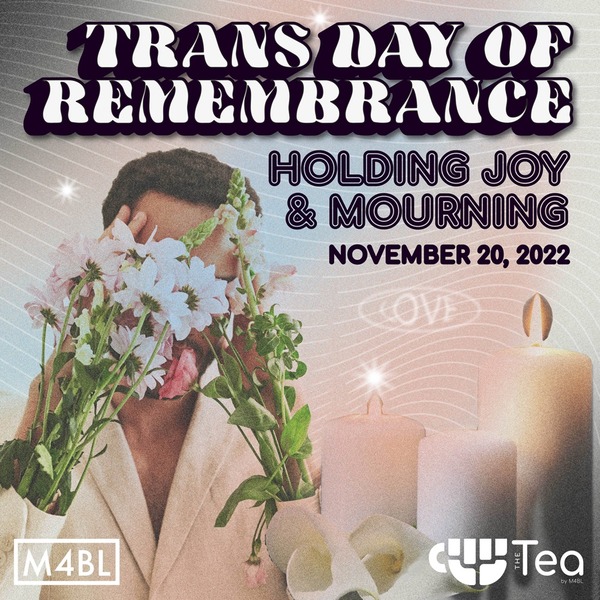 In honor of Trans Day of Rememberance, we uplift a message shared from Movement for Black Lives:
"Today, we are mourning the Black trans, gender-nonconforming, non-binary, and intersex family whom we have lost over the years. Surviving and thriving as a Black trans person is threatened constantly by housing insecurity, physical violence, police harassment, and anti-trans legislation that denies us fundamental human rights. These threats have resulted in the deaths of so many of our queer kin—and it hurts.
As we mourn the lives of those who are now our trans ancestors, we still hold space to celebrate their lives, joyful existence, and impact on each of our worlds. Some of our earliest and most impactful examples of a loving Black community, freedom of expression, and sources of internal power come from the lives and experiences of Black trans folks."
M4BL invites you to research and learn about at least one TGNCI (Transgender, gender nonconforming, intersex) ancestor who has impacted our history. A few to start with are: Marsha P. Johnson, Frances Thompson, and Gladys Bentley – be sure to share what you learn!
Tap in with trans-led organizations like TransLed to learn more of how you can advocate for and protect the TGNCI community.
What we're listening to
Riverwise Podcast
Technology & Justice w/ Tawana Petty

Detroiter Tawana Petty has spent years fighting for policies and practices that center justice in the realm of digital technology and data in the city. As a visionary poet and author she advocates for using our creative capacities to see beyond surveillance as we imagine real safety in our communities. Learn all about her work, get the real scoop on digital justice in Detroit
Detroit is Different
A breakdown of Detroit's city budget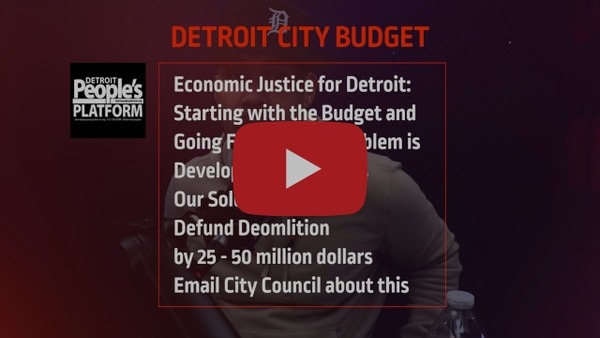 This episode of Detroit is Different features Theo Pride of Detroit People's Platform who gives a breakdown of the Detroit city budget. Learn about the process and cycle of our municipal budget. Why is Detroit spending so much on demolition and not repairing homes?
People's Water Board Coalition 
featuring Keree Blanks
Co-hosts Valerie and Nicole are joined by Keree Blanks, program assitant for the Water Collective to discuss the ongoing water crisis taking place in Jackson, Mississippi. The three of them also briefly discuss the connections between water issues in Louisiana and Michigan and its tie to environmental racism.
Craft of Campaigns
"Not listening to DC" & embracing the fight to win DACA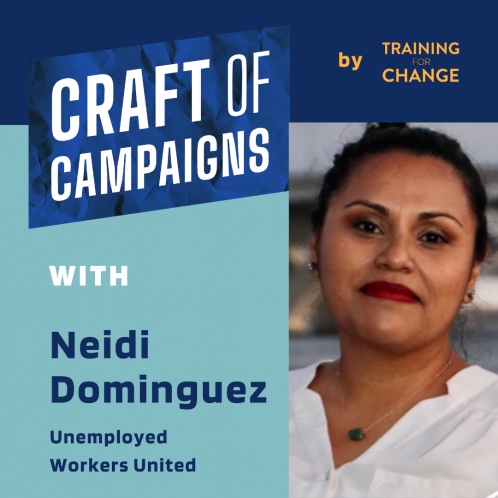 Training for Change recently started a new podcast and for their first episode, they featured an inside account of the campaign to win Deferred Action for Childhood Arrivals, which today protects nearly a million people from deportation. Their guest, Neidi Dominguez discussed the decision to separate the campaign from a broader legislative campaign, using "inside" and "outside" strategies to force the Obama Administration's hand, and how leaning into disagreement ultimately helped organizers stay focused and win their campaign.
Their podcast features an article that accompanies the dialogue.
What we're reading
Detroit Foo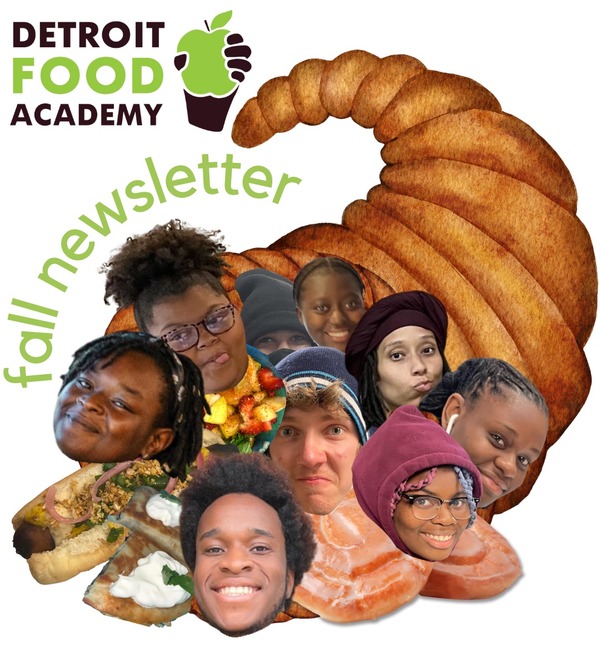 d Academy recently published about their Afterschool Leadership Program where they've been learning about foundational knife skills, kitchen safety, grocery stores, and each other. Pictured above are some Cody High School students making chicken tenders, fried green tomatoes, and ranch dressing.
They also began their experiential learning shifts at Small Batch's production kitchen and Eastern Market stand. Advanced youth have also been attending monthly life skills workshops.
You can support them by purchasing a holiday gift box from their Small Batch Team, which includes a variety of jams. All Small Batch products and the gift boxes themselves are created by their talented young chef alumni! You can receive 10% off orders over $100 with the discount code: HOLIDAYGIFTS – purchase them here. 
You can learn more about their programming or sign up to receive future newsletters from them here.
Uplifting & Supporting our Community
Energetic Boundaries Workshop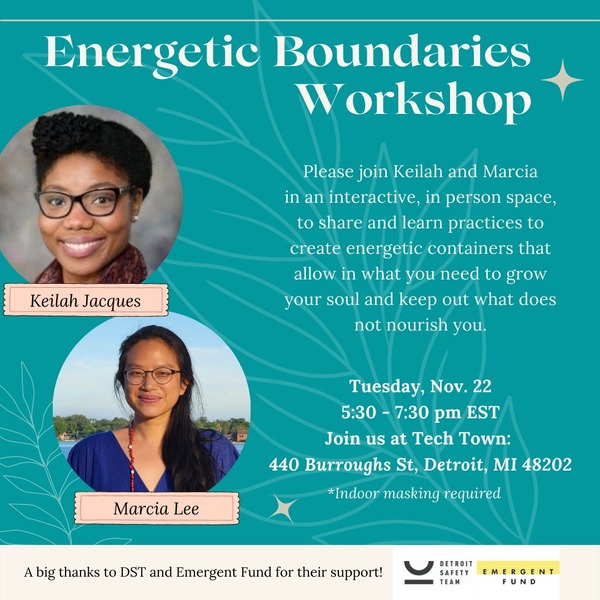 Join Keilah Jacques & Marcia Lee as they lead a workshop that will help you foster energetic containers and establish boundaries as we work through times of growing our souls. They intend for the space to help you identify what you need through deep listening internally through practices that you can apply once leaving the workshop.
Tuesday, Nov. 22
5:30pm – 7:30pm
TechTown, 440 Burroughs St. Detroit, MI 48202
Eastside Solutionaries Collective
Open Meeting — You're Invited!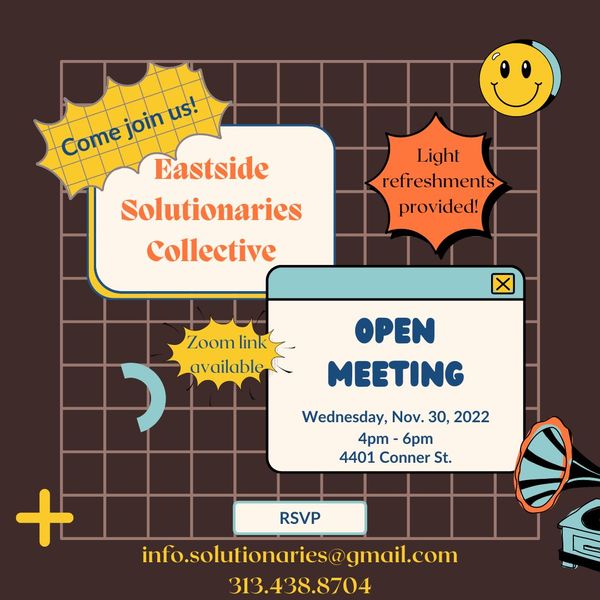 The small, but mighty team at the Eastside Solutionaries Collective is looking to grow their efforts and the collective. They're hosting an open meeting soon for those who may be interested in joining them. They leave those interested with the following information to help determine if attending is a good fit for them.
What is a solutionary?
A solutionary is someone with self-knowledge and societal knowledge who goes beyond seeing the problems of the world by transforming themselves to serve, then further transforming their communities.
What do you do? 
We use a periodic newsletter as a tool for grassroots journalism to promote efforts rooted in self-sustainability & self-sufficiency taking place on Detroit's Eastside
What do you need?
We'd like to grow as a collective while expanding our efforts! If you are committed to dismantling oppressive systems we are forced to live within & want to engage w/ others, please join us. Average time commitment is 4-8 hours a month and on a volunteer basis.
ESC Open Meeting
Tuesday, Nov. 30, 4pm – 6pm
4401 Conner St. Detroit, MI 48224
Register here
Questions? Email info.solutionaries@gmail.com or call 313.438.8704
Reparations: The Constitutional Law Landscape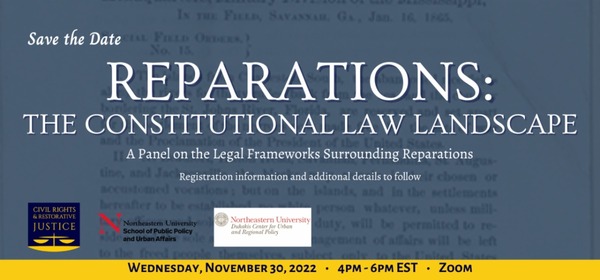 In this 3-panel series, the first panel will address the constitutionality of various reparations proposals and considers how policymakers might anticipate and structure reparations initiatives with Equal Protection challenges in mind. Panels to be hosted at later dates will address how to build an effective record to support reparations proposals, and current litigation projects.
The series is hosted by the Racial Redress and Reparations Lab of the Civil Rights and Restorative Justice Project, in partnership with the Dukakis Center for Urban and Regional Policy and the School of Public Policy and Urban Affairs at Northeastern University.
Wednesday, Nov. 30 via Zoom
4pm – 6pm
Support Healing by Choice! Fall Friendraiser
(Nov. 21 – Dec. 14th)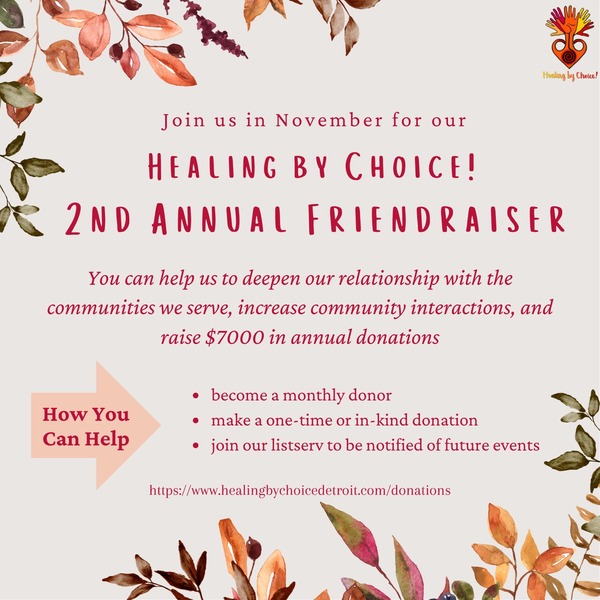 Healing by Choice! is running their annual friendraiser and needs your help! A friendraiser is an invitation campaign for communities to deepen their relationship with the collective and offer mutual support for their growth and expansion. You can support this year's friendraiser by joining their community of monthly sustainers, and visiting their website and socials for other engagement opportunities.
Resources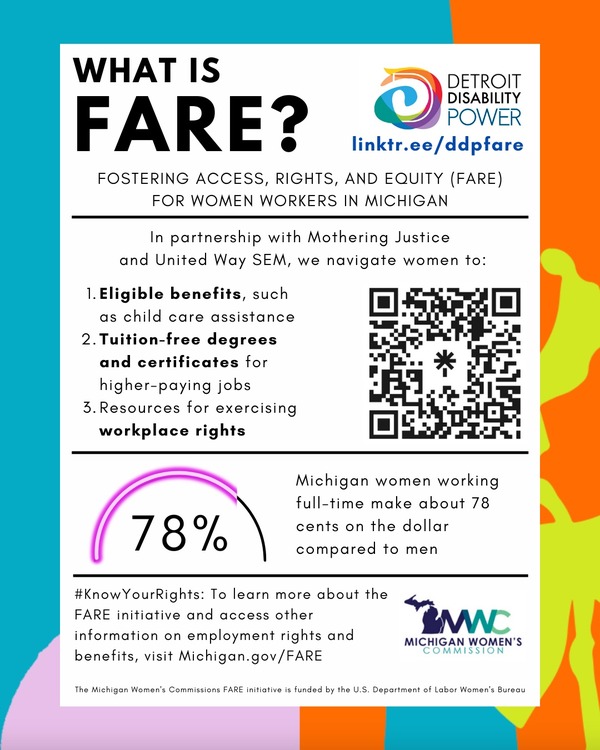 Offered through Detroit Disability Power, MI F.A.R.E. (Fostering Access, Rights and Equity)  Navigators, Sicily and Jaime are providing assistance to women who may have questions about the program and how to apply for resources. The program navigates women to resources in childcare assistance, tuition-free degrees and certificates, and information on how to exercise workplace rights.
You can contact either navigator based upon the schedule and availability below:
Sicily – Mondays 12pm – 6pm or Wednesdays 11am – 2pm
313.312.0448
FareNavigator@DetroitDisabilityPower.org
Jaime – Fridays 3pm – 6:30pm or Saturdays 11am – 3pm
579 8952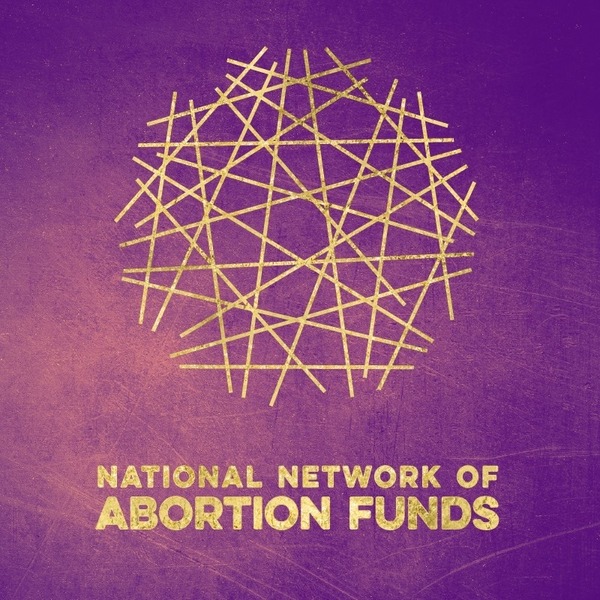 How to find, contact, and donate to your local abortion fund
The National Network of Abortion Funds lists abortion funds which are independent, grassroots organizations developed to support the specific needs of their communities. Whether it's funding procedures, abortion pills, transportation and lodging when travel is required, childcare, doula and emotional support, or other needs voiced by people seeking abortions, funds are finding innovative and compassionate ways to get people the abortions they want and need. Find support in your state
ACLU: Immigrant Police Misconduct Hotline
ACLU MI has recently launched and announced the misconduct hotline for Michiganders to report instances of police misconduct or abuse based on immigration status (or assumptions about immigration status).
If you or a loved one have been pulled over, harassed, arrested, or detained by a police officer because of actual or perceived immigration status (e.g., skin color, spoken language, or name), you are encouraged to call the hotline and leave a message detailing the experience. The ACLU of Michigan is committed to investigating those reports and will assist in taking action against police departments when possible.
Flyers are also available in 4 different languages:
Arabic
Bangla/Bengali
?English
Spanish
"I love you because no two snowflakes are alike, and it is possible, if you stand tippy-toe, to walk between the raindrops." – Nikki Giovanni
---
Boggs Center to Nurture Community Leadership
3061 Field Street
Detroit, Michigan 48214
US
Read the VerticalResponse marketing policy.