October 10th, 2022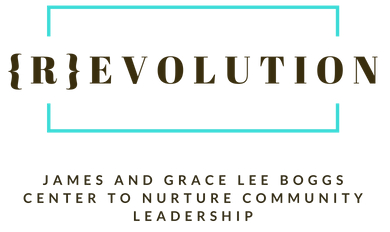 __________________________________________________________________________________________
Thinking for Ourselves
Offering help
Shea Howell
It is likely that the last words Porter Burke heard were "We're here to help you man. Whatever you want, we can help you with. We can get you home." Then another voice says, "But right now we need you to drop the knife." After these words, Mr. Burke moved quickly and shots rang out. In the space of 3 seconds 38 shots were fired by 5 police officers. At least 15 of them hit Mr. Burke. He was taken to Sinai Grace Hospital and pronounced dead.
Within a few days Detroit Police Chief James White held a press conference and showed body camera video of the encounter. Saying he wanted to be "transparent" Chief White said that "The authorities had to stop the threat."
From the video presented it is unclear what "threat" the Chief means. Here we have a young man, cared for by his family, experiencing a crisis. He is clearly wandering about. His brother explained he had a pocketknife and had slashed the tires on his car. The brother would need a lift from the police to meet them at the hospital to make arrangements for proper care.
These press conferences are becoming predictable. The Chief acknowledges his concern. Selected video footage is shown. An investigation is announced. Names of officers involved are not released. News coverage starts to come out about the failings of the person killed. In the killing of Porter Burke, a Detroit News article did not mention his name until after it had established he had refused "commands to drop a knife" and had a "long history of mental illness and run-ins with Detroit police." This included a description of a "June skirmish with cops while wearing a hospital gown following his escape from a psychiatric ward."
This kind of reporting is one of the main reasons people in the city are so easily confused. Before even giving the victim of police violence a name, or describing the circumstances of his death, the reporter created an image of a knife wielding, escaped crazy person roaming the streets in a hospital gown.
But the reality of that last night is that the last words Mr. Burke heard were shouted from afar. The officer offering an outstretched hand is so far away that we can barely make out Mr. Burke's body. Mr. Burke is being shouted at, ordered to drop the knife, to sit down, to not take another step. For anyone this would be a confusing and frightening situation in the early hours of a dark morning. For a young man in the midst of a crisis, there would be no comfort in the shouted comment "we can get you home."
Neither the mayor nor the City Council have responded to this latest killing. They have been silent about police violence and the excessive use of force. There are 128 officers reported to be especially at risk for excessive force, yet no public officials have demanded an accounting of what is being done about this situation. Nor has there been any effort to explore the hundreds of backlogged complaints against police.
Porter Burke's family faced the dilemma that many of us face when dealing with social crises. How do we be responsible to protect our loved ones and our community? Repeatedly we are told by the police, they are "here to help." But the extended hand turns quickly into a fist. The other too often holds a gun, quickly fired. Then families, like those of Porter Burke are left to bury their son and take cold comfort in suing the city.
We clearly need caring, thoughtful and effective ways to intervene with and for each other. There is nothing new in families experiencing mental health crises. What is new is how often these turn deadly at the hands of those who offer "help."
__________________________________________________________________________________________
Weekly highlights
ShotSpotter Detroit Week of Action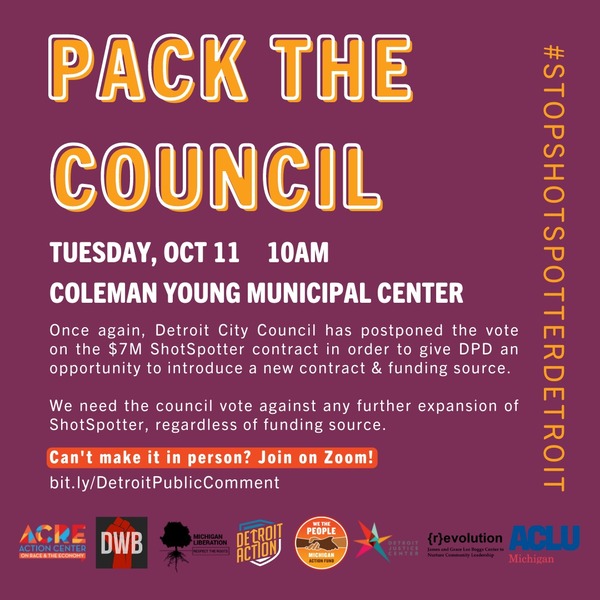 For weeks, the vote on ShotSpotter has been delayed and the public is anticipating to finally witness a vote this week. In last week's City Council meeting, it was announced that the vote was once again postponed at DPD's request. They mentioned a pending drafted contract that would show funds for ShotSpotter deriving from DPD's current budget surplus rather than ARPA funds. The public appeared, once again, vocalizing the opposition of ShotSpotter, no matter the funding source.
Two days prior to the last meeting, Porter Burke, a 22 year old man with a mental health condition was fatally shot by DPD, with 38 shots fired at him and at least 15 shots impacting him. The day before the meeting, Metro Times published an op-ed about ShotSpotter not being the solution to gun violence. Meanwhile, the day of the meeting, an article from The Guardian announced a pilot program in San Francisco which would allow for police to live monitor private security cameras. How will Detroit's City Council hear and receive the comments of the public this week and how will they contribute to the narrative of police as safety that continues to pervade the nation?
Here's some data conducted by Campaign Zero displaying what residents have defined as alternative sources to apply funding to for safety measures in District 1 and District 4.
Attend & give public comment at the Detroit City Council meeting about ShotSpotter
Tuesday, October 11, 2022; 10am
2 Woodward Ave., 13th floor Detroit, MI 48226
or
via phone: (312) 626 6799 – Meeting ID: 858 4690 3626
or
online
Tips for public comment:
Telephone participants, raise your hand by pressing *9
Web participants: Raise your hand by clicking raise hand in the application or pressing:

?Windows computer = [ALT] + [Y]
Apple computers = [OPTION] + [Y]

?You will be called on in the order in which your hand is raised
All time limits set by the meeting Chair will still be enforced
Any hands raised after the Chair ends submission of public comments, will not be able to speak at the meeting
Attend a press conference, taking place Tuesday, October 11 at 10am in front of the Spirit of Detroit Plaza where a coalition of organizations and supporters will gather to discuss the need to further City Council to vote NO on ShotSpotter.
___________________________________________________________________________________________________________________
What we're listening to
The Rebellious Life of Mrs. Rosa Parks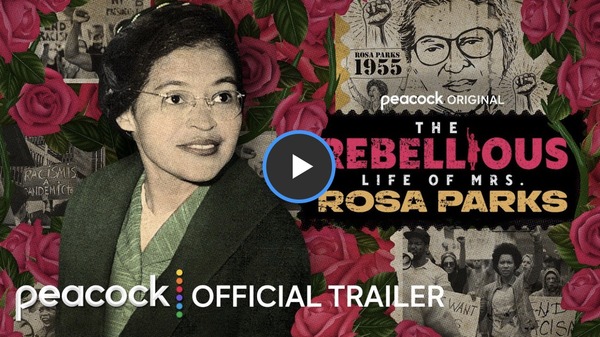 Starting October 19, 'The Rebellious Life of Mrs. Rosa Parks' will be streaming on the Peacock network for viewing. Based on the bestselling biography written by Jeanne Theoharris, the film chronicles her historic role in the Montgomery Bus Boycott, her work in politics alongside Congressman John Conyers in Detroit, and the many causes along the way, such as voting rights and reparations, that she fearlessly championed until her death in 2005.
Learn more about the film here or watch the trailer.
____________________________________________________________________________________________________________- we're What were reading
ShotSpotter
Written by Baba Wayne Curtis
Detroit's political administrative bodies want ShotSpotter to be another band-aid that covers up the hardships black families are facing in our disappearing, once-working neighborhoods. These politicians are working harder than ever to avoid developing solutions that would come from working alongside us, those who live in the neighborhoods. They continue to confront us with political marginalization, treating us like children who are unable to make the political and economic decisions of sustainability that have a direct effect on our safety!
We are developing a community network and holding political conversations to develop solutions that would utilize… OUR POLITICAL RESOURCES… that this city continues to waste. The city administration hasn't generated any solutions to the political and economic problems that contribute to the lack of safety in our neighborhoods. We come face-to-face with this situation every day. It makes political sense that if we are creatively involved, that would actually begin to challenge the hardships our communities have been facing since forever.
We need to unveil the cigar smoke filled back room discussions that are being held between the corporate community members like the Dimons and Gilberts and our political administrators. Detroit's politicians seem confused about who their constituents are and who they are supposed to be serving. The results of their meetings with billionaires have nothing to do with our ability to contribute to a democratic process aimed at healing and rebuilding our neighborhoods sustainably.
The undemocratic decisions that these political administrators are making are criminal! They are confusing our people and interfering with our ability to be our own solutionaries. Their undemocratic political processes are only hampering our ability to get to the root causes of problems and solve the ongoing, mounting hardships we face alone in our neighborhoods. Now we are witnessing a corporate-backed political push for the design and funding of ShotSpotter as the "solution" to safety concerns.
We need to finally bring some political resolve to the economic problems that create unsafe neighborhoods: unemployment, the loss of our homes, the closure of neighborhood schools with once-manicured playgrounds, water cutoffs, and so on. All of these unsolved problems continue to make our neighborhoods unsafe. No politician is going to solve them for us.
ShotSpotter is a solution for nothing. We are the ones who will keep each other safe.
________________________________________________________________________________________________________________
Allied Media Production
Grounding Nourishment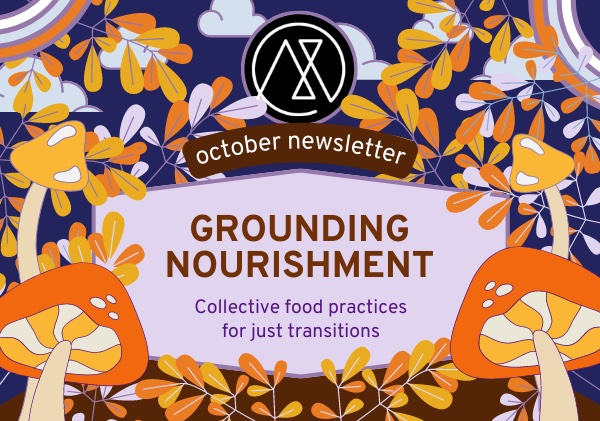 For their October newsletter, AMP offers a collection of recipes and food practices serving as a guide and tool for the collective healing and holding through constant upheaval. The recipes and narratives are an excerpt from, Recipes for Radical Hospitality: a community collection of recipes, history, stories, and visions.
Against a universal 'We'
And for specificity and regionality in food media.
by Alicia Kennedy
There is no one "we" when it comes to food systems conversations. Difference—of geography, climate, culture—must be acknowledged and respected, even when it gets in the way of the easy narratives about spring and the coming summer tomatoes.
To recognize difference and celebrate specificity is a way of practicing hospitality, and it's also a way of bringing to the forefront that regional food systems are a great way of protecting food supplies when extreme weather does come. There is no hospitality without food, no lengthy photo-ready lunch set at a long table in a sunny garden without food. To protect hospitality and the joy that comes with it, the planet itself must come first.
Eat me bitter
by Kirsten Kirby-Shoote
There is unapologetic medicine growing in Detroit.
Our relations, the water, land, fourlegged, plant and two-legged fight hard to stay here.
Waiting for our gifts to be understood.
Since contact, the push to separate Indigenous people from our foods and the land has been an attempt to eradicate us.
The recipe that follows speaks to my personal interactions with food systems over the past year. From planting seeds carried during the Indian Removal Act of 1830 to the community sugarbush in Rouge Park.
AMP also featured open positions, including Director of People and Culture, Director of Finance, and Finance Administrator. Their next AMP Seeds event is happening Wednesday, Oct. 13, you can preorder Collective Wisdom and receive 20% off with the presale code: BIGIDEA20. Check out the call to actions they posted for support:
________________________________________________________________________________________________________
Congress likely to begin direct funding of armed Ukranian Nazis
Written by Russ Bellant
In 2016 the late Congressman John Conyers got what what was likely the only unanimous vote of Congress, which was a ban on funding Nazis in Ukraine that were in eastern Ukraine with tanks and artillery secretly gifted to them. They were allied with Ukrainian government forces (minus those who deserted in large numbers) conducting the bombing and shelling of the citizens of the Donbass and Donetsk regions of Ukraine, which had begun in 2014.
The Nazis most prominent in this activity were the recently formed Azov Battalion, a creature of the Organization of Ukrainian Nationalists-Bandera, aka OUN-B. The Banderist group was created in the interwar period in 1940 and allied itself with Nazi Germany. During World War II the OUN-B created a Ukrainian SS Division plus their own paramilitaries and conducted massive execution campaigns against Poles, Jews, Roma and Russians. They also summarily executed Ukranians who did not support them, even after WWII in displaced persons camps. Today they still wear the wolfsangel patch of the 2nd Das Reich Waffen SS patch of Hitler's invaders of the Ukraine!
They were recruited en masse by the CIA as part of its covert forces that included Nazi forces from Hungary, Bulgaria, Croatia, Slovakia, Romania and alsewhere. The OUN-B was the leader of the umbrella group of all these units, as they were during WWII. They were the hard core of Euro-nazism. (There are books reporting this activity if you are interested).
Kept alive and active for decades, the OUN-B were front-line in the war against ethnic Russian Ukrainian citizens. The European Union (EU) tried from 2014-2022 to bring peace and stop the killing of Ukrainian citizens by the Ukrainian government, but the U.S. was silent. The EU brokered the Minsk Protocols and Minsk Agreement were signed by Kiev but largely ignored by them, resulting in 14,000 deaths, according to United Nations estimates. The killing and massive migration was largely ignored by U.S. media.
For years Ukrainian leaders kept sniping operations in place and used Azov and C-19, another nazi formation, to keep a state of terror in the east. Former Ukrainian president Porochenko said that the government would force the citizens to live in their basements if they wanted to stay alive. Sometimes even basements were not enough protection.
On February 16, 2022 the Ukrainian government restarted their shelling and bombing of those cities, according to the OSCE, the European Union monitoring group. Eight days later Russia intervened, ostensibly at the request of the ethnic Russian populations that Russia had not helped earlier, except to receive refugees from the violence.
Azov redeployed into population centers and even compelled citizens to serve as human shields, according to Western journalists who covered these events. Eventually they were captured, but Russia released some as part of a swap with the Kiev government.
Now Azov leaders have visited Washington D.C. and are likely to get Congress to end the ban on arming, training and funding Nazis. Please see attached, and tell me if tax dollars to openly build the largest nazi military force in the world is ok with you.
Supplemental reading: "Now, All of You Are Azov": Ukranian 'Neo-Nazis' Tour U.S.
___________________________________________________________________________________________________________
Uplifting & Supporting our Community
Visionary Organizing Lab:
Building Blocks of Visionary Organizing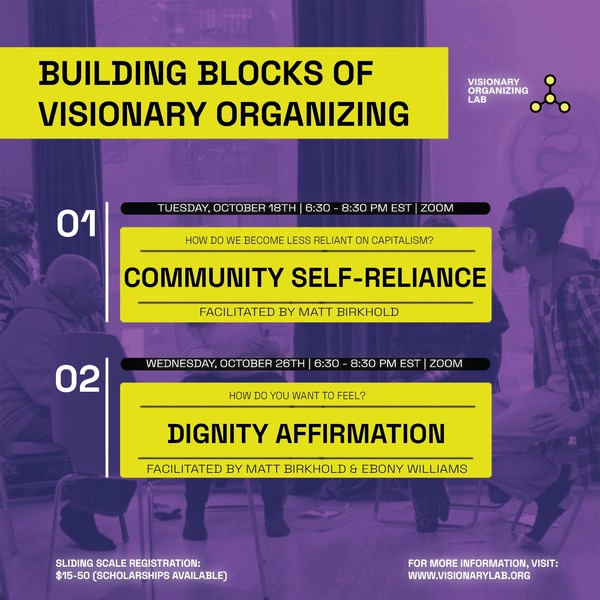 Visionary Organizing Lab announces their upcoming workshop offerings for October, focused on visionary organizing. Workshops will focus on what it means to become less reliant on a capitalist-driven and -centered system and to become more focused on self-sustainability and creating dignity affirming systems. Both offered as 1-day, 2-hour workshops, 'Community Self Reliance' will be offered Tuesday, October 18 and 'Dignity Affirmation' on Wednesday, October 26. Both classes will be held on Zoom from 6:30-8:30pm EST.
Can't make it and want to stay in touch for future happenings? You can keep up with them on Instagram, Facebook, or Twitter
Eastside Solutionaries Collective
2nd Annual Celebration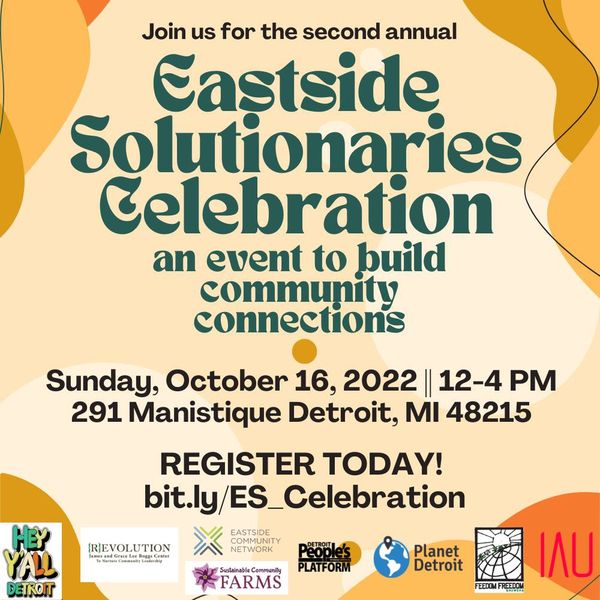 Join the Eastside Solutionaries Collective for their 2nd annual event: Eastside Solutionaries Celebration. You can expect an afternoon of conversation, connections, creativity, and celebrating as they alongside others continue to build power in their communities and within themselves.
Resources and participatory activities will be available onsite at an intimate space within the Jefferson-Chalmers neighborhood. Come enjoy music, connecting with others, and conversing with like and unlike minds.
Sunday, October 16, 2022, 12-4pm
Feedom Freedom Kulture HUB
291 Manistique Detroit, MI 48215
Those interested in volunteering can sign up here. Are you working with an organization or group in Detroit and building power in your community? If you're interested in participating in this event, register here.
Have questions? Reach out: info.solutionaries@gmail.com
Learn more about them here
Disability Justice Study Program
presented by Relentless Bodies
Relentless Bodies, a disability and healing justice creative collective in Waawiiyaatanong/Detroit, will convene an intimate cohort of six disabled BIPOC people to join them in study, community, and creative practice. Understanding both disability and study expansively, their Disability Justice Study Program will occur online once a month from late Fall 2022 through Spring 2023. Applications will open October 5, and close EOD October 24th.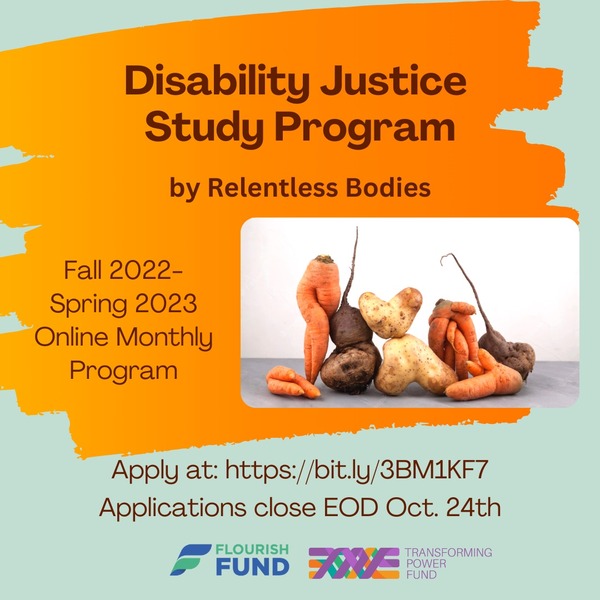 There will be a participation stipend,access support, and no previous knowledge outside lived experience with disability or chronic illness is required.
[IMAGE DESCRIPTION]: Brown text on an orange, green background reads, "Disability Justice Study Program, by Relentless Bodies, Fall 2022 – Spring 2023 online monthly program." To the left is a photo of vegetables balanced on and alongside each other, all with varying formations and shapes. Directly below text reads, "Apply at: bit.ly/3BM1KF7, Applications close EOD Oct. 24th." At the bottom are logos for Flourish Fund and Transforming Power Fund.
Mumia Read-A-Thon & Film Screening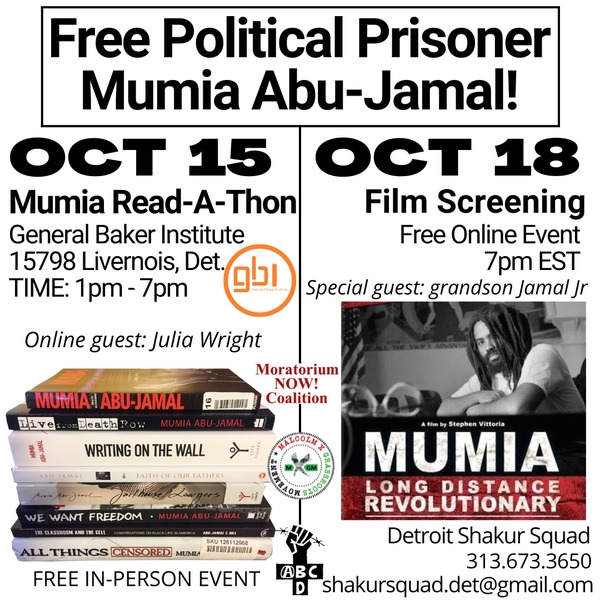 Mumia Read-a-Thon, Saturday, Oct. 15 1pm-7pm
Please join us at the General Baker Institute (GBI) on Saturday, Oct 15 to read Mumia's books, share passages out loud with each other, listen to Mumia's radio-smooth voice and sharp commentaries, learn from each other, and celebrate our brother and elder Mumia- to bring him home.
Julia Wright, daughter of acclaimed writer Richard Wright, and a long-time activist and poet in her own right, will zoom in from France to the General Baker Institute during the Read-A-Thon. Julia will share a few of her poems written for Mumia. Julia has supported and been comrades with Mumia for many years.
If you have passages from Mumia's writings that you want to share for the Read-A-Thon, please send them on over – or send the book name and pages to shakursquad.det@gmail.com
'Long Distance Revolutionary' Film Screening, Tuesday, Oct. 18 7pm EST
The movie Long Distance Revolutionary is the first of its kind about Mumia. It came out in 2013 and instead of focusing on Mumia's case, it focuses on his life, motivations, family, time in the Black Panther Party, his radio career, reporting on MOVE, his writing, and his life on Death Row. It's an excellent, artfully made film about Mumia, who Angela Davis calls "the 21st Century's Frederick Douglass." See some movie reviews here.
Register for the film screening here
Resources
How to find, contact, and donate to your local abortion fund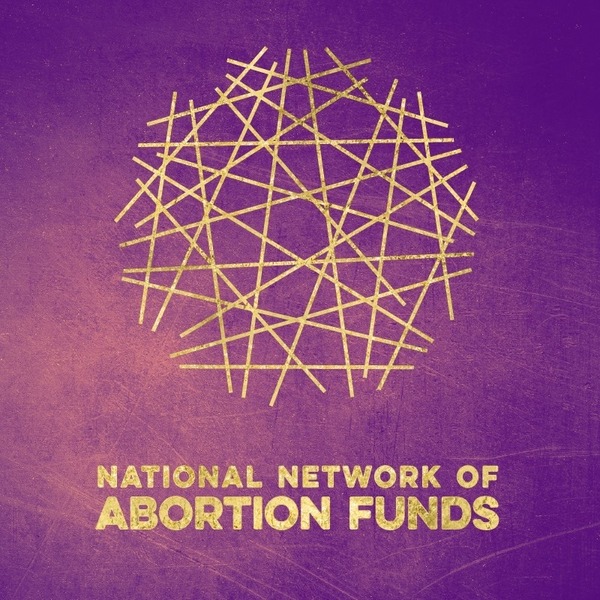 The National Network of Abortion Funds lists abortion funds which are independent, grassroots organizations developed to support the specific needs of their communities. Whether it's funding procedures, abortion pills, transportation and lodging when travel is required, childcare, doula and emotional support, or other needs voiced by people seeking abortions, funds are finding innovative and compassionate ways to get people the abortions they want and need. Find support in your state
Low-Income Household Water Assistance Program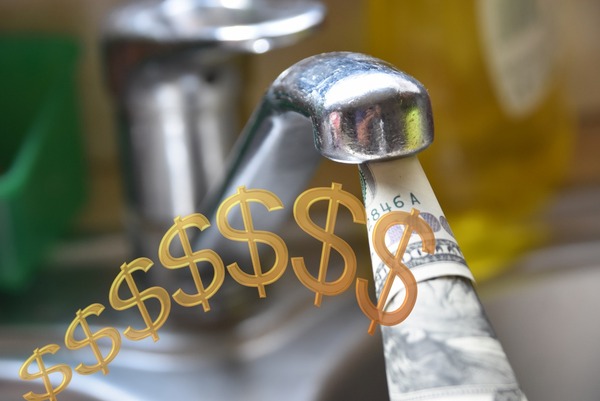 This new Federal program offers assistance to those who are facing water shutoffs or are in need of reconnecting their water utility. Freshwater Future lists additional information and ways to apply for assistance, categorized by state. The program prioritizes those who need their water reconnected or are facing imminent shutoffs. You can read more and apply here.
ACLU: Immigrant Police Misconduct Hotline
ACLU MI has recently launched and announced the misconduct hotline for Michiganders to report instances of police misconduct or abuse based on immigration status (or assumptions about immigration status).
If you or a loved one have been pulled over, harassed, arrested, or detained by a police officer because of actual or perceived immigration status (e.g., skin color, spoken language, or name), you are encouraged to call the hotline and leave a message detailing the experience. The ACLU of Michigan is committed to investigating those reports and will assist in taking action against police departments when possible.
Flyers are also available in 4 different languages:
Arabic
Bangla/Bengali
?English
Spanish
"The state would rather give me an uzi than a microphone." – Mumia Abu-Jamal