October 24th, 2022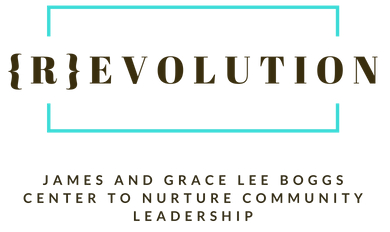 ---
Thinking for Ourselves
October 24th, 2022
Thinking for Ourselves
Beyond Vengeance
Shea Howell
Recently, a jury in Florida determined that Nickolas Cruz, the young man who killed 17 people at Marjory Stoneman Douglas High School in Parkland would be sentenced to life in prison. Cruz had pled guilty to first-degree murder in connection with the February 14, 2018 shooting of 14 students and three staff members. The killings touched off massive student led campaign against gun violence. Because of the guilty plea, the only question before the jury was whether Cruz would be put to death or endure life in prison. Under Florida law the jury must unanimously agree to the death penalty. In this case, three people insisted on voting for life in prison.
Not surprisingly, the response to the decision to spare his life has been met by public outcry. Republican Governor Ron DeSantis and his Democratic challenger Charlie Crist agreed, "There are crimes for which the only just penalty is death." Parents of the slain children were widely quoted saying, "The jury failed our families" and "I pray that animal suffers."
Most people in this country agree with the outrage and betrayal voiced by these parents. A 2021 Pew Research survey found that six in ten adults strongly or somewhat strongly favor the death penalty and 64% say the death penalty is "morally justified." The penalty is upheld even though the majority recognize it is unfairly applied against people of color and it does not deter people from committing crimes. The majority also recognize that there are not enough safeguards to protect innocent people from being executed.
Perhaps it is this tension that has led to the decline in use the death penalty over the last decade. While 27 states authorize capital punishment, executions have become increasingly rare. With the notable exception of Donald Trump's accelerated use of the death penalty, the overall trend since 1990 has been a decrease in use. A growing number of states have outlawed it, including Virginia in 2021. Virginia had carried out more executions than any state except Texas since 1976.
I cannot imagine the grief of these parents. But I can imagine another way to respond beyond vengeance and hate. That is because I have seen parents who suffered this unimaginable pain find their way to a deeper sense of our shared, flawed humanity.  They have found a way to embrace radical love.
Amid the crack epidemic in Detroit, 42 children were killed in one year by other children wielding guns. This was more than three times the number killed in Parkland. Another 300 children were shot. Because these shootings happened one by one, often out of sight of the media's interest they went largely unnoticed. Until Clementine Barfield had two of her three sons shot. Derick, 16, died instantly. Roger would die more slowly, carrying a bullet for more than 30 years. Out of her grief and pain, Ms. Barfield organized the mothers of other slain children, ultimately forging Save Our Sons and Daughters (SOSAD). SOSAD became a leader in the national Urban Peace and Justice movement. This movement provided support for victims and their families, took on the task of reducing gun violence, held public vigils, workshops and youth programs.
SOSAD refused to seek retribution and vengeance. Rather, Ms. Barfield frequently said, every murder means we as a community lose two people, one to the grave and one to prison. SOSAD called upon people to pledge to work to provide "our children with an opportunity to develop as human beings." SOSAD insisted that children belong to the community and ending violence is a collective responsibility.  The contrast between the parents of Parkland and the mothers of SOSAD could not be starker.  SOSAD reminds us we can choose the values we embrace to create the future.
____________________________________________________________________________________________
Weekly highlight
Eastside Solutionaries Celebration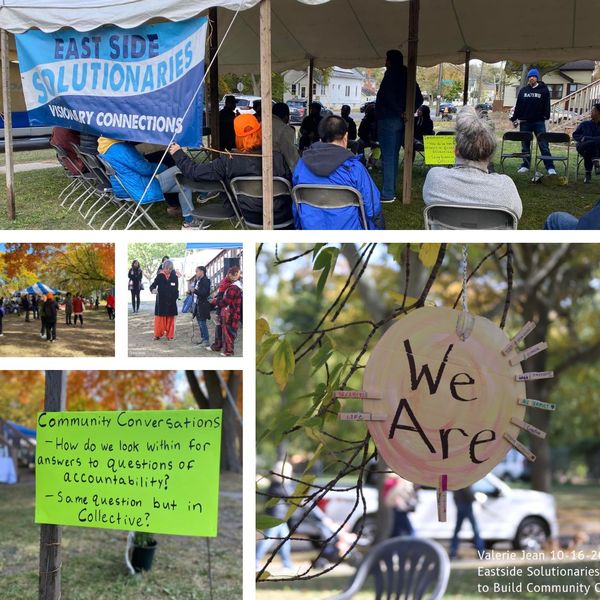 There was a day full of celebrating at Kulture HUB fostered by Feedom Freedom Growers as the Eastside Solutionaries Collective hosted their 2nd annual event. The event focused on celebrating the power community continues to build through organizing and building relationships. Lauren Hood gave a keynote that left the audience of reflective thoughts on how we perceive freedom and what does it mean to strive for it. Crowd-participating conversations were had where folks discussed accountability, individual and collective power. Stories were told as ESC's community engagement fellow interviewed attendees. Organizations showed up, representing their work and informing others of how to get involved. The Solutionaries celebrate the connections that were made on this day and thanks everyone who attended.
You can follow them on Facebook or Instagram or check out their latest newsletter here.
What we're listening to
Detroit is Different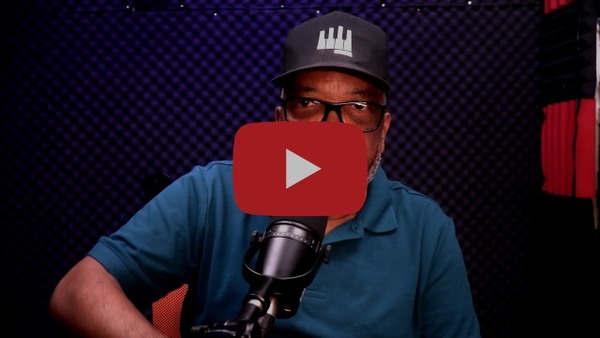 Charles Wilson, a Vietnam War veteran and former bus driver for the Department of Transportation shares his experience as a driver in the 1980s and 1990s. He speaks of how the poor busing system kept many passengers from arriving to work on time and its differences from its suburban busing counterpart, SMART. Wilson also shares about the differences between the transit systems in Chicago, New York, and LA. If you're passionate about public transit, wanting to hear about the history of Detroit's busing system, or simply enjoy hearing storytelling, you'll enjoy this episode.
Watch it here
#Water Wednesday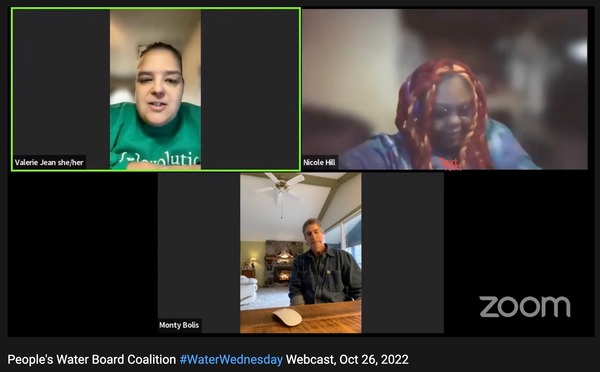 In August, there was a map released that revealed the possible expansion of National Guard's Camp Grayling site. If approved, the current 148,000 acre site would more than double in size. On this episode of #WaterWednesday, co-hosts Valerie and Nicole spoke with community activist, Monty Bolis on the detriment that this expansion could bring to the environment in its vicinity and beyond.
Watch it here
What we're reading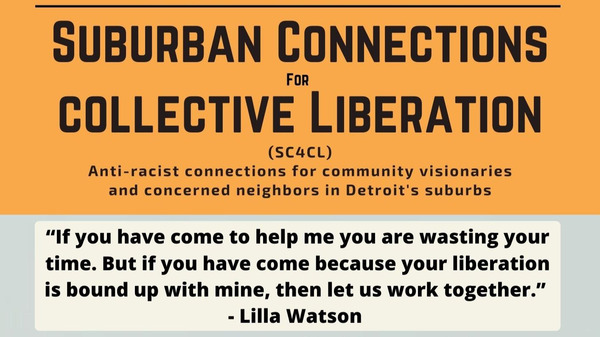 The Suburban Connections for Collective Liberation recently released their latest newsletter, featuring collective action, gatherings, and neighbors supporting each other in Metro Detroit's suburbs throughout the summer and fall. With elections approaching, they're asking readers to ponder, "How are we working together for long-term, sustaining, supporting communities in the suburbs? What can we imagine together? How do we get there?"
Check out their newsletter here and keep in touch with them using this link

The Coalition for Police Transparency and Accountability released an updated letter to the Department of Justice, calling once again for a follow up on the investigation of Detroit's Police Deparment. The updated letter comes after another killing of a young man by Detroit police officers after a failed attempt at deescalating a mental health crisis. The CPTA continues to call for accountability from DPD and urges the DOJ to take action.
"But in the end, yet another Detroit Black man is dead as the Detroit Police Department continues to conduct business as usual, and the evidence available to the Department of Justice about problems in the police department continues to mount."
Read the letter here
Uplifting & Supporting our Community
Disability Justice Study Program – deadline extended!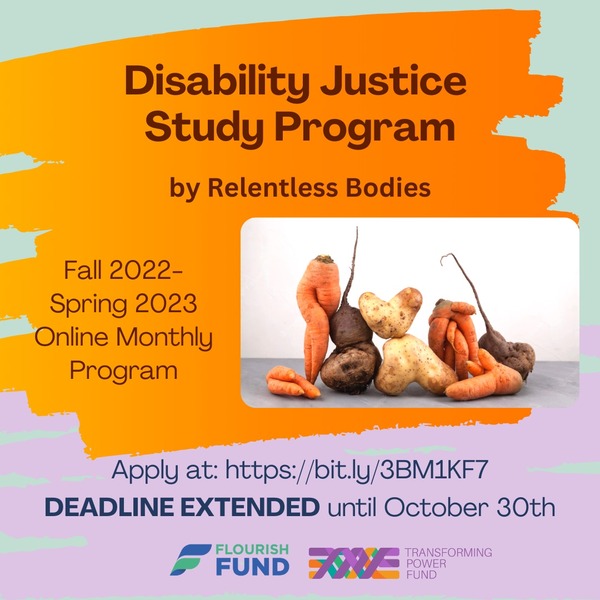 Relentless Bodies, a disability and healing justice creative collective in Waawiiyaatanong/Detroit, will convene an intimate cohort of six disabled BIPOC people to join them in study, community, and creative practice. Understanding both disability and study expansively, their Disability Justice Study Program will occur online once a month from late Fall 2022 through Spring 2023. Applications opened October 5, and close October 30th end-of-day.
There will be a participation stipend,access support, and no previous knowledge outside lived experience with disability or chronic illness is required.
[Image Description]
Brown text on an orange, green background reads, "Disability Justice Study Program, by Relentless Bodies, Fall 2022 – Spring 2023 online monthly program." To the left is a photo of vegetables balanced on and alongside each other, all with varying formations and shapes. Directly below text reads, "Apply at: bit.ly/3BM1KF7, deadline extended until October 30th." At the bottom are logos for Flourish Fund and Transforming Power Fund.
Eastside Climate Action Committee call to action
Detroit's Disaster Recovery Plan & Stellantis Air Quality
The Eastside Climate Action Coalition (ECAC)  is asking you to make sure our voices are heard and that we hold our local government and corporations accountable regarding Flooding and Air Quality.Flooding The City received a $57.5 million grant from the federal Housing and Urban Development (HUD) agency to address disaster recovery from the June 2021 flooding. They recently released their draft plan of how they want to spend the money and are seeking feedback. You can provide your comments on how the City should spend the money by emailing disasterrecovery@detroitmi.gov The deadline is November 4. Click here to review the City's draft plan and for more information.
Air Quality Stellantis just received its 6th violation from EGLE since opening in 2019. In response to these violations, EGLE has released a draft "consent order" that would be a legal agreement about what Stellantis must do to address the violations. You can make sure your voice is heard by leaving a voicemail at 517-284-0900 or sending an email to MoranE@Michigan.gov The deadline is November 2.
Detroit Peoples' Platform has prepared a helpful summary with talking points for public comment. Here is the link. They are encouraging people to tell EGLE to prioritize home repairs, especially for residents on Beniteau St.
Letting Go and Letting In w/ Healing by Choice
Healing by Choice! welcomes you to join us them with their partners at Detroit Disability Power and Free Market Detroit for 'Letting Go and Letting In'. Healing by Choice! Practitioner Yexenia Vanegas will lead this event that uses art creation that allows attendees to release what we don't need and make space for what nourishes us.
Sunday, October  30th, 1:00pm – 3:00pm EST
at Garage Cultural: 4670 Junction Ave, Detroit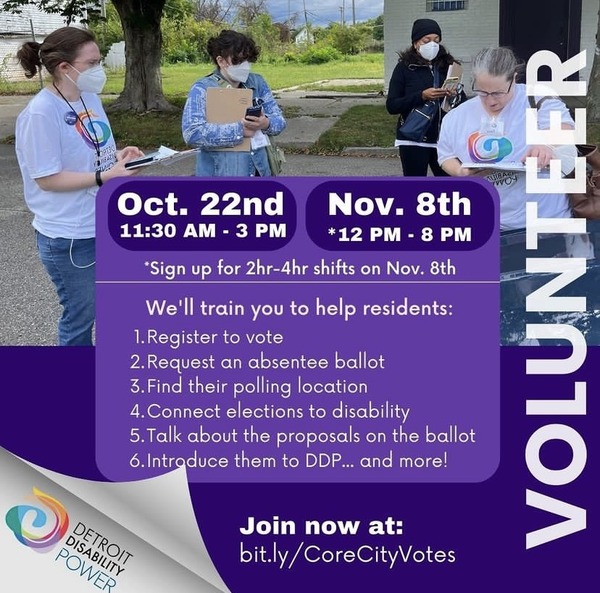 Detroit Disability Power Vote Action
Did you know that more than a quarter of people have disabilities, including more than 128,000 of us here in Detroit? There are vital amendments to the state constitution on the ballot, including two that directly affect people with disabilities: the proposals to guarantee reproductive rights and expand voting access.
DDP is looking for folks to join them in their efforts to increase voter turnout in Detroit. They are a non-partisan organization, so these opportunities are focused on increasing turnout by helping people make a vote plan, as well as connecting the dots between what the local disability community needs/wants and our engagement in the democratic process.
Tuesday November 8th (Election Day), they have shifts throughout the day where you'll be doing the following:
In-person voter protection at various Detroit polling locations,
encourage voters to fill out a survey on polling site accessibility,
ensure no voter suppression is happening (you'll get trained in advance on how to report/address it),
and celebrate your neighbors voting!
In line with DDP's core mission and values, we have structured these opportunities to be highly accessible and very flexible to meet a range of accommodation needs. Lunch will be provided and gas stipends if requested.
Unsure about signing-up? Don't hesitate to hit up Rami, DDP's
ACLU MI has recently launched and announced the misconduct hotline for Michiganders to report instances of police misconduct or abuse based on immigration status (or assumptions about immigration status).
If you or a loved one have been pulled over, harassed, arrested, or detained by a police officer because of actual or perceived immigration status (e.g., skin color, spoken language, or name), you are encouraged to call the hotline and leave a message detailing the experience. The ACLU of Michigan is committed to investigating those reports and will assist in taking action against police departments when possible.
Flyers are also available in 4 different languages:
Arabic
Bangla/Bengali
?English
Spanish
"Settle your quarrels, come together, understand the reality of our situation, understand that fascism is already here, that people are already dying who could be saved, that generations more will live poor butchered half-lives if you fail to act. Do what must be done, discover your humanity and your love in revolution." -George Jackson
Click to view this email in a browser

If you no longer wish to receive these emails, please reply to this message with "Unsubscribe" in the subject line or simply click on the following link: Unsubscribe
Click here to forward this email to a friend
Boggs Center to Nurture Community Leadership
3061 Field Street
Detroit, Michigan 48214
US
Read the VerticalResponse marketing policy.