September 19th, 2022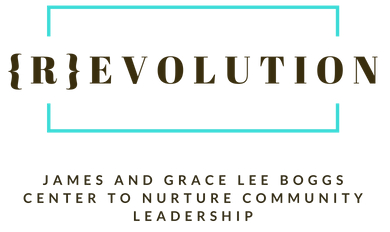 ---
Thinking for Ourselves
Development Choices
Shea Howell
For the first time in many years money is flowing into Detroit. New projects, from parks to the
reconstruction of what is now I-375 is underway. And real estate developers, Stephen Ross and the Ilitch family are offering yet another idea for redeveloping the area around Little Caesar Arena. They are proposing a new hotel at the cost of $190 million. "The city needs many more hotel rooms to better compete for significant events and conventions that will bring tens of thousands of additional visitors to the region and help create good jobs for Detroiters," Claude Molinari, president and CEO of Detroit Metro Convention and Visitors Bureau.
Meanwhile Dan Gilbert is struggling to make progress on the four development sites he secured with the help of  Michigan's Brownfields legislation. Legislation that he helped create and from which he has benefited. Over the last five years, only one project has been completed and one has yet to begin. All three sites are well below the city guidelines that require 51% of the construction jobs go to Detroit residents.
Initially projections were for 7,500 construction jobs for the projects. As of this summer there were only 1,501 workers. Of that number, only 472 were Detroiters.
In exchange for those jobs, Gilbert has secured almost $700 million in public financing over the next 30 years.
Not only are people not getting jobs as promised in the claim for public money but the legislation that enables these projects removes future tax dollars from city funds and puts them in the hands of the developers. The Transformational Brownfield program provides developers with future reimbursements of taxes generated at a completed project site: 30 years of property tax capture and 20 years of state income taxes from workers employed at the site and residents who reside there.
Nor do the developers have to wait until they have completed their projects. They can capture state income taxes paid by the construction workers and they can get an exemption from sales taxes on construction materials.
These notions of development and the public dollars they require should raise serious questions about what kind of city we want to become. Who is the city for?  Do we think that spectacles of sport, conventions and gambling are what makes a city vibrant? Do we need public money to support hotels and more office space? What kind of urban life do we imagine for ourselves and our children?
The vision projected by our current mayor and by the corporate power structure is one that emphasizes a whiter, wealthier, and smaller downtown area. In pursuit of this vision, they have developed city and local mechanisms to move public dollars to subsidize private wealth. Thus, they are establishing a systematic way to continue to transfer wealth away from the residents of the city and into the pockets of developers – for generations.
Meanwhile, outside the small area of downtown development, neighborhoods continue to struggle. The most basic moments in life, rain and wind, routinely bring floods and blackouts as infrastructure long neglected fails us. Schools, libraries, community parks and greenways go untended, except by countless community volunteers who persist in preserving places of value.
Detroit is one of the few predominantly African American centers in the country, with a rich mix of peoples from around the world. Community life flourishes as people reimagine neighborhoods, often with little or no resources. Instead of guaranteeing cash to Gilbert and Ilitch, we should be investing in the block clubs, churches, schools, community organizations and public institutions that encourage us to live in sustainable, caring communities. Another way is possible if we are willing to make different choices.
___________________________________________________________________________________________________________
Weekly highlights
ShotSpotter Detroit Week of Action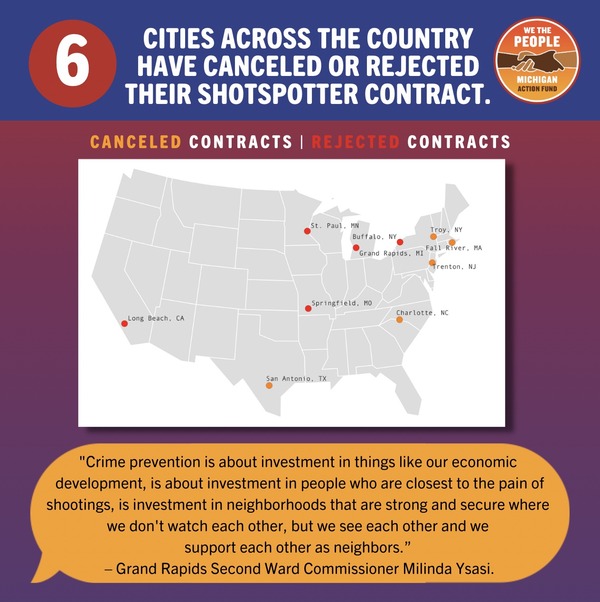 Did you know that efforts are underway where funding that could be invested in the safety and wellbeing of Detroiters may instead be spent on more technology to enforce policing in neighborhoods? Soon, City Council will be voting on the approval of $7M in ARPA funding for ShotSpotter technology. In this presentation created by We The People Michigan Action Fund, statistics show that 74% of Detroit residents would much rather see $7M spent on housing relief than ShotSpotter.
This week, City Council will be voting on whether to approve $7M of ARPA funds for the expansion of ShotSpotter in Detroit. Show up to the meeting to tell them why ShotSpotter doesnt keep Detroiters safe!
Tuesday, September 20, 2022; 10am 
2 Woodward Ave., 13th floor Detroit, MI 48226
or
via phone: (312) 626 6799 – Meeting ID: 858 4690 3626
or
online
Tips for public comment: 
Telephone participants, raise your hand by pressing *9
Web participants: Raise your hand by clicking raise hand in the application or pressing:

?Windows computer = [ALT] + [Y]
Apple computers = [OPTION] + [Y]

?You will be called on in the order in which your hand is raised
All time limits set by the meeting Chair will still be enforced
Any hands raised after the Chair ends submission of public comments, will not be able to speak at the meeting
Additional readings regarding ShotSpotter:
What we're listening to
Dr. Sebi, Laila Africa, and other Natural Healers all worked with Dr. Jesse Brown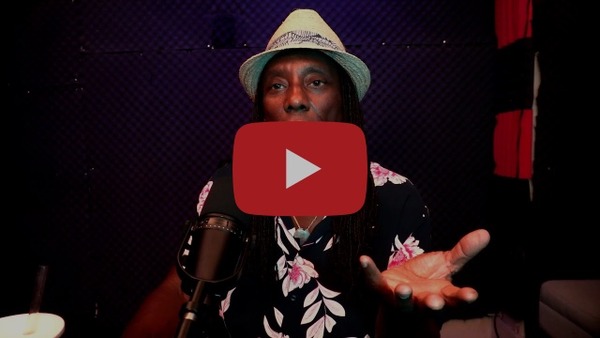 In 1987 the Detroit Wholistic Center launched on Dexter and Clairmount. Dr. Jesse Brown opens up about how he saw a need for natural healing in our community. For over 30 years, alkaline water, treatments beyond mucus and PH, and so much more were all knowledge provided by Dr. Brown. In this interview, learn more about his methods in healing and natural life. Today he leads the Wholistic Training Institute online with classes for those interested in the wisdom of natural self-care.
More episodes from Detroit is Different
#WaterWednesday w/ People's Water Board Coalition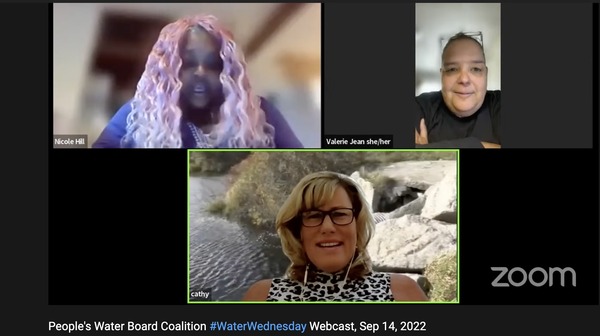 This week's webcast features Cathy Wusterbarth, who explains what PFAS is, its dangers, and what people can do to protect themselves and their communities from it.
Listen here
What we're reading
Shortage of accessible housing leaves disabled Detroiters with few options
In this article, recently published in Outlier Media and written by Aaron Mondry, the writer uncovers the alarming fact that there are high rates of disability in Detroit with limited housing supply to accomodate. As mentioned, some people are forced to leave the city to find other housing or are forced to live in substandard housing conditions.
"People confuse accomodation with convenience — that's ableism," Jones said. "I'm not asking for more convenience. I'm asking for reasonable accommodation."
Thoughts on ShotSpotter
Written by Eric Blount
At the June 16th Board of Police Commissioners (BOPC) weekly meeting, Assistant Chief Fitzgerald admitted under questioning from various commissioners that "ShotSpotter" can and does record human conversations. This is the first time anyone in DPD has admitted this capability of this surveillance system. See transcript's page 49 and 50 (pt.1 and pt. 2).
Yes, illegal gun shots are tragic but let's first start with an ordinance banning assault weapons and tracking the buyers and sellers of guns and bullets.
For the first 8 months of 2022, ShotSpotter reported over 10,000 detections of shots "fired" resulting in 2,000 incidents and 73 guns recovered. So, 20% of the time shots are detected resulting in officers allegedly reporting to a location while there's a .0073% chance a gun is recovered!
How many "incidents" and/or "gun recoveries" would have to normally occur? I recall only a few years ago, DPD's crime statistics did not match the FBI's statistics, so the sole owner of the data can easily spin a false narrative.
This surveillance system requires roughly 10 officers per precinct, 24 hours a day, 7 days per week.  Four officers are to be available to respond to the "vendor's" report of shots, another four to be available to rush to every shot fired location and lastly, two to be available to investigate the location.
March 5, 2022 the Associated Press article detailed the false arrest and imprisonment of Michael Williams due to ShotSpotter.  Similar to the mis-identification features of FRT, this surveillance system does little to address the root causes of crime.  We as a society must stop putting bandages on crime behaviors and decide to dedicate resources to address the root causes of violence and crime which is poverty and negligence.
Campaign Zero pointed to a 2020 study of acoustic gunshot detection systems in St. Louis, Missouri, which uses ShotSpotter, found that the technology "does not significantly reduce violent crime levels." Another national study analyzing ShotSpotter's implementation from
1999 to 2016 suggested it has "no significant impact on firearm related homicides or arrest outcomes" and might add to the cost of gun violence.
"In fact, there is a lack of evidence to support a return on investment, monetary or otherwise, from implementing this technology," the national study states. "[Law enforcement agencies] and the municipalities in which they are located need to consider if this annual budget line item is the most effective approach to reduce urban gun violence."
Just note, to this day, no one has been able to answer my question as to what is the surveillance camera at Dexter and Waverly – or the need for the surveillance cameras at each bus stop.
Recall the scam/trick DPD ran on this council to get FRT approved, which was requested without developing a policy for its use and therefore little if any training on FRT for DPD personnel. Councilmember Tate admitted in the Formal Session that he would have voted NO on FRT had he known that there was not a policy in place ahead of asking council's approval.  And finally, DPD skillfully avoided the fact that FRT mis-identifies people of color more than any other demographic. The facts of this surveillance system qualify it to be described as a "Tool of Institutional Racism"
City Council's 9/13 Formal Session's Agenda – Line Item 9.8 LPD's statistics on poverty in Detroit: "1/3 of Detroiters live in Poverty vs 13.7% of the state's total population."
This demonstrates the large scale and wide range of poverty in the city of Detroit. "While the current 33.2% poverty level in the city of Detroit is both horrific and appalling, this is not the highest it has been. As recently as 2016, Detroit's poverty level was a staggering 39%, making Detroit the city with the highest concentrated poverty rate among the top 25 Metropolitan areas in the country."
This therefore demonstrates the long history of poverty in Detroit and how the existing surveillance system have not changed things.
Riverwise – Summer 2022 Edition
Have you grabbed your copy yet? The Riverwise Summer 2022 edition is now available at various local spots across Detroit. Not local and still want a copy? You can find an e-version on their site or reach out to request a physical copy to be mailed. Don't forget to subscribe!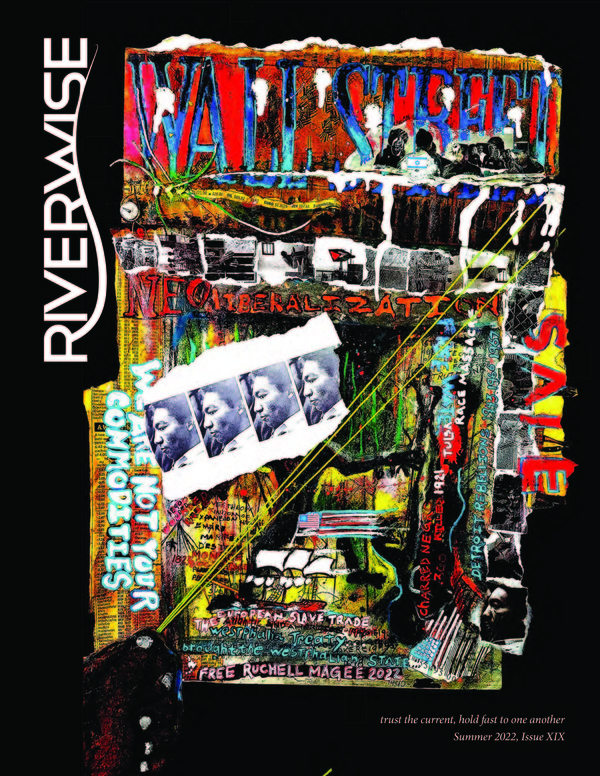 Read it now
Uplifting & Supporting our Community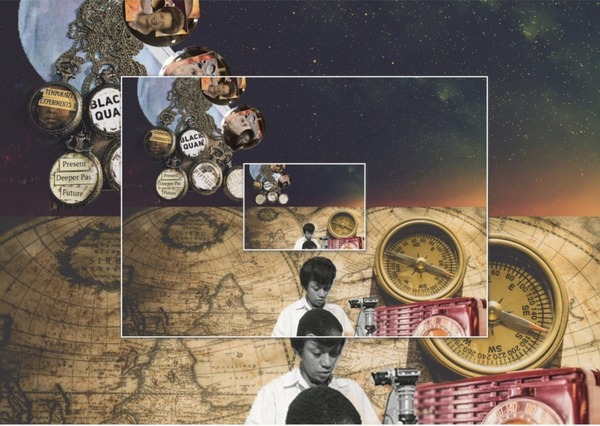 Time is… 
photo credit: Black Quantum Futurism, The Temporal Disruptors Digital Collage, 2018 – Arts at CERN
Guided by the work of Black Quantum Futurism's (BQF) Time Zone Protocols and Just in Timekit, this workshop will explore the natures of Time in temporalities such as healing, nature, grief, ancestral wisdom, and more. This gathering seeks to explore meanings of time beyond linear constructs and to imagine how new definitions can serve as a tool for community care and mobilization.
When: Two sessions/dates will be offered:
Session 1: Sunday, September 25th, 2pm-3:30pm
Session 2: Sunday, October 2nd,  2pm-3:30pm
Where: Birwood House Gathering Space
12605 Wyoming (corner of Wyoming and Fullerton)
Learn more about this workshop and register here
Wayne State's Social Work Open House
featuring the Maryann Mahaffey Courtyard Dedication
Attend Wayne State's open house for their School of Social Work, happening Thursday September 29 from 3pm-6pm. There will also be a courtyard dedication to Maryann Mahaffey.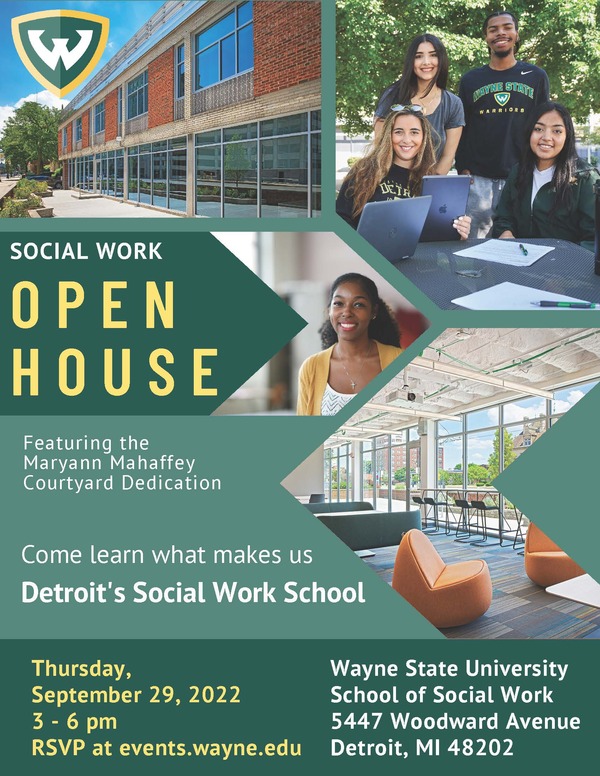 Maryann Mahaffey empowered social change in Detroit as a social worker, author, educator, civil rights activist, volunteer and political leader. For nearly 60 years at the local, state, national and international levels, Mahaffey put into action her deep commitment to solving critical social issues. Holding steadfast in her ideals, she supported the most vulnerable of our citizens and advocated for equal rights as Detroit City Council president for 12 years and as a council member for 32 years. To memorialize and honor the impact Mahaffey had on Detroit, its residents and the social work profession, the Wayne State University School of Social Work launched the Maryann Mahaffey Legacy Campaign and will be dedicating a courtyard at our Woodward home in her honor.
Great Lakes Bioneers Annual Conference
Great Lakes Bioneers Detroit announces their annual conference, which will be held October 14-15. The organization has a full lineup of programming scheduled which can be found on their site along with how to register. This year, the conference will be held in person on University of Detroit Mercy's campus.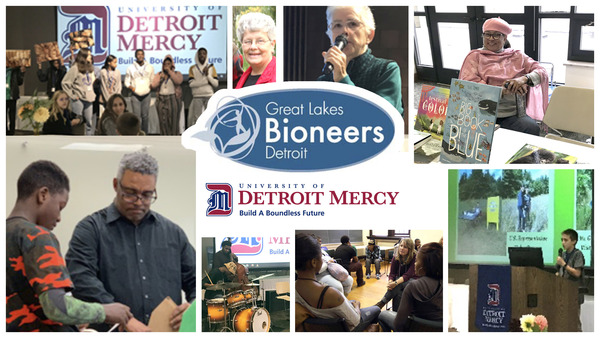 Register here
Great Lakes Bioneers Annual Conference
October 14-15, 2022
University of Detroit Mercy
4001 W McNichols Rd
Detroit, MI 48221
Resources
How to find, contact, and donate to your local abortion fund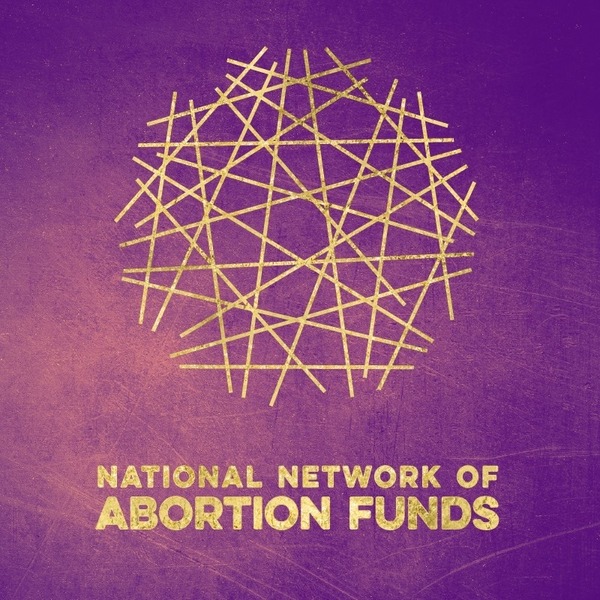 The National Network of Abortion Funds lists abortion funds which are independent, grassroots organizations developed to support the specific needs of their communities. Whether it's funding procedures, abortion pills, transportation and lodging when travel is required, childcare, doula and emotional support, or other needs voiced by people seeking abortions, funds are finding innovative and compassionate ways to get people the abortions they want and need. Find support in your state
Low-Income Household Water Assistance Program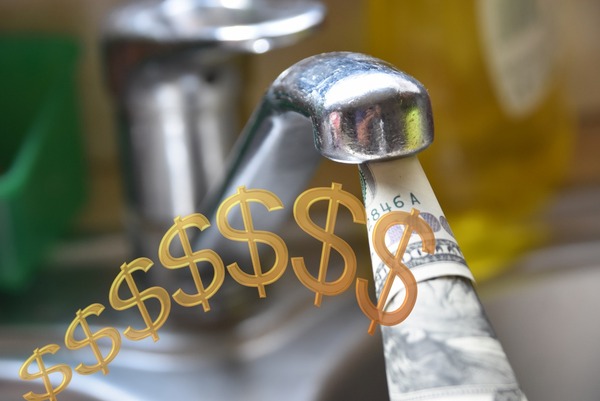 This new Federal program offers assistance to those who are facing water shutoffs or are in need of reconnecting their water utility. Freshwater Future lists additional information and ways to apply for assistance, categorized by state. The program prioritizes those who need their water reconnected or are facing imminent shutoffs. You can read more and apply here.
ACLU: Immigrant Police Misconduct Hotline
ACLU MI has recently launched and announced the misconduct hotline for Michiganders to report instances of police misconduct or abuse based on immigration status (or assumptions about immigration status).
If you or a loved one have been pulled over, harassed, arrested, or detained by a police officer because of actual or perceived immigration status (e.g., skin color, spoken language, or name), you are encouraged to call the hotline and leave a message detailing the experience. The ACLU of Michigan is committed to investigating those reports and will assist in taking action against police departments when possible.
Flyers are also available in 4 different languages:
Arabic
Bangla/Bengali
?English
Spanish
"How do you get people to want to live in time, to have a sense of the importance of time for growth, development, of the need for ups-and-downs, of non-homogenized development? […] A revolution in the U.S. is only going to be led and made by people with some sense of the thickness of time, of time as duration, of time as heterogenous, of development through contradiction, not in a straight line." – James Boggs
Click here to forward this email to a friend