October 25th, 2021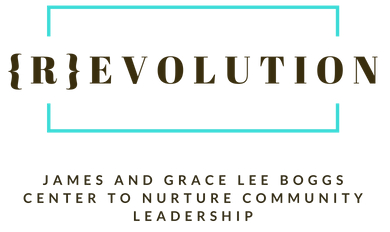 ---
Thinking for Ourselves
Beyond The Ballots
Shea Howell
Next week Detroiters go to the polls to elect a mayor, city clerk, council and police commission. There are also important proposals on the ballot, including one that would allow direct control by voters to enact ordinances and allocate the money for them, Proposal S.  Also, Proposal R  would create a task force to explore reparations for Black Detroiters related to housing and economic development and Propose E  would legalize the therapeutic use of some plant/fungi based drugs.
Throughout the primary season, this election captured a tremendous amount of energy. More than 100 people indicated a desire to run for city council, nearly a dozen for mayor and many for police commission. Proposal P, an extensive revision of the City Charter, reflected the longing of people in the city to engage in meaningful ways with the decisions that affect our lives. Now, having seen the defeat of Proposal P, after a barrage of corporate initiated mis- information, and witnessing the influence of "dark money" and dubious endorsements on candidates, we are faced with choices dominated by incumbents. We have a Mayor who refuses to even debate his opponent, a City Clerk who owes $65,000 in back taxes (again), and two Council members under federal investigations for corruption.
As a result, the enthusiasm that surrounded the primary has waned. We are now seeing stories that describe voter apathy and dispiritedness. At the same time, more than 1000 people showed up at the first public hearing in Detroit on the new redistricting maps proposed by the Michigan Independent Citizens Redistricting Commission.  More than 100 signed up to speak, the vast majority raising concerns about the impact of the proposed districts on Black representation. The current iteration of districts would greatly limit the representation of the city and of African Americans.
The contrast between corporate media efforts to talk about voter apathy and the demonstrated energies reflected in direct citizen participation is worth thinking about. Over these last few months we have seen sustained citizen action  in the development of proposed charter revisions, widespread desires to serve in public office, countless hours spent testifying at city council and police commission hearings and widespread street protests. On any given day block clubs, community organizations, churches and volunteer activities of all kinds define a vibrant community life.
The lack of enthusiasm for the election next week is not an indictment of our citizens. It is an indication of how broken our electoral system is. It is a system designed to disempower people and put decision making into the hands of those who reflect the interests of corporate power. Those who seriously challenge vested interests cannot get a fair public airing on their beliefs. There are few forums offered to think about what we need for our future and how best two secure it. Those candidates who offered fresh, thoughtful and imaginative ideas for our future rarely make it through the primary process.
We have some serious thinking to do about how we will govern our common lives and concerns. What is abundantly clear is that "representative democracy" has become the representation of corporate interests in the public sphere. We need to develop new methods of decision making, new ways of giving responsibilities to those charged with carrying out the public will. The questions posed by this election go far beyond what we mark on our ballots.
---
Are scofflaw billionaires entitled to Detroit park land?
Russ Bellant
I cannot believe that this Mayor is again fronting for the Moroun empire by putting forward a proposal to City Council to give the Morouns part of Riverside Park for $2 Million so that they can build their second bridge.
They are the same Morouns who unilaterally closed the park, fenced it off and put armed guards there to threaten anyone who arrived to enter the park a dozen years ago. I was there. I saw it myself. They did this to illegally begin building a second bridge at that site to span the Detroit River. They were finally halted. When Duggan was elected he supported the Morouns on their second bridge despite opposition from then Governor Rick Snyder.
The same Morouns who let the train station sit as a high altitude symbol of neglect and indifference for many years.
The same Morouns that have not paid hundreds of blight tickets from their many neglected parcels across the City.
The same Morouns who bought the last large scale shopping center in Detroit, the Bel Air on Eight Mile, and demolished most of its buildings to put in a 40 acre truck terminal hundreds of feet from a residential neighborhood. The carcinogenic effects of diesel fumes on those residents does not phase them. Nor does the loss of jobs, City tax revenue, the benefit of keeping our spending dollars within our City bother the Mayor or his rubber stamps on City Council.
On Thursday, a City Council committee recommended in a two to one vote to move the proposal to City Council for a vote. That vote is scheduled to occur on the day after the election, which means that Council members cannot be penalized by voters if they approve it. The measure was pushed through by Scott Benson with support from Roy McCalister. James Tate voted no, saying there was no need to rush the decision.
In Washington, they are investigating armed thugs who occupied public space and threatened its occupants. In Detroit, the City Council may reward a corporation that used armed thugs to occupy public space and threatened citizens, by transferring the land to them.
---
People Against Corporate Theft
For this Monday, October 25th a rally at Campus Martius in response to the announcement of World Economic Forum setting up a permanent site in Detroit, a statement was produced in protest of the looting of Detroit. Read the statement below:The World Economic Forum, an organization of the capitalist elite, with representatives of Bank of America, Citi, J.P. Morgan Chase, Goldman Sachs, HSBC, Barclays, and the European Central Bank among others, are meeting in Detroit. They are setting up a temporary base of operations in Dan Gilbert's Compuware building for what they are calling the "Global Centre for Urban Transformation" with an official launch announced for October 25th while the permanent site is being built on Gratiot.The WEF is an agency that upholds and facilitates multinational corporations' control, exploitation and greed. They cloak insidious corporate thievery in words like "transformation," "future city," "public-private collaboration," "economic growth," and "revival" in campaigns to persuade the public to go along with their agendas.
Detroit was chosen because it exemplifies the most extreme contradictions in the current stage of capitalism. For the past eight years Mike Duggan, backed by Rick Snyder, and now by Gretchen Whitmer, has made it clear that the profiteering of corporations off of public space and resources is more important than the needs of Detroiters. The mayor has done everything in his power to ensure the exponential spread of gentrification that is pricing everyday people out of the city. Instead of redeveloping badly needed wastewater infrastructure, he is putting in bike lanes. Instead of creating a city wide publicly funded housing affordability plan, he is leaving poor and working class people to the whims of the market amid skyrocketing rents and stagnant wages. Instead of returning the $600 million in overtaxation, he is pushing subsidies for billionaires to carve up the 7.2 square miles of downtown rather than address material needs of a majority Black city in which well over 30 percent of people live in poverty.
The capitalists who make up the World Economic Forum have turned Detroit into a model of "Urban Destruction." They have transformed Detroit, once a great center for the working class and oppressed, the city where the Black Liberation and Working Class struggles reached their zenith, into a center of poverty, evictions, water shutoffs, high infant mortality, and empty fields where working class neighborhoods once stood.
These are the same financial institutions that coerced tens of thousands of Detroiters into predatory and fraudulent mortgage loans, resulting in 65,000 bank foreclosures from 2005-2010 and driving one quarter of Detroit's people out of the city. Dan Gilbert and Quicken Loans wrote many of these fraudulent mortgages for the banks, and coupled them with fraudulent property assessments that artificially overinflated home values and led to thousands of property tax foreclosures. Detroit, the city that once led the US in Black home ownership, is now a renter city with 35,000 tenants evicted every year.
These financial institutions bankrupted the city government, the school system and the water department with predatory loans, and usurped elected officials with appointed emergency managers. The emergency managers appointed by the state implemented the massive privatization of city services, a virtual shutdown of the Detroit Health Department, massive water shutoffs to pay off the bondholders, and a school system that was declared by the courts as unfit to provide access to basic literacy. Mike Duggan and the city council have facilitated this robbery of the people while giving massive tax breaks and captures to Gilbert, Ilitch, Ford, and numerous other private interests, just as the banks were bailed out by the federal government after their scheme collapsed.
One of the primary strategies of the WEF is to work through the liberal non-profit industrial complex to co-opt community into their project of dispossession and quell independent political opposition. Nonprofits are by and large beholden to philanthropic entities that are funded by private capital. They show up in the community with conditional budgets to superficially address structural inequality that they are incapable of solving, In reality, they are assisting in the appropriation of resources and assets (our tax dollars and government allocation), to expand the wealth and political control of private interests that are antithetical to the needs of the public. This is one of the ways public-private partnerships function under neoliberalism.
All of this has been done to create an environment in which the wealthy reap the profits while Detroit taxpayers foot the bill. This fifty-year project of theft in Detroit is the model that the World Economic Forum is upholding and intends to emulate wherever there are profits to be made. From a working class city of 1.8 million where workers could actually afford homes, Detroit has now been reduced to a city with 637,000 people. Once thriving neighborhoods now are centers of blight and empty fields, while the only development is downtown for the corporate elite. The people of Detroit say No to the World Economic Forum and the same bankers who pillaged this city. They are the ones who created the ongoing structural inequality in Detroit. They are not here to save us. The people of Detroit and the world deserve governance in the interest of the public, not the private entities that have exploited us.
Throughout this project of racialized neoliberal dispossession, Detroiters have never stopped fighting for their schools, the right to water, the right to housing, and the right to their own public resources. The undersigned are a growing list of organizations committed to opposing the wholesale theft of Detroit and cities around the world by the members of the World Economic Forum and to demanding respect for the economic human rights of all people.
---
Uplifting & Supporting our Community
Feedom Freedom Windmill
Feedom Freedom Growers and CAN Art Handworks was recently chosen as one of six finalists in the 2021 City of Design Challenge. There was a lot of work over the summer put into developing and installing the prototype windmill at Feedom Freedom so that residents could see it and interact with it. This represented a concrete manifestation of the values promoted by the Eastside Solutionaries Collective.
However, we believe that the project is worthy of support and we are interested in talking to potential donors and funders, including some of those who were present at the Design Challenge showcase event last week. Enjoy this video which summarizes our project and reach out to Paul Draus (draus@umich.edu) or Rukiya Colvin (rukiya.colvin@gmail.com) to connect further on this project!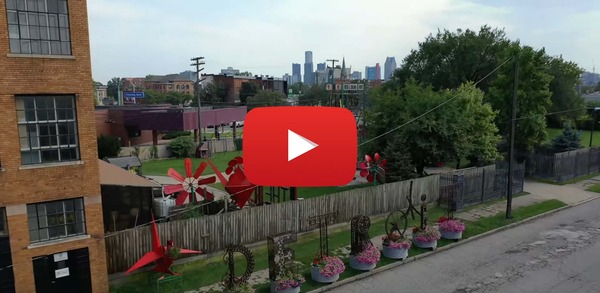 Field Street Block Club Association Harvest Fest!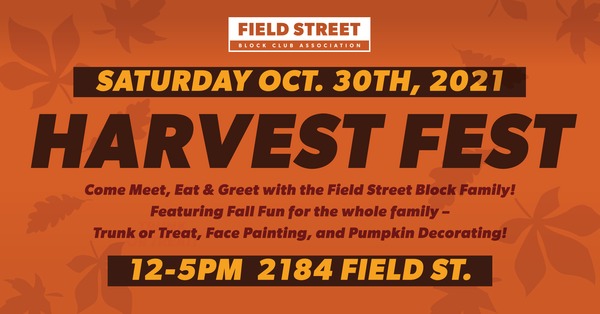 Attenion Islandview neighbors! The FSBCA will have warm soups ready to serve and food on the grill, a Trunk or Treat, a bouncy house, and face painting for the kids. We will also be raising money for our Home Repairs fund for our block to help our longtime residents with critical home repairs. See more info on the facebook event.

Nox Library Abolition Books & Letter Writing Kits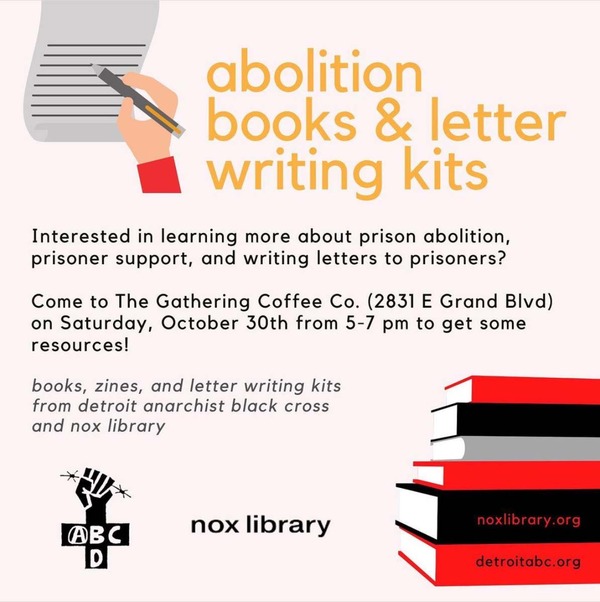 Spend a lovely fall evening with us and Detroit ABC writing letters and learning about prison abolition! Interested in learning more about prison abolition, prisoner support, and writing letters to prisoners? Come to Gathering Coffee at 2831 E Grand Blvd on Saturday, October 30th from 5-7 pm to get some resources!
Follow Nox Library on Instagram
---
What We're Reading
Ryter Cooperative Industries Monthly Newsletter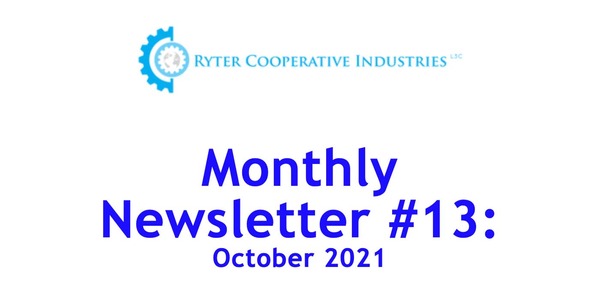 Ryter Cooperative Industries
provides engineering and design support, project management, and educational services to empower our community through application of innovative technology, sustainable solutions, and collective creative ideas. In this issue of their monthly newsletter, and intro to Hour Detroit's profile of renown Detroit food activist
Malik Yakini
, RCI was featured in the
Belt Magazine's article
on Biden's Justice 40 Initiative and how Detroit's black-led businesses are key components to solving energy issues. Don't miss the solar fun fact and job openings in the rest of the newsletter.
Read More: Ryter Cooperative Industries
---
"As more people of color raise our conciousness and refuse to be pitted against one another, the forces of neo-colonial white supremacist domination must work harder to divide and conquer"
? bell hooks
---
---
Boggs Center to Nurture Community Leadership
3061 Field Street
Detroit, Michigan 48214
US