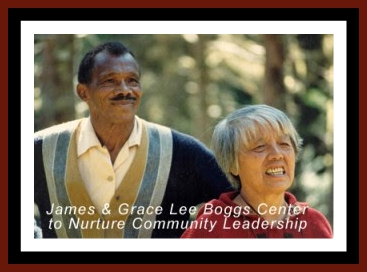 Grace Lee Boggs, "The Black Revolution in America," 1970
Any fundamental change in this system must begin with the concept of the individual as the maker of history, responsible for creating his social environment, convinced of his actions as historically significant, and therefore of how he thinks, feels, and judges and the positions he takes on social issues as not only personally but socially relevant. This sense of one's personal-political value cannot be developed in private or in secret. It has to be developed (a) in relationship with others with whom one feels a sense of community; (b) in the course of actual and continuing struggle and conflict with those in power; (c) over issues in which positions taken or decisions made can be evaluated in terms of their consequences; and (d) with the perspective of finally taking power which will bring both the authority and responsibility to create new forms of social organization.
______________________________________________
Living for Change News January 3rd, 2018
It was the best of times, it was the worst of times, it was the age of wisdom, it was the age of foolishness, it was the epoch of belief, it was the epoch of incredulity, it was the season of Light, it was the season of Darkness, it was the spring of hope, it was the winter of despair, we had everything before us, we had nothing before us, we were all going direct to Heaven, we were all going direct the other way—in short, the period was so far like the present period, that some of its noisiest authorities insisted on its being received, for good or for evil, in the superlative degree of comparison only.
SO LONG 2017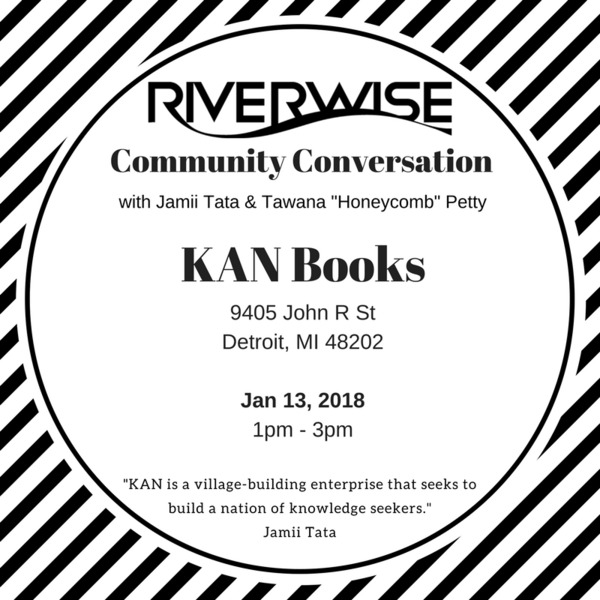 Thinking for Ourselves
Shea Howell     A New Year
The turning of the year is a time for reflection and recommitment.
Many of us are glad to see 2017 end. As the new year arrives we find ourselves drawing on fragile signs that longings for peace and justice persist, emerging in the resistance to acts of inhumanity that mark those in authority. Throughout the country people are recreating ways of living together based on values that hold the promise of protecting life and restoring health to our communities and the earth.
These signs of hope are revealing a tension in our country as we confront the limitations of a federal system dedicated to protecting power and privilege while destroying much of what people cherish. Increasingly those in authority disregard the passions of people and the values necessary to sustain life.
As the national political leadership demonstrates petty, greedy, and destructive behaviors, state and local leaders are stepping forward to provide methods of establishing alternative values.  People are organizing new forms of democratic practices as communities practice making meaningful decisions about our futures. Local resolutions of resistance, inventive policies confronting real problems, participatory budgeting, and people's movement assemblies are all emerging as vibrant practices of an enriched democracy.
A fundamental distinction is emerging between we, the people, and the national government.. For example, as the US officially withdrew from the Paris Accord on climate change, 20 States, 50 cities and host of universities and civic organizations reaffirmed a commitment to the Accord goals for reducing carbon emissions and promoting renewable energy. As limited as these goals are, it is an important step and reveals the weakness in such federal decision-making.
Former New York City Mayor Mike Bloomberg explained the new America's Pledge action saying, "It is important for the world to know, the American government may have pulled out of the Paris agreement, but the American people are committed to its goals, and there is nothing Washington can do to stop us."
Marking a new level of cruelty and fear mongering, the Trump Administration announced it is considering a policy on immigration separating children from their parents if they are caught crossing the border without documentation. This move, coupled with the recent tweets from Trump announcing his decision to tie protection of young, undocumented immigrant Dreamers from deportation to building a wall along the US southern border highlights the importance of Sanctuary spaces.
California is currently leading the way on how states can create counter power bases to protect people.The California effort takes effect this week.  A recent report noted:
"This sanctuary state act contributes to building community and state-level resistance to the White House attacks against the growing "sanctuary" movement among communities, institutions and local and state governments in California."
"As signed, the bill does away with several local deportation practices, such as local police arrests for "civil immigrant warrants", and it helps to ensure that spaces like schools, health facilities, courthouses and other spaces are safe and accessible to all."
"State Senate President Kevin de Leon, the lead author of the bill said, "With today's signing of SB 54 into law, one of the most important parts of that legal wall of protections is now in place. Donald Trump and Jeff Sessions will not be able to use California's own law enforcement officials in an effort to round up and deport our fellow Californians."
As we approach this New Year we face a federal government that is increasingly abusive, capricious, and dangerous to life. Confronting it requires our rededication to creating new governmental forms and sources of power that reflect our best hopes for ourselves, one another, and our futures.
A Poem for Erica Garner Tawana Honeycomb Petty
What becomes of the broken hearted? Ventricles rotted with despair
Your father lost his air for us You shared your grief with us Y'all gave your lives for us
A lineage of reluctant Ancestry Two bodies Deceased prematurely Molded out of tragedy
Like Whitney and Bobby Kristina We grieve your tragic endings Though we watched you suffer publicly
May the air be clearer where you are May the universe heal your broken heart May your father gain his breath at sight of you
Dear Erica, we mourn for you We sympathize with you We agonize for you
May we be better human beings because of you
A Poem for Erica Garner
Tawana Honeycomb Petty
What becomes of the broken hearted?
Ventricles rotted with despair
Your father lost his air for us
You shared your grief with us
Y'all gave your lives for us
A lineage of reluctant Ancestry
Two bodies
Deceased prematurely
Molded out of tragedyLike Whitney and Bobby Kristina
We grieve your tragic endings
Though we watched you suffer publicly
May the air be clearer where you are
May the universe heal your broken heart
May your father gain his breath at sight of you
Dear Erica, we mourn for you
We sympathize with you
We agonize for you
May we be better human beings because of you
_____________________________________________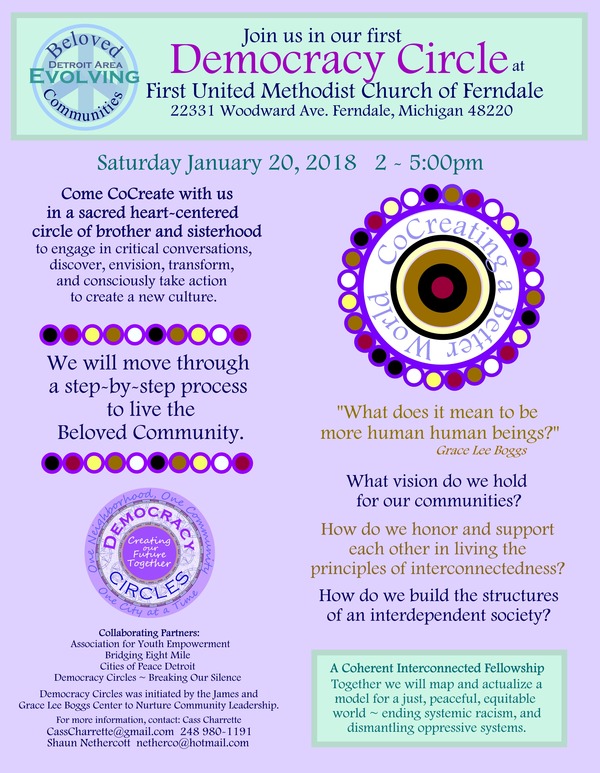 Reflections on Midwest Conversations Lisa M. Perhamus
In the spirit of Conversations in Maine, during which time James and Grace Lee Boggs and Freddie and Lyman Paine, spent reflective time with comrades, deeply engaged in questions about revolution, evolution and the politics of seeing the human dignity in one another, a small group of political activists from Detroit, Grand Rapids, Kalamazoo and Chicago convened in Kalamazoo, MI in mid-October for a similarly reflective retreat, Midwest Conversations.  A more multi-voiced reflection of Midwest Conversations, and the echoes of the work of James and Grace Lee Boggs' Conversations in Maine, will be part of future Bogg's Center Living for Change writing, but here are a few of my reflections…
The idea of the retreat was conceptually simple:  Engage with one another in humanizing ways about our work and let our dialogue with one another emerge organically.  One of the lessons that I learned from Midwest Conversations was that the implementation of the retreat was more complex, for how does a group of leaders work with a strong sense of intentionality and purpose without the clarity of conventional leadership?  In alignment with the wisdom of adrienne maree brown's concept of emergent strategy and of "longing, a will to imagine and implement something else" (p. 21), we embraced our struggles with horizontal leadership and our questions about the idea of accompanionship rather than leadership.  We, a group of people who mostly did not know each other but who cared deeply about the political questions facing the human race at this historical moment, also collectively worked to figure out the authentic, courageous and loving connective tissue that had brought us together for this retreat.
We began our first evening together with adrienne maree brown's idea that a few people gathered together, in a particular place, in a particular moment, could have a conversation that could only flow in those conditions—our job was to find that conversation with each other.  This was an idea from emergent strategy, and proved to be a powerful one, as people who were meeting for the first time dialogued in ways that only they could, and dialogued in ways that were rich and meaningful as we began the retreat.  Coming back together as a larger group felt, to me, more tentative, more cautious, laced with uncertainty about what our time together would be like.  In emergent strategy, adrienne maree brown, states two critically important principles.  First:  Trust the people.  Second:  What you pay attention to grows.  People in the group who felt the tentativeness and cautiousness articulated a desire to develop a set of Common Agreements for our group conversations to help build trust.  Trust the people.  Folks did develop such agreements and the trust that it helped to foster deepened our work together and our relationships with one another.  Folks paid attention to the need for strengthening our connection with one another, and our attention to nourishing the tissue bonding us in the retreat allowed our work together to grow and deepen.  These are important principled lessons—lessons that saturate the human need for connection amidst today's fragmentation and fractures.  In the face of hostility, trauma, violence and division, people are uniting in social movements; in political discussions around kitchen tables; through the galvanizing power of social media; and through innovation hubs that are making different ways of living current realities.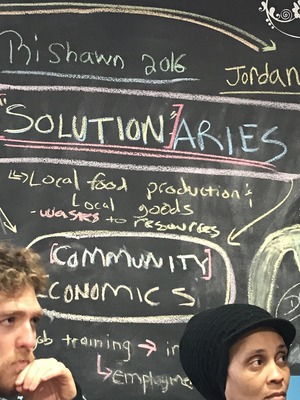 Midwest Conversations folks were able to see the power of growing neighborhoods; repurposing artefacts; and building local economies through the regenerative power of humanity when visiting the Sweet Water Foundation in Chicago on day number two of the retreat.  The work of the Sweet Water Foundation and its co-founders, Emmanuel Pratt and Jia Lok Pratt, demonstrate a third important principle of emergent strategy:  There is not a social problem that nature has not already solved; our job is to find how nature has navigated the problem so that we may learn.  It was a powerful day of learning.  As one participant articulated, what we witnessed happening at Sweet Water was, "Beyond my imaginary."  As Grace Lee Boggs stated, "A different future is possible, if our imagination were rich enough."
We spent the last day and a half of the retreat articulating what we were learning; stretching our collective growth; laboring through difficult moments; crying in moments of recognizing trauma; and feeling the graciousness that we all stayed at the proverbial table through it all.  I do believe that James and Grace would have demanded no less of us and would have respected our willingness to keep working, even through the hard times–and laughed with us through our moments of the pure joy of getting to know one another.  Mia Henry, Executive Director of the Arcus Center for Social Justice Leadership, really helped us weave our experiential growth together and her modeled "accompanionship more than leadership" style highlighted the possibilities of living the future we want for tomorrow, today. ACSJL provided us a space that acknowledges the ancestral land upon which we were meeting; the Center's partnership with neighborhood communities; its respect for the natural environment; and its commitment to social justice with the Kalamazoo College community.  Through learning about the work of ACSJL, Midwest Conversation participants experienced first-hand the elements outlined in emergent strategy.
On our last afternoon together, I felt that we needed all of the energy of our collective to help us bear witness to the traveling Jim Crow Exhibit that we went to at the Kalamazoo Museum.  There is no escaping the racism that was on full display in that exhibit, or ways to alleviate the pain I felt about the apparently cavalier way many white people seemed to flow in and out of that exhibit.  History matters. As a retreat group, we spent some of our time that evening talking about what we had experienced, but, to be honest, we did not spend enough time—or perhaps there is never enough time.  Perhaps the idea of time is part of the root problem of having difficulty envisioning a different future.  I am reminded of adrienne maree brown's, emergent strategy, words in her chapter about fractals.
"We hone our skills of naming and analyzing the crises.  I learned in school how to deconstruct—but how do we move beyond our beautiful deconstruction?  Who teaches us to reconstruct?  How do we cultivate the muscle of radical imagination needed to dream together beyond fear?  Showing Black and white people sitting at a lunch counter together was science fiction…When we speak of systemic change, we need to be fractal.  Fractals—a way to speak of the patterns we see—move from the micro to the macro level…We must create patterns that cycle upwards. We are microsystems" (p. 59).
The next morning, our last morning together, was, in my experience, truly a collective, microsystemic, upward movement toward change that nourished and strengthened our connective tissue.  We generated questions organically and dialogued passionately about pressing dilemmas many feel faced with in doing justice work. It was a dialogue time designated for articulating our thoughts, feelings, ideas—a time for sharing work we are doing that is going well and for seeking collaboration about the things that feel more disheartening in our justice work.  On this last morning together, we articulated "take-aways" AND a stronger connective tissue.
We ended in a circle, sharing our reflections of the retreat.  During this circle, as during many of our times together throughout the retreat, I wished that we were audio-recording our conversation the way that Grace Lee Boggs had done during Conversations in Maine. Within our small group there was tremendous wisdom, passion, vision, commitment—born of pain, living, studying, partnering, loving.  To have recorded our conversations together would have been tremendous.  But, we can each carry the conversations with us into our next conversations, and in that sense, Midwest Conversations really happened in the spirit of Conversations in Maine.  The Conversations in Maine are still happening, as the upcoming reprinting of the text evidences, and the Midwest Conversations will continue.  I believe this will happen because of the power of the experience—thanks to the Boggs Center, ACSJL and the Sweet Water Foundation.  I also believe that our ongoing experience is echoed in adrienne maree brown's emergent strategy:
'What are the root problems in my community, and what do deep foundational, rooted solutions look like?' (citing the Ruckus Society's operating principles).  This is thinking from a place of healing, more than dominating others with our beliefs.  It is not enough to adhere to these values, however—we want to see our beliefs in practice.  Now, how does it feel (to release assumptions)? (p. 66).
I believe that the Midwest Conversations will continue with formal and informal partnerships; move forward with continued shifts in thinking; enrich new friendships; nourish a sense of knowing that we are not alone in doing justice work; and strengthen the somatic knowledge we each now embody as we dialogue together.  We, along with our neighbors, are the change we want to be.