September 12th, 2019
Thinking for Ourselves
Ring and Recognition
Shea Howell


In the midst of public debate about facial recognition technologies, the Detroit Police Department quietly partnered with Amazon's neighborhood surveillance program, Ring. The news of this partnership was spread by investigative reporters attempting to document the extent of a growing threat to civil liberties. Detroit is one of 14 Michigan cities that have partnered with the Ring "Neighbors" program. This technology allows police access to digital images captured by home doorbells. The programs offer live streaming to users' devices, enabling people to remotely see and speak to people on their door steps. Through the Neighbors app, individuals can share images and information. Police departments have access to the images.
Digital justice advocates are concerned that this new technology is rapidly spreading without any regulation. Police partnerships began in the spring of 2018 and now include over 400 cities. While Ring says its mission is "making the neighborhood safer," it is clearly making Amazon richer.
Amazon purchased the company last year for $800 million. This was not a donation to public safety. Rather, it is the basis for a sophisticated partnership with police departments, aggressively marketed through conferences and programs, offering webinars, technical advice, media strategies, discounts, free cameras, and talking points to help police increase the presence of this Amazon product in neighborhoods.
These partnerships increase the capacities of authorities  to have real time surveillance of communities and people. Mohammad Tajsar, an attorney at the American Civil Liberties Union of Southern California, called the system "an unmitigated disaster" for the privacy of neighborhoods. He noted, Amazon "gets to offer, at taxpayer dime, discounted products that allow it to really expand its tentacles into wide areas of private life way more than it already has." And so do police.
Andrew Guthrie Ferguson, author of The Rise of Big Data Policing, examines the use of fear as a sales technique. He explains that by tapping into "a perceived need for more self-surveillance and by playing on consumer fears about crime and security Ring has found a clever workaround for the development of a wholly new surveillance network, without the kind of scrutiny that would happen if it was coming from the police or government."
Evan Greer, the deputy director of Fight for the Future says this Amazon effort is "a privately- run surveillance dragnet built outside the democratic process, but they're marketing it as just another product, just another app."
Across the city people have been raising concerns about expanding police powers through Facial Recognition technologies. These technologies are wrapped into the development of the Ring program. Last month Amazon announced it was upgrading its facial recognition capabilities for its program called ReKognition. Also Amazon has filed a patent describing how a network of cameras could work together with facial recognition technology to identify people and respond accordingly.
The Detroit Police and the Mayor have been developing digital capacities of control without sufficient public conversation or attention to democratic safeguards. We need to support all efforts for a moratorium on the expansion of these police powers. We need sustained public conversation about how to enhance our relationships with our neighbors. We need to develop ways to support and nurture one another, not react out of manipulated fears.
  _____________________________________________________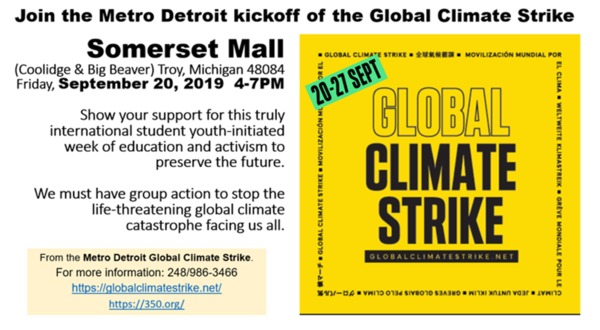 ______________________________________________________________
Face Our Fears Or Run From Our Differances?
Rich Feldman
These are complex times filled with anger, tears, hope, lessons and challenges.
I often ask myself: Where does courage come from? Does our humanity come from our courage to speak truth and break the silence among ourselves and our own kind? Does it start with us? I believe it does!
These past weeks were filled with lessons to learn from— or NOT!  Your choice. Our Choice! The urgency of NOW.
Tuesday, August 20th, I had the privilege to join with around 150 folks at the Farmington Hills Holocaust Memorial Museum. They spoke loudly and clearly:
"Close Down the Camps: Never Again."
Their banner was clear:
"The Birmingham Temple Declares Solidarity with immigrants and refugees."
I listened to Renee Lichtman, a child survivor and an individual I have known for more than 50 years. It was humbling to see their sign: "ICE = Nazism"

I listened to Adonis Flores from Michigan United as he shared his family's story. During WWII, his father had worked in the fields in Farmington Hills picking fruits and vegetables for the war effort. Adonis was clear that his family played their part and we had to play ours. Today Adonis continues to oppose US style fascism. He is a leading activist in our area. He linked the need to close the camps on our southern border with the need to oppose the prison industrial complex across our state. In 2019-2020, Neither Wayne County nor Macomb County need new county jails. We do not need jails to house thousands upon thousands of African Americans because they cannot make bail.
There were also 25-50 Trump Supporters in attendance, waving the American and Israeli Flags and wearing T-shirts proudly claiming to be members of Detroit's Proud Boys (a neo-fascist movement who more than likely supported the murder of Heather Heyer in Charlottesville). They chanted: "Obama built the cages, Trump is filling them!"
Two days earlier, on Sunday, August 18th, I was at the Hazon Michigan Food Festival in Eastern Market. Thousands of folks came from across Metro Detroit and the Midwest to feel, smell, taste and support the amazing work of local farmers and local businesses. I staffed a table for the James and Grace Lee Boggs Center to Nurture Community Leadership (www.boggscenter.org) and Detroit's Community visionary magazine, Riverwise (https://riverwisedetroit.org).
With all the progressive Jewish organizations participating, I did not see anyone lifting the banner to engage people in a discussion or introduce the importance of "never again" as it relates to the concentration camps on the southern US border, ICE, or the continued mass incarceration of black Detroiters and people of color across our country.
So many people said: "this is not a time for politics."
I did not see one sign that said: "We support Rashida Tlaib right to visit Palestine without restrictions." "We support individual rights to support boycotts," "Shame on Senator Stabenow," or even that they disagree with current Israeli policies toward the Palestinian people.
Are we afraid of controversy, debate, dialogue?  Are we afraid of losing our donations? Are we unable to create safe and brave places for public conversations?
That were the fears I was raised to feel. We were told to "never discuss our dirty laundry"—even though everyone else could see the stains and smell the odors.
That is not how I raised my children, though.  I raised my children with voice, dignity and a moral center.  Listening, Disagreeing, Trusting to continue to engage were important to them from the beginning.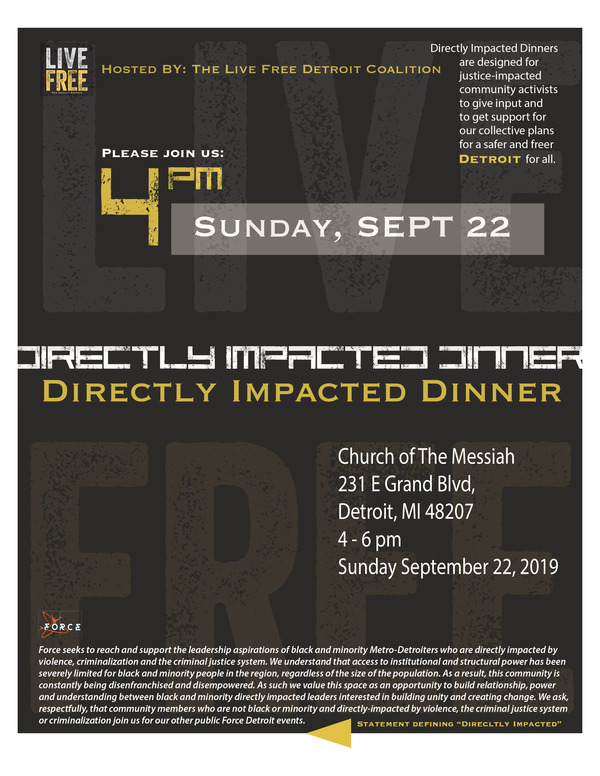 __________________________________________________________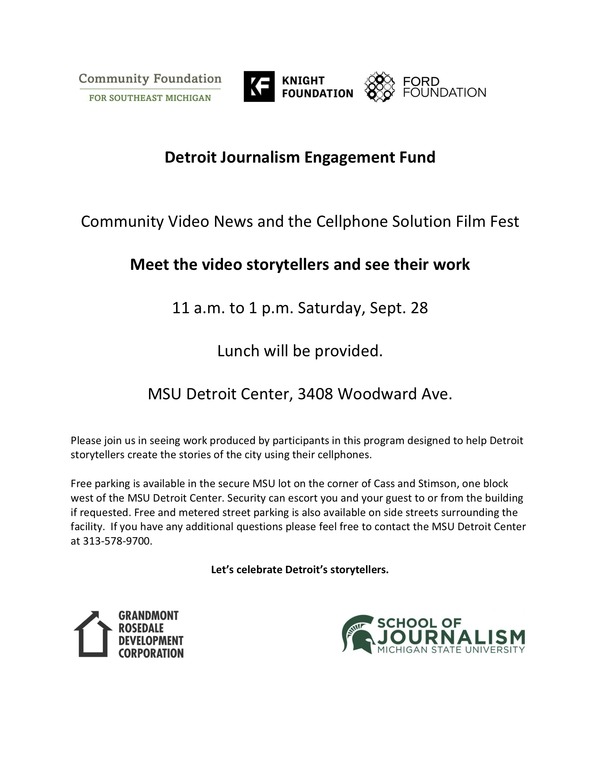 _______________________________________________________________