September 12th, 2022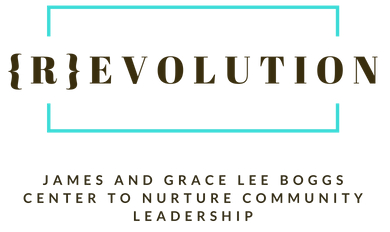 ---
Thinking for Ourselves
No ShotSpotter
Shea Howell
ShotSpotter is back in the news and on the City Council agenda. A broad based citizen coalition is urging people to speak out against the $8.5 million contract to expand the technology in our city. The mayor and the chief of police are both urging the council to spend $7 million from the federal Covid relief funds and $1.5 million from the city budget to expand the technology to more than 28 square miles in the city. ShotSpotter is already in two precincts. This technology was established without public consent.
ShotSpotter has long had Detroit in its sights. In 2011, the Detroit City Council rejected the proposal for a $2.6 million dollar contract. Under emergency management, without public comment, the city implemented the technology in two precincts. Since then, Mayor Duggan and both Chiefs Craig and White have pushed for expansion. They tried in June of this year, but pulled back because of public pressure, acknowledging the lack of citizen input.
This push for expansion parallels ShotSpotter's public relations efforts. As Wired Magazine reported the early successes of ShotSpotter were "due to good PR, not good technology."
ShotSpotter is part of a company called Centurist Systems, a military technology firm. Centurist specializes in developing technologies that use global positioning satellites to triangulate the location of a sound. It made a fortune during the wars in Iraq and Afghanistan locating and killing snipers. The company promoted its capacity, saying it was especially effective against guerrilla warfare, "If a sniper gets vaporized after he takes his first shot, word is going to get around among insurgents." Now with the withdrawal from Afghanistan, ShotSpotter needs new markets.
The push to deploy ShotSpotter across the country has nothing to do with reducing crime. It has everything to do with companies whose profits are tied to war. ShotSpotter is cynically using the fear of crime to expand its business, offering an illusion of safety, while installing the basis of very dangerous and possibly deadly technologies in neighborhoods of mostly Black and brown people.
Study after study has challenged the claim of ShotSpotter's effectiveness. According to a recent article in the Free Press," Multiple studies have raised concerns regarding ShotSpotter's effectiveness — including one peer-reviewed, 17-year study that shows ShotSpotter did not reduce gun violence in 68 large metropolitan counties that utilize the technology."
The same article goes on to list an Associated Press Investigation  that found that the system often misses gunfire, or misclassifies the sounds of fireworks or cars backfiring as gunshots. They pointed out the technology "allows for ShotSpotter employees to "improperly claim that a defendant shot at police, or provide questionable counts of the number of shots allegedly fired by defendants."
The University of Michigan's Ford School of Public Policy recently concluded that "The technology's accuracy, effectiveness, cost and systemic biases raise serious concerns."
In Chicago, an early adopter of ShotSpotter, a report by the city inspector general  showed there were more instances of "unrelated investigator stops," or stop and frisk tactics, in neighborhoods where ShotSpotter was implemented. And in St. Louis, "there was a decrease in residents calling police regarding shots fired in their neighborhoods, and overall police response times did not improve."
ShotSpotter is not worth $8.5 million. Recycling the weapons of war in our cities perpetuates the worst in our culture. Instead, we need to continue our efforts to create relationships of care and respect, to find ways to solve our problems in ways that affirm and protect all of us.
_______________________________________________________________________
Weekly highlights
ShotSpotter Detroit Week of Action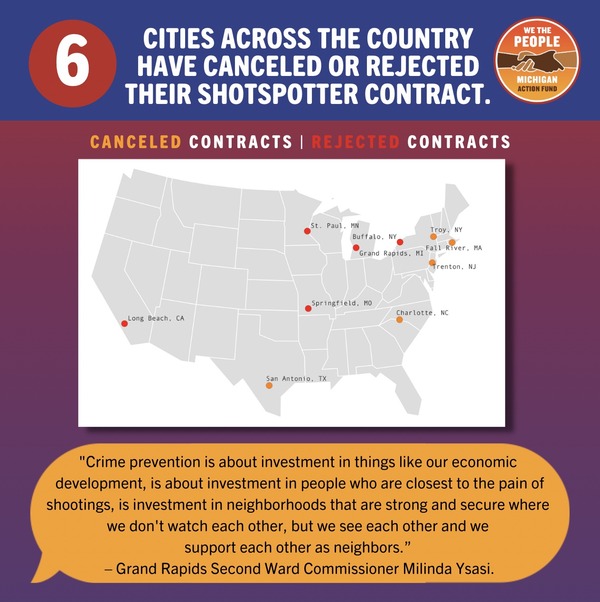 Did you know that efforts are underway where funding that could be invested in the safety and wellbeing of Detroiters may instead be spent on more technology to enforce policing in neighborhoods? Soon, City Council will be voting on the approval of $7M in ARPA funding for ShotSpotter technology. In this presentation created by We The People Michigan Action Fund, statistics show that 74% of Detroit residents would much rather see $7M spent on housing relief than ShotSpotter.
You can sign on to this letter, telling Detroit's City Council that the people do not want ShotSpotter in their community and instead want investment into their community.
What we're listening to
Urban Ecology @ The Commonwealth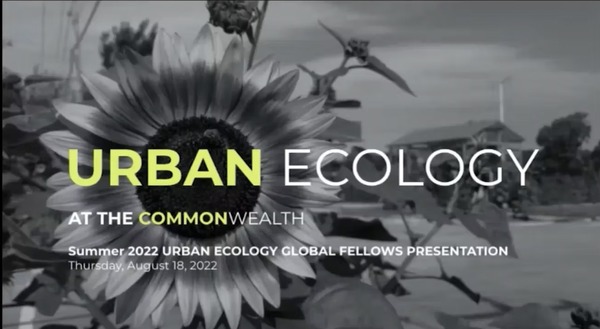 Check out this recapt from Sweetwater Foundation's Summer 2022 Urban Ecology Global Fellows Presentation, which took place last month. Their Urban Ecology fellows program is one of the three offerings within their Communiversity, which is an effort to formalize their wide-ranging portfolio of education and outreach programming.
The Communiversity shares SWF's practice of Regenerative Neighborhood Development via workshops, courses, residencies, fellowships, and train-the-trainer programs delivered to youth, local residents, organizations, and institutions across Chicago and beyond.
Learn more and watch the presentation
______________________________________________________________
What we're reading
Abolition is Essential: Remembering the Attica Uprising and Imagining a Future That's Free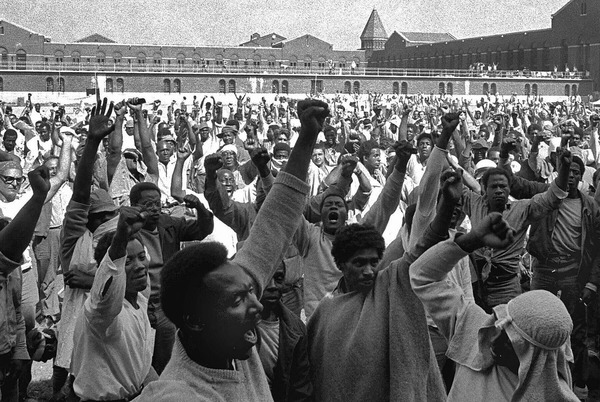 The Attica Uprising, September 1971
Fifty-one years ago, hundreds of incarcerated men at Attica Correctional Facility in upstate New York took over the prison in protest of the horrific conditions they were facing there. Fed up with overcrowding, censorship of mail, regular assault from corrections officers, and deplorable sanitation—including one shower a week and one roll of toilet paper a month—they refused to be ignored another day. So, on September 9, 1971, more than 1,300 inmates organized and rose up to demand an end to these inhumane conditions in what is now known as the Attica Uprising.
The uprising managed to hold the prison for five long days.
But on September 13th, then–Governor Rockefeller ordered the prison to be retaken instead of agreeing to meet the basic human needs of the protestors. With brute force, state troopers and guards fired 3,000 rounds of tear gas, killing 29 inmates and 10 prison workers, and wounding 89 others. Ultimately, 43 people were killed during the uprising, making it one of the deadliest prison riots in U.S. history
This uprising and its violent aftermath captured the eyes and attention of the world, and brought to light the brutal reality of incarceration in America. It became a rallying cry for abolitionists everywhere, radicalizing people across the country, moving them to see the carceral state for what it really was: 20th-century slavery. Black people who were moved by this uprising or who had personal connections to the violence of the prison system spent the next 50 years building the abolition movement we know today. Excessive force and inhumane conditions continue to be inflicted in prisons by law enforcement and the institutions they serve—and those institutions have expanded exponentially since the 1970s.
But the movement is gaining ground. Through decades of work, prison abolition has begun working its way into mainstream conversation, with more people interested in exploring "how" than ever before. Our demand and our mandate is to end all jails, prisons, immigration detention, youth detention, and civil commitment facilities as we know them, and to establish policies and programs that address the current oppressive conditions experienced by people who are imprisoned. Read more here.
The bravery and boldness of the men at Attica marked a critical moment in the progress toward our freedom, and we honor their sacrifice. We continue fighting for them.
In belief in a future without cages,
Movement for Black Lives
_______________________________________________________________________________________________________________
Riverwise – Summer 2022 Edition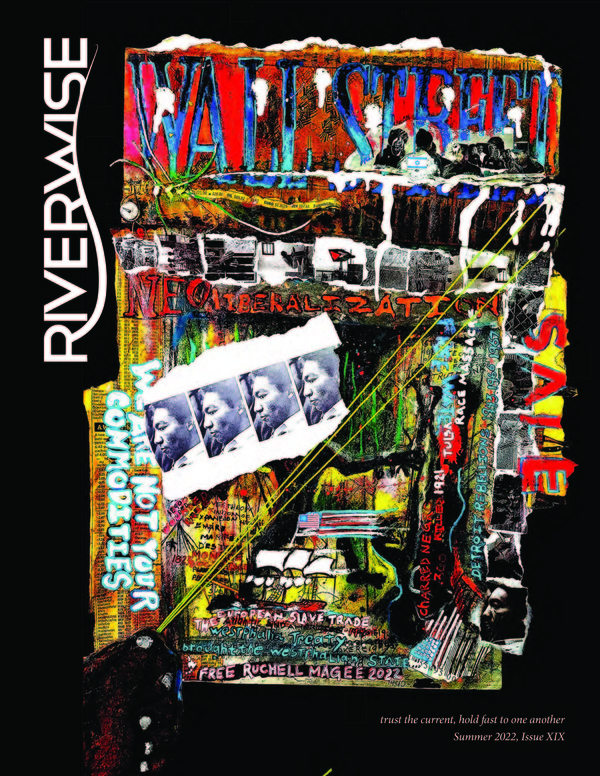 Have you grabbed your copy yet? The Riverwise Summer 2022 edition is now available at various local spots across Detroit. Not local and still want a copy? You can find an e-version on their site or reach out to request a physical copy to be mailed. Don't forget to subscribe!
_______________________________________________________________________________________________________________
Uplifting & Supporting our Community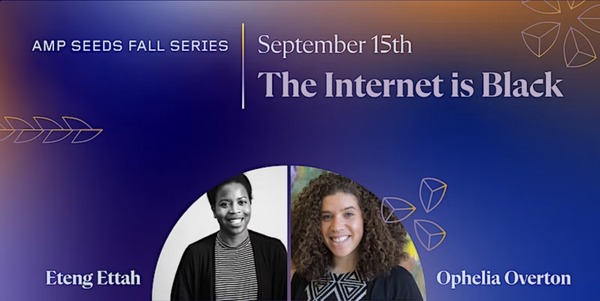 AMP's Seeds Series is back and the first of the four-part series is approaching, with The Internet is Black, happening Thursday September 15 from 7pm-8pm EST. The event is free and will feature a screening of "That's so Black," a pop culture video series produced by MediaJustice.
This four-part series will explore and celebrate storytelling as a tool for change, movement organizing, joy, and care. From oral histories to hashtags, stories help us capture the most complex of feelings and endeavors. This season we uplift media makers bringing intentionality and spirit to the stories they document, make, and share to intervene injustices and honor their communities. Every event will be followed by Seeds Cafe, a space to connect, share, decompress and dialogue hosted by Pink Flowers.
Learn more and register here
Sundance + Indigenous Shorts @ Cinema Detroit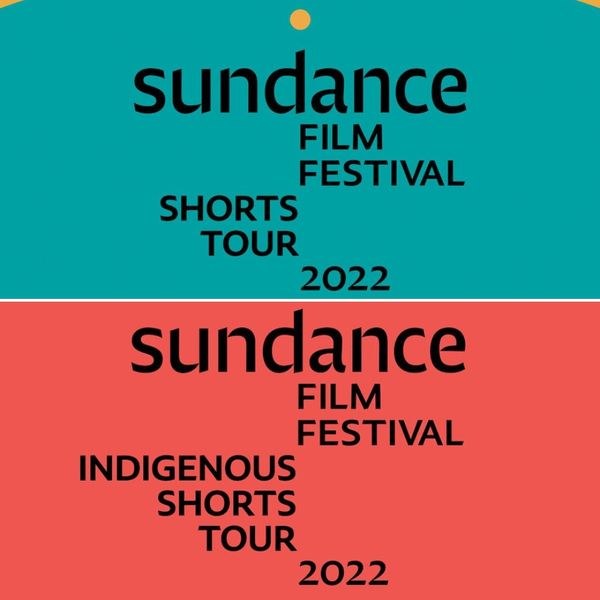 The Sundance Indigenous Shorts Tour and Sundance Shorts Tour 2022 start on Friday, Sept. 16. These shorts programs represent the best of the best of the thousands of short films submitted to the Sundance Film Festival. Cinema Detroit has scheduled the shows so that it's possible to watch both programs on the same day if you want.
Community Dialogue w/ Suburban Connections 4 Collective Liberation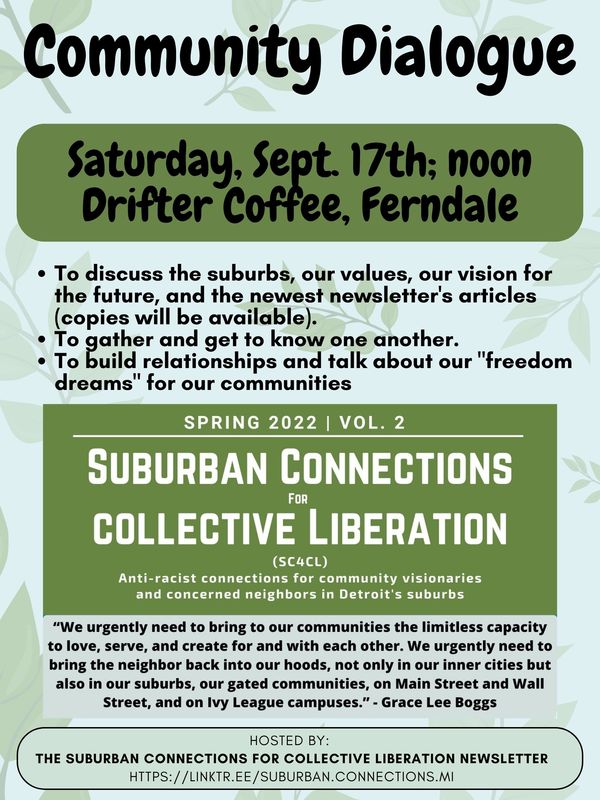 An upsurge in discussions, actions and committments have been underway in some metro Detroit suburbs since the uprising in 2020. The Suburban Collective is hosting a dialogue to speak of those changes and to connect with others who are also looking to express their dedication to changing the status quo.
This collective have recently published newsletters to display efforts underway in their suburban communities while raising critical issues. You can find the latest copy here.
Join them for critical conversations:
Saturday, September 17,12pm-4pm EST
Drifter Coffee
770 Woodward Heights Ferndale, MI 48220
More information + registration
Wayne State's Social Work Open House
featuring the Maryann Mahaffey Courtyard Dedication
Attend Wayne State's open house for their School of Social Work, happening Thursday September 29 from 3pm-6pm. There will also be a courtyard dedication to Maryann Mahaffey.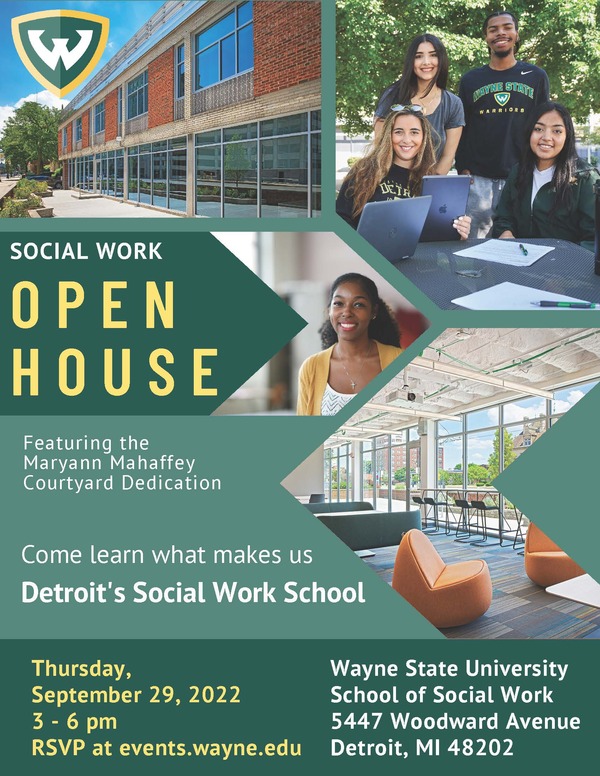 Maryann Mahaffey empowered social change in Detroit as a social worker, author, educator, civil rights activist, volunteer and political leader. For nearly 60 years at the local, state, national and international levels, Mahaffey put into action her deep commitment to solving critical social issues. Holding steadfast in her ideals, she supported the most vulnerable of our citizens and advocated for equal rights as Detroit City Council president for 12 years and as a council member for 32 years. To memorialize and honor the impact Mahaffey had on Detroit, its residents and the social work profession, the Wayne State University School of Social Work launched the Maryann Mahaffey Legacy Campaign and will be dedicating a courtyard at our Woodward home in her honor.
_________________________________________________________________________________________________________________
Great Lakes Bioneers Annual Conference
Great Lakes Bioneers Detroit announces their annual conference, which will be held October 14-15. The organization has a full lineup of programming scheduled which can be found on their site along with how to register. This year, the conference will be held in person on University of Detroit Mercy's campus.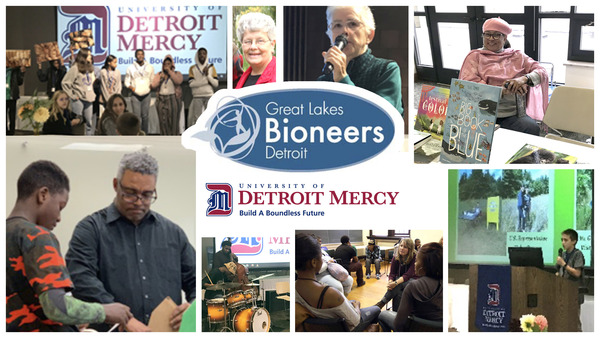 Register here
Great Lakes Bioneers Annual Conference
October 14-15, 2022
University of Detroit Mercy
4001 W McNichols Rd
Detroit, MI 48221
Resources
How to find, contact, and donate to your local abortion fund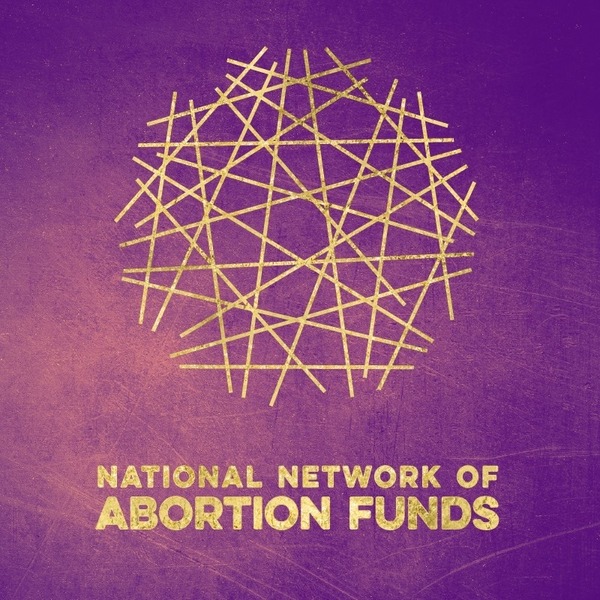 The National Network of Abortion Funds lists abortion funds which are independent, grassroots organizations developed to support the specific needs of their communities. Whether it's funding procedures, abortion pills, transportation and lodging when travel is required, childcare, doula and emotional support, or other needs voiced by people seeking abortions, funds are finding innovative and compassionate ways to get people the abortions they want and need. Find support in your state
Low-Income Household Water Assistance Program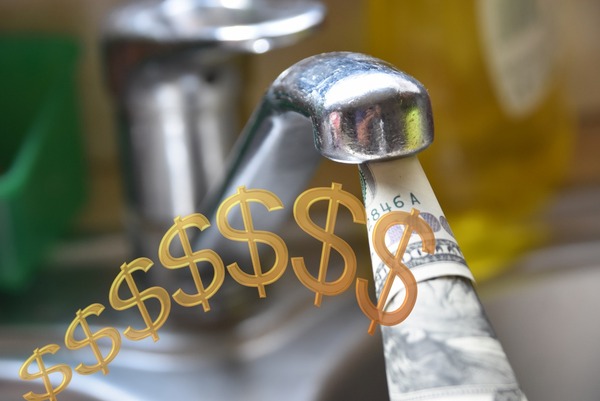 This new Federal program offers assistance to those who are facing water shutoffs or are in need of reconnecting their water utility. Freshwater Future lists additional information and ways to apply for assistance, categorized by state. The program prioritizes those who need their water reconnected or are facing imminent shutoffs. You can read more and apply here.
ACLU: Immigrant Police Misconduct Hotline
ACLU MI has recently launched and announced the misconduct hotline for Michiganders to report instances of police misconduct or abuse based on immigration status (or assumptions about immigration status).
If you or a loved one have been pulled over, harassed, arrested, or detained by a police officer because of actual or perceived immigration status (e.g., skin color, spoken language, or name), you are encouraged to call the hotline and leave a message detailing the experience. The ACLU of Michigan is committed to investigating those reports and will assist in taking action against police departments when possible.
Flyers are also available in 4 different languages:
Arabic
Bangla/Bengali
?English
Spanish
______________________________________________________________________
"Sometimes people hold a core belief that is very strong. When they are presented with evidence that works against that belief, the new evidence cannot be accepted. It would create a feeling that is extremely uncomfortable, called cognitive dissonance. And because it is so important to protect the core belief, they will rationalize, ignore and even deny anything that doesn't fit in with the core belief." – Frantz Fanon