January 8th, 2020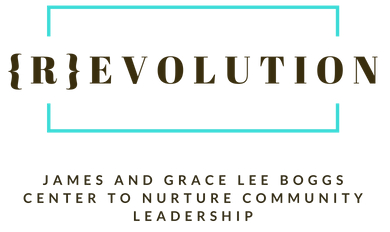 Thinking for Ourselves
War Crimes
Shea Howell
The decision by Donald Trump as President of the United States to order the murder Maj. Gen. Qassim Suleimani of Iran was an act of war. It is a war crime and a crime against humanity. It is murder made possible by the illegal use of state power. The President, Vice President Mike Pence, and Secretary of State Mike Pompeo, who encouraged this action, are equally guilty.
So are the generals and advisors who treat military violence as little more than options on a menu.
They reflect the lack of moral judgment in this administration. Such actions come in a long line of such abuses of power, misuses of force, and refusal to look at the consequences of actions.
What is sure to be an escalating conflict with Iran goes back nearly 100 years. As the world moved toward confrontations with Nazi Germany Reza Shah Pahlavi was drifting closer to Hitler. Fearing the loss of control, Great Britain with the help of its then ally the Soviet Union, occupied Iran, forced the reigning Shah into exile and put European educated Mohamad Reza, his eldest son, in power. After the war, as popular movements for more democracy gained momentum across the globe, the power of the corrupt, autocratic Shah was challenged by Mohammad Mosaddegh. A popularly elected leader, as Prime Minister from 1951 to 1953 he moved to nationalize British petroleum interests and pushed for more accountable government. The CIA and Britain's M16 staged a coup, imprisoning him for 3 years in solitary confinement and then placing him under house arrest until his death in 1967. They restored the Shah to power. This illegal and misguided action by the CIA led directly to the growth of anti-US feeling and fueled the 1979 Revolution.
This murder also reflects how much the Bush drive to war changed our understanding of world relationships and responsibilities. In response to 9/11, George W. Bush articulated something called the Doctrine of Preemption. Bush argued that the use of force was justified if we anticipated an attack. He expanded earlier ideas to claim that force could be used, even without evidence of an imminent attack in order to ensure that a serious threat to the US does not "gather" or grow over time. This broadly based doctrine was seriously flawed. Within two years of its invocation to justify the Iraq war, it was considered deeply flawed.
The two assumptions behind this doctrine proved in practice to be wrong. The first assumption was that the US would have reliable intelligence about the intentions and capabilities of adversaries. This proved completely false as US officials hunted frantically for Weapons of Mass Destruction in Iraq. Second was the belief that we hand entered a new era of technology that would give us the edge in any combat situation. As the Brookings Institute noted its assessment of the doctrine in 2004:
"This belief, which seemed so convincing in the immediate afterglow of the U.S. military's rapid march to Baghdad, looks naive in the wake of the fighting in Fallouja and Najaf. Not only have the costs of war escalated significantly in the 13 months since the president prematurely declared an end to major combat operations, but the emphasis on breaking regimes ignored the far more difficult task of rebuilding nations."
We need to take a forceful, consistent stand against this drive to war. Trumps decision to kill, to announce this action to cheering crowds, to threaten even greater violence via twitter, is criminal. He deserves far more than impeachment. He and his enablers should be tried by the world court for crimes against humanity. And we must look deeply at ourselves as a people.
As Dr. King so clearly reminded us,
"It is a sad fact that because of comfort, complacency, a morbid fear of communism, and our proneness to adjust to injustice, the Western nations that initiated so much of the revolutionary spirit of the modern world have now become the arch antirevolutionaries.… Our only hope today lies in our ability to recapture the revolutionary spirit and go out into a sometimes hostile world declaring eternal hostility to poverty, racism, and militarism. With this powerful commitment we shall boldly challenge the status quo and unjust mores."
For now, all of us must know that the chickens do indeed come home to roost.
---
Conversations on the Philosophies of Jimmy Boggs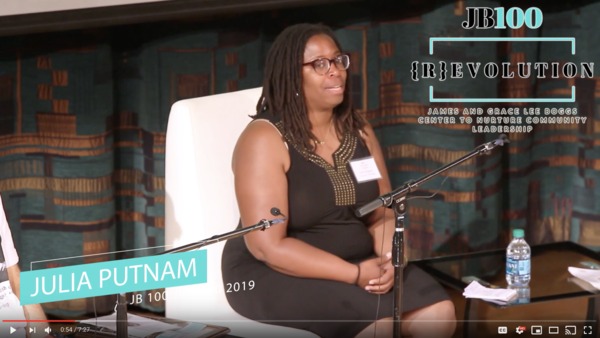 ---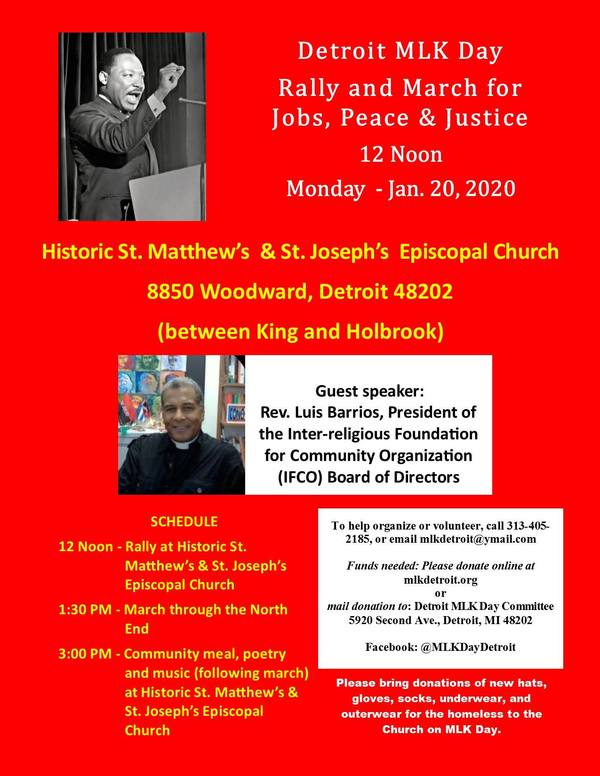 ---
Not For Sale
Denise Griebler
Friends, neighbors, today we bless this sign as a sign that in the midst of change that seeks or just happens to displace the poor, St. Peter's isn't going anywhere.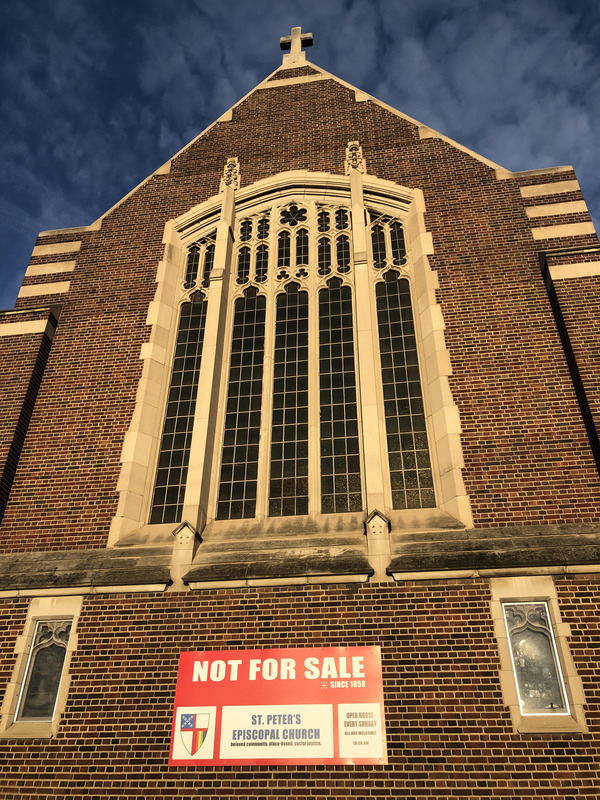 Conversations on the Philosophies of Jimmy Boggs
Julia
MLK
Not For Sale
Denise Griebler
Friends, neighbors, today we bless this sign as a sign that in the midst of change that seeks or just happens to displace the poor, St. Peter's isn't going anywhere.
peters
WE ARE NOT FOR SALE.
Manna Community Meal isn't going anywhere.
WE ARE NOT FOR SALE.
St. Peter's will continue to welcome and serve people who have been made poor
WE ARE NOT FOR SALE.
who are being made more vulnerable as shelters and services move out of our community.
WE ARE NOT FOR SALE.
The Corner Shower and Laundry will open and serve people.
WE ARE NOT FOR SALE.
The Water Station will continue to flow for people and families who have been shut off
WE ARE NOT FOR SALE.
The St. Peter's Hive will continue to buzz with organizations that work for justice and peace and the dignity and wholeness of
human beings, and for the healing of Earth.
WE ARE NOT FOR SALE.
We will continue to make space for people planning and organizing and training to take big non-violent risks in pursuit of peace.
WE ARE NOT FOR SALE.
We will care for our neighbors. We will join with others to work for truly affordable and low-income housing in our neighborhood.
We will welcome our neighbors and practice radical hospitality.
WE ARE NOT FOR SALE.
 ________________________________________________________________________________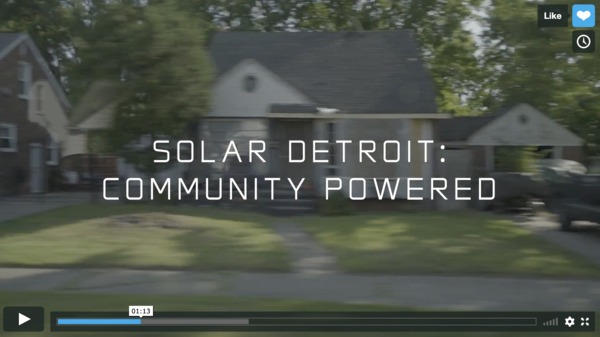 ____________________________________________________________________________
What does your union fight for?
Emma Fialka-Feldman
2nd Grade Teacher at the Dudley Street School
Originally appeared in the Boston Teachers Union Newsletter
I grew up in the suburbs of Detroit, Michigan. In the early 1990s, my family fought to have my brother, labeled with an intellectual disability, included in the general education classroom. My parents knew that an inclusive schooling experience was the best education. They believed that he deserved to learn alongside his neighbors and friends with and without disabilities. The district fought at every level to prevent this. It took an unwavering belief, creativity, and negotiation to make it happen.
While he was successfully included in his K-12 experience, it was despite the local district. It was only years earlier, that students like my brother were denied access to their local public school. They were kept in institutions (or none at all) that believed in a medical model that prioritized compliance and low expectations over learning and rigor.
While there were incredible teachers and paraprofessionals along the way that nurtured my brother, developed strong family-school partnerships, and sought out resources to expand their professional expertise, my parents often felt like they were constantly fighting simply for his right to belong in his neighborhood school. I wonder what our family's journey would have been like if our local teacher's union said, "We believe in inclusion. We want it to work for all kids in our district. We will fight with you."
Unions have a mixed history. On one hand, their advocacy has led to health and safety standards, living wages, and for some, the acclaimed 40-hour workweek. On the other hand, unions have been known for perpetuating racism, furthering inequities by intentionally excluding membership for some groups, and for fighting for contracts that further marginalize groups.
In recent years, the Boston Teachers Union has moved from a mostly service-driven union, focusing on enhancing and protecting wages and benefits, to a social-justice union where fighting for the schools our students, families, and communities deserve, is matched with the learning and teaching conditions our members deserve.
Gratefully, in this work, the Boston Teachers Union members have not forgotten about the needs of students with disabilities. In the Boston Public Schools, many classrooms designated as "inclusion classrooms" rely on incredibly inadequate supports. In these classrooms a single multi-license teacher is responsible for both special education and general education supports. These structural conditions, dictated by the district, are inclusion in name only. The learning conditions in these classrooms make learning and teaching incredibly challenging – leaving many paraprofessionals, teachers, and support staff feeling inadequate and ill-prepared.
We are not giving children the education they deserve. Families of children with IEPs across the district are often not aware of the various models and the gross inequities, leaving families feeling like sub separate classrooms are the best places for their child, despite the research. BPS' "inclusion roll out" has undermined the potential and possibility of inclusion for our students.
In a historic move, the union made "inclusion done right" a central component of its most recent contract negotiation. The union is fighting for inclusion where students with and without disabilities learn in classrooms with ample support (for some classrooms this means two teachers and a paraprofessional; for other classrooms, this means the right special education services beyond one dual or triple certified teacher, and for ensuring our classrooms have the natural proportions of students with and without disabilities that reflect our neighborhoods). We have some nationally recognized inclusive schools, like the Henderson Inclusion School, but our city needs more.
This is historic as often special education victories have been individual-family fights where a family is fighting for the school/placement they believe their child (and the law) is entitled to. This is historic as often, despite research stating the power of inclusive classrooms, teachers' unions, and school districts have been adamant in protecting segregated classrooms, sub separate spaces, and exclusive special education policies. While Boston Public Schools on paper believes that inclusive schools are best practices, their policies reflect otherwise.
In 2013, in response to the large BPS rollout of 20 inclusion schools, Boston Teachers Union members reflecting a range of BPS schools, classrooms, grades, and special-education service delivery models formed a committee to begin the work the district was not prioritizing. As a new teacher, this committee gave me hope that I was entering a union surrounded by other educators who care deeply about building an educational system that works for all.
The committee created pamphlets to help teachers and families know how to fight for the best learning conditions for students with Individualized Education Plans (IEPs). It designed an extensive survey to collect data across BPS schools to better understand the vast models of inclusion and to have teachers reflect on the challenges and opportunities of inclusion in Boston. It organized events for families to work with the BTU to be advocates for the schools our children deserve. All the way, inclusion, and inclusion done right was the guiding principle. The union's members prioritized this best practice.
While different, this history is not unlike what happened in Boston during school desegregation in the 1970s. Instead of uniting with the just demands to desegregate the schools, the union took a more narrow approach that put the value of a negotiated contract over the aspirations of a historically underserved community. With a more social justice perspective our union of teachers could have united with parents to create welcoming schools for all children, especially children of color.
As we work to build inclusive schools, I hope you will join the Boston Teachers Union in this fight. We have the opportunity to build the schools all children deserve. We have the opportunity to undo the racial and social inequities that our schools replicate. In Boston, white students with IEPs are more likely to be placed in inclusive classrooms than students of color with IEPs. It is often recognized as a privilege to go to an inclusive classroom – rather than a legal right. Across the nation, 83% of students with intellectual disabilities are left out of inclusive settings which leads to dismal graduation and employment rates. We know inclusive schools provide the best academic and social outcomes for all children, for both students with and without disabilities.
Inclusion done right means that all BTU members must examine our beliefs about who we think belongs in an inclusive classroom, what we think is possible for students with disabilities, and how we challenge our false-belief that inclusion will lower the academic rigor for students without disabilities.
Let's continue to be on the right side of history for students with disabilities. You can join this fight by:
*attending the next inclusion meeting (bring a family member or colleague from your school): Tuesday, January 14, 2020 from 4:30-6:30pm
*sharing the inclusion tracker with your colleagues so we can collect the data about what's happening in our schools: https://btu.org/inclusion/
*engaging your students' families (those with and without disabilities) and your colleagues in building and dreaming the schools we all deserve
I am proud to be part of the Boston Teachers Union and I hope our "inclusion done right" campaign will inspire our members, our district and other teacher unions across the nation to get on the right side of this historic fight.