The Boggs School's message to kids is, 'I'm so glad you're here'
by Lucy Perkins
Originally published by Michigan Radio News
Over the last year, Zak Rosen and Andrea Claire Maio have been following students and educators at the James and Grace Lee Boggs School.   Maio and Rosen have done pieces in the series about 
control in the classroom
, two young students at the Boggs School who are 
best friends
, and about making school 
more human
.
For the series' last piece, Maio focused on the Principal of the Boggs School, Julia Putnam — a cornerstone of the school.
WATCH THE VIDEO HERE
Putnam met Grace Lee Boggs, the school's namesake, when Putnam was 16 years old.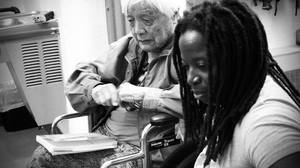 (Boggs and Putnam)
"I was searching. What was going on in my life was not as full and meaningful as I wanted it it to be. Meeting Grace helped me understand what was missing."
"I know how skeptical Grace has been about starting a school, and whether or not that was the most  revolutionary or the most strategic thing to do in terms of creating real change," Putnam said.
"I think a group of adults who are saying I'm so glad you're here 
is 
strategic."
Read, listen, and watch more stories from the Boggs School series here.